Sizzling Brownie – the luscious soft and dense hot brownie topped with vanilla ice-cream and sizzled with some chocolate sauce!!! A match made in heaven.. <3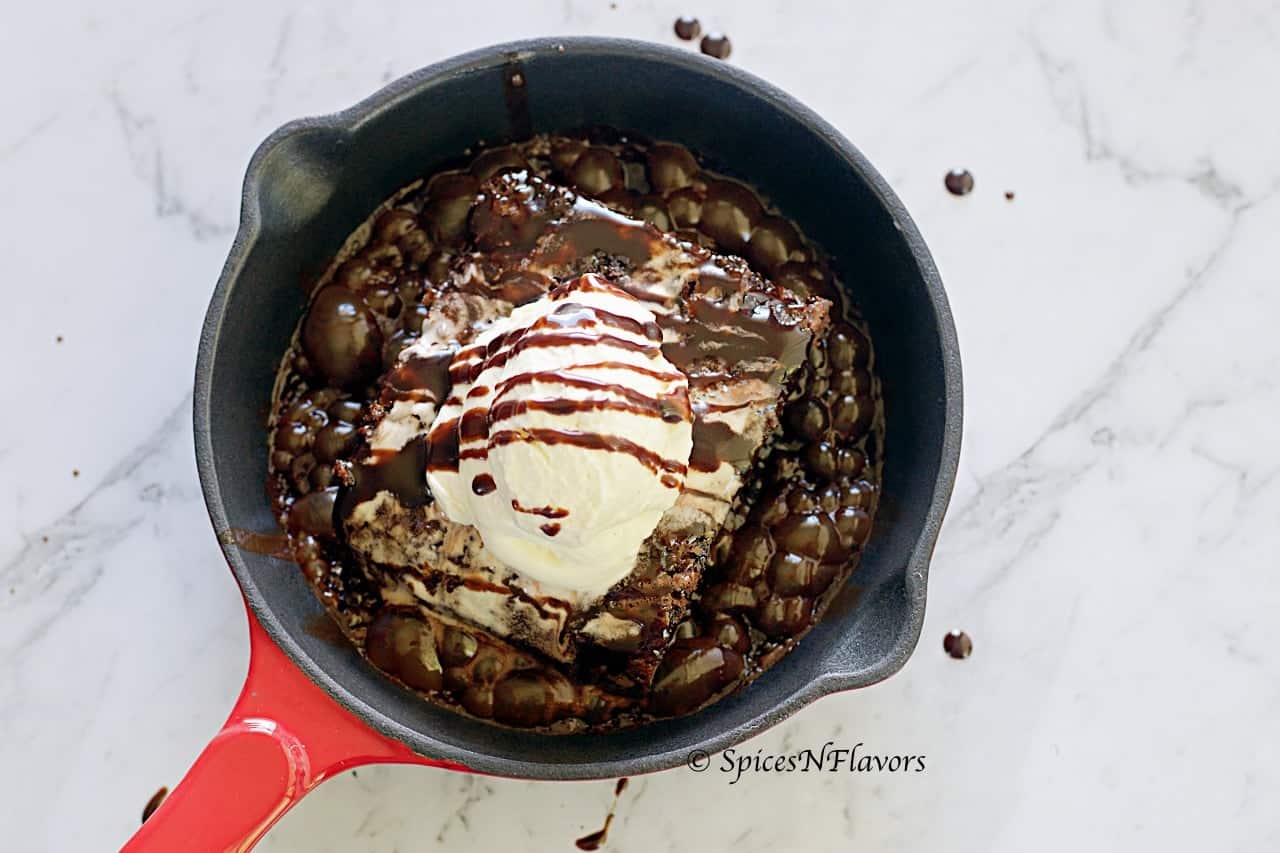 Sizzling Brownie is one such dessert that brings back fond memories to me!!
That was me with my gang of buddies!! the best buddies.. the best college time…
The 8 of us; my gang dining, chilling; chatting, dancing and partying and enjoying our food…
It was one of those regular nights
But what makes all night special is just being together; being with each other and chocolate makes everything even better.. don't you agree??
Whenever we visit Pop Tates; it is mandatory to order a Sizzling Brownie after our dinner..
Still wondering whats so interesting and special about it?
Well in between the 8 to 9 of us we order just one Sizzling Brownie.. 😀
Now imagine 8 forks fighting over 1 brownie piece; gosh and if someone is successful in grabbing that one piece then the rest 7 of us are ready to grab it from him..
Trust me it is no less than a war to get that one piece of brownie with ice-cream and chocolate sauce…
And when you manage to get that it's like the Bollywood scene when your son returns to meet you after finishing his MBA in London.. 😉 (Well.. of course, I am trying to mimic the famous K3G Sharukh's entry here.. if you know what I mean.. :D)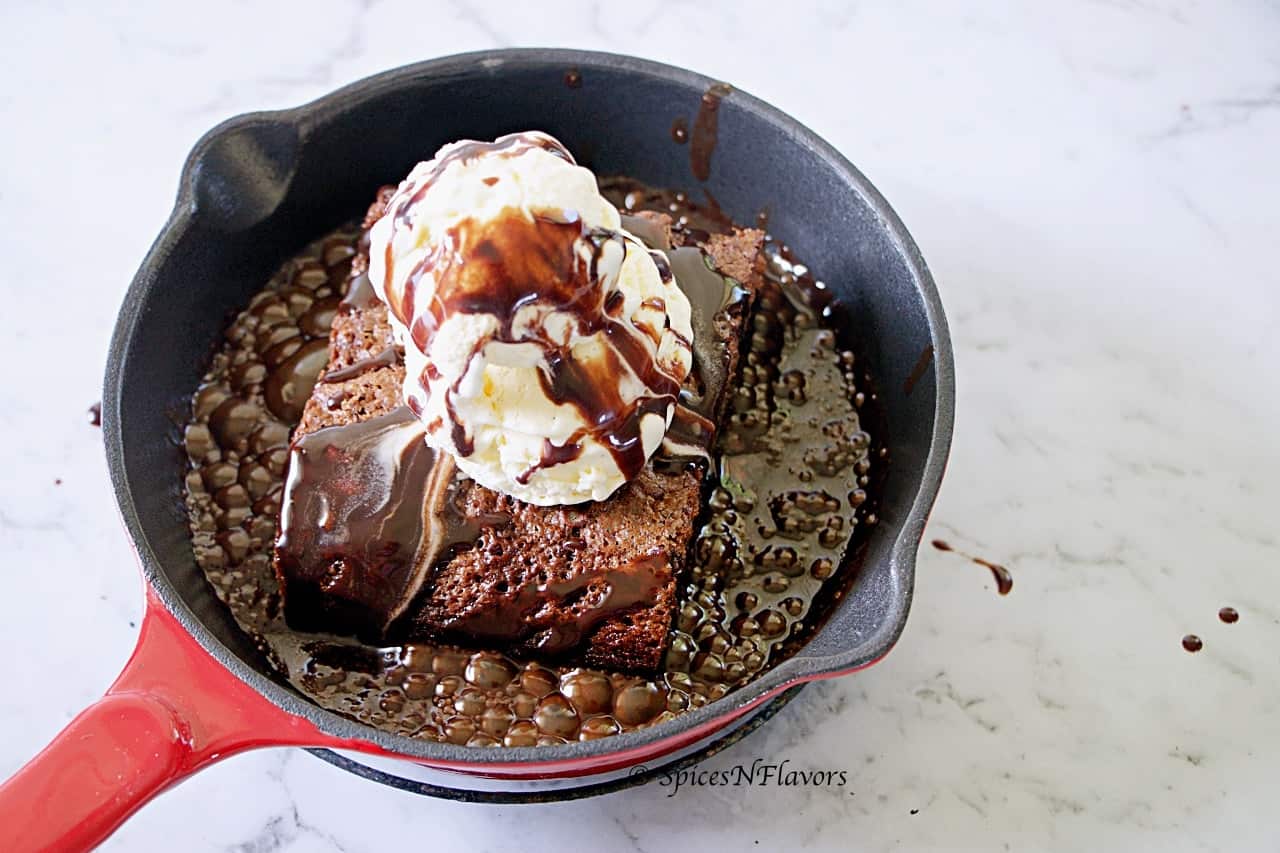 Coming back to the recipe of this Sizzling Brownie now.
I can vouch that this the best brownie recipe you might have ever laid your hands on!!
Not because I love it but because whenever I have made this all my friends and family love it and they vouch for it too..
These are soft and dense, the excess sugar in here gives it a crackled crusty top and also makes the brownie moist.
Brownie in this Sizzling Brownie is soft, dense and fudgy. If you like your brownie to be cake like then you can add some baking soda to the recipe.
Trust me guys; try this Sizzling Brownie recipe at home I am sure you would never go back to the restaurant again to enjoy this.
However, if you are anything like me and like to build more memories then definitely catch up with your loved ones over a Sizzling Brownie.. 😀
Now let's get into the recipe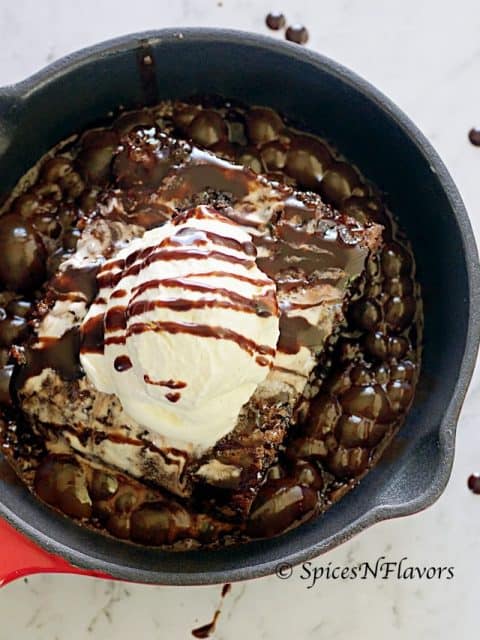 Sizzling Brownie without sizzling plate
Sizzling Brownie is a delicious, fudgy, soft, dense and moist brownies that are served over a sizzler plate topped with ice-cream and chocolate sauce.
Ingredients
170

gms

(3/4 cup) Butter

90

gms

(3/4 cup) Dark Chocolate

200

gms

(1 cup) Sugar

3

nos

Eggs

1

tsp

dark cocoa powder

1/2

tsp

salt

95

gms

(3/4 cup) Flour

vanilla ice-cream and chocolate sauce as needed
Instructions
Melt butter and chocolate over a double boiler until no lumps remain. Add the sugar, mix it well and remove from the double boiler.

Next, add in 3 eggs but one at a time and stir well after each addition.

In goes the dry ingredients cocoa powder, salt, and flour. Mix everything until a smooth batter is formed.

Pour it onto a prepared square tin and bake in a preheated oven for 30-40 mins

Allow the brownies to cool completely before slicing.
How to Assemble
Once the brownies are cooled, slice it into 4 slices.

Heat up a cast iron pan for 3 mins until hot. Take it off the flame.

Place the brownie slice on to the pan. Top it with ice-cream scoops and drizzle chocolate sauce all around to get the sizzling effect. Enjoy the hot sauce, cold ice-cream and brownie with your friends and family.
If you like today's Sizzling Brownie recipe the do let me know by tagging me, tweeting me or even instagram me. I would love to follow you and your posts.
A tip that I can share is, use 1 tsp instant coffee powder that would enhance the taste of chocolate.
I have used a cast iron pan to do the job for me but you can also use a non-stick tawa. Though you will get a sizzling effect with that it won't stay hot for a long time but neverth-less you can definitely enjoy it.
Make sure to use good quality chocolate and cocoa powder to get the maximum taste.
A square cake pan is recommended for baking the brownies however you can also use any regular round tin too.. Afterall taste is the king right!!
Pin this for later..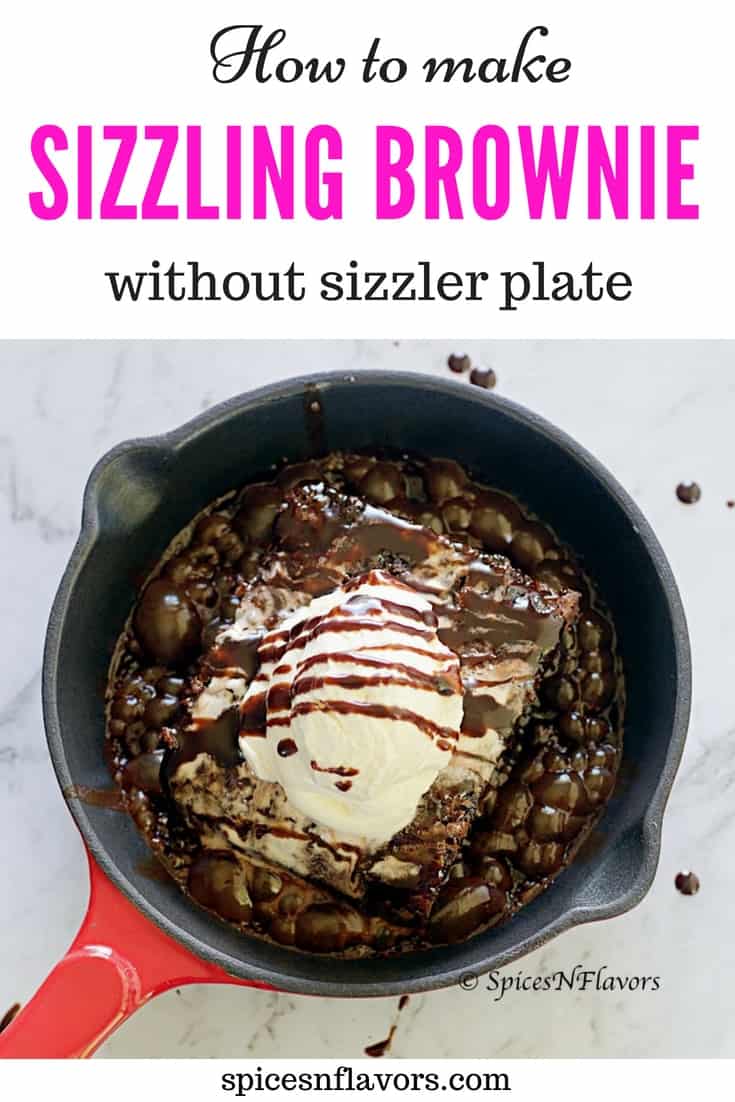 I will see you soon with another recipe
Until then
Hugs
Sushma