Pressure cooker recipes is the need of the hour. Pressure cooking saves energy as well as your precious time.
Pressure Cooker is one of the most common equipment widely used in each and every Indian household. Every Indian kid might have at some point forgot to switch off the gas after three whistles coming from the pressure cooker and ended up having a good scold from Mom. Hehe.. Raise your hand if you have ever encountered this situation.. 😉
Well I definitely have..
And for those of you who are not aware of what a pressure cooking is then; it is a process of cooking food, using water or other cooking liquid, in a sealed vessel, known as a pressure cooker.Pressure is created by boiling a liquid, such as water or broth, inside the closed pressure cooker.
Sharing a few recipes here using pressure cooker from starters to desserts to make you comfortable using pressure cooker. And I can vouch that these recipes are much tastier and an easier option than your take away ones..
Also would like to Thank all my friends for sharing their wonderful recipes with me.
Starters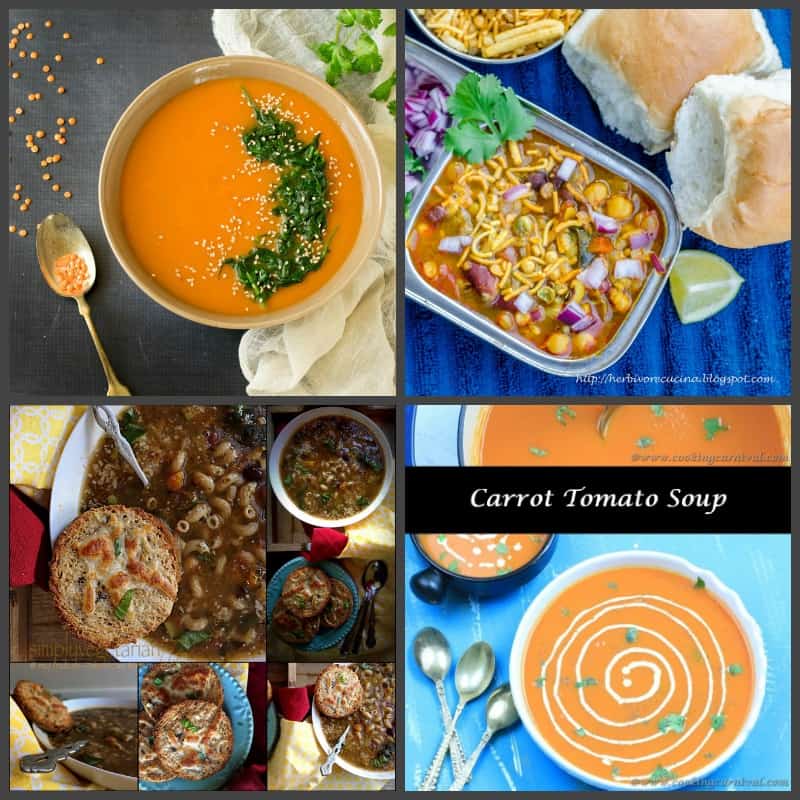 (From Left to Right)
1. Beta carotene booster vegetable & red lentil soup – Pressure Cooker + Instant Pot. This pressure cooker recipe is full of all the nutrition you need to control your hairfall – Khushboo Kothari
2. Misal Pav – I can have misal pav for breakfast, brunch, lunch, dinner as it is so flavourful check out recipe using pressure cooker.
3. Home Style Minestrone Soup Minestrone soup in a pressure cooker thats something new. Check out Sonal Gupta's recipe.
4. Carrot Tomato Soup – A simple but yummy soup and making it in a pressure cooker is so much easy; Dhwani Mehta.
Bonus Recipe: Vegan and Gluten-Free Easy Garden Vegetable Soup – Vegan and Gluten free what more can one ask for
Lemon Pickle Pickle in a pressure cooker yum!! Check out Vibha Ganesan's recipe
Mains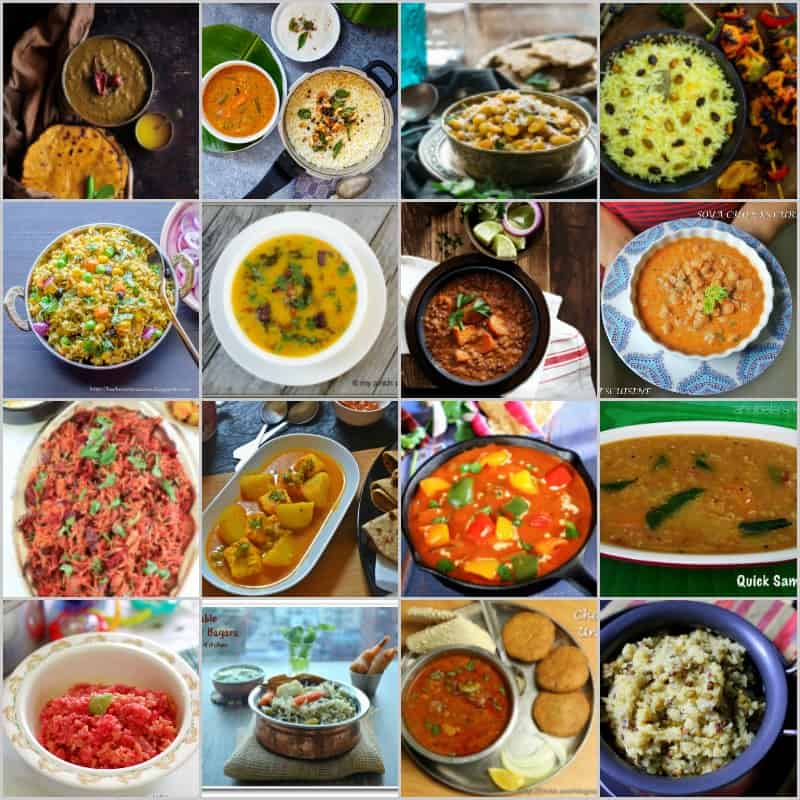 (From Left to Right)
1. Sarson Ka Saag – Saag is a winter comfort food amongst all north indians. And the comfort you get watching Madhuri Agarwal's photography is to die for.
2. Coconut Curries Lentils – Pressure Cooker + Slow Cooker recipe. Slow cooking or Pressure cooking Janani has got you covered with both recipes
3.Quick Sambhar – Jhatpat recipes are all time favourite. Check out Anuradha's recipe for that quick sambhar
4.Beetroot and Spinach Pulao – All the goodness in a pressure cooker. Healthy and tasty; thats a wonderful share Dhwani
5.Quick Masala Khichdi – Khichdi is one comfort dish that you need to try atleast once. Check out Smruti's recipe.
6.Chhapadi Undhiyu – Dhwani's gujrati recipe collection is to die for. One more from her gujrati cuisine.
7.Vegetable Pulao – Make pulao in your pressure cooker and you are sorted for the day.
8.Moongachi Khichdi – Lentil and Rice is all you need on a daily basis. Thank you Priya for this share
9.Aloo Matar Paneer – Potato Peas and Paneer what more can you ask for in a dish
10.Ven Pongal – A south indian delicacy; I love Pongal and more than that Sandhya's eye-catching photography
11.Beetroot Khichdi – I gave this to my daughter right from when she was 9 month old. So nutritious you must try for your kiddos as well.
12.Rangooni Vaal Shaak – Lima Beans Curry a nutritious and healthy share by Binjal
13.Soya Chunks Curry Preethi decided to share a wonderful curry recipe with us for this pressure cooker series.
14.Saffron Rice Recipe Shreelata has shared all the information you need to know in her post called Saffron you guys must surely check it out.
15.Simple Dal or Lentil Curry Priti shares a simple day to day dal recipe.
16. Pepper Makhani Impress your guests with this easy to make pepper makhani recipe made in the pressure cooker.
Dessert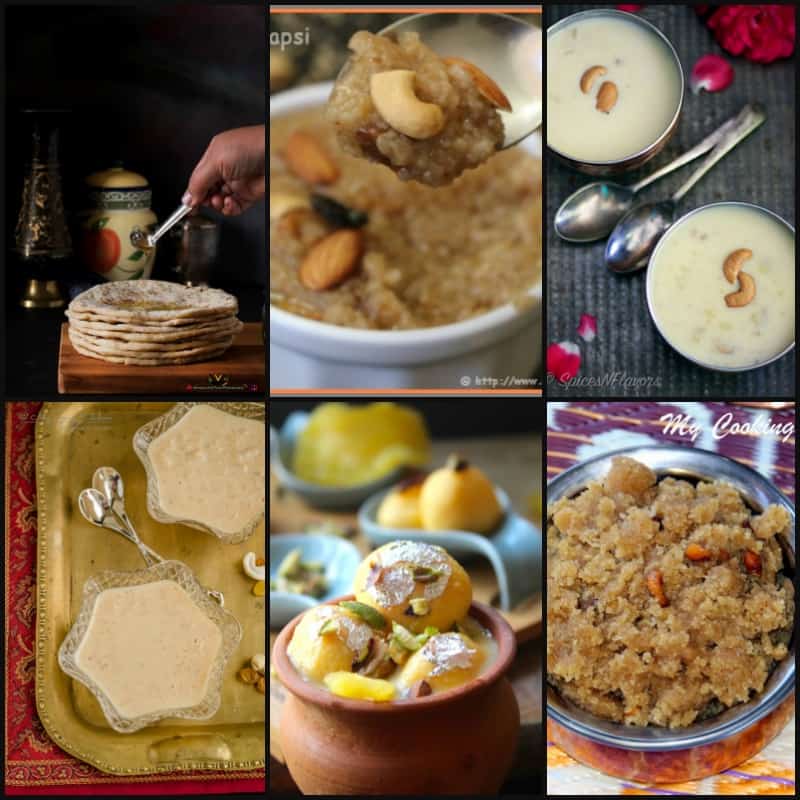 (From Left to Right)
1. Puran Poli (Vedmi) Puran poli is one Indian sweet which is made on usually on Indian festivals. Check Binjal's eye catching recipe on her blog
2.Oramu A gujrati delicacy shared by Dhwani
3.Paruppu Payasam A very traditional Indian sweet made using pressure cooker without any effort
4.Caramel Rice Pudding Love Caramel in anything. Check out Usha's lovely share.
5.Pineapple Angoori Rasmalai This is so mouth watering. Check out this amazing recipe by Amrita..
6.Thiruvadharai Kali – A very traditional south indian sweet recipe shared by dear Sandhya R
I have also pinned all these recipes onto my Pinterest board Easy Pressure Cooker Recipes. I would highly recommend you to follow that for more such interesting recipes.
Until then happy Pressure Cooking
Hugs
Sushma
And yes don't forget to say Hi onto my Facebook, Twitter or Instagram Page.