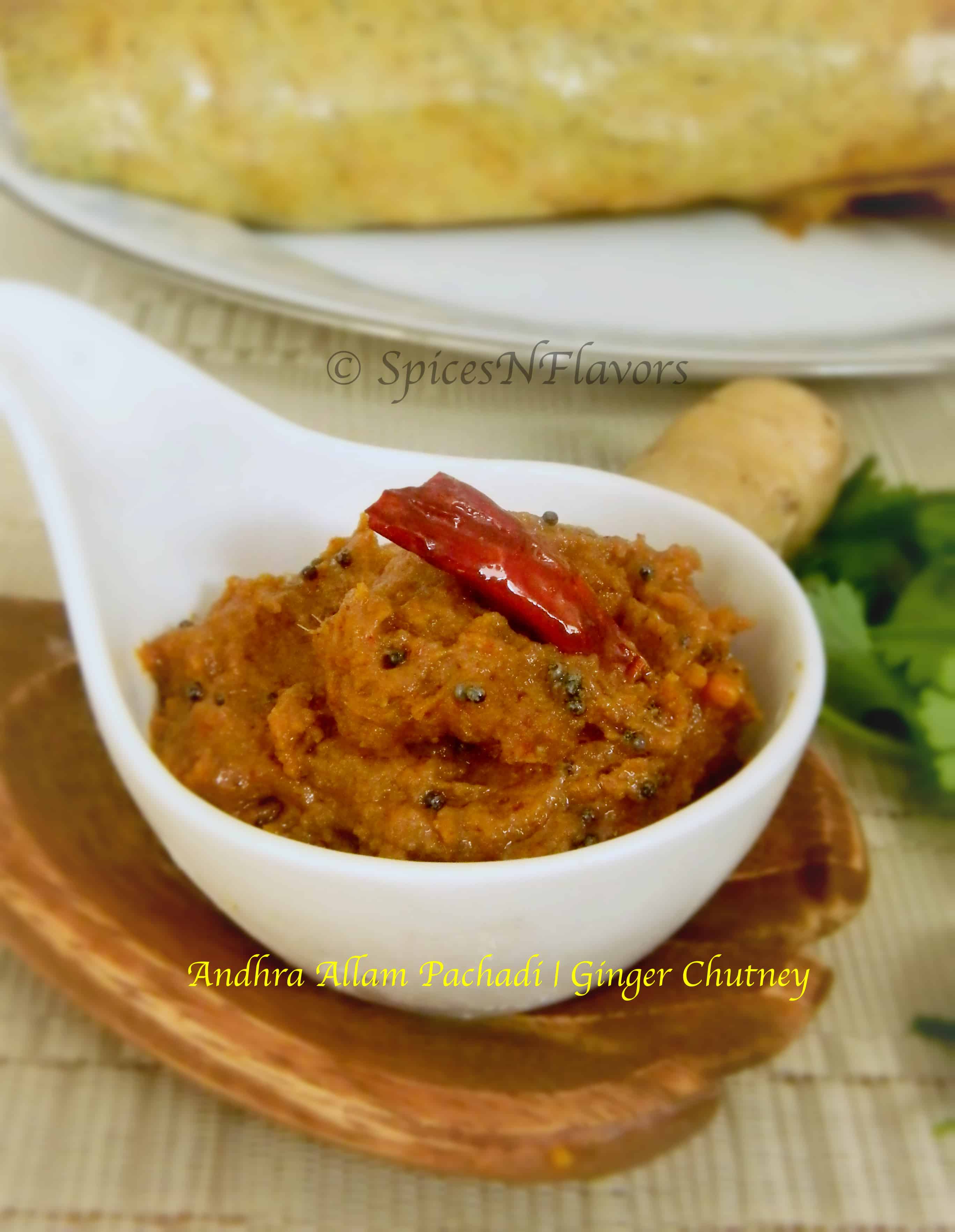 This week its all about Andhra Pradesh. If it is Andhra Pradesh, then how can I not post this Allam Pachadi or ginger chutney. There are a tons of varieties of chutneys and pickles native to Andhra. Of all those this is the most common chutney variety which usually accompanies Pesarattu or Moong Dal Dosa. A breakfast recipe very common in the Telugu cuisine.
If you love ginger or wondering how to include ginger in your diet then this is the one you ought to try. A very spicy chutney that goes well with idlis, dosas and even methi theplas (Gujrati flatbread made from fenugreek leaves.)
Here is what you will need to make this..
Prep Time: 5 mins                  Cooking Time: 15 mins               Makes: 1/2 cup
Ingredients:
To Grind:
1/4 cup roughly chopped, ginger
1 tbsp channa dal/kadalai parapu/split bengal gram
1 tbsp urad dal/ullutam parupu/black gram split and skinned
3-4 dry red chillies or adjust to your spice level (I used 4)
1 tbsp packed tamarind
1 tbsp jaggery
1/4-1/2 tsp salt or to taste
2 tsp oil
Water
For the seasoning or tadka:
1tsp oil
1/2 tsp mustard seeds
few curry leaves
Method:
Heat 2 tsp of oil in a non-stick pan, once hot add in the chopped ginger and roast until it slightly changes colour around 5-6 minutes. Keep aside
In the same pan, add in the urad dal, channa dal and broken red chillies and roast until the dal turns brown.
Switch off the flame and add in the tamarind. The tamarind will get softened with the heat of the pan. Add to the ginger and let cool completely.
Once cooled grind the mixture in the blender along with jaggery and salt to a smooth paste, adding a tbsp of water at a time. (It required about 5-6 tbsp of water to get the required consistency).
Transfer to a serving bowl.
For the Tadka:
Heat up the pan with 1 tsp oil, once hot add in the mustard seeds, once crackled add the curry leaves. Let cook for a minute and transfer this on top of the ginger paste in the bowl.
Your chutney is ready to be served.
Notes:
Add very little water while grinding, unlike other chutney recipes this is not a watery one.
Older the jaggery, darker the colour. Also roasting of red chillies adds to the dark colour.
Enjoy your chutney with pesarattu, idlis, dosas or theplas.
Happy Cooking!!
Sushma..