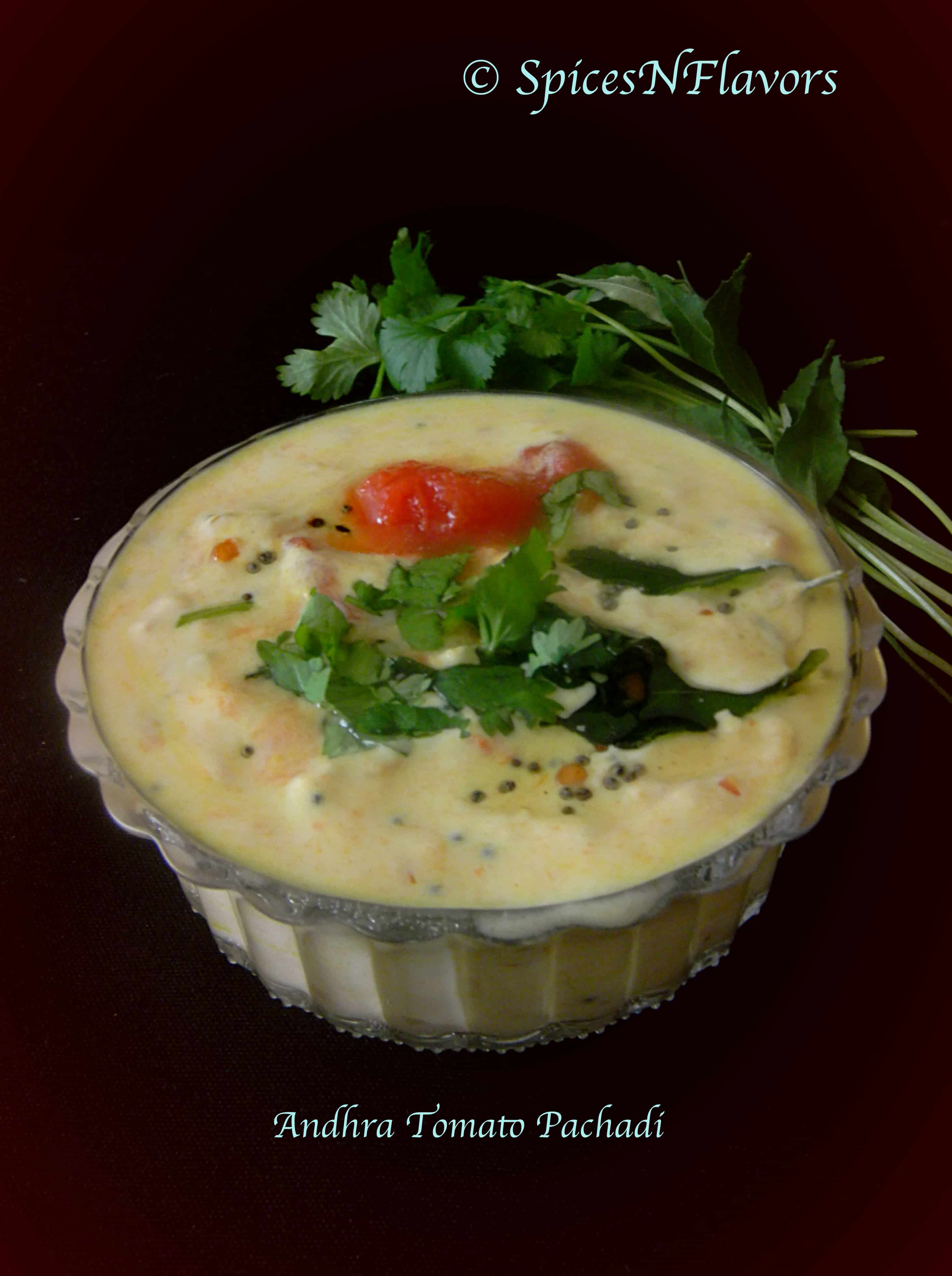 When I were in college we used to dine out at least once a week. (Do not include road side dosas, the fight over extra puri after having pani puri, samosas, raj kachoris and the endless list of street foods of India..) So what I was saying is there is atleast one person in your group for whom ordering a Boondi Raita is a must. I mean the lunch or dinner is incomplete without a Raita.
There are several names in India, for a particular dish. Raita; what we popularly know in most of North India is known as Pachadi in South India.
Food served in a South Indian marriage is incomplete without at least one variety of Pachadi. Andhra Pradesh is famous for its pachadi and pickle varieties. Gongura pachadi/chutney/pickle is the one thing that comes to your mind when you think of Andhra pachadi.. Well due to constrain of ingredients here in New Zealand I decided to go with this simple yet delicious Andhra Tomata Pachadi/Tomato Raita.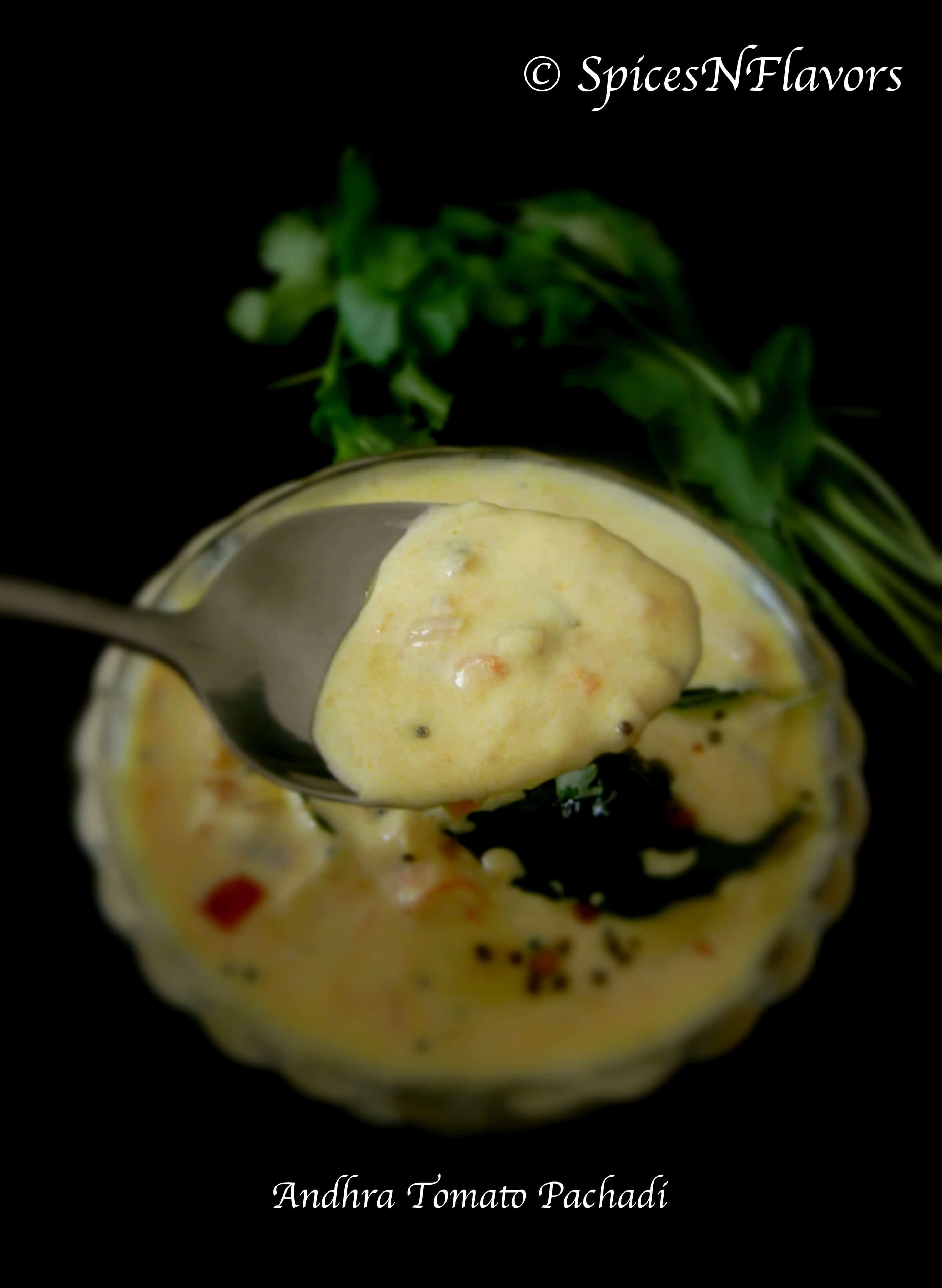 Pachadi or Raita is basically prepared using beaten curd combined with certain spices and vegetables depending upon which part of India you are in.
Curry leaves and dry red chillies dominates the South Indian cooking. This pachadi is one among them. This simple, quick and spicy pachadi is generally served along with a Dal item like Menthu Pappu Koora/Andhra style Methi Dal or even with phulkas or roti. Come summers and use of curd or buttermilk increases in your diet and this is one perfect recipe to keep you cool and calm.
Here is what you need to make them..
Prep Time: 5 mins           Cooking Time: 10-12 mins           Serves: 3-4 people
Ingredients:
1 cup curd
1 onion, finely chopped
2 tomatoes, chopped
1/4 tsp mustard seeds
1/2 tsp urad dal/ullutam paruppu/black gram split and skinned
2 dry red chillies
2 green chillies, finely chopped
1/4 tsp turmeric powder
1/2-1 tsp salt (or to taste)
1/4 tsp hing/asafoetida
1 tsp oil
Few curry leaves
Coriander leaves for garnishing (optional)
Method:
Heat 1tsp oil in a pan. Once hot crackle mustard seeds, add urad dal, curry leaves, broken red chilli, green chilli and hing. Saute till the dal turns brown.
Add in the chopped onion. Saute for a minute. Add turmeric powder and saute for another minute.
Add chopped tomatoes. Mix everything and add salt, let it get softened around 5-6 minutes.
In the meanwhile take the curd in a bowl and beat well until you get a smooth flowing texture without any lumps.(Hardly takes a minute).
Once tomatoes are softened, switch off the flame and let it cool for a while. Once warm add in the mixture to curd and mix well. Garnish with coriander leaves.
Your pachadi is ready to be served.
Notes:
If you are trying Andhra Pradesh recipes the spice level has to be more than your regular diet. But you can always adjust it as per taste.
Enjoy your pachadi with hot rice and dal or even with roti or phulkas.
Since it is Andhra special week, I had served Hyderabadi Bagara Khana, Menthu Pappu Koora/Andhra style Methi Dal, Bendakaya Fry/Bhindi Fry and Andhra Tomato Pachadi for dinner.. 🙂
Happy Cooking!!!
Sushma.. 🙂