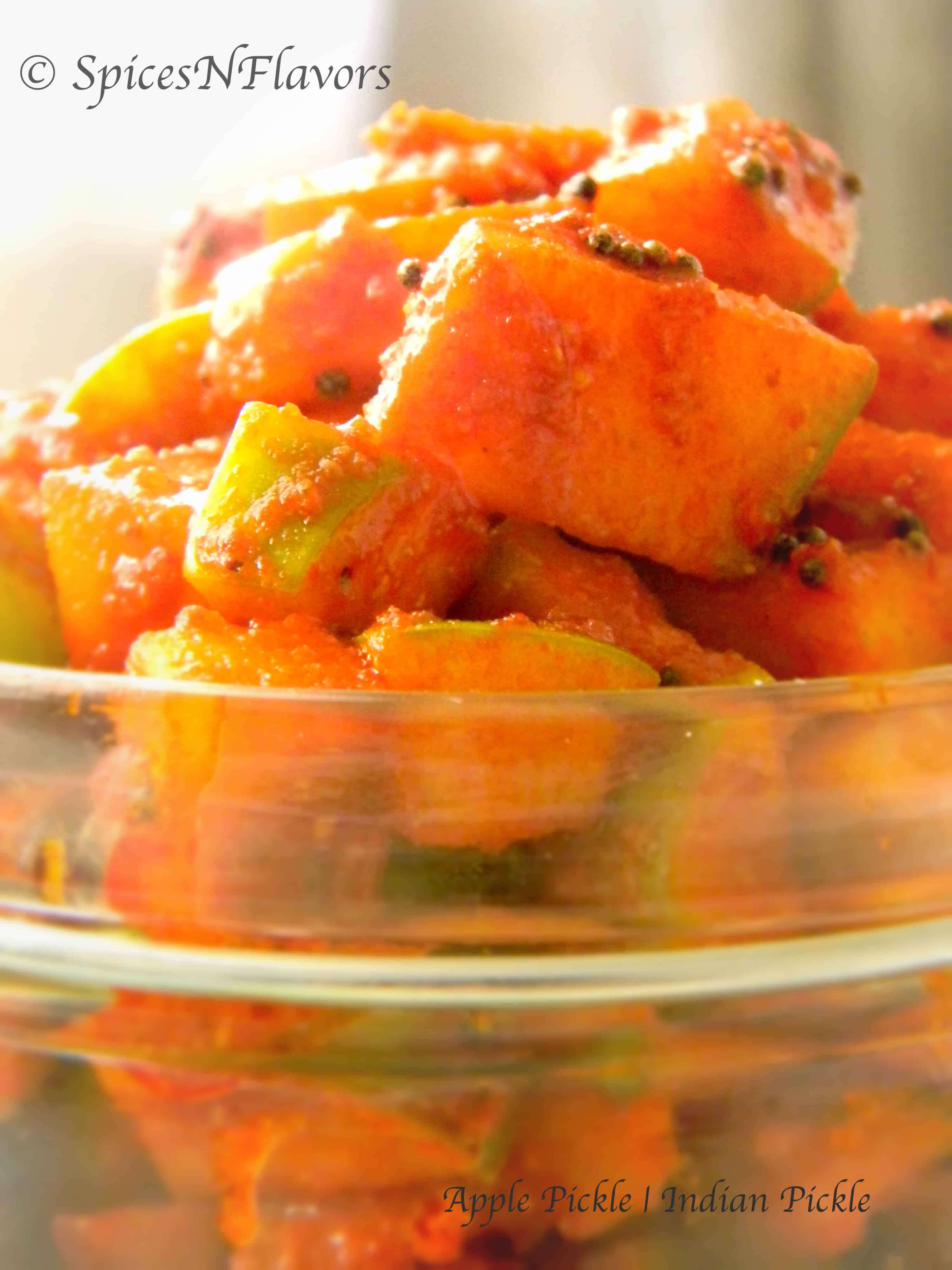 It seems I am still in the Mother's Day celebration mood. One of the reasons behind this blog is that now my parents know that yes I am into some serious cooking. Or else they would have never believed that I can actually put up some interesting dishes with our basic Indian spices.. 😉
I just came across this My First Expert event by Indi Bloggers powered by Godrej Experts, http://godrejexpert.com/single_used_pack.php so thought why not share some beautiful mother-daughter relation with you all as well.
Presenting Mango pickle no wait I meant Green Smith Apple Pickle, Indian style of course.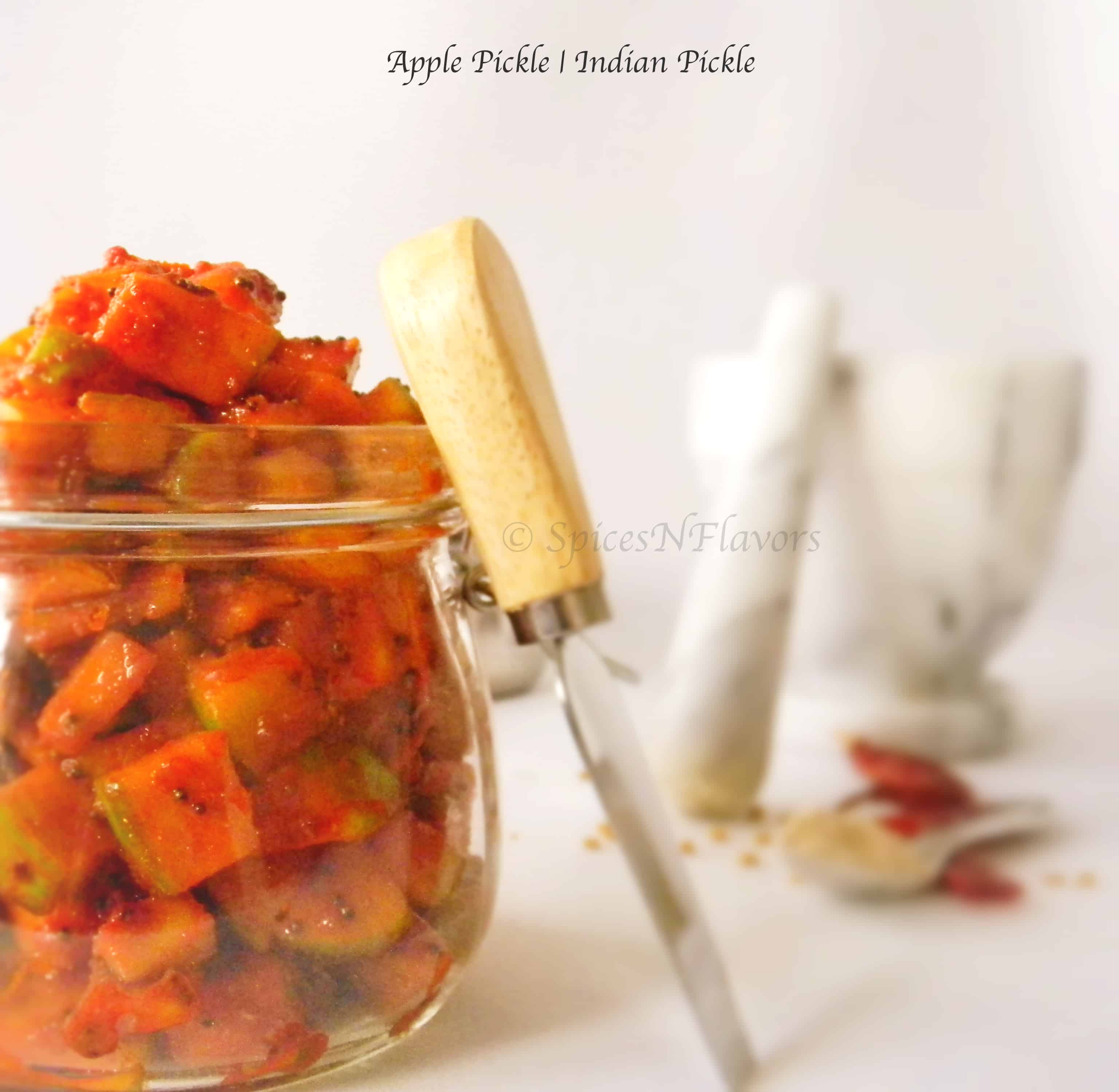 The first friend, the tutor, the guide, the mentor – Mother. As I said earlier in my Kaju Katli | Cashewnut Fudge post, there are so many things that a mother and daughter shares but if there is one thing that I had to pick would be her Cooking skills. I remember as a kid, during summer holidays we used to go for weekly shopping. And everywhere in the street there were dozen varieties of mangoes from raw to sweet to sour..
And she used to specifically look for raw mangoes so that we can relish raw mango pickles along with our food..
She used to sit with aruvamanai (kind of knife) to finely chop the mangoes. I used to sit besides her (No no.. not for helping her) with some salt and red chilli powder and enjoy the chopped mangoes with it. Aaahaaa.. yummmm.. She used to chop and I used to eat..
Fed up with me, finally she would keep aside some for me and continue with chopping the rest. lol.. 😉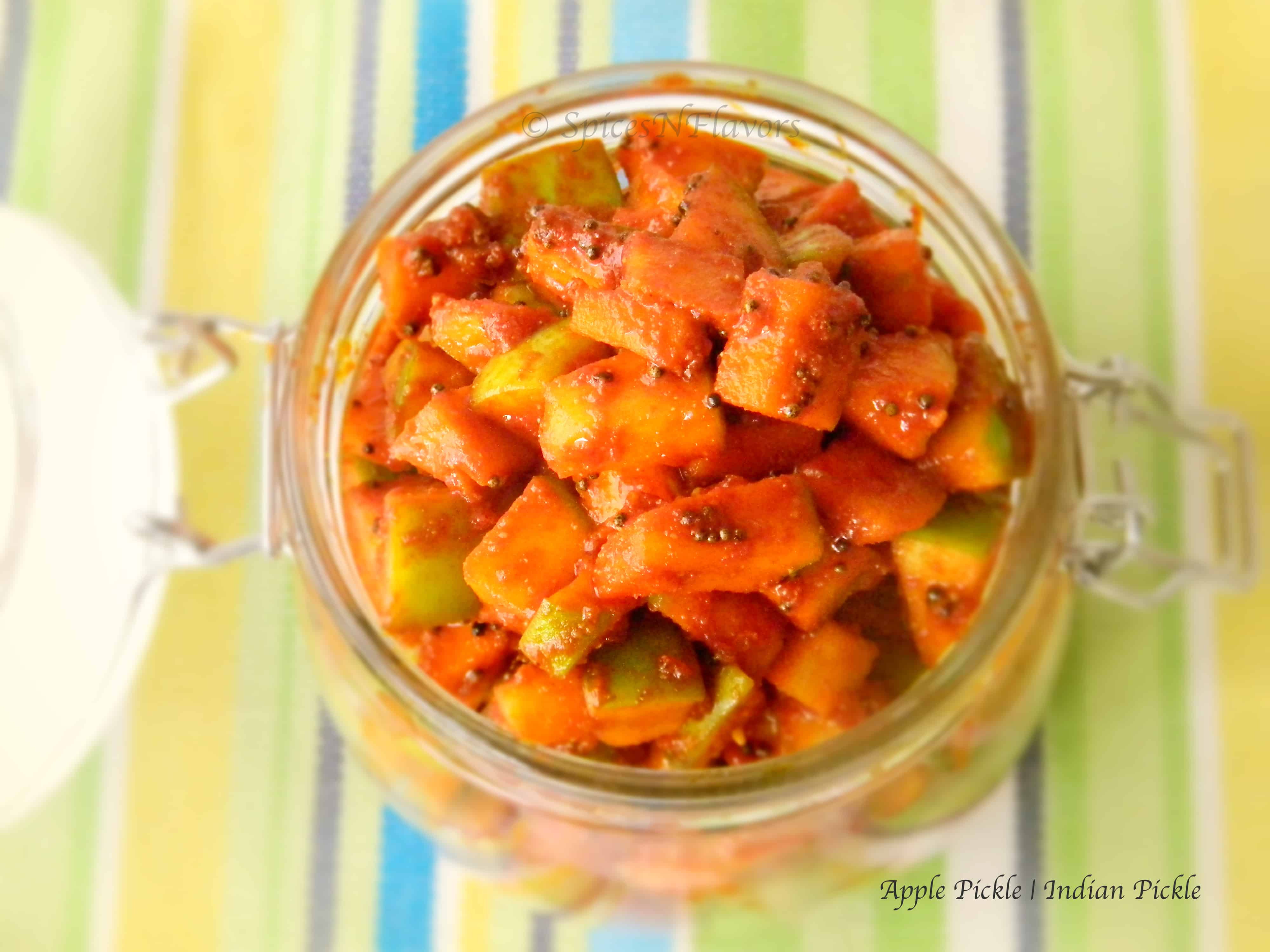 I miss summers, mangoes and my Mom's food without saying.. :D.. I was craving for some pickles that is when I came across Shreelatha's post on Green Smith Apple Pickle on her blog Framed Recipes. And that is when I realised yes this variety of apple is perfect substitute for raw mango pickle. Even though I have followed my family recipe but I have to thank Shreelatha for this idea. You can check her way of making this pickle here.
Pickles are perfect accompaniment to any Indian food. In fact it gives even a regular Dal that perfect punch, that we would have an extra serving of Dal to enjoy these pickles.
The juicy apples, loaded with the correct proportion of spices makes it an interesting substitute for raw mangoes. The bright red colour with the seasoning of mustard seeds makes it so eye pleasing that I am tempted to have it each time I pass by the jar.. 😉 It is a very simple, easy and quick instant recipe. And the best part is it is our family recipe. Yes for the first time I am sharing with you all my grandmother's recipe for making pickles. Every household in India has their own family recipe for making pickles. Here is mine.. 🙂
Prep Time: 5 mins            Cooking Time: 10 mins
Ingredients:
Granny Smith Apples, 5 nos
1 tsp salt or to taste
1 tsp fenugreek seeds/methi seeds
1 tsp asafoetida/hing
4 tbsp oil
2 tsp mustard seeds
3 tbsp kashmiri red chilli powder
Method:
Chop the apples into small bite size pieces and place them onto a plate or any glass vessel.
Add salt to taste and mix everything properly.
In a nonstick pan or tawa, dry roast fenugreek seeds on a very low flame until it turns golden brown. Cool and grind them to a fine powder. Add this powdered fenugreek seeds on top of the apples.
Add asafoetida on top of the fenugreek seed powder.
In the same pan, heat up 4 tbsp oil. Once hot reduce the flame to low and add in the mustard seeds. Patiently wait until each and every seed crackles.
Once mustard seeds crackle add in the red chilli powder. Swirl the pan once and pour this on top of the hing over the apples. And mix everything well until all the apples are coated well with the spices. (All the spices will get cooked with the heat from the oil)
Enjoy your Apple pickle this season.. 😉 People staying abroad and who could not lay their hands on mangoes, trust me you would not miss mangoes after having this pickle.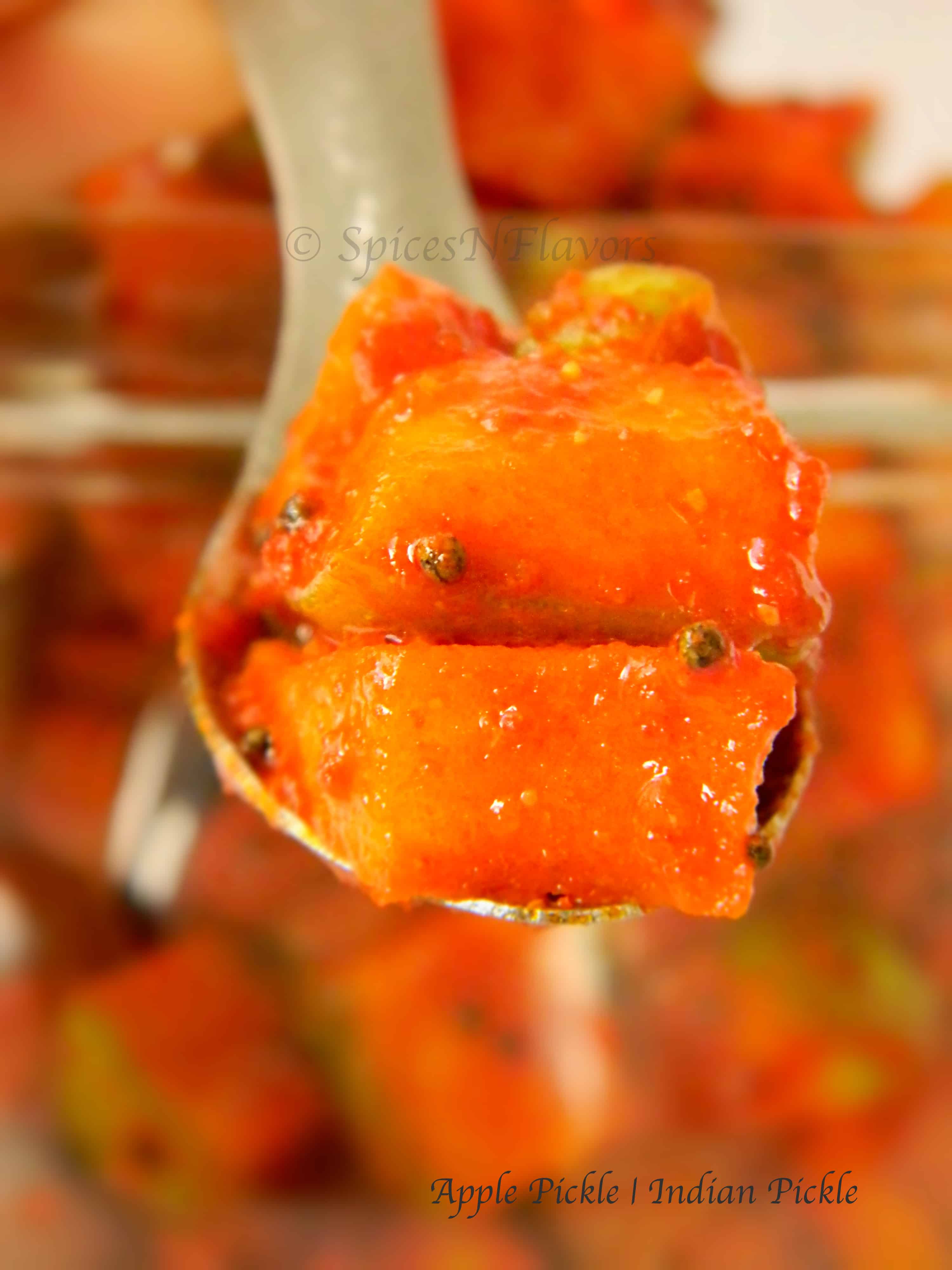 Variations:
You can use raw mangoes and follow the same procedure.
Well I am going to India next month and will surely do a post on Raw Mango Pickle south Indian style so would be in a position to provide the exact measurements then. Which reminds me that I have to admit I might not be able to frequently post during those days but the positive part is I will learn all the recipes from my Mom directly instead of phone calls.. 😉
Notes:
After mixing apples and salt, there will be total three layers. First the apples, second dry roasted fenugreek seeds powder and third hing. Do not mix at this stage. Once you add hot oil over it then you can mix everything.
The oil has to be hot, or else the red chilli powder and hing will taste raw. And you don't want that right.
This bright red colour is due to use of kashmiri red chilli and since it is a non-spicy one you can adjust it to suit your spice level. Regular chilli powder can also be used but you won't get this colour then.
You can also use the fenugreek seeds in the tadka without grinding but ground seeds gives more flavour to the dish.
If you are short of time then directly add everything to the hot oil like normal tadka and pour it over the raw mangoes or apples.
This season I have also posted many other recipes using mangoes. Do check them out as well.. 🙂
Easy Mango Ice-cream in chocolate cups garnished with chocolate leaves
Roasted Cauliflower in Mango Curry
 Also try Apple Rasam and Apple Gojju if you like..
Happy Cooking!!!
Sushma