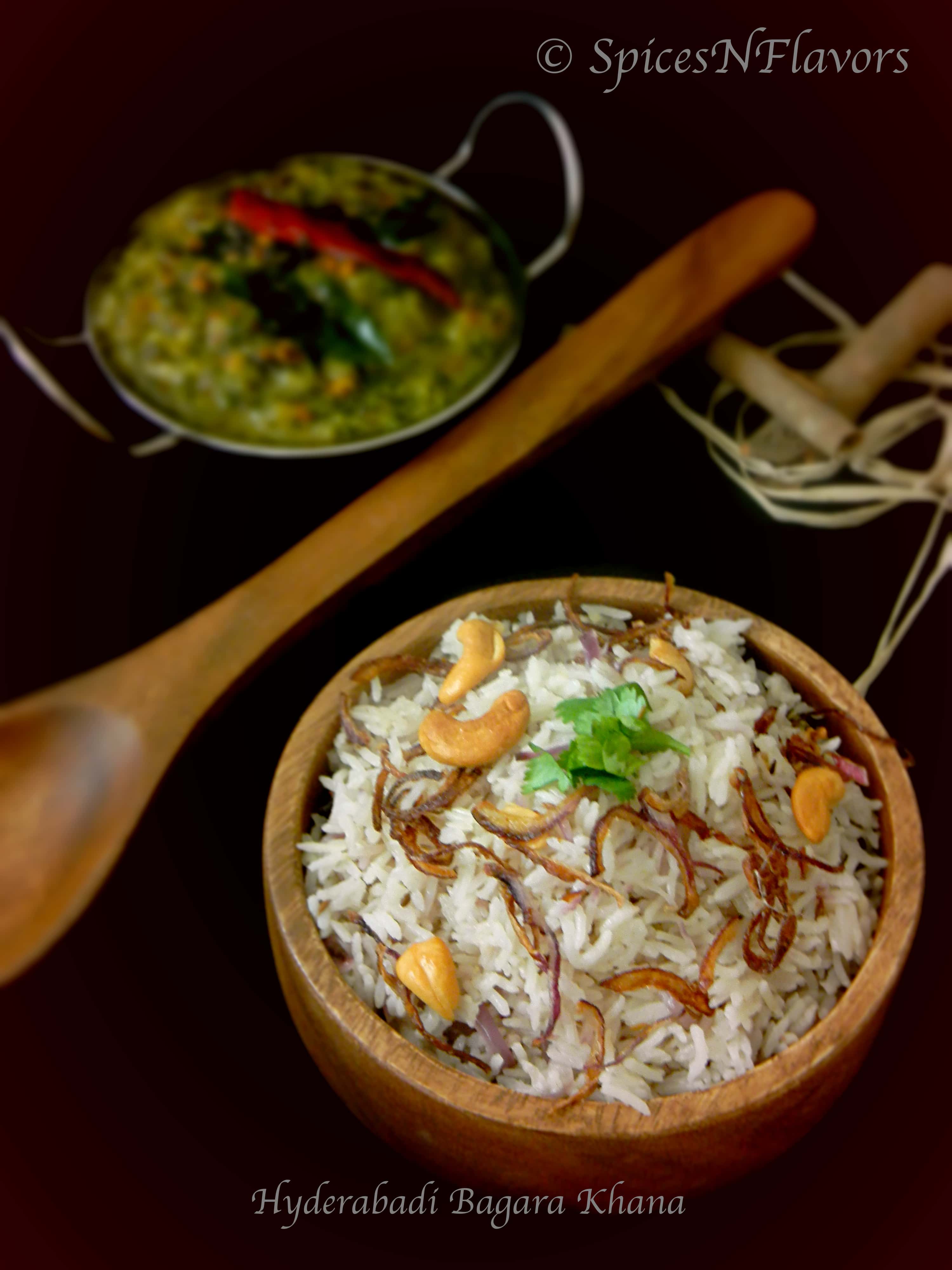 Hyderabad – Capital of Andhra Pradesh; a vibrant city known for its cuisine which uses a unique blend of spices and herbs cooked to the right time and temperature to bring out the flavours of a dish. Hyderabad is considered to be the birthplace of Biryani. Having ruled by the Mughal Empire for years, the cuisine of Hyderabad is highly an amalgamation of Mughlai, Turkish and Arabic along with the influence of the native Telugu and Marathwada cuisines.
Well if I am doing an Andhra special week then I had to include Biryani in it for sure right. But due to certain limitations like the unavailability of copper and brass pots and also I have electric gas stove so these limitations restricted me from posting authentic Hyderabad Biryani. Nevertheless, this Hyderabadi Bagara Khana will surely win your hearts..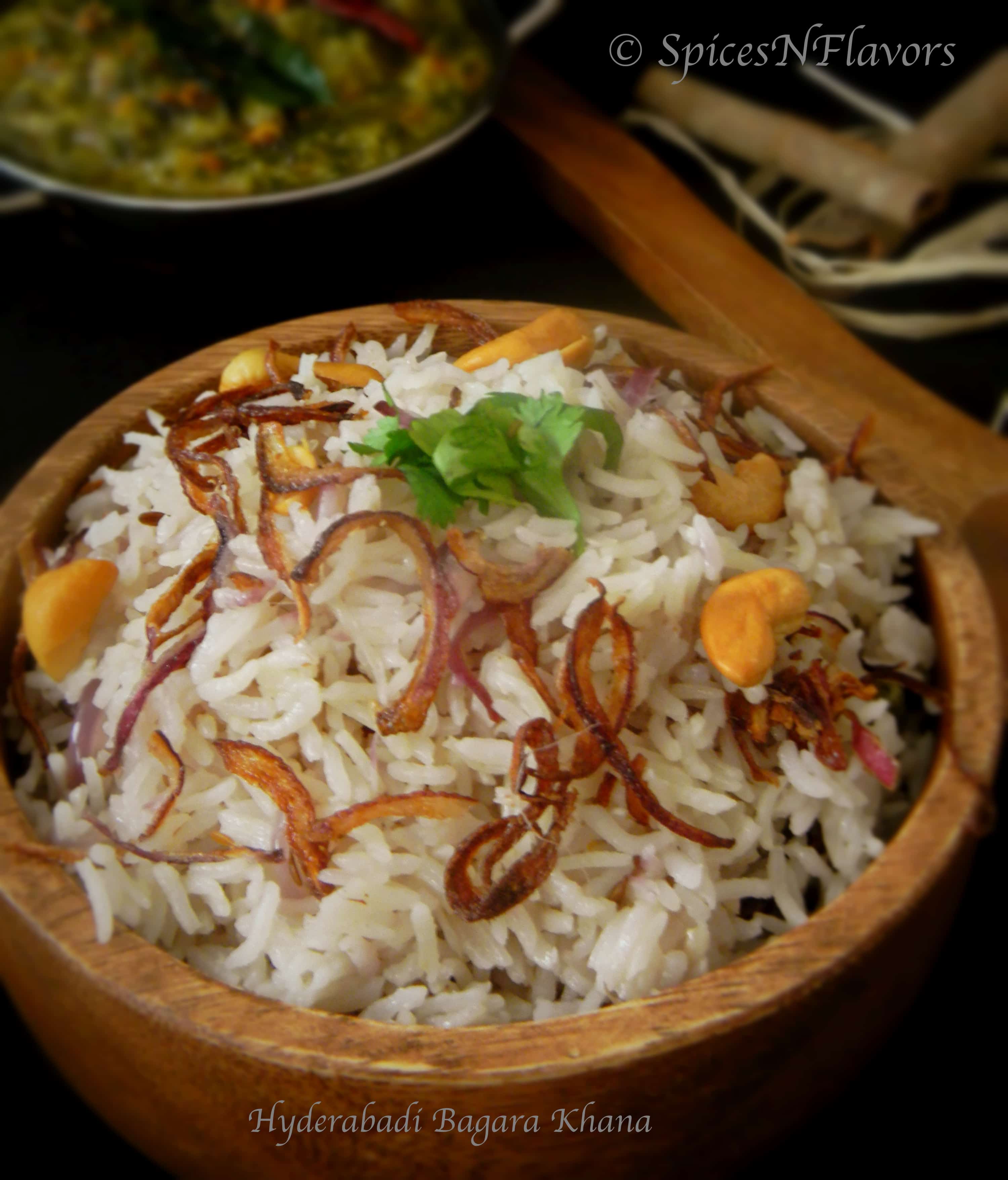 There is a saying in Hindi, "Daane Daane pe likha hai Khane wale ka Naam" which means on every grain is written the name of the person who will eat it. Fate has already decided who will eat a particular grain of rice, and we cannot change it.
An event which is destined to occur will certainly occur.
Well lets not get into the literal meaning.. :P.. I just want to say that with this preparation you will have each and every grain separated, so fluffy, so light, the aroma in your kitchen will even get your neighbours wondering.
Here is what you will need to make this..
Prep Time: 6-7 mins        Cooking Time:25-30 mins       Serves: 2-3 persons
Ingredients:
1 cup long grain basmati rice
1 onion, finely sliced
1 tsp shahi jeera/caraway seeds
2 green cardamoms/elaichi/elaka
3 cloves/lavang/krambu
1 bay leaf
1 small cinnamon stick/dalchinni/pattai
1tsp garlic paste
1tsp ginger paste
1 tbsp oil
1 tbsp ghee/clarified butter/ney
2 cups water
12-15 cashewnuts (optional)
4-5 mint leaves (optional)
For Crispy Fried Onions for garnishing (optional):
1 medium onion, very finely sliced
1 tsp cornflour
oil for deep frying
Method:
Wash the rice two times and soak in enough water for 15 minutes.
Heat up the oil and ghee in a non stick pan. Fry cashew nuts in that until nice golden brown, remove and keep aside.
In the same pan, add in the shahi jeera, and the whole garam masalas; cardamoms, cloves, cinnamon stick and bay leaf. Saute for a minute.
Add sliced onions, saute for 1-2 minutes. Add in the ginger garlic paste and again saute for a minute.
Drain the water from the rice and add into the pan. Mix everything together, taking care not to break the rice grains. Let it cook for a minute.
Add 2 cups water plus mint leaves and bring it to a rolling boil. Cover and simmer for 12-15 minutes. After about 12 mins, with the help of a spoon make a well in the centre of the pan. If you still see water in it, tap the rice back making equal level, cover and cook it further for 2-3 minutes, so that the moisture is evaporated. If there is no water content then your rice is ready.
With the help of a fork lightly fluff up your rice. Rice is ready to be served. Serve it with dal variety of your choice.
For Crispy Fried Onion:
Separate the sliced onions from each other with the help of your hands so that while you fry them each and every slice is uniformly cooked.
Add in the cornflour and give a quick mix and immediately transfer it to the hot oil for frying. If you let stay cornflour for a longer time, the onion would start releasing its moisture and you wont get a crispy fried onion.
Fry until golden brown. Drain the excess oil and garnish it over your rice.
You can use this as a garnish for all types of pulao, biryani preparations.
Notes:
The whole garam masalas and the mint leaves used add in a strong flavour to the dish. So before serving I generally remove those from the rice and serve as most of the time we do not like to chew them directly, so it is advisable to remove them just before serving.
A perfect substitute for your biryani craving.. 😉
We had it with Menthu Pappu Koora/Methi Dal Fry, Bendakaya Fry/Bhindi Fry and Andhra Tomato Pachadi.
Happy Cooking!!
Sushma..