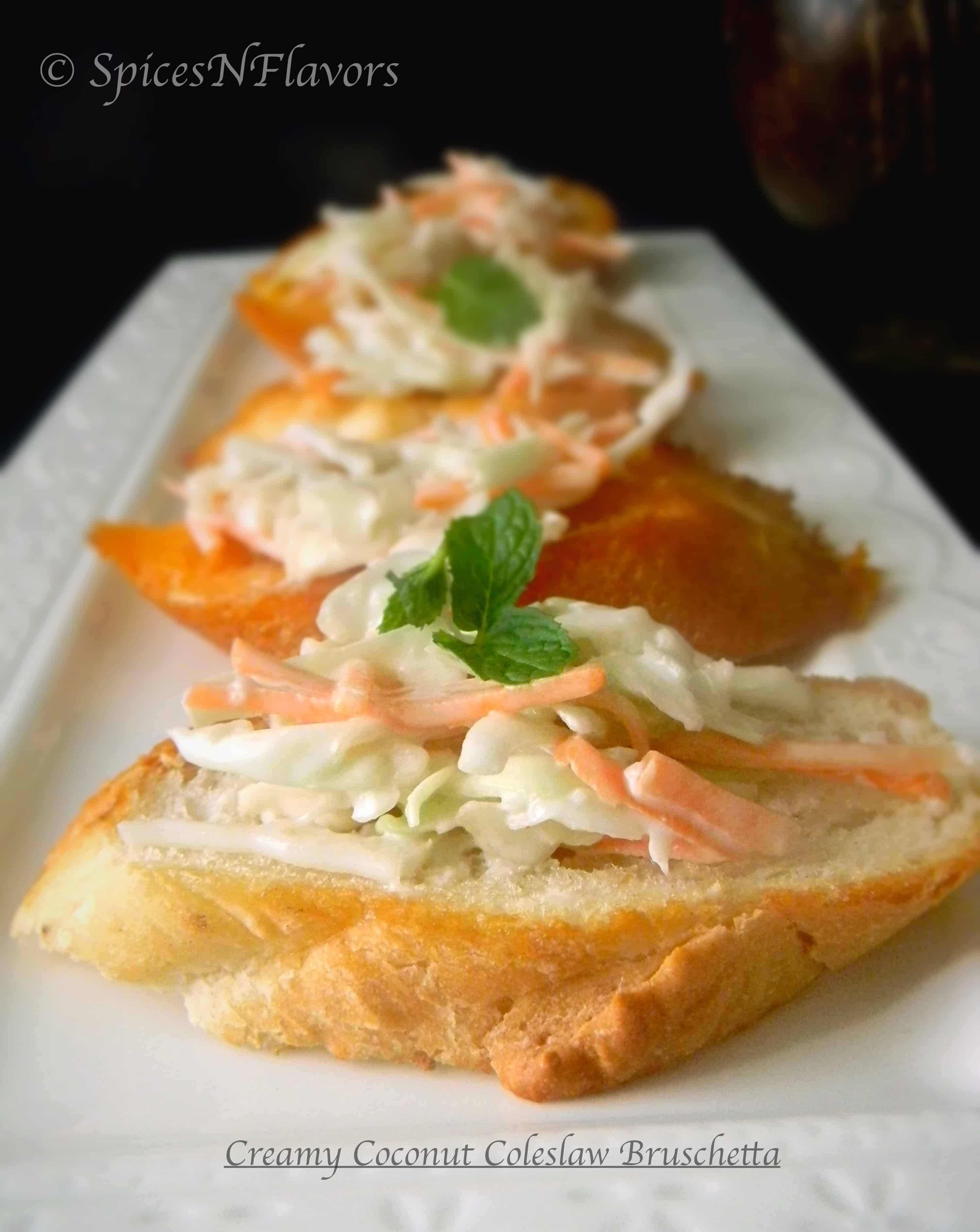 I am still not back from my holiday mood. How can I?? 4 days without cell phones, alarms, no social apps and no Internet. Can you believe that?? Cut off from the entire world, laying on the beach watching the shade of the sky getting darker as if it is hiding itself in a blanket. Words cannot explain the beauty of watching the shining golden orange shade of the sky slowly fading away to the dark night. Watching the moon play hide and seek with the clouds. Hands in hands; sometimes silence speaks a lot..
Today's recipe is also inspired from my holiday trip to Cook Islands - Rarotonga; Coleslaw. It may be a very common salad but what makes it special is the addition of fresh coconut milk. I had it first time on my trip and couldn't stop myself from recreating the same in my kitchen with a change - Creamy Coconut Coleslaw Bruschetta.
Coleslaw often pronounced as Cole Slaw is basically a salad made of raw cabbage with vinaigrette dressing. And Bruschetta [bru'sketta] is an Italian starter; a grilled bread tossed in oil and garlic. I just combined the two to make this Coleslaw Bruschetta and of course added coconut milk to get the island feel and used Mayonnaise dressing so that makes it creamy.. Voila.. a very simple, basic recipe ready in minutes that you will love for sure.
The best part of my trip was that I had organic food all the four days. Every home had its own fruit and vegetable garden. All home grown vegetables were sold on every Saturday at the local market. Even the coconut milk was extracted fresh from the grated coconut. Where will we get such a treatment these days??
I tasted this on the one day Glass Bottom Lagoon (Boat) trip in Rarotonga. We did snorkelling (it was an ultimate experience), the crew took us to another island and shared with us their history, culture and food. They even had a Coconut Tree Climbing competition and that man could climb up and down the tree in just 7.5 seconds. Phew.. Sharing a few pictures at the end of the post. Have a check.
In my maternal home, salads were never a part of our daily food. Forget salads, I never had the regular vegetables that my mother cooked. I used to hate vegetables. But now since I have started cooking, I just love everything. Rather enjoy it.
Salads need not be dull and boring.
Salads are Healthy and TASTY too.
Salads are filling and satisfying.
Salads can be customised to taste, crunchy, nutty, sour, sweet and very flavourful.
You can use today's recipe as filling in sandwich, in tortillas and also in tacos. A very basic breakfast recipe. But I had it for lunch today.. 😛
So very cold, temperatures varying from 1 degree to 4 degree. Who will cook in this temperature?? Whipped up the coleslaw and sautéed beans and mushrooms and I am good to go. A wholesome food.
Prep Time: 10 mins
Cooking Tiime: 5-10 mins
Ingredients:
For the Bruschetta:
1 baguette French loaf or similar Italian bread
olive oil for brushing
1 clove garlic (optional. I did not use)
For the Coleslaw:
1/2 medium sized raw cabbage, shredded
1 carrot, shredded
Dressing:
1/3 cup mayonnaise
1/4 cup coconut milk
2 tsp apple cider vinegar (subs. lemon juice)
2 tsp sugar
Method:
Mix all the ingredients mentioned under dressing and keep aside.
When ready to eat mix the shredded cabbage and carrot. Add the dressing and toss well and serve immediately. Your coleslaw is ready
Now you can enjoy this on its own as a salad or use it as a filling in sandwiches, tortillas or even tacos.
For the Bruschetta:
Cut 1/2 inch thick slices of the baguette bread diagonally.
(Ideally this is toasted in an oven but today I did it on the gas stove). Heat up a non-stick pan on high heat. Brush it with olive oil. Once hot add the sliced bread pieces. Cover the pan and cook for 2-3 minutes on each side until golden brown around the edges. You want a crisp bread.
(If you are using oven, pre-heat it to 230 degree. Apply oil on one side of the bread and place it in the baking tray with oil side down and bake for 4-5 mins on top rack until you get a golden brown edges).
Once out of the oven cut the garlic clove and rub it on one side of the bread. (I did not use garlic today).
And your bread is ready.
To Assemble just place a tbsp of coleslaw on the bread slices garnished with herb of your choice. Served with sautéed mushrooms and beans on side. You can also serve tomatoes along with it.
This summer spend time with your friends and family and not in the kitchen. Prepare this coleslaw in a jiffy. I am sure you will surely love this.
Notes:
You can use sandwich bread instead of baguette bread if you cannot lay hands on that bread. But that would a sandwich and not bruschetta.
Purple cabbage can also be used for a bright colour look.
Happy Cooking!!!
Sushma
I am bringing this to Fiesta Friday Blog Party.. Wo hoo.. BTW, here sharing few pics of the Coconut Man.. 😛