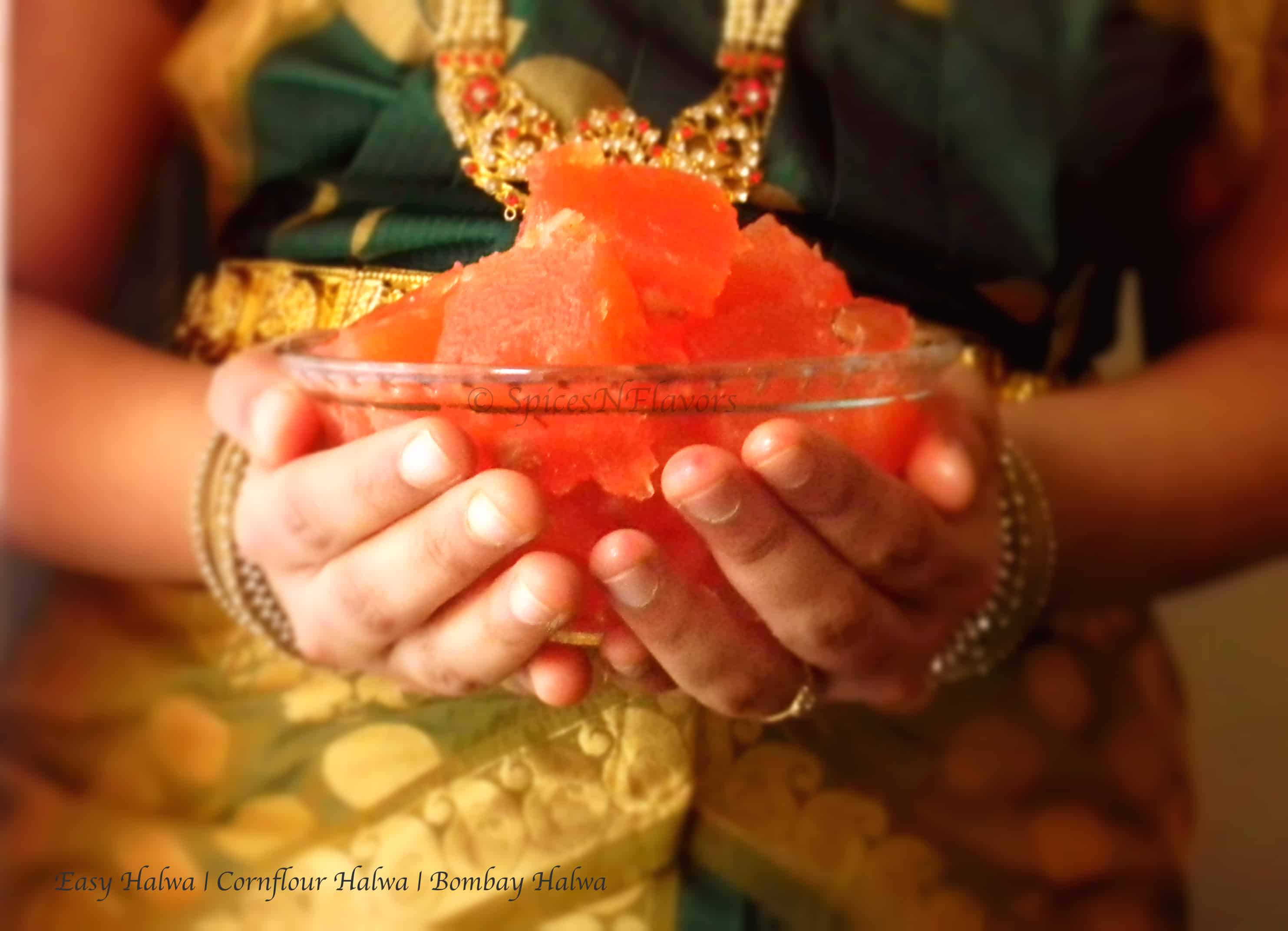 It was my dance group, Bharatnatyam Group of Christchurch; annual day program on Saturday, the 23,May 2015. And like I had said in my very first post Eggless Chocolate chip Cornmeal Muffins, its a belief among we Indians to start any new thing with a sweet. Since this was my major show after a gap of almost 10-11 years I made this Easy, simple and quick to make Halwa | Cornflour Halwa | Bombay Halwa right before our show.
It takes exactly 18 mins to make these lip smacking Halwa.. You don't believe me right!!! Check it out..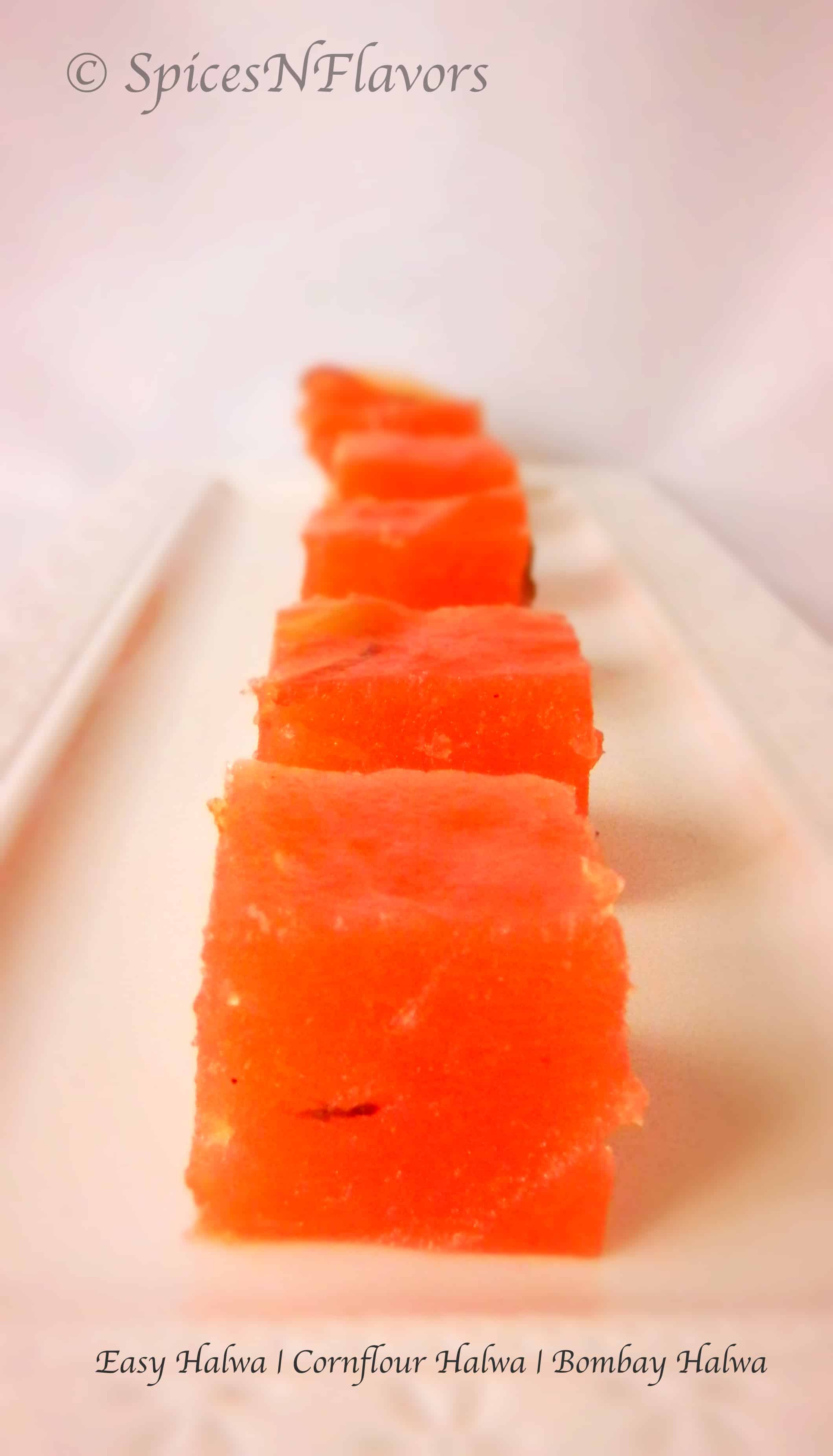 Even though I have had these many a times in Mumbai, but never thought I could manage to make them at home and that too with perfect taste, texture, flavour and within few minutes. All thanks to Haritha, my dear friend actually only friend from Christchurch.. 🙂 If you remember I had mentioned about this already in my Smoked Buttermilk (Chaas) Shots.. 🙂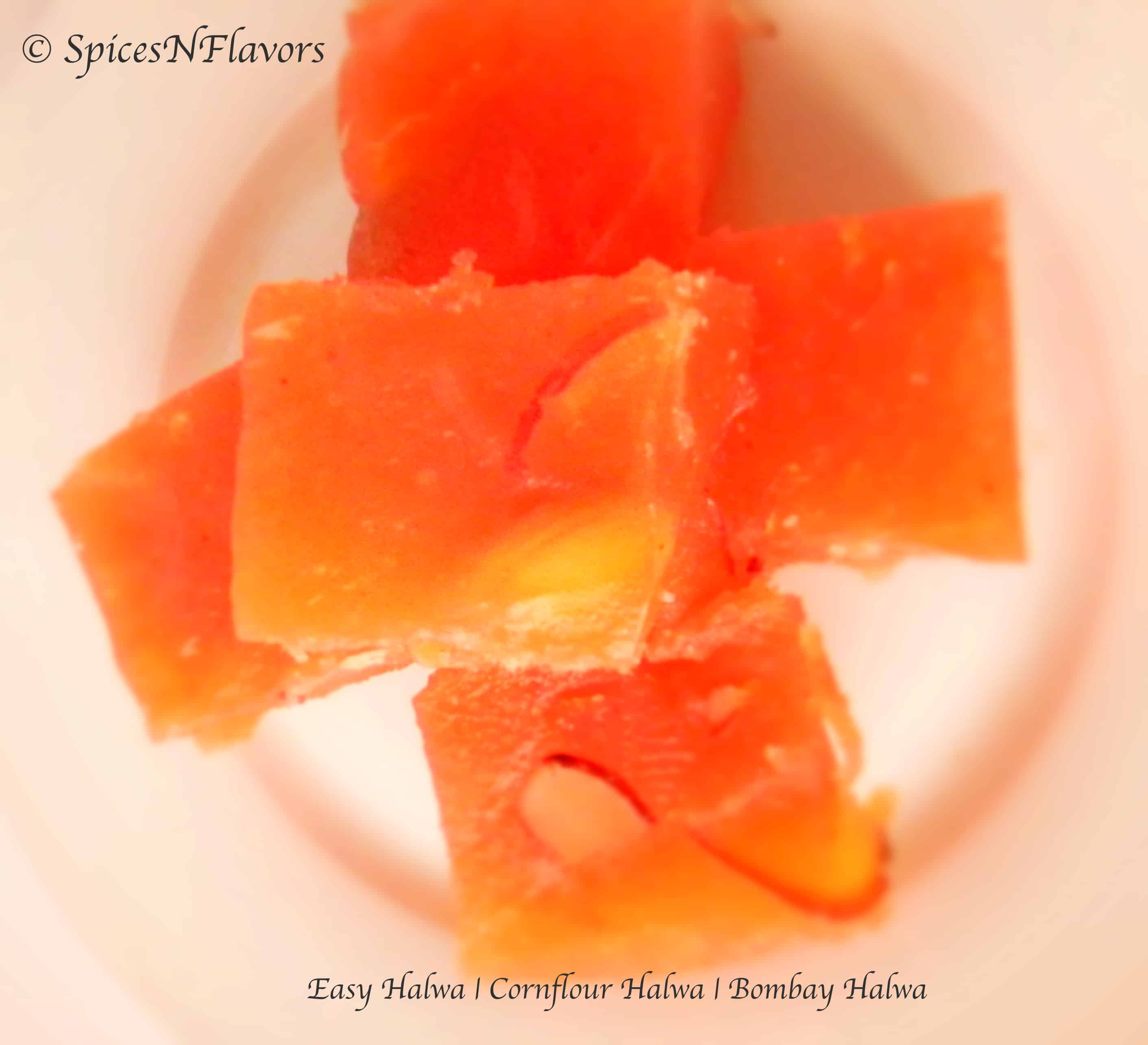 As I had mentioned in my Baked Kachori post, I am going on a holiday tomorrow for a week.. So would be away from you all for a week.. Do miss me as I will miss you all for sure.. 😀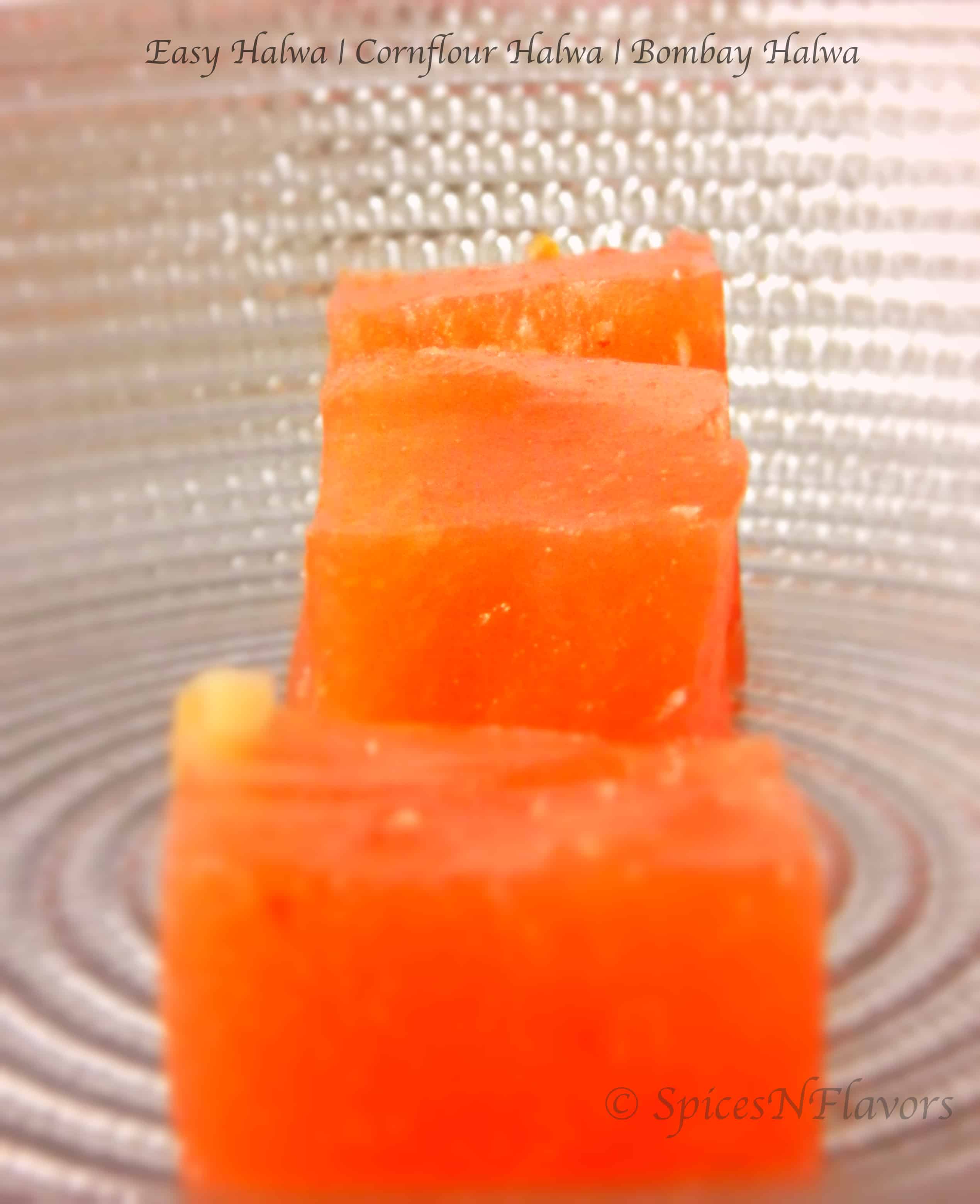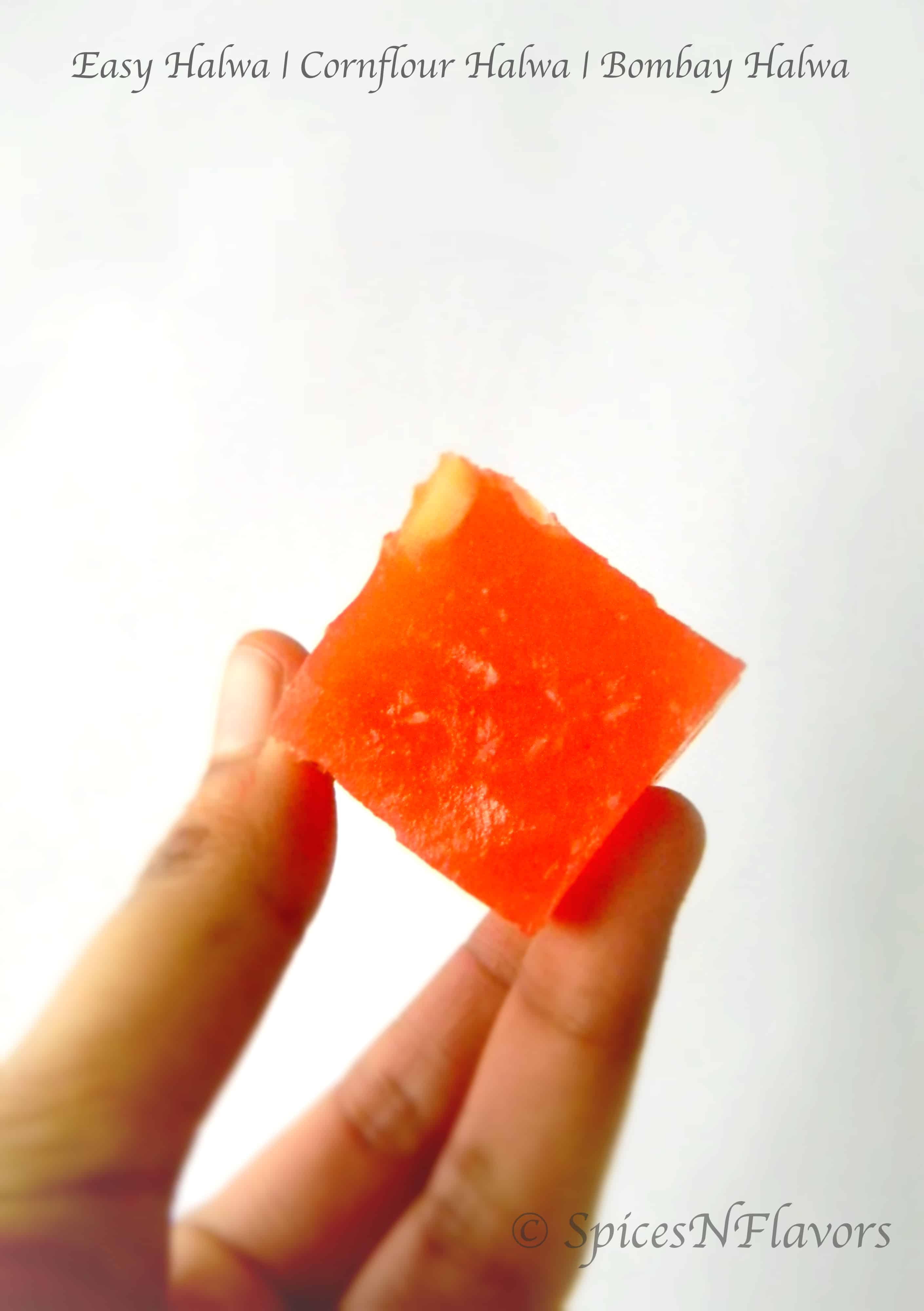 Halwa is an Indian sweet variety, usually made on Indian festivals like Diwali. But with this recipe you can make it any time of the day.. Moreover you can also do other work along with the preparation of this Halwa; no need to keep an eye over it like the traditional method.
Prep Time: 5-7 mins
Cooking Time: 18 mins
Makes: 30-35 pieces
Ingredients:
1 cup cornflour
3 cups sugar
4 cups water
Few drops of colour (your choice)
Big pinch of cardamom powder
5 tbsp clarified butter/ghee
Fistful of nuts of your choice
Method:
Heat up 2 tbsp ghee in a pan and fry in the nuts until nice aromatic and golden brown and keep aside.
In a microwave safe bowl, add in the cornflour, sugar and water. Mix well without any lumps. Add in the colour and cardamom powder. Mix well and microwave for 6 mins.
In the first 6 mins, remove after 2 minutes; give a stir and again microwave for another 2 minutes. At the end of first 6 minutes add nuts of your choice along with the remaining ghee and also the one that you used to roast the nuts. Mix well.
In the next 6 mins, microwave the bowl for 3 minutes, remove, mix and again microwave for 3 mins.
Remove and mix it for one last time and microwave continuously for another 6 mins. Total time required is 18 mins; in an interval of 6 mins.
Spread it onto a greased plate or tray and allow it to set. (Won't take long.. 🙂 ).
Notes:
Use a big bowl to avoid overflowing of the ingredients in the microwave.
Roasting the nuts in ghee is optional, you can add it directly also.
Ghee and cardamom is the key ingredient in this halwa.
Enjoy this sweet which takes hardly any time and energy to make with your family and friends..
Try my Kaju Katli as well.. Another popular Indian sweet.
Happy Cooking!!!
Sushma..