Chocolate Terrine - a thin slice of smooth, dark chocolate, soft yet firm, fudgier yet light, a delicious end to your meal.
If you are a chocolate lover, then this Instant Pot Chocolate Terrine is gonna blow your mind.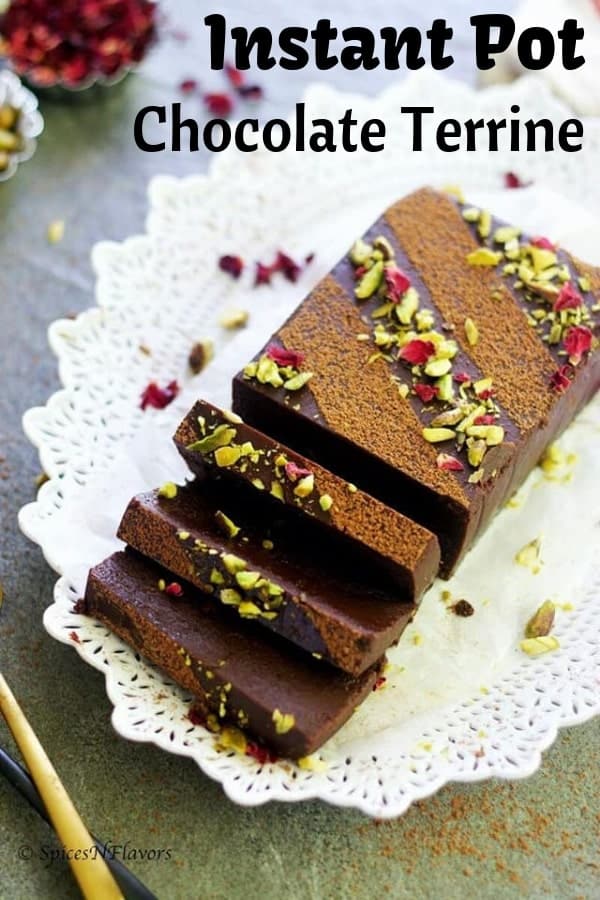 Chocolate Terrine recipe is an easy terrine recipe that pretty much a newbie can also successfully attempt to make.
If you are a sucker for Instant pot Desserts then just stay tuned this chocolate love is what you need in your life.
In this post you can find details on:
What is Terrine?
Why to make it an Instant Pot?
How to serve this Chocolate Terrine
What does it taste like?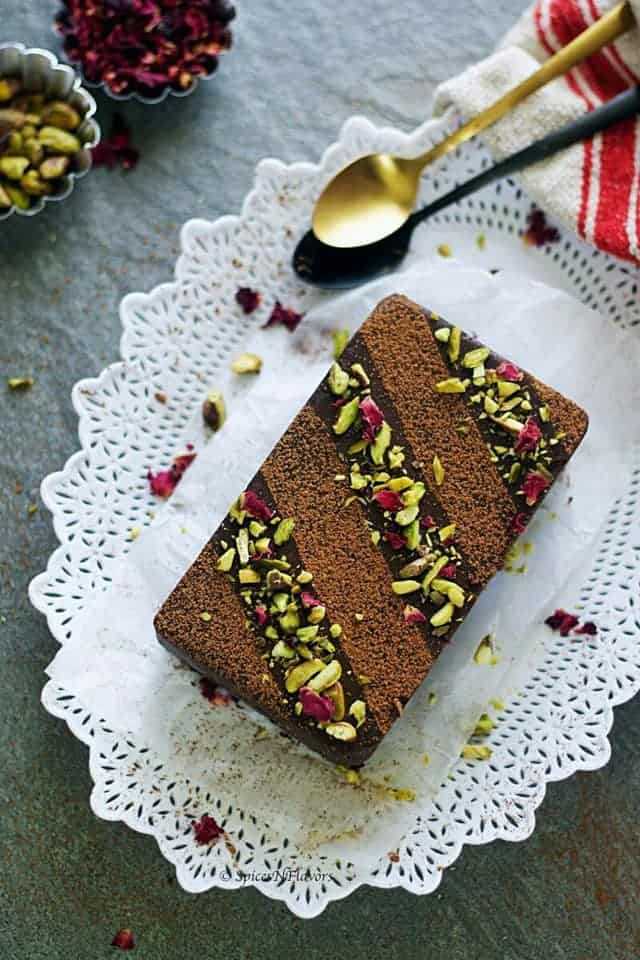 What is a Terrine?
The word Terrine refers to the cooking vessel in which the dishes are cooked. It has a characteristic rectangular shape with straight sides just like a regular loaf pan.
A layer of ground meat, vegetables, boiled eggs, herbs and/or other seasonings is usually packed in a steel loaf-shaped mold, which is then cooked in a water bath, cooled, turned out and sliced for serving.
These are usually served cold or at room temperature.
I have adapted this concept to make a terrine dessert and the beauty of this easy chocolate terrine dessert recipe is that I have INSTANT POTTED It 😉 If that is even a term 😛
It is only recently that I got my very own Instant Pot but just like any other person using it I am all over in love with it. I literally use it 3 times a day now.. phew.. I do not wish to rave about it because I know most of you reading this already know it right.. 😀
So here are my top reasons to make this Chocolate Terrine in an Instant Pot
No need to worry about WATER BATH
I always forget to preheat my oven!!! Have you faced that issue? Well not anymore..
Do not wish to turn your oven on in summers!! I get it..
Much easier to work with, an Instant Pot
Since you would add water to the base of your IP you do not have to worry about making an additional setup like the way you would do if you had to bake this dark chocolate terrine in an oven.
A perfect party pleaser recipe, this Chocolate Terrine recipe needs overnight cooling time and hence is a perfect make-ahead dessert that you ought to try the next time.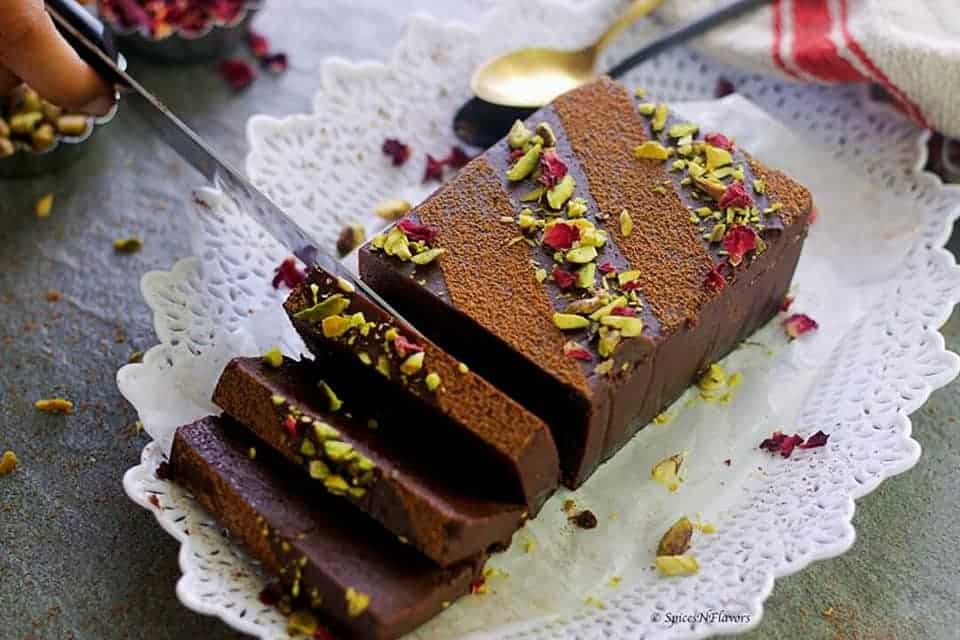 Chocolate Terrine ingredients
Chocolate:
I have to mention about Chocolate; the soul of this recipe. The better the quality of chocolate the better your dessert would taste.
Personally, I prefer using Couverture Dark Chocolate for this recipe. Feel free to use any of your own favourite ones. But I would recommend using Couverture over Compound Chocolates.
If you are looking for recipes using dark chocolate blindly follow this one and I can assure that you would not be disappointed.
Butter:
We would be using unsalted butter for this recipe.
All the other ingredients are pretty basic like Cream, Eggs, Sugar and Flour.
This was just a basic list of ingredients. However, just by tweaking it a bit you can make so many different flavours like:
White Chocolate Terrine
Ice Cream Terrine
Mousse Terrine
Chocolate and Chestnut Terrine
White and Dark Chocolate Terrine
Simple Vanilla Terrine
While I try all these other variations and share with you all today in this post let us see a Basic Dark Chocolate Terrine Recipe.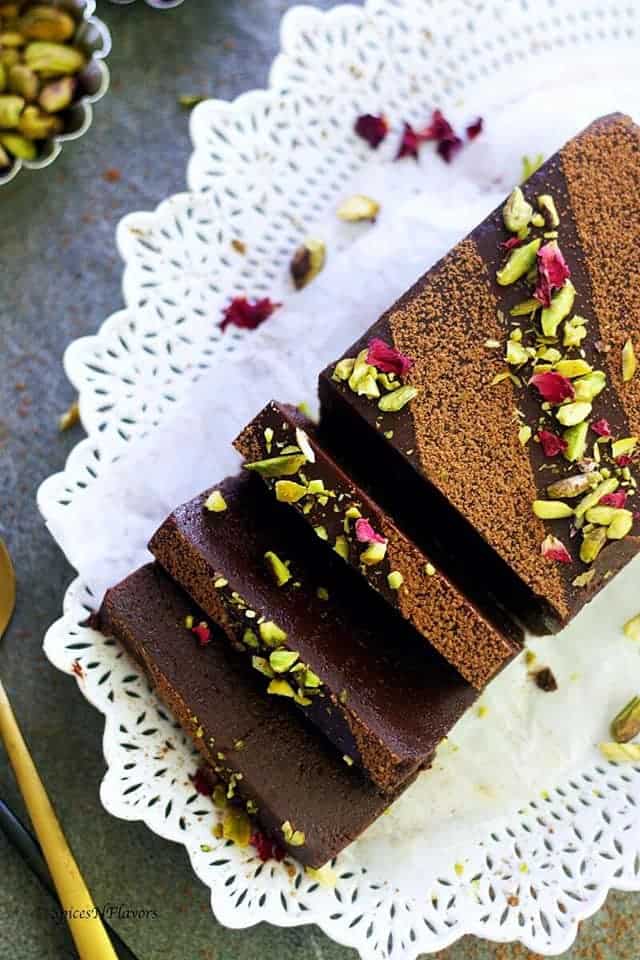 How to Serve Chocolate Terrine?
Since the characteristic of this Terrine recipe is to make them in a terrine pan or terrine loaf tin, it is usually served in slices.
Thomas Keller, the well known American Chef prefers to serve this Chocolate Terrine with créme anglaise and some fruits to give it that acidity.
Many restaurants have adopted this form but the other way of serving it up is with some raspberry coulis. I can totally imagine a white chocolate terrine with raspberry coulis. It would have been so perfect for Valentine's actually.
Ohhh I am totally bowled with the idea of it, just by imagining the colours of white and red is making me excited, maybe I would give it a try pretty soon and share with you all 😉
I for one have just tried to keep it simple. Because trust me the slice on its own has so much flavour that I promise you won't miss the anglaise. 😀 Just slice off a piece, serve it with some chopped pistachios and dusted with cocoa powder. So pretty!!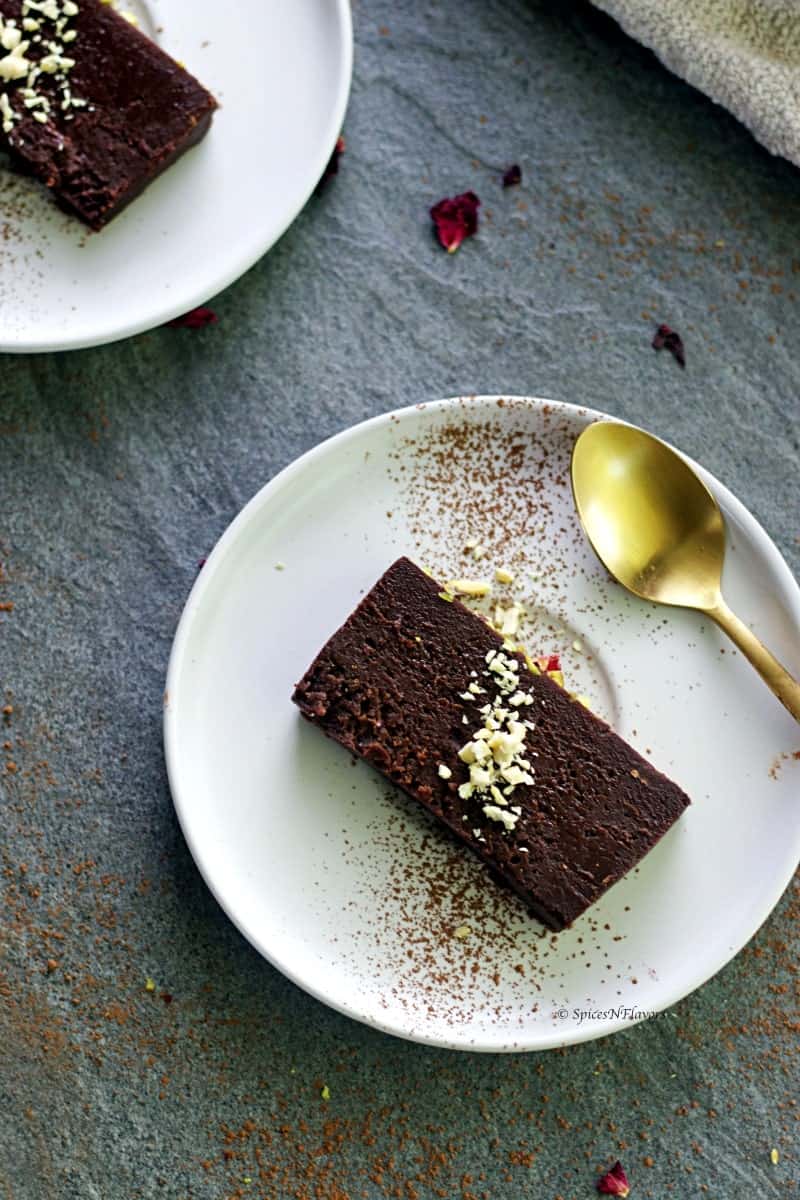 I can see what is coming next, so you might be wanting to know...
So how exactly does it taste?
I would say it is more like a flourless chocolate cake, lighter than fudge but denser than a mousse.
We are adding whole eggs in the recipe and not whipping it up so that is what makes it denser than a mousse as the ingredients used in both the recipe is nearly the same.
It is completely a chocolate dessert. I mean the major flavour is from the chocolate so definitely try to use a bar that is your personal favourite.
A slice of this Chocolate Terrine is so stable that you can totally leave it on your party table for hours together and it would stay so good. You can also try to pack this and include as a gift in your gift box for that someone special.
Here is how to make Terrine in Instant Pot
Liked this recipe?
Let us know by giving it a star rating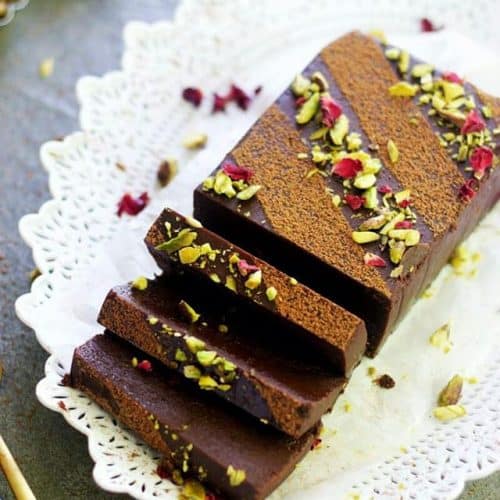 Print
Instant Pot Chocolate Terrine
Chocolate Terrine – a thin slice of smooth, dark chocolate, soft yet firm, fudgier yet light, a delicious end to your meal.
Ingredients
200

gms

Couverture Chocolate

100

ml

Hot Cream

3

nos

Eggs

1/4

cup

Sugar

1/3

cup

(85 gms) Butter

melted

1

tsp

Plain Flour
Chopped pistachios and cocoa powder for garnishing
Instructions
Start by preparing your loaf fan. Apply a layer of butter and place the parchment paper to cover the entire pan. This makes it easier to unmold once the chocolate terrine is set. Set aside until needed

Chop the chocolates finely to small bits and pieces. Take it in a bowl and add in the hot cream all over it. Allow to stand it for a minute and then stir to dissolve. Basically, you are making a chocolate ganache.

Quick Tip: If you are finding it hard to dissolve the chocolate in the hot cream then simply place it over a saucepan with boiling water (double boiler method) and then stir to dissolve the chocolate. The ganache should be completely smooth and silky without any lumps.

Crack open the 3 eggs in a separate bowl. Add in the sugar and whisk to combine. Just whisk until it is combined, no need to beat until light and fluffy.

Add the eggs and sugar mixture to the chocolate ganache little at a time. Whisk to combine. (Make sure the ganache is not hot or else you will end up making scrambled eggs 😉 )

Finally, add in the melted butter and flour and whisk to form a homogenous mixture.

Transfer this mixture to the prepared loaf pan. Cover with an aluminium foil.

Add 2 cups of water to the base of the instant pot. Place the trivet. Then place the loaf pan covered with aluminium foil on top. Set the valve to sealing position. And then pressure cook or use manual button and set the time to 25 minutes. Allow depressurizing naturally.

Take it out of the Instant Pot. Remove the foil and check whether it is set completely. Tap the water formation on top with a clean paper towel. Allow it to cool to room temperature.

Cover with a cling wrap and let it sit in the fridge overnight.

Take it off 10-20 mins prior to serving. Let it come to normal temperature a bit so that it becomes easier to unmould and slice.

To unmold simply remove the cling wrap. Place your serving plate on top and then invert it. Carefully remove the loaf tin to reveal the block of your completely set chocolate terrine.

Dust some cocoa powder on top and add in some chopped pistachios as garnish. Slice and serve.
Video
Notes
Pro Tio:
Use a hot knife to get clean slices.
Notes:
Make sure to use your favourite bar of couverture chocolate for an ultimate taste experience.
Chocolate Ganache should be silky smooth and without any lumps.
The ganache should not be hot while adding the eggs or else you will end having scrambled eggs 😉
My Loaf Tin Measurement:
The chocolate terrine loaf tin that I have used in this recipe measures 14.5x8.5 cms. A similar one is easily available on Amazon which measures 6.5 x 3.8 x 2.5 inches. You can use that too. 
Please note that if you are using any other pan - like round, square or even loaf pan with different measurements the timing might vary a bit.
The average timing is 25 mins. When you remove the pan after the time interval and depressurizing, the terrine should have a slight jiggle in the centre.If it is way too liquidy put it back for another 3-4 mins and it should be done.
After which follow the cooling and chilling sets as mentioned in the recipe.
How to make Chocolate Terrine in an Oven?
Place the loaf tin with the batter in a baking tray and fill the tray halfway with boiling hot water. Bake it in a preheated oven of 160°C for 30 mins.
How to make it in a stove top?
Take a wide bottom and mouth pan. Fill it with water. Place a trivet and then place your loaf tin on top. Cover it with a lid. Cook on low to med flame for around an hour.
Did you make this recipe? Tag me today!
Tag me @spicesandflavors to get featured on my FB and Insta pages
Conclusion:
In all CHOCOLATE TERRINE is one of the easiest Instant Pot desserts (that is not another instant pot cheesecake 😉 ) made using simple ingredients like eggs, chocolate and cream.
Easy to put together
Super stable
Make ahead dessert
Looks fancy
Tastes even better
I hope you would give this simple Chocolate Terrine recipe a try. And if you did then let me know by tagging me, tweeting me or Instagram me. I would love to follow you and your posts.
Now that we are talking about desserts check out my simple Chocolate Pudding recipe and also 5 mins Chocolates Bar recipe that I think you might love.
Pin this to your Instant Pot Desserts board or simply to your Instant Pot board.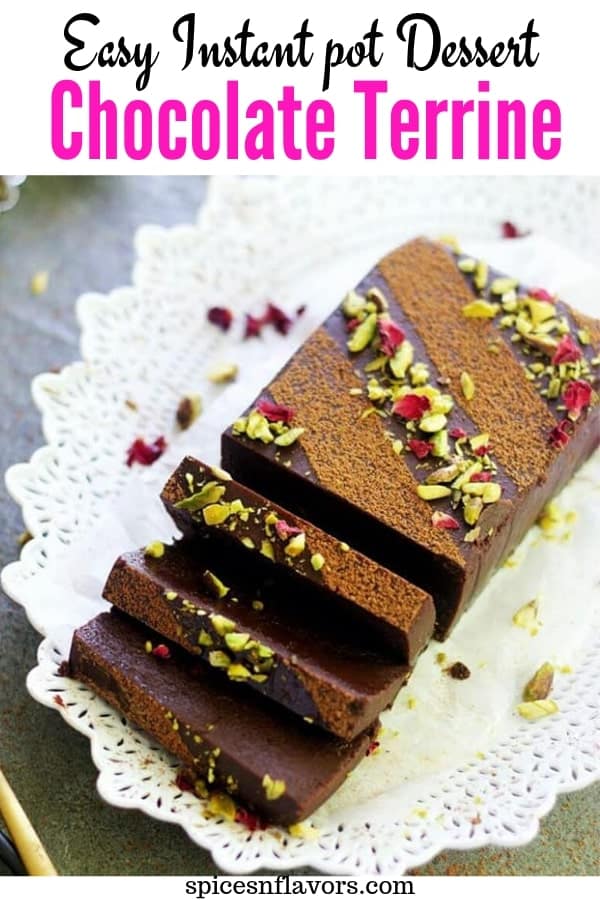 I will see you soon with yet another one.
Until then
Hugs
Sushma