Navadhanya Sundal is a traditional and Authentic South Indian recipe that is usually made to celebrate the Navratri festival.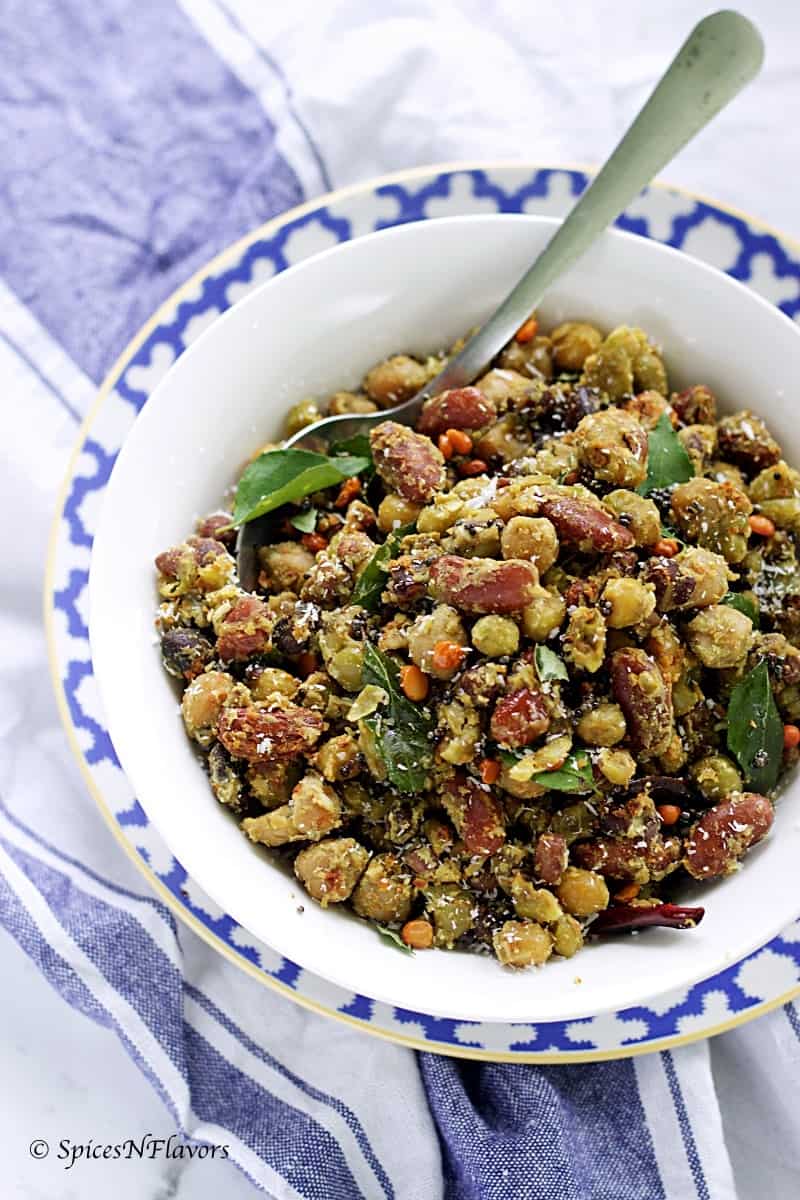 Navadhanya Sundal or be it any Sundal for that sake resonates with Navratri to me. It is mandatory to make a Sundal on each and every day of the 9 day celebrations of Navratri.
Nav translates to nine; "9" and dhanyam translates to beans so basically Navadhanya means 9 bean and sundal refers to the method of boiling and stir frying the beans using assorted spices seasoned to perfection.
This is a healthy, nutritious and protein packed recipe that tastes absolutely amazing too.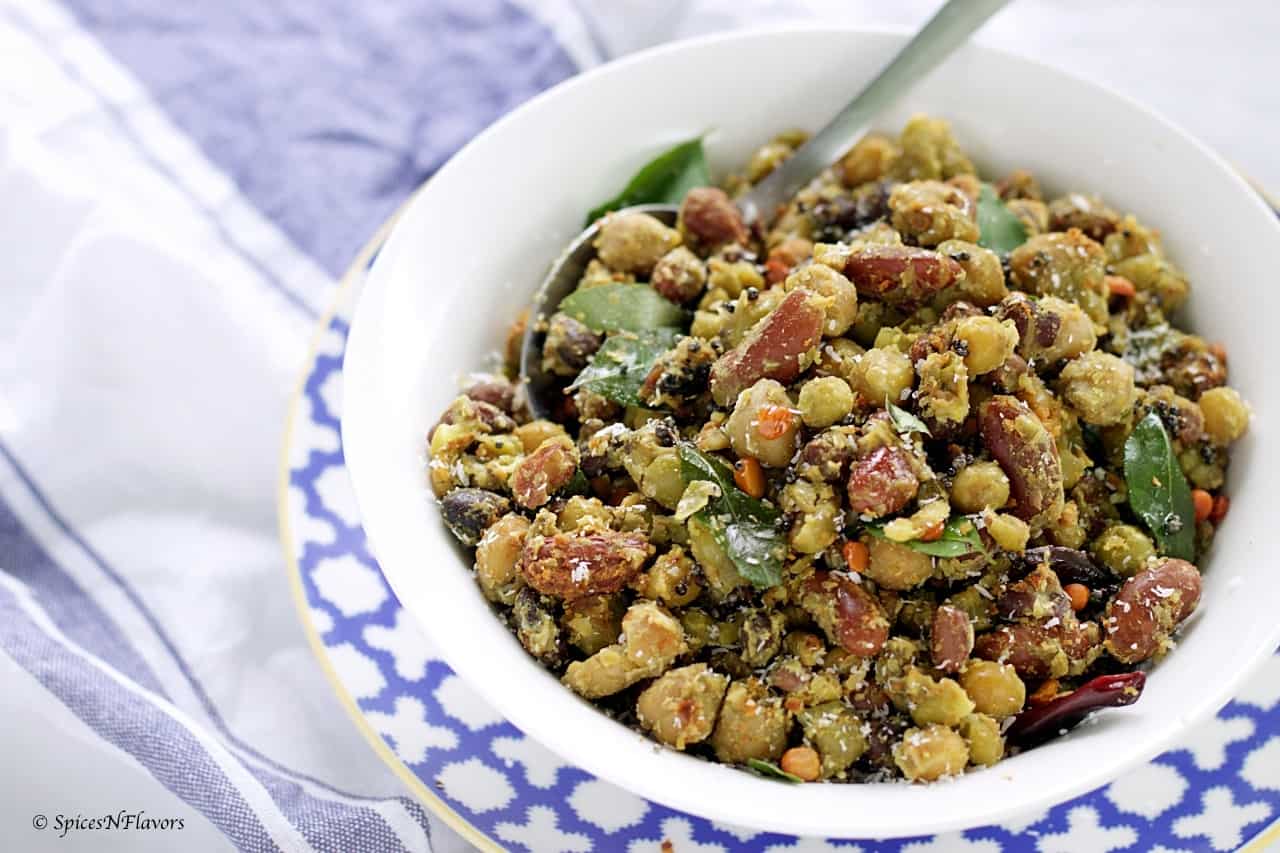 The Navadhanya sundal is seasoned with a freshly made spice blend.
Roasting the dahl makes it even more flavourful and smells so divine that you would be lured to the food.
So its a custom to prepare sundal each day on all the 9 days of this festival. So usually we use any one of the bean and prepare the sundal using the same procedure or mix the beans like the way I have done for this Navadhanya sundal.
Today I have made this right from scratch; but usually the mixed type of sundal is made on those days when you have leftovers from the previous day. So you mix two three types sundals to make one by making use of the leftovers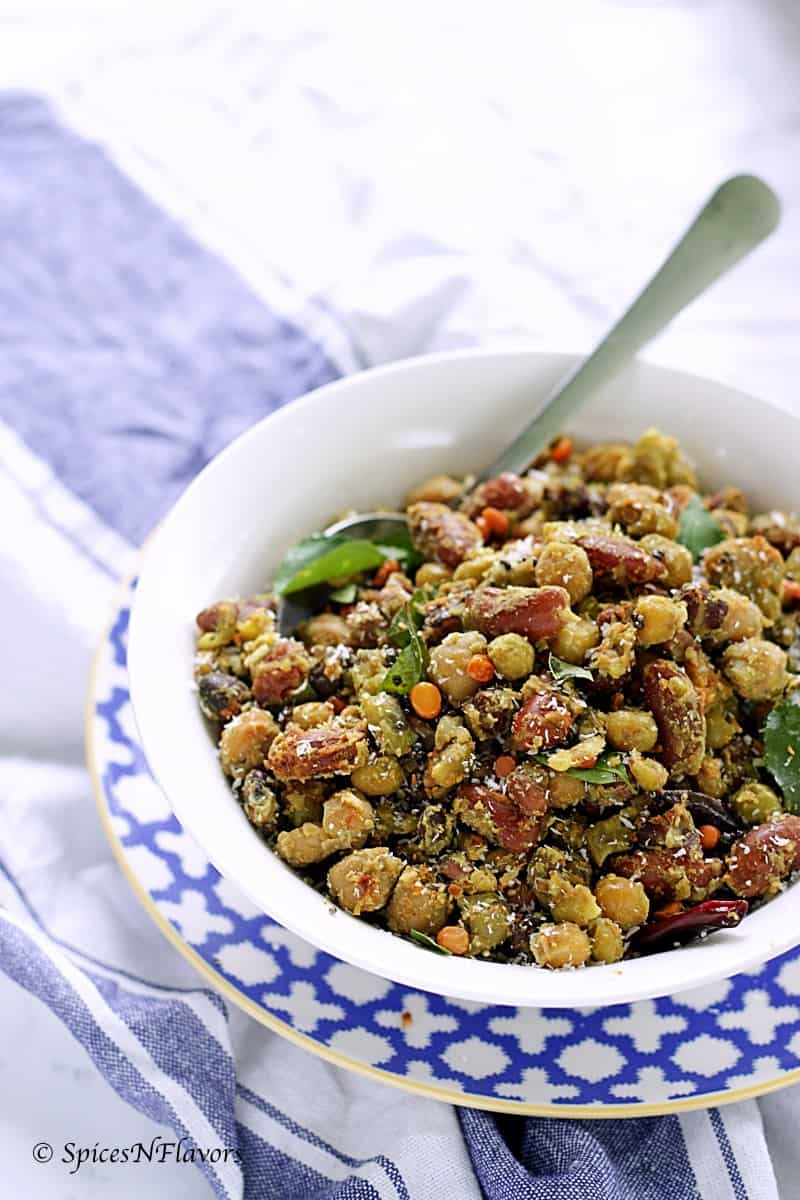 This year its just so special..
My mom is here with me and I am just enjoying Mom cooked food. And during festivals its even more special.
Today we have made actually no me; my Mom made just Navadhanya Sundal and also Appam to mark the beginning of Navratri. I have planned lot more festive recipes for you guys. Also if you love watching vlogs then do subscribe to my Youtube channel as I will be posting a Navratri special vlog soon.
I also hope you had a look at 3 mins Rose Coconut Laddu that I posted yesterday. And I will be also posting Paan Laddu and Oreo Laddu soon. So keep an eye here..
If you happen to try today's recipe then do tag me, tweet me or instagram me I would love to follow you and your posts..
Liked this recipe?
Let us know by giving it a star rating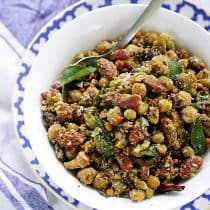 Print
Navadhanya Sundal | 9 bean (legume) salad
Navadhanya Sundal is an authentic and traditional recipe that is prepared in every household of South India during Navratri festival. It is more like a salad made using 9 different beans or legumes
Ingredients
9 Beans/Legumes
1/4

cup

each of the below mentioned beans
Black Chickpeas / Kala Channa
For the Spice Blend
2

tbsp

oil

20

nos

dried red chillies

1/3

cup

channa dal

1/3

cup

whole coriander seeds
Other ingredients
1/2

tsp

Turmeric powder

salt to taste

2

tbsp

desiccated coconut
For the Tadka
2

tbsp

oil

1/2

tsp

Mustard seeds

1/2

tsp

channa dal

pinch of hing

1

sprig

curry leaves
Instructions
Rinse and soak the above mentioned beans in enough water overnight. The next day rinse it one more time and transfer to a pressure cooker. Add turmeric powder and salt. Top it with water just enough to cover the legumes; (do not add too much water). Pressure cook for 1 whistle.

Once the pressure is released naturally, pass it through the colander to remove excess water.

While that is pressure cooking, start preparing the spice blend. Heat up oil in the pan. Once hot add in the red chillies, saute for a minute and add channa dal and coriander seeds. Roast it until the dal turns golden in colour.

Once the dal turns golden, switch off the flame transfer it to a plate and let it cool completely. Once cooled grind to a coarse powder. Keep aside
To put it together
Heat up oil in the same pan. Add mustard seeds, once it splutters add channa dal, hing, dry red chillies and curry leaves. Roast till dal turns golden and add the boiled beans.

Add 2 tbsp of the prepared spice blend and the coconut. Mix everything well.

Thats it delicious and healthy navadhanya sundal is ready
Did you make this recipe?
Tag me @spicesandflavors to get featured on my FB and Insta pages
Notes:
1. If you are using fresh coconut here; then you can use 1/2 of the whole coconut.
2. You can also use just one bean instead of 9 different and follow the same procedure.
3. The quantities of the spice blend that I have mentioned here; just use 2tbsp of it in the recipe. Put the remaining in an air tight container and use it to make sundal everyday or you can even use it top your dry sabzis; trust me sabzi tastes amazing with this spice blend.
Other festive recipes that you would not want to miss:
1. 3 min No Cook Instant Rose Coconut Laddu.
2. 18 mins Microwave Halwa
3. No Cook Instant Barfi
4. 3 ingredients Healthy Chocolate Pudding
5. 5 mins DIY Chocolate Bark
Pin it for later: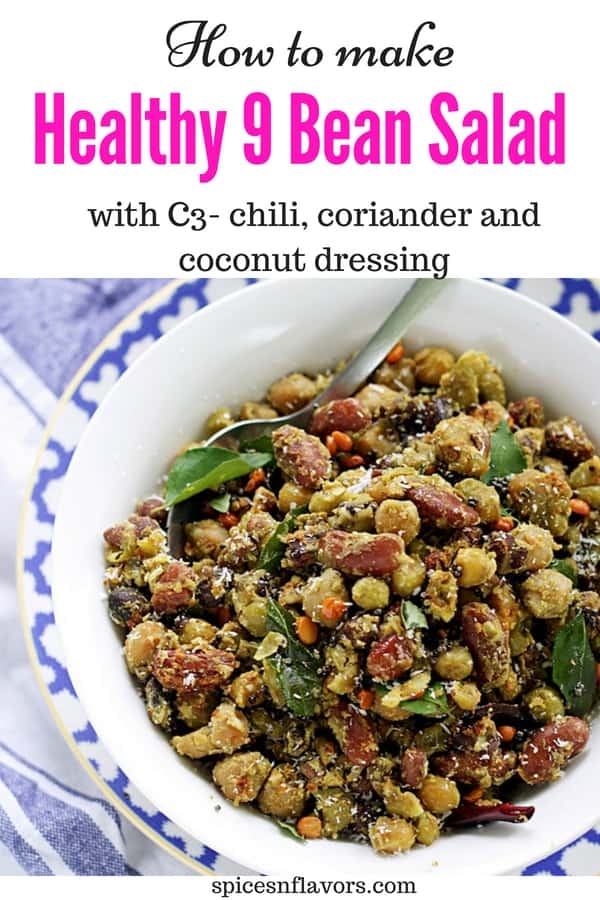 I will see you soon with another recipe
Until then
Hugs
Sushma