Pepper Makhani – a north indian gravy or curry recipe prepared by cooking peppers in rich onion tomato base with a creamy and buttery taste.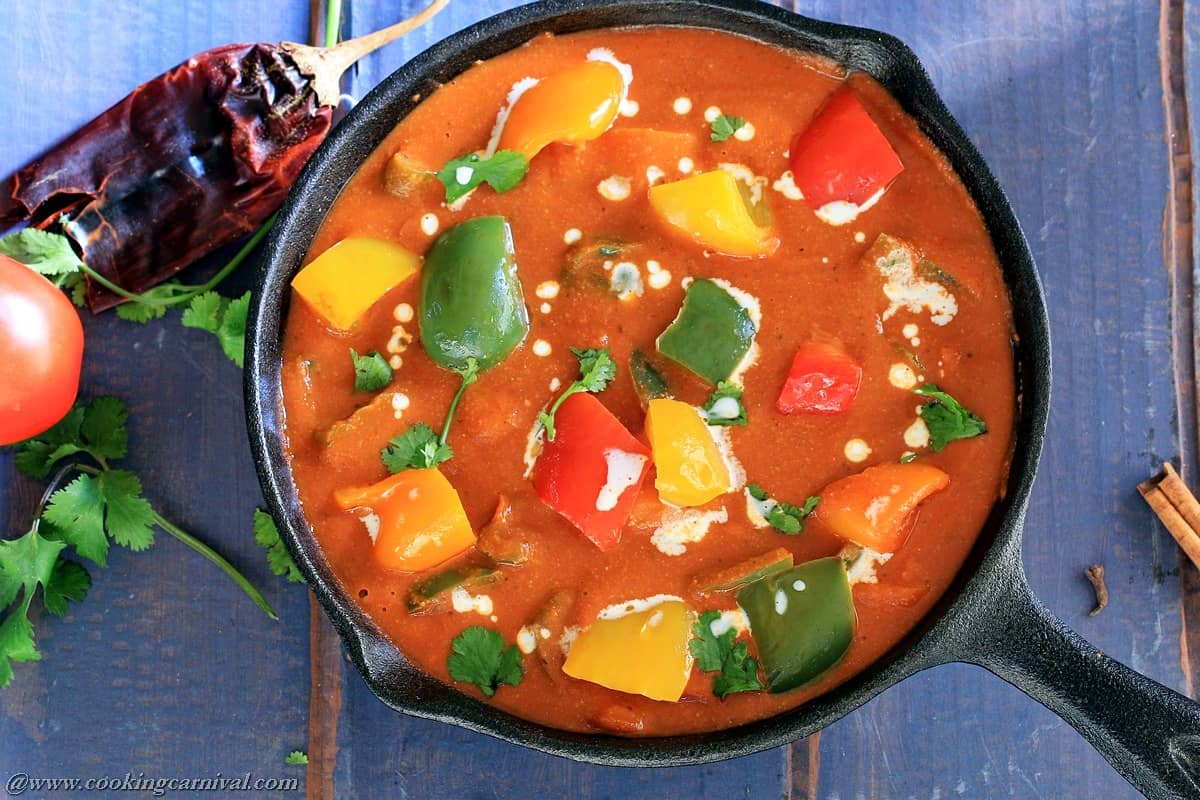 Makhan translates to butter in Hindi. So base of this makhani gravy is butter in which onion and tomatoes are cooked till soft and mushy with few more ingredients and then grounded in a blender to make a smooth paste of it.
This forms the Makhani gravy. And then we can add different vegetables like Paneer to make it Paneer Makhani or mixed vegetable makhani or even Chicken makhani. Ofcourse the ingredients vary a slight in each preparation.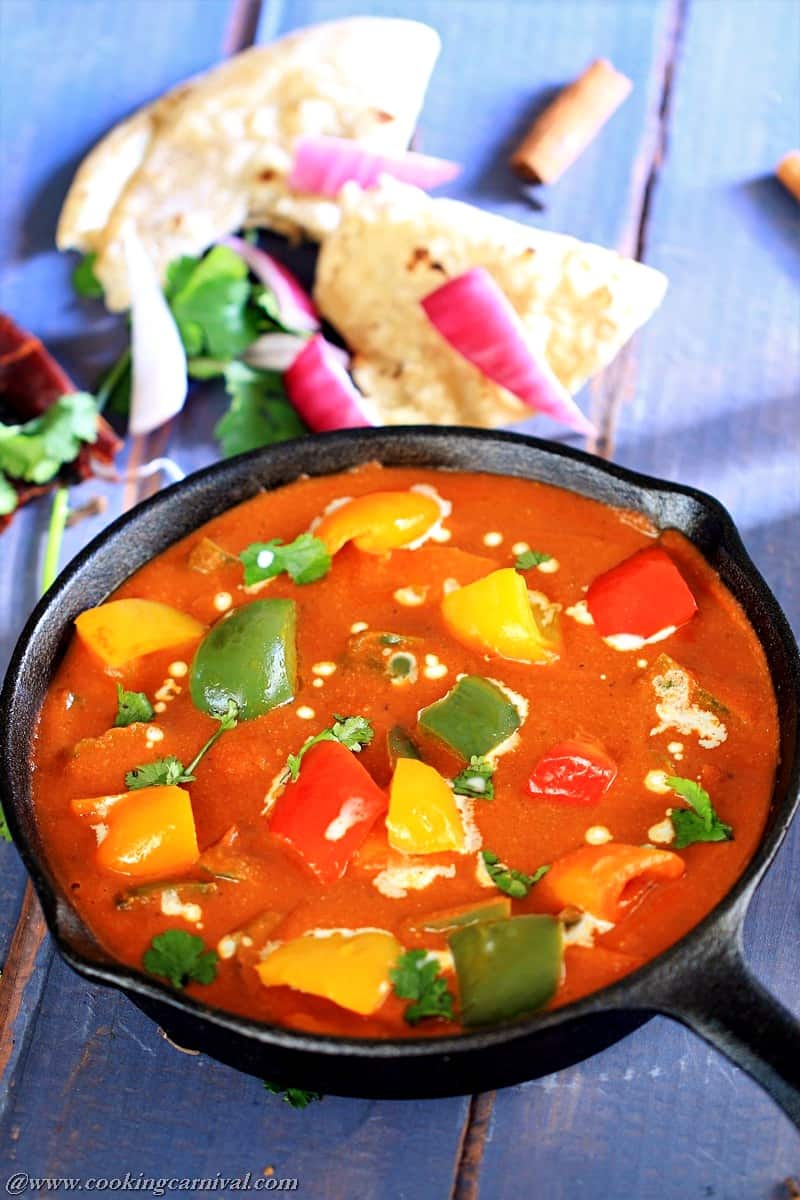 And what makes this Pepper Makhani even more special??
That is because this a guest post.. By none other than a dear friend Dhwani Mehta who blogs at Cooking Carnival.
Would you believe if I say we became friends just a month back?? And from that date on we have not stopped chatting. We are a big time chatter box!!!
And that is how I decide to spend this Valentine's Day by sharing my blog space with my dear friend Dhwani. #bloggerslove is what I am starting this year on my blog where in each month I will invite my blogger friends to share their recipe with me or to say us..
And by that even you won't be bored of my recipes.. :P.. just kidding..
Why Pepper Makhani??
Now you all know how much I love desserts. My blog has lots of sweets and dessert recipes.
To be honest I never noticed it.
So when I invited Dhwani to write a post for us she was kind enough to share a recipe that I do not have on my blog. Yes I don't have lots of Indian gravy recipes so she choose Pepper Makhani as the dish to share with us. How sweet of her right!!
The first time that I noticed her as a co-blogger was with her Medu Vada post. She has shared one amazing trick for getting that perfect vada. Do check it out. Also now that you are in her space check out the famous Amritsari Kulcha recipe which is the most popular post from her blog.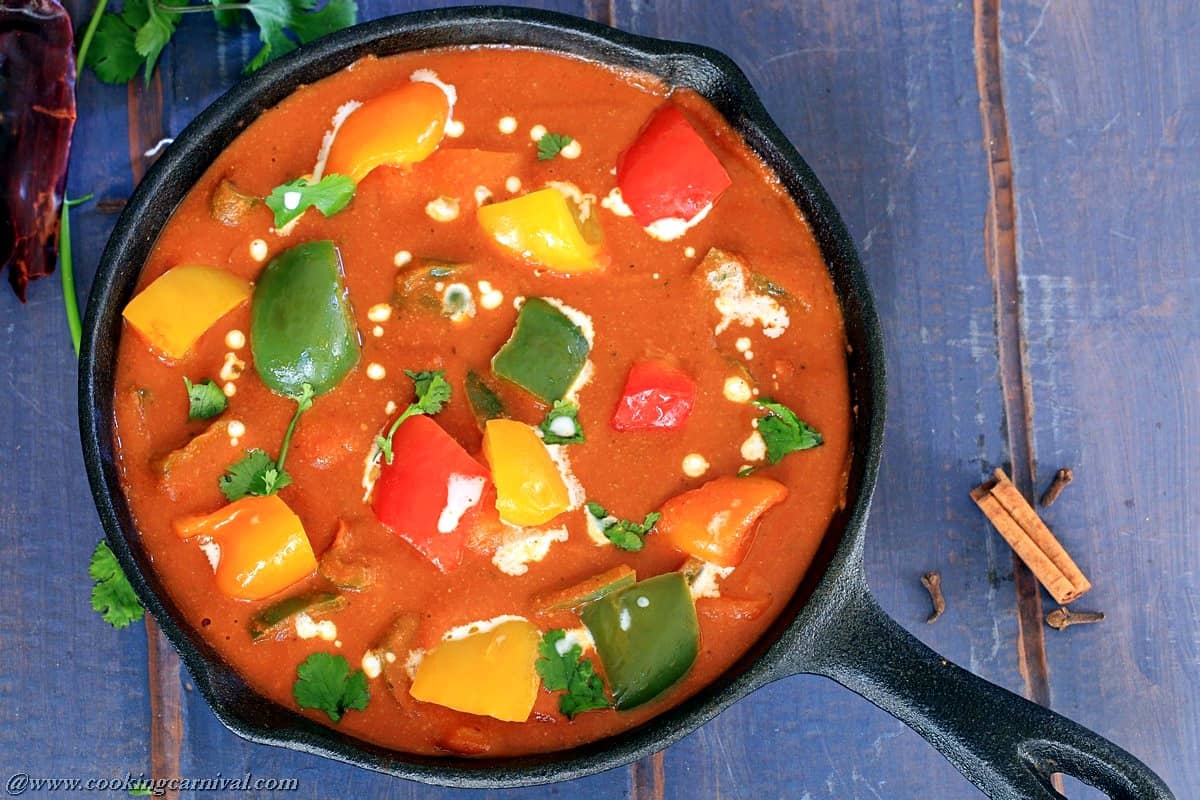 Even though we talk about literally anything under the sun. But here I am just gonna share what she had to say about this Pepper Makhani recipe.
And this is what she had to say about this Pepper Makhani..
"Pepper Makhani recipe is simple and easy to make delicious Punjabi curry recipe. This is restaurant style recipe.
The Makhani gravy is made up of tomatoes, ginger, garlic, dried red chilli for colour, cashew and some spices. This Makhani gravy recipe is the base for making so many dishes. And believe me it's the easiest and quickest of the many Indian gravy recipes.
I made this gravy in the pressure cooker(which makes my (most Indians)life easy).
You can store this gravy in freezer for up to 2 to 3 months in the air tight container. Whenever you are ready to use it, thaw it, take it in a pan and add your choice of sauted vegetables, paneer, tofu or dal, mix it, cook it for 3 to 4 minutes, make some Jeera rice and your meal is ready in no time. 🙂
I have used Mexican dried red chilies to give a nice bright colour to the gravy. You may use kashmiri Dried red chilies also.
Idea of making Pepper Makhani came from Paneer Makhani, well known North Indian dish. Pepper Makhani is very aromatic curry. This dish consists of colourful bell pepper soaked in the rich, creamy and silky smooth gravy. It pairs with Roti, Naan, Plain Paratha or with Jeera rice".
How cool is that!! Freeze it for 2 3 months wow right.. Thank you Dhwani for sharing this amazing recipe with us.
Here is the recipe for you..
Here is the link to the video recipe at her Youtube channel.
Liked this recipe?
Let us know by giving it a star rating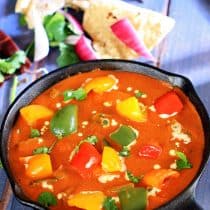 Print
Pepper Makhani
Pepper Makhani is a delicious north indian gravy prepared by adding cooked peppers to rich and buttery onion tomato base
Ingredients
750

gms

chopped tomatoes

250

gms

chopped onion

4

nos

big garlic cloves

1

no

green chilli

1

inch

ginger

2

nos

Kashmiri or Mexican Dry Red chilli

(or approx 15 gms)

1

tsp

cumin seeds

3-4

nos

cloves

2

inch

cinnamon stick

2

cardamom pods

1/2

cup

cashew nuts

(or 75 gms)

1.2

tsp

kasuri methi

1/2

tbsp

sugar

(optional)

2+1

tbsp

butter

1

tbsp

oil

500

gms

colourful bell peppers chopped
Instructions
Heat 2 tbsp butter in a pressure cooker. Add cardamom, cinnamon, cloves, red chili and cumin seeds. Saute for few seconds.

Now add ginger, garlic and green chili. Saute them.


Add Chopped onion and saute for 2 to 3 minutes. Now add chopped tomatoes, cashew nuts and salt. Mix well. Cover the pressure cooker. I know you are thinking what about water??!! Dear, no need to add water. Tomatoes and onion will release all the moisture and help them to cook. Don't worry, it won't burn.


Take 2 whistles. Let the pressure cooker cools down completely. Open it and sieve the mixture. Take the water in a bowl. Keep it aside. Take the tomato mixture into a blender and grind it in to smooth paste.


Sieve the mixture, keep adding the preserved water.


In a pan, take this gravy. Add kasuri methi and sugar. Mix well and cook it for 2 to 3 minutes. Keep it aside.


Now in another pan, heat 1 tbsp butter and 1 tbsp oil. Add bell pepper, salt and saute it for 4 to 5 minutes or until tender.


Add this sauted bell pepper in the prepared gravy, cook it for 3 to 4 minutes. Garnish it with cilantro and cream.


That's it!! Your yummy Pepper Makhani is ready to eat. Serve it with Paratha, Naan or with Jeera rice. Enjoy!!

Did you make this recipe?
Tag me @spicesandflavors to get featured on my FB and Insta pages
If you happen to try this recipe then please tag me, tweet me or instagram me. I would love to follow you and your posts.
Also say Hi to Dhwani at her Facebook page, Tweet her or Instagram her to know you liked her recipe. Also subscribe to her Youtube channel at Cooking Carnival.
Pin it