Raw Mango Sambar is an authentic and delicious lentil based vegetable stew; a staple dish in South of India.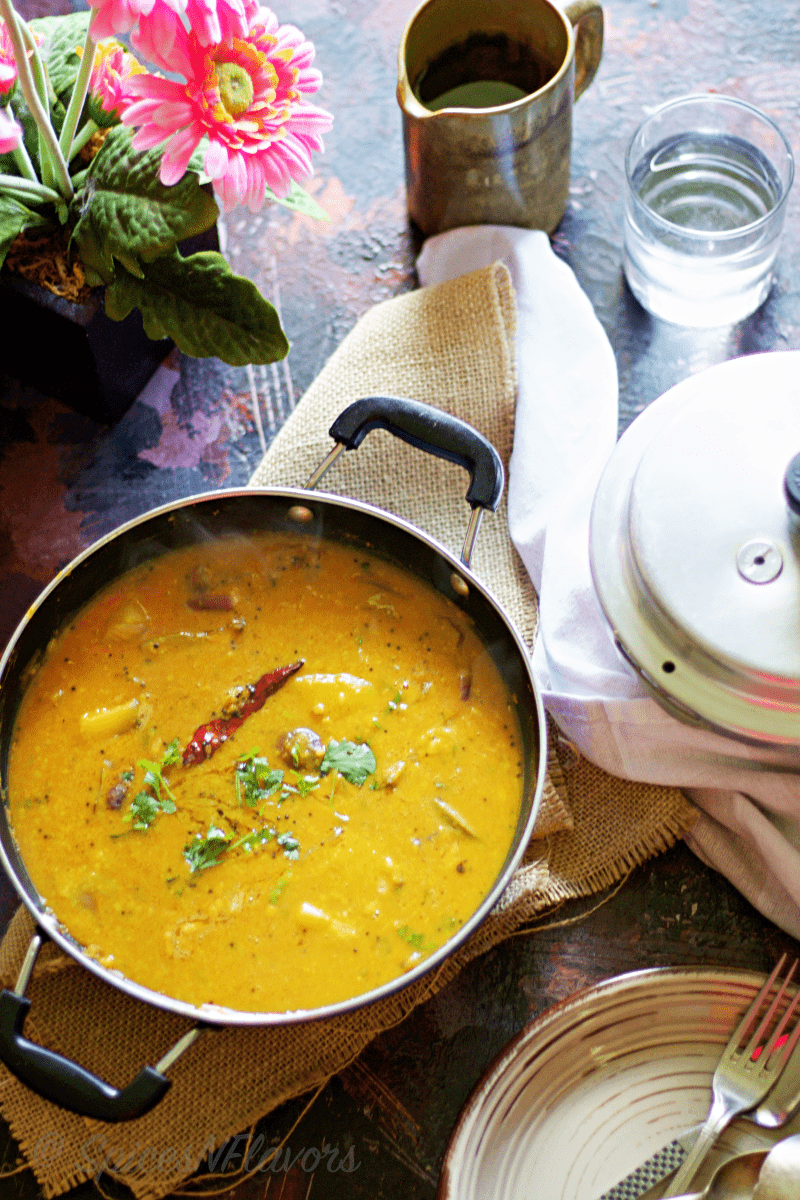 Raw Mango Sambar and Pongal was our brunch last weekend.
Weekends are always a brunch day for us. I don't know somehow I just feel so lazy to cook that I literally drag myself to kitchens on Saturday mornings.
Usually we eat out on Saturdays.. 😉 But when we don't its definitely a Brunch deal at home.. 😀
And this Raw Mango Sambar and Pongal is a no fuss easy to cook recipe that comes together in a maximum of 30 minutes; all thanks to my pressure cooker.
Check my pinterest board for more easy pressure cooking ideas.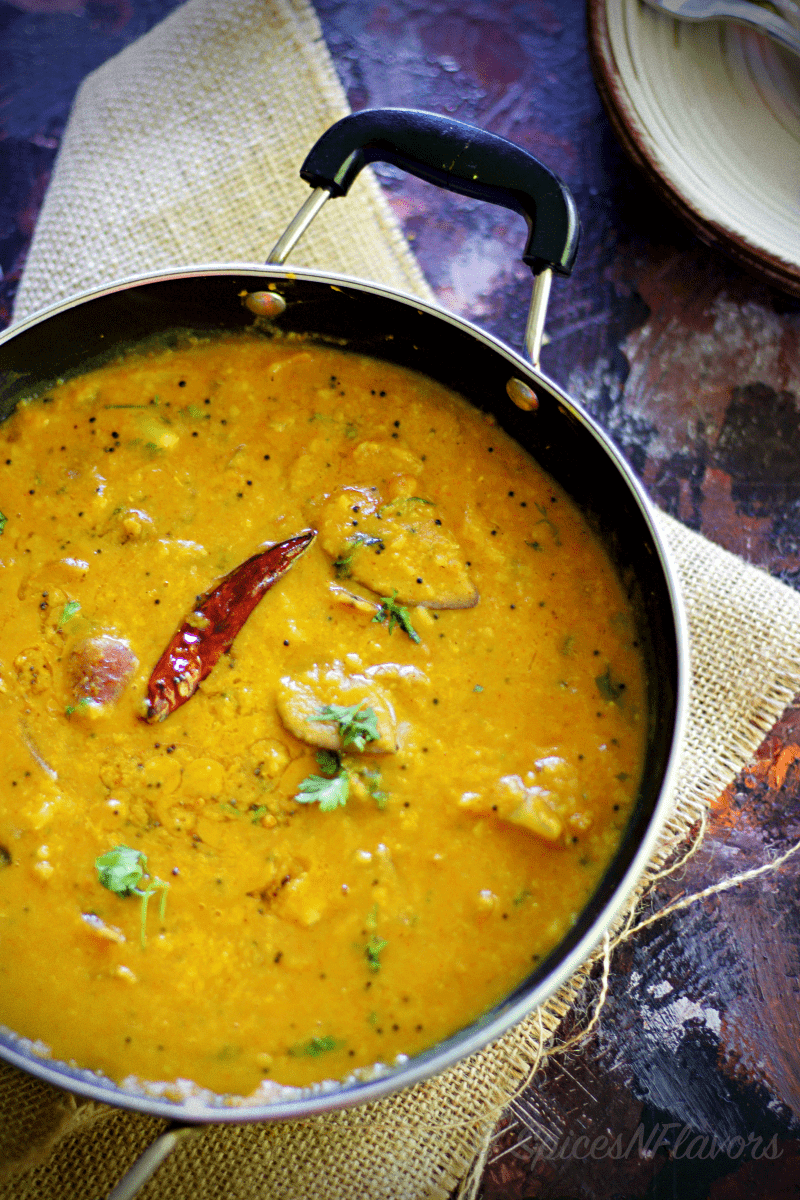 What do I like about this Raw Mango Sambar?
Just that the recipe does not require any Tamarind juice. So thats one more step less – no need to soak tamarind in hot water.. 😛
And Why I like this Raw Mango Sambar??
Is there someone who doesn't like Mangoes?? And the bonus is this Sambar can be made with fresh or frozen Mango pieces.. 😉
We do not find raw mangoes here in NZ so I have always used frozen mangoes that I buy from the Indian stores. But my Mom makes the same recipe using fresh mangoes and it tastes good either ways.. 😀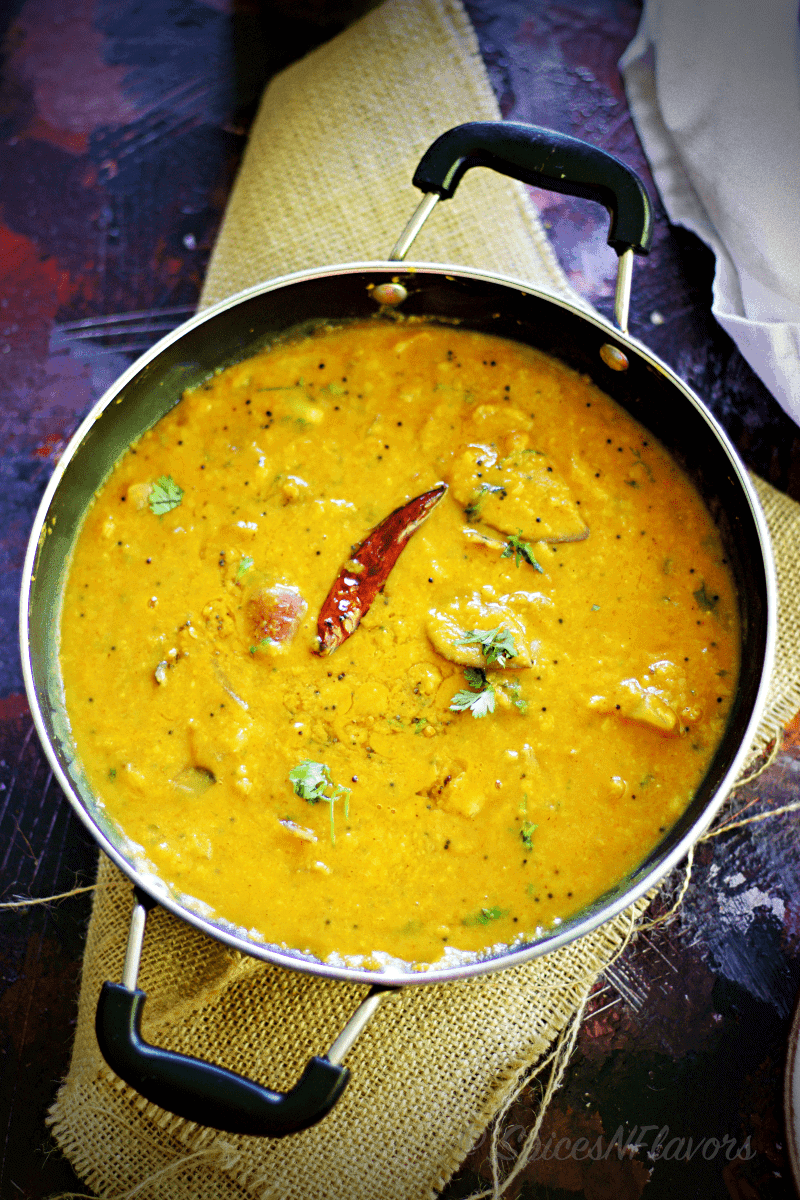 We South Indians use Sambar powder like no other spice. Infact I add it to each and everything. Be it my everyday sabzi like this Mushroom Masala or my kuttu; more than red chilli powder and coriander powder I rely upon Sambhar powder for bringing up the flavour quotient of the dish.
I still don't have a recipe on the blog on how to make Homemade Sambhar powder. Just waiting for my Mom to come down here and then I will definitely share.
But I do have a recipe for making Homemade Rasam powder if you guys wan't to check that. I will link it here.
Oh yes and there is another recipe for making this Drumstick Sambhar; a very common staple Tambram Sambhar recipe. Do check that out as well.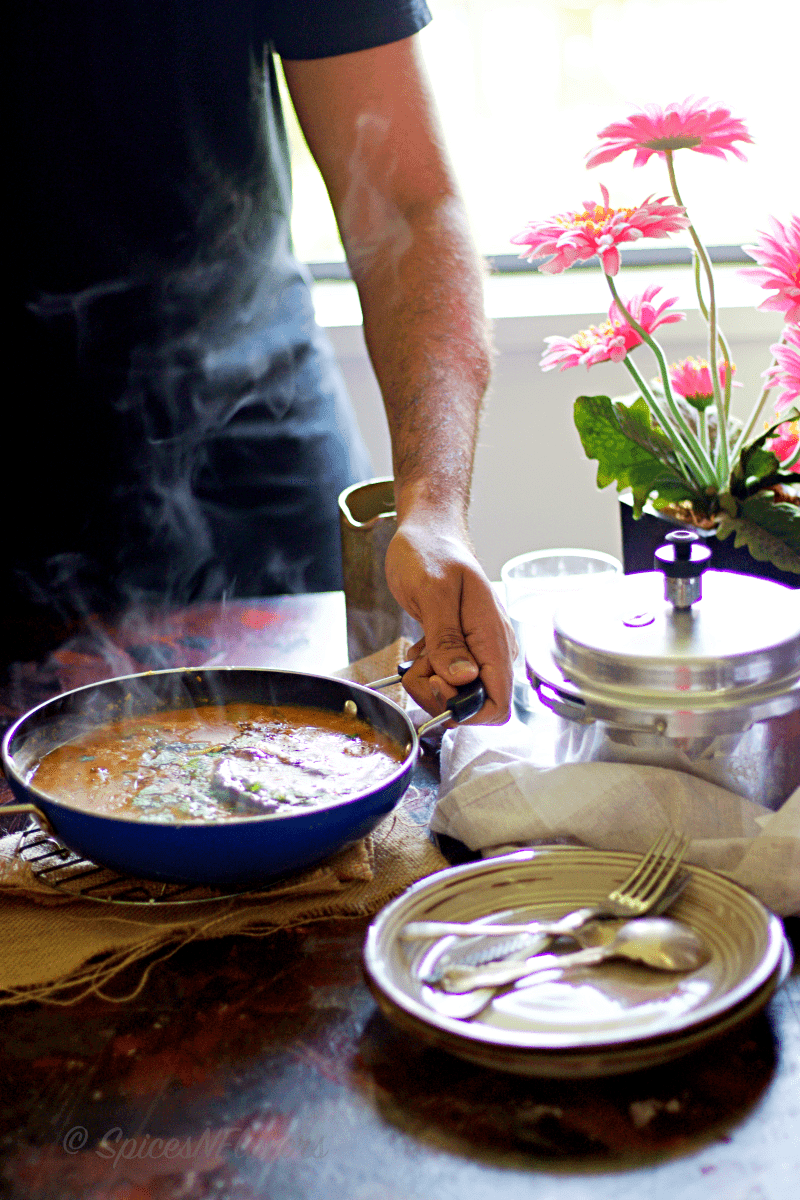 So Come join me for Brunch with this delicious Raw Mango Sambar and Pongal.
This Sambar has a perfect balance of sourness coming from the raw mangoes, sweetness coming from the onions, spiciness to the dish is provided by the Sambhar powder.
This can be eaten on its own as a Soup or with Idlis or Dosas or also with Pongal or Plain rice. You go to any household back in South of India and I can guarantee you that 8 out of 10 would have prepared some kind of Sambhar for lunch or dinner.
And like always if you happen to try this recipe then please do tag me, tweet me or instagram me. I would love to follow you and your posts.
And here is the detailed recipe for you..
Liked this recipe?
Let us know by giving it a star rating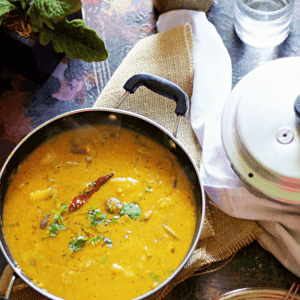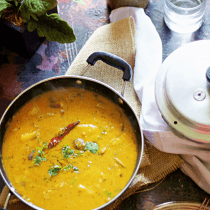 Print
Raw Mango and Onion Sambhar
Raw Mango and Onion Sambhar is an authentic and delicious lentil based vegetable stew; a staple dish in South of India.
Ingredients
1/2

cup

Raw Mango, cubed with skin on

1

nos

Medium size onion

1/2

cup

Toor Dal

2

tbsp

Sambhar powder

1/4 + 1/4

tsp

Turmeric powder

salt to taste

2

tbsp

oil

1/2

tsp

Mustard seeds

1/2

tsp

Urad dal

1/4

tsp

Fenugreek seeds

1-2

nos

Dried Red Chilli

pinch of asafoetida

a

sprig of curry leaves
Instructions
Take 1/2 cup toor dal along with 1/4tsp turmeric powder and 2 cups of water in a pressure cooker and cook upto 3-4 whistles and keep aside.

In a pan, heat oil. Once hot add mustard seeds; allow it to pop and add urad dal, fenugreek seeds, red chilli broken into two, curry leaves and asafoetida and lightly saute until the dal turns golden brown.

Add the cubed onions and saute until it turns translucent.

Add the cubed mango pieces with skin on and lightly stir fry for about a minute.

Add the cooked dal; alongwith the remaining turmeric powder, sambhar powder and salt to taste. Add little water to adjust the consistency if need be and let everything boil for 5 minutes.

After 5-7 minutes switch off the flame, garnish with coriander leaves and serve piping hot with idlis, dosas, pongal or rice.
Did you make this recipe?
Tag me @spicesandflavors to get featured on my FB and Insta pages
Recipe Notes:
1. Use 1 Med size whole mango and cube it with the skin on if using fresh
2. This is a med spice level Sambhar recipe. You can adjust the spice level as per taste.
3. No tamarind juice is required
Looking for more of savoury recipes using Mango then check this 20 Must try Scrumptious Mango Savoury Recipes.
Pin it

See you soon
Until then
Hugs
Sushma