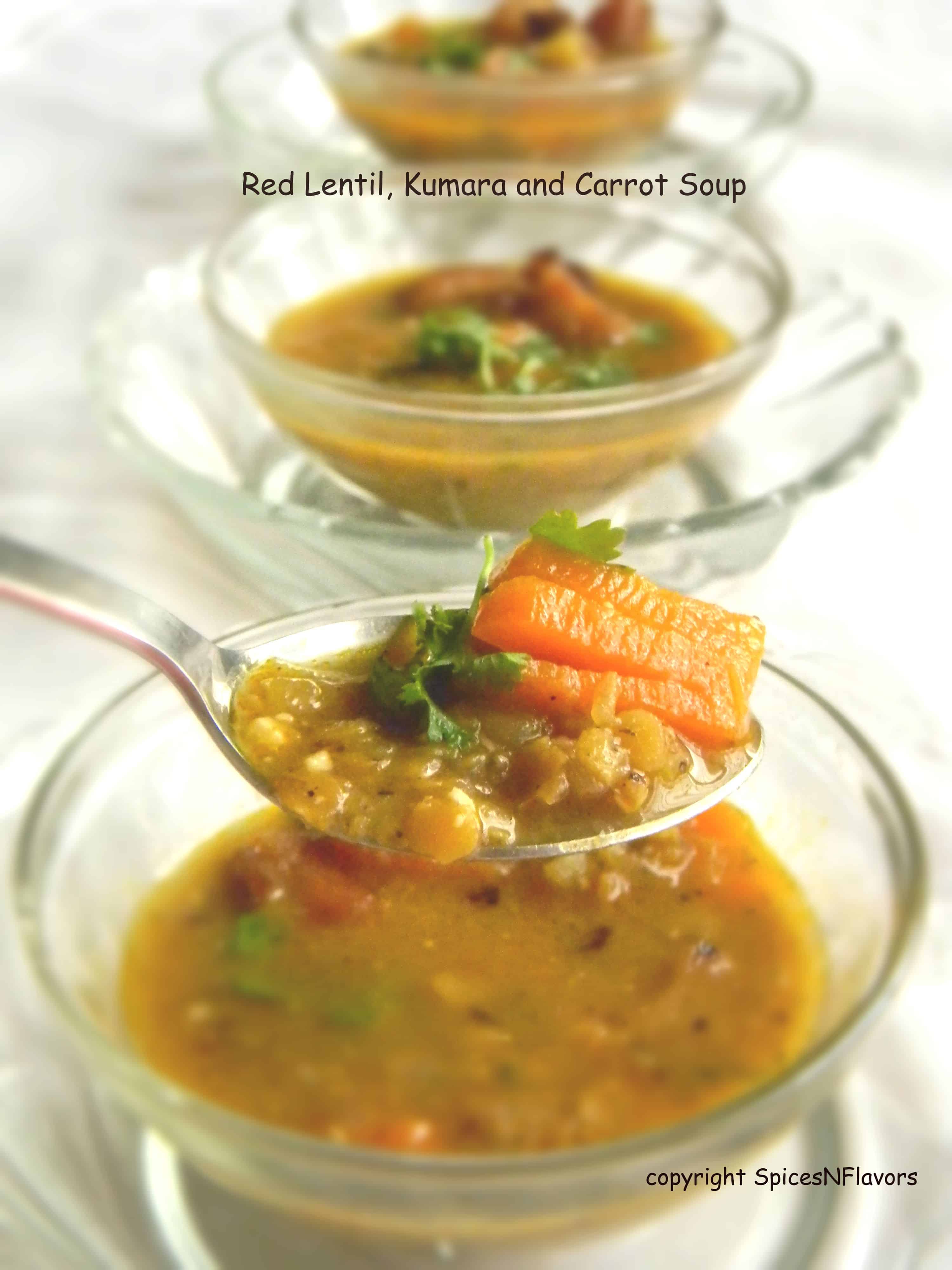 I wish 'HE' were here. Well not because I am missing him; aauumm that goes without saying but because HE would have been the perfect critic for today's blogging marathon challenge Lentils – 3 ways : Red Lentil, Kumara and Carrot Soup. He just loves soup – any kind. We used to literally travel and that too early in the morning just to have a cup of soup. Now that's too much as let me tell you I am not an early riser. God!! Save me!!!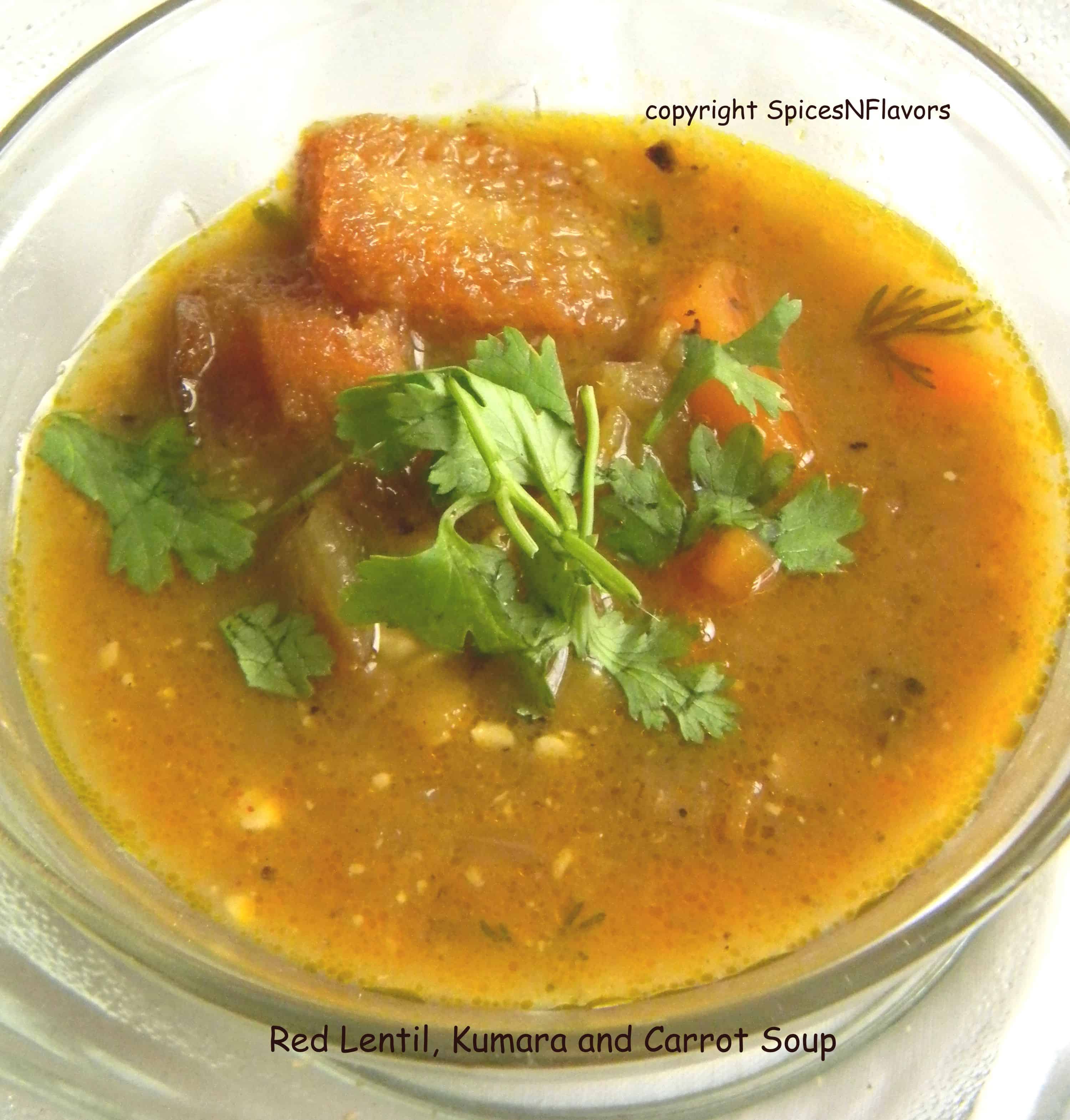 I have never used Lentils before for any kind of soup. Was little apprehensive that it should not taste like our daily Dal, but the use of vegetable stock did the magic. Loved the use of Red Lentils in soup. Rains, cold winds and piping hot soup what else do you need on a lazy Sunday…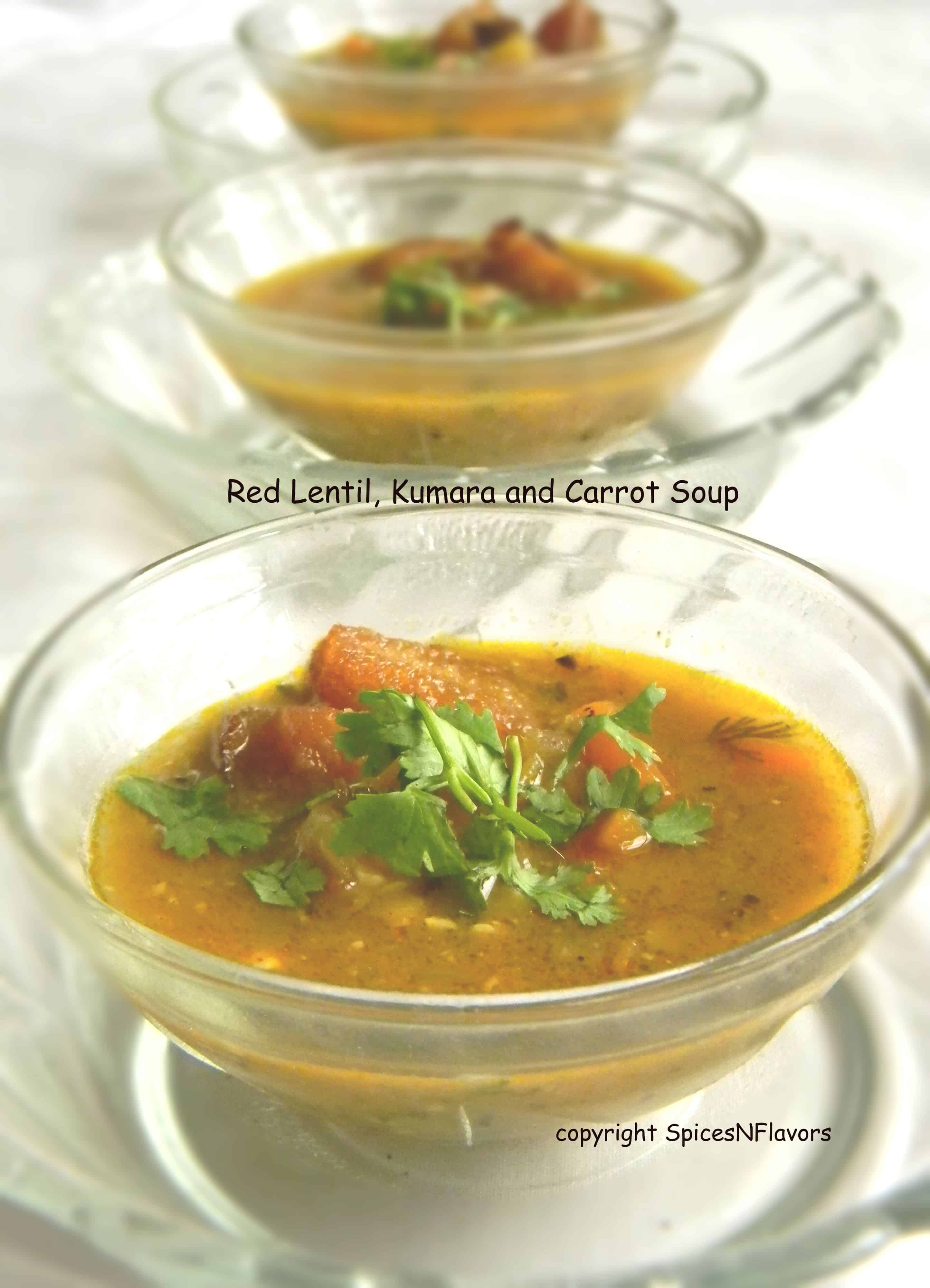 Here is what you will need to make it:
Ingredients:
2 tbsp butter or olive oil
1 onion, cubed
1-2 tsp garlic, chopped finely
2 tsp cumin powder
1/4 tsp red chilli powder
1/4 tsp turmeric powder
4 cups vegetable stock
3/4 cup red lentils/masoor dal
1 carrot, sliced or cubed
1 kumara, sliced or cubed
1/4 cup cream (optional)
salt and pepper to taste
Method:
Heat the butter or oil in a pan and saute the onions, for around 5 mins without browning. During this time also add garlic, chilli powder, cumin and turmeric. Take care not to burn the spices.
Add the stock and the lentils and let it simmer, stirring now and then.
Meanwhile chop the carrot and kumara and add it to the pan. Cover and cook for 15-20 mins or until everything is tender and cooked. Stir in between if need be.
Leave the soup chunky like I did or puree a part of it or the entire soup, totally upto you. Thin it with stock or milk if you feel. Add cream, salt and pepper to taste. Entirely your desire.
Garnish with coriander (that's what I had). You can even use basil and bread croutons.
Notes:
To make it vegan skip the milk and cream and use oil instead of butter.
Enjoy it hot with your friends and family this monsoon.
Lets check out what others have got in store for us in Blogging Marathon.
Happy Cooking!!!
Sushma