Hope you had an amazing weekend!!!
Mine was so hectic with last minute shopping on for India trip. Phewwww.. So tired. And to add to that if you are following my posts, by now you might have got to know that I am a big time loafer. So usually I make weekend brunches very simple, quick, easy and at the same time lip smacking-ly good.. 😛
This is one such recipe. Ready in 15 minutes with the goodness of loaded veggies and egg. What more do you need in a curry?? Super Spicy Veggie Baked Beans Curry…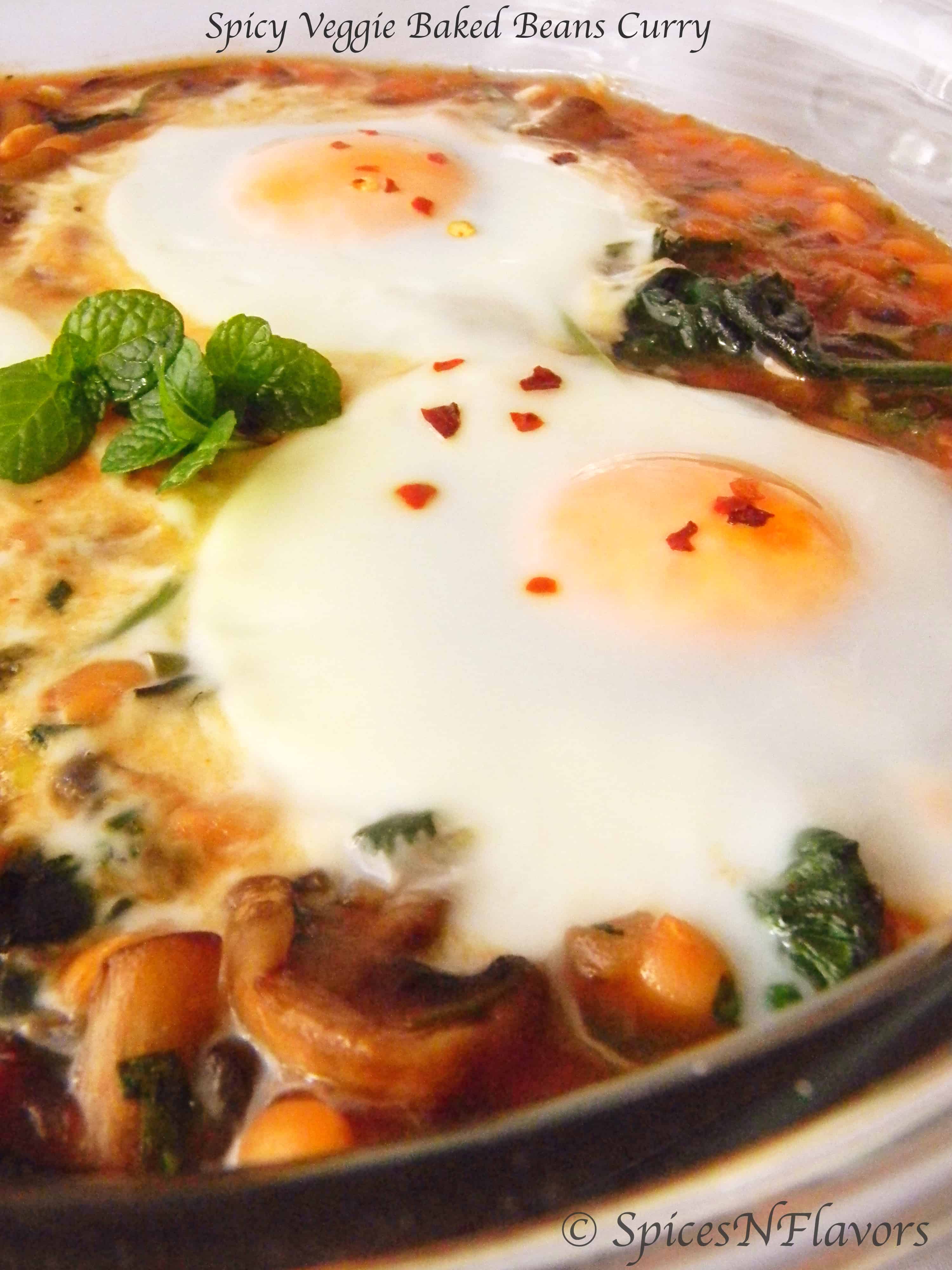 I am one of those who is always in search of delicious food. I love to enjoy my food. My mom has to be blamed for it.. She is an amazing cook. I don't eat for hunger, I eat to satisfy my taste buds.. 😛 So much boasting; I tell you.. But whatever I will say will fall short to describe the aromatic and flavour bursting veggie baked beans curry. You have to try it at least once.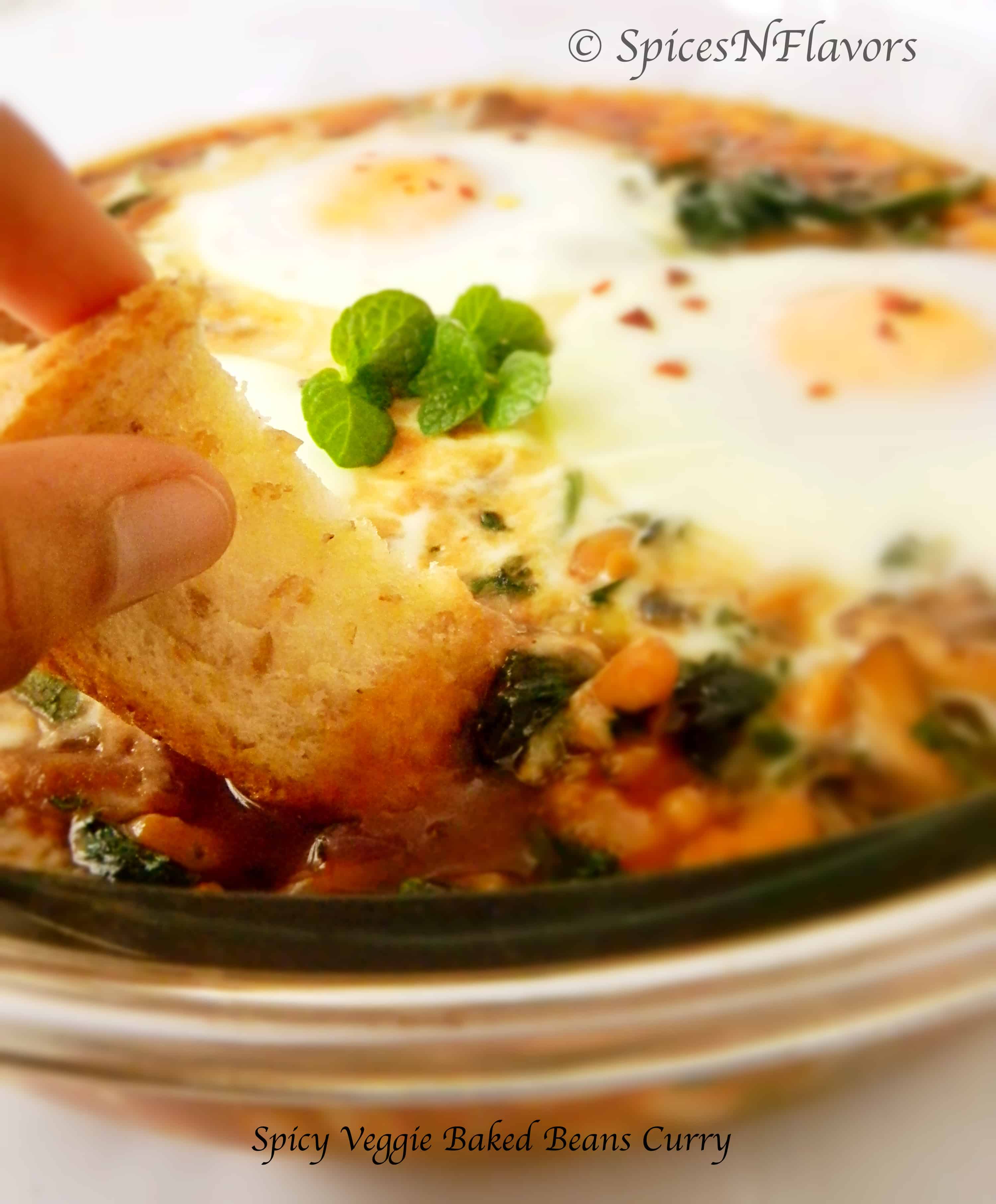 Off lately I have started doing things that I never used to do before. Like placing my things in place, arranging my shoe rack (Can you imagine that!!) and the most important thing is I have started including veggies in my diet. Green (Spinach) is my favourite veggie these days and I have also fallen in for Mushrooms.
I just love these veggies these days. If you are not a big fan of Mushroom try Tandoori Mushroom at your nearest dabba once and I bet you will start loving it. Of course I make them at home regularly.
So with the addition of spinach and mushroom and also baked beans and wait there is even egg right so this is one of the healthiest meal you can make in a jiffy.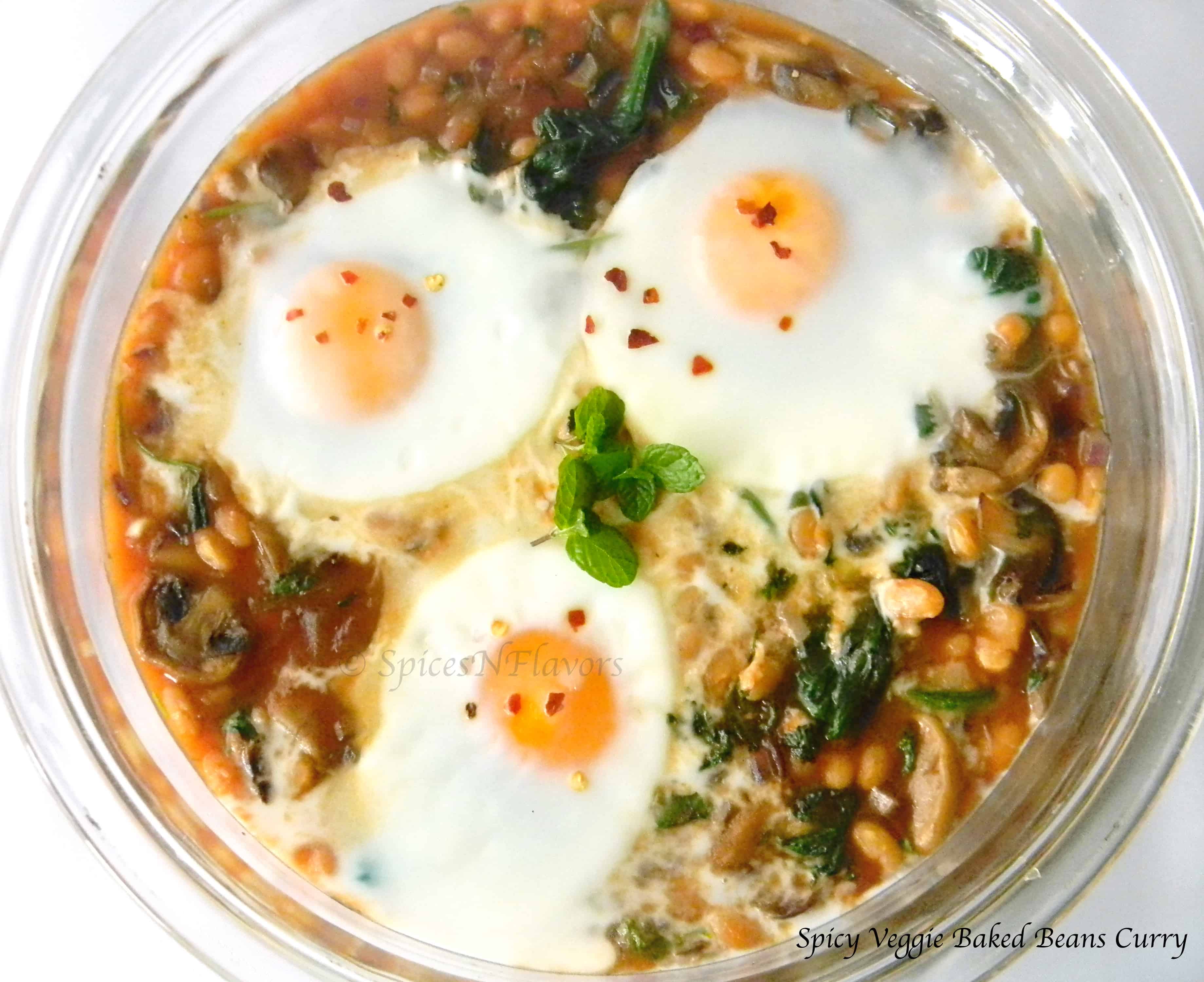 Serve it as an after school snack, or a weekend brunch this perfect curry goes well with anything at anytime and anywhere.. 😉
I am not a big fan of eggs but HE is.. So if you wish you can skip the eggs completely. Also add in the veggies of your choice there is no hard and fast rule.
Here is what you need to make this healthy, spicy, flavourful, amazing, delicious, lip smacking-ly good Baked Beans Curry.
Prep and Cooking Time: 15-20 mins
Serves: 2-3 people
Ingredients:
1 tin Watties Baked Beans
1 cup sliced, mushrooms
5-6 strands spinach leaves,washed and roughly chopped
1 red onion, finely chopped
3 eggs
1 green chilli, finely chopped (or to taste)
3 garlic cloves, finely chopped
Handful of coriander leaves, finely chopped
2 tsp olive oil
1 tsp salt to taste
red chilli flakes to taste
Method:
Heat oil in a pan. Once hot add in the garlic cloves. Sauté for 2 mins and add green chilli. Sauté for a minute and add in the onions. Let it cook until translucent. In the meanwhile chop the mushrooms and spinach.
Once translucent, add in the mushroom. Cook for 2 mins or until slight colour change and add spinach. Cover with a lid and let cook for 5-6 mins. (No need to add any water, spinach will release moisture and everything will get cooked in the heat).
Once the veggies are cooked, add the baked beans with the juice, add salt to taste, add in the coriander leaves and mix everything well. Add about 1/4 cup or more water to adjust the consistency as per choice. Mix for a minute and switch off the gas.
Transfer the mixture to an oven proof dish or casserole. Break open 3 eggs keeping the egg yolk intact. Sprinkle some salt and chilli flakes on top of the eggs. And grill for 5-7 mins in an pre-heated oven at 180 degree celsius.
So simple right!!! Enjoy it with toasted bread, crostini or even soft rotis..
 Variations:
You can use veggie of your choice like capsicum, broccoli etc but the cooking time will vary accordingly.
Notes:
You can try cooking the eggs on the gas-stovetop itself with a covered lid. Since I have never tried it that way would not be able to help you with the exact timings but I am sure even that won't take longer.
Enjoy this Spicy Veggie Baked Beans Curry with your family the coming weekend. You can also make it in individual small casseroles for individual servings. Would be an interesting idea.
If you are looking for some other quick recipes then try my
Quick Fried Rice, an Omelette and a Salad (all in under 10 minutes)
Or some brunch recipes like Spinach Ven Pongal with Drumstick Sambhar, or try my Rich Mushroom and Broccoli Creamy Rissoto.
Oh yeah, let me remind you I am off to India this Wednesday so will be little slow. Sorry about that.. Hope you understand.. 🙂
Happy Cooking
Sushma!!!