Leftover Vada Upma as the name suggests is the best way to make use of Vadas that is left out from the previous day. This is so perfect for your breakfast and tastes absolutely delicious with Chutney or Sambhar.
Leftover Vada Upma is such a simple and creative way of using out the leftovers. The recipe is similar to the most commonly made Idli Upma; I have just made use of Vadas instead of Idlis.
It all started with my craving for Aarachuvita Sambhar – Its a version of Sambhar but made using freshly ground spices (Recipe for this is coming on Thursday btw..). And I asked my Mom to make Medu Vadas to go with it.
After enjoying Sambhar Vada and Dahi Vada the previous night we were still left out with some more Vadas the next morning. One just cannot eat those dry Vadas on its own so people often make Vada Curry with it; which is rather time consuming. I made this Vada Upma along with some Coconut chutney – a perfect combination for breakfast.
Can you believe it we are already in the middle of the year.. Where did all the time go??
It seems just yesterday I had enrolled to the bakery course and today two semesters down and we are gonna have a mid semester break soon.
Thats crazy.
So I am gonna have a two weeks off which means I will be shooting every other day. Yeeeaaa I am so excited about it.
Did you guys watch my previous videos on my FB page or even on the blog here. Are you enjoying it? To be honest I definitely am.. I have started enjoying making and editing videos its so much fun; completely different to food photography.
Today's recipe is one of those jhatpat kind of recipes when you just give a seasoning touch (tadka) to spice up your leftovers.
Now like I said this Leftover Vada Upma is just similar to Idli upma recipe which means you can use the same recipe and swipe Vadas with Idlis and you have a whole new recipe with a different flavour ready to dive in.
Use the same recipe to make use of any Leftover Phulkas or Chapatis. Only addition would be to add some finely chopped veggies like carrots, capsicums or peas to make it look even more appetising.
Leftover Vada Upma tastes dry on its own. So I would suggest you to make some Chutney or Sambhar to go with it. This has a great flavour coming from the ginger and green chillies. Its a very soft kind of dish so please add some cashews and peanuts for that texture.
Oh yes and don't forget the touch of lime or lemon juice. It tastes so good. And if you have some Mint Chutney and Sev toss that too.
I am sure next time you will make some extra Vadas just to enjoy this delicious Leftover Vada Upma for breakfast the next day.
And yes ofcourse I made a video for this recipe too..
And like always if you like this recipe then please do tag me, tweet me or instagram me. I would love to follow you and your posts too.. And yes lots of recipe videos coming up so be in touch you guys..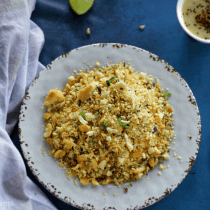 Print Recipe
Leftover Vada Upma - South Indian Breakfast
Leftover Vada Upma is a easy, simple and quick way to use up the leftovers and also to whip up a quick healthy breakfast
Ingredients
6-8

nos

Leftover Vadas

2

tbsp

Oil

1/2

tsp

Mustard Seeds

1/2

tsp

Split Black Gram/Urad dal

1/4

tsp

Channa Dal

1

tsp

Finely Chopped Ginger

1

tbsp

Chopped Cashewnuts

1/2

cup

Finely Chopped Onions

1/2

tsp

Finely Chopped Green Chillies

Pinch of Asafoetida

Coriander leaves, Peanuts and Lime Juice to garnish
Instructions
Using a paper towel, squeeze out excess oil from the vadas. Tear them into small bits and pulse them in batches to get a coarse crumbs with some big chunks of vadas still seen through. Keep aside

Heat a pan with some oil. Once hot add the mustard seeds, allow it to pop and add urad dal and channa dal. Stir until the dal changes colour.


Add ginger. Stir for a minute. Add cashew nuts and let it change colour as well.


Add onions followed by green chilles and cook the onions until it turns golden.


Add the vada crumbs and mix everything well for about 2-3 minutes. In goes the hing and stir for another minute.


Switch off the gas. Garnish with coriander leaves, peanuts, sev some lime juice and serve hot with Chutney or Sambhar.

Notes:
1. Serve this Leftover Vada Upma with some Chutney or Sambar as it tastes dry on its own.
Pin it for later