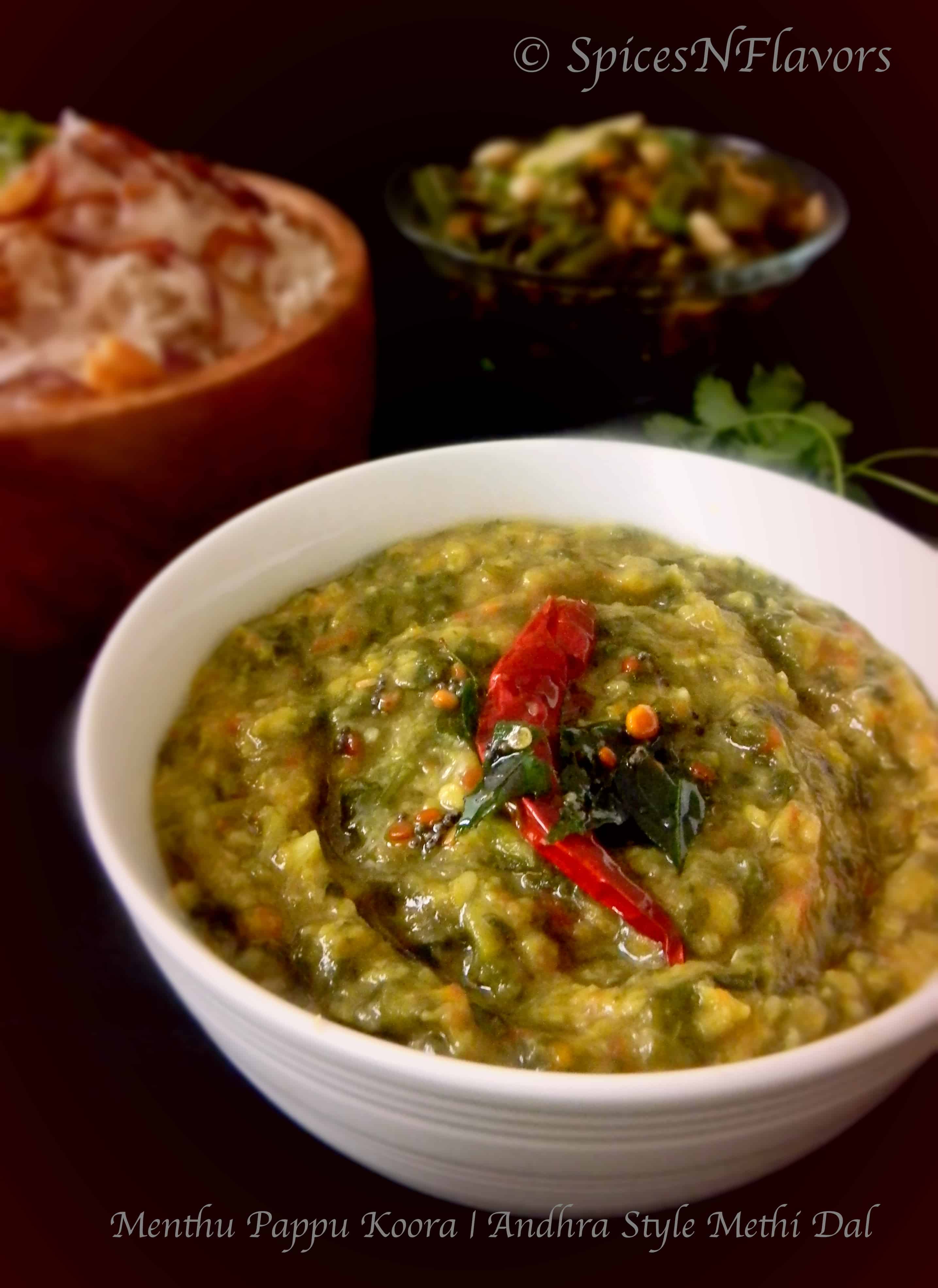 The weather is getting colder and colder here in New Zealand. With such a climate, don't know how but you become lazy. All you need is simple hot piping Dal or soup to comfort your throat. And in those days, I just love to prepare Dal varieties. All you need to do is dump in all the ingredients into your pressure cooker and it does all the work.. And you can sit and relax in your warm living room; till the time your cooker is doing all the work. Cool na.. 😉
This Menthu Pappu Koora is one such dish. A very simple and easy to make recipe. I just love my Pressure Cooker, thats my favourite equipment in the kitchen. I suppose I should have named my blog something related to Cooker.. Well never mind, SpicesNFlavors sounds cool too.. 😛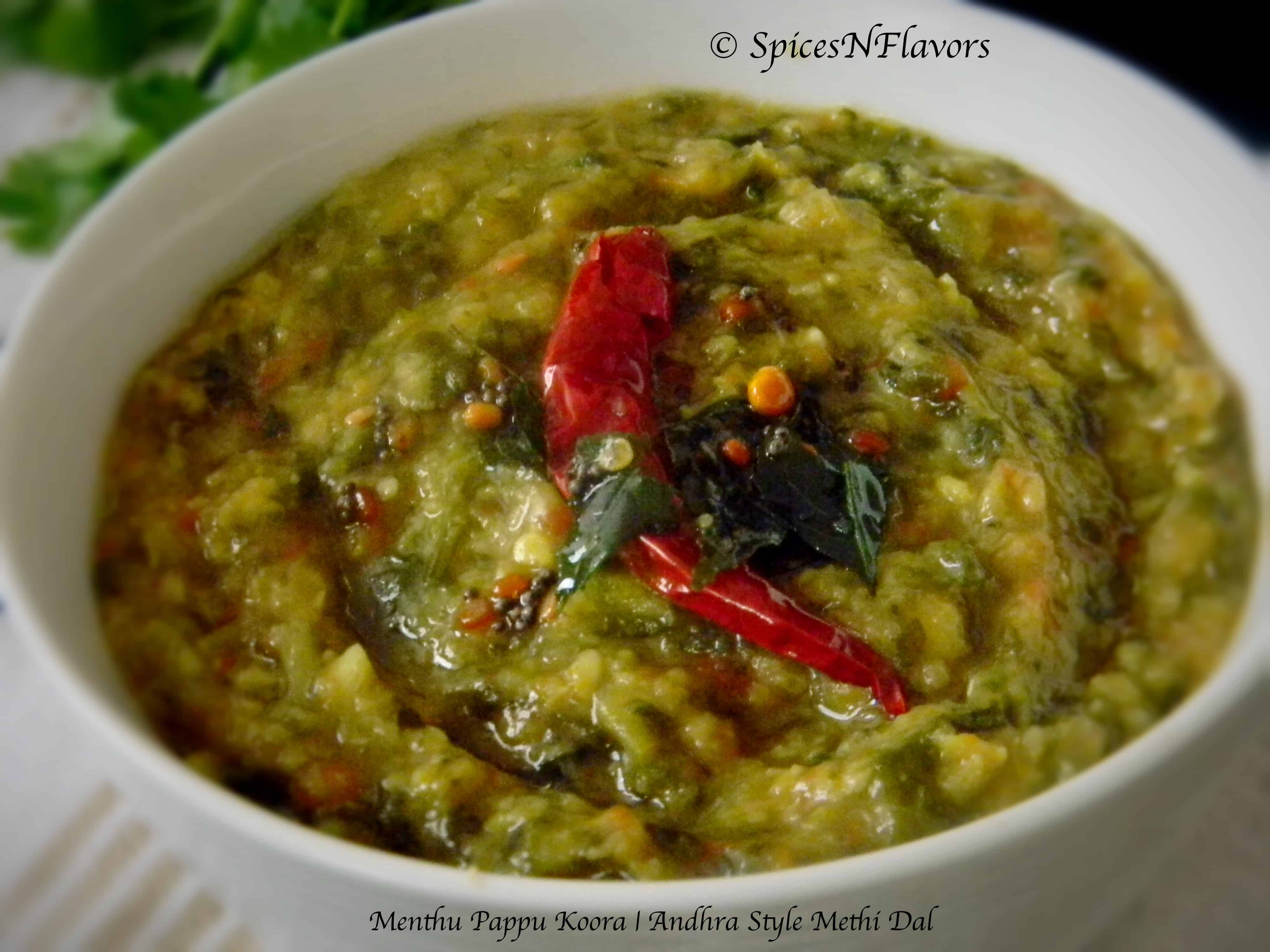 Koora is a generic name for a protein based dish. And pappu means lentils or dal. So basically its the way of Andhraites to include protein in their diet. This koora is combined with any vegetables or greens to make it a complete meal and is named in according to the veggie used. Since I have used Fenugreek leaves today, this dish is named as Menthu Pappu Koora.
A very healthy wholesome recipe. And it takes hardly any time to make it.
Here is what you need to make this..
Prep Time: 5 mins            Cooking Time: 20 mins          Serves: 2-3 persons
Ingredients:
1 bunch methi/fenugreek leaves/vendaya keerai
1/4 cup moong dal/split green gram/pasi parupu
1 onion, finely sliced
1 tomato, chopped
3 garlic pods, crushed
2 green chillies, slit
1/4 tsp turmeric powder
1 tsp red chilli powder
1-2 tsp salt or to taste
1/4 tsp mustard seeds
1/2 tsp urad dal/ullutam parupu/black gram split and skinned
1/2 tsp channa dal/kadalai parupu/split bengal gram
1 broken red chilli
1 tsp oil
Water
Method:
Soak methi in a bowl with enough water. Leave it undisturbed for some time. All the dirt will settle to the botttom of the bowl. Remove the methi, give it a rinse under tap water and chop it roughly.
In your pressure cooker, add in the chopped methi leaves, moong dal, onion, tomatoes, crushed garlic pods, green chillies, red chilli powder and turmeric powder. With water just enough to completely immerse everything pressure cook the mixture for 2 whistles. Switch off the flame and let the pressure go by itself.
Open, add salt and mix well. With the help of masher mash everything nicely. This dal variety is supposed to be thicker than your regular variety. (However you can adjust the consistency with water as per your liking.)
In a separate tadka pan, heat up the oil, crackle mustard seeds, add in rest of the ingredients. Let the dal turn brown. Switch off the flame and add it to the dal mixture. Mix everything well and it is ready to be served.
Serve it with hot rice or roti.
Notes:
This is the basic dal recipe, instead of methi you can also use spinach or any other vegetable, or make it even without adding any vegetables. You can also use coriander-cumin powder to give it a different taste.
Spice level and salt can be adjusted as per preference.
If you are using garlic in the dal do not add asafoetida in the seasoning and vice-versa. In this dal preparation, adding both is not a wise choice.
Serve it with rice or roti
I had made Hyderabadi Bagara Khana, Menthu Pappu Koora, Bendakaya fry and Andhra Tomata Pachadi for yesterday's dinner.
Happy Cooking!!
Sushma..