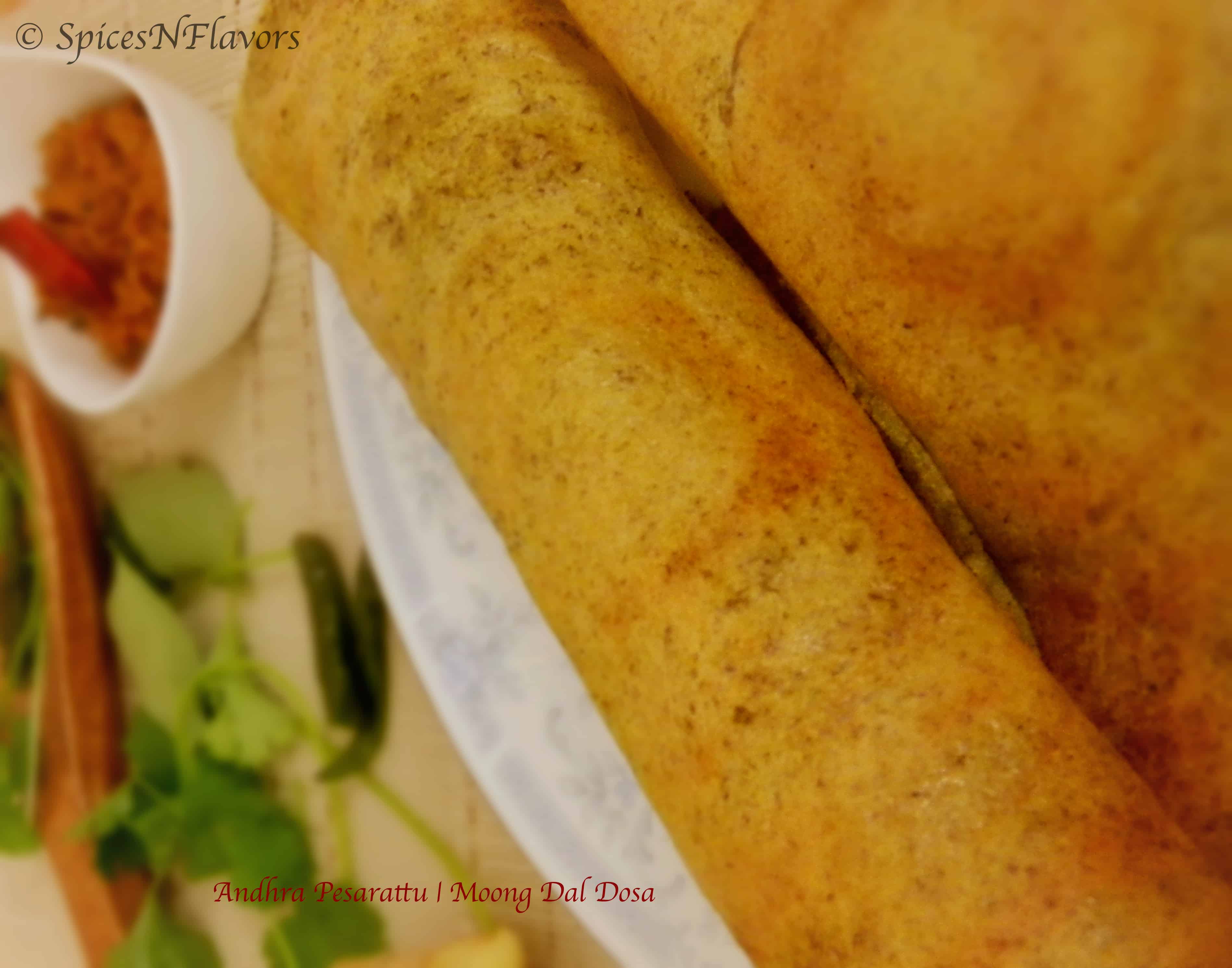 Finally!! Back to SpicesNFlavors.. Never thought I would miss him so much.. Had a long weekend so could not try, taste, click and share recipes.. But now back to my beloved.. 😉
Wondering what can I do differently through my blog, thats when "HE" suggested why don't you try recipes from different states of India.. Ta Da.. And dimaag ki batti jali (An idea struck!!).. So giving a serious thought to HIS suggestions, I have decided to blog on recipes from different states of India (may be later on will try different countries recipe as well.. Amen).
Going about in chronological order, have started with Andhra Pradesh. I will try to post atleast one breakfast, one main course and one dessert recipe through the entire week.
So its all about Andhra Pradesh, this week.. :D.. Presenting the very common yet delicious breakfast recipe of Andhra, Pesarattu or Moong Dal Dosa accompanied by Ginger chutney commonly known as Andhra Allam Pachadi.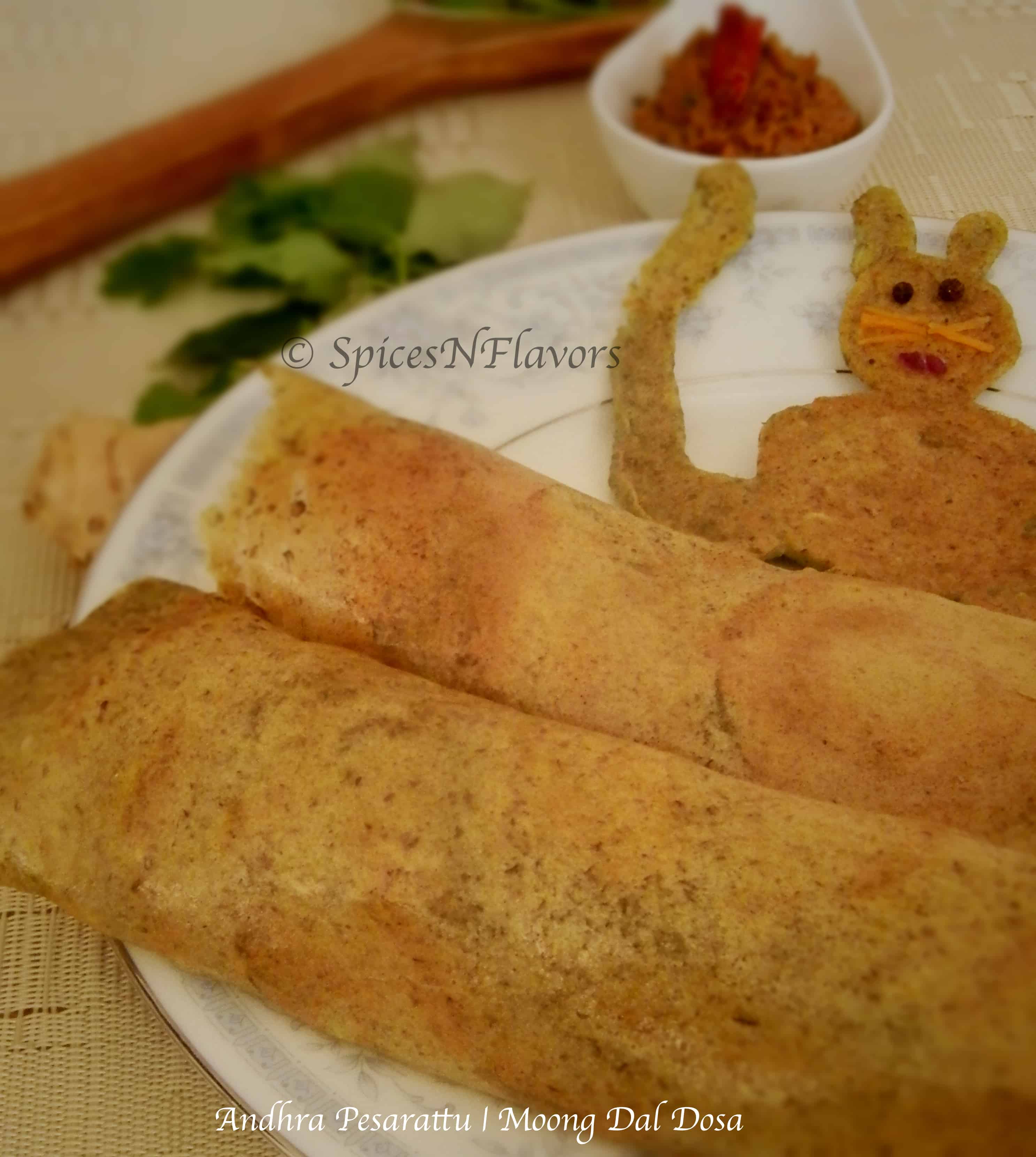 Cuisine of Andhra Pradesh is meant to be tangy and spicy. The pickle varieties will leave your mouth on fire!!!.. I mean literally.. Andhra Pradesh is the leading producer of red chillies, rice and millets. Now you know the spice relation.. ;).. So that also adds onto the fact that Rice is their staple food. Mostly vegetarian food dominates the state except for the coastal areas and ofcourse the Biryani; Hyderabad being the birthplace of Biryani which was ruled by the Mughal Empire and hence features many variations of Non-Vegetarian dishes.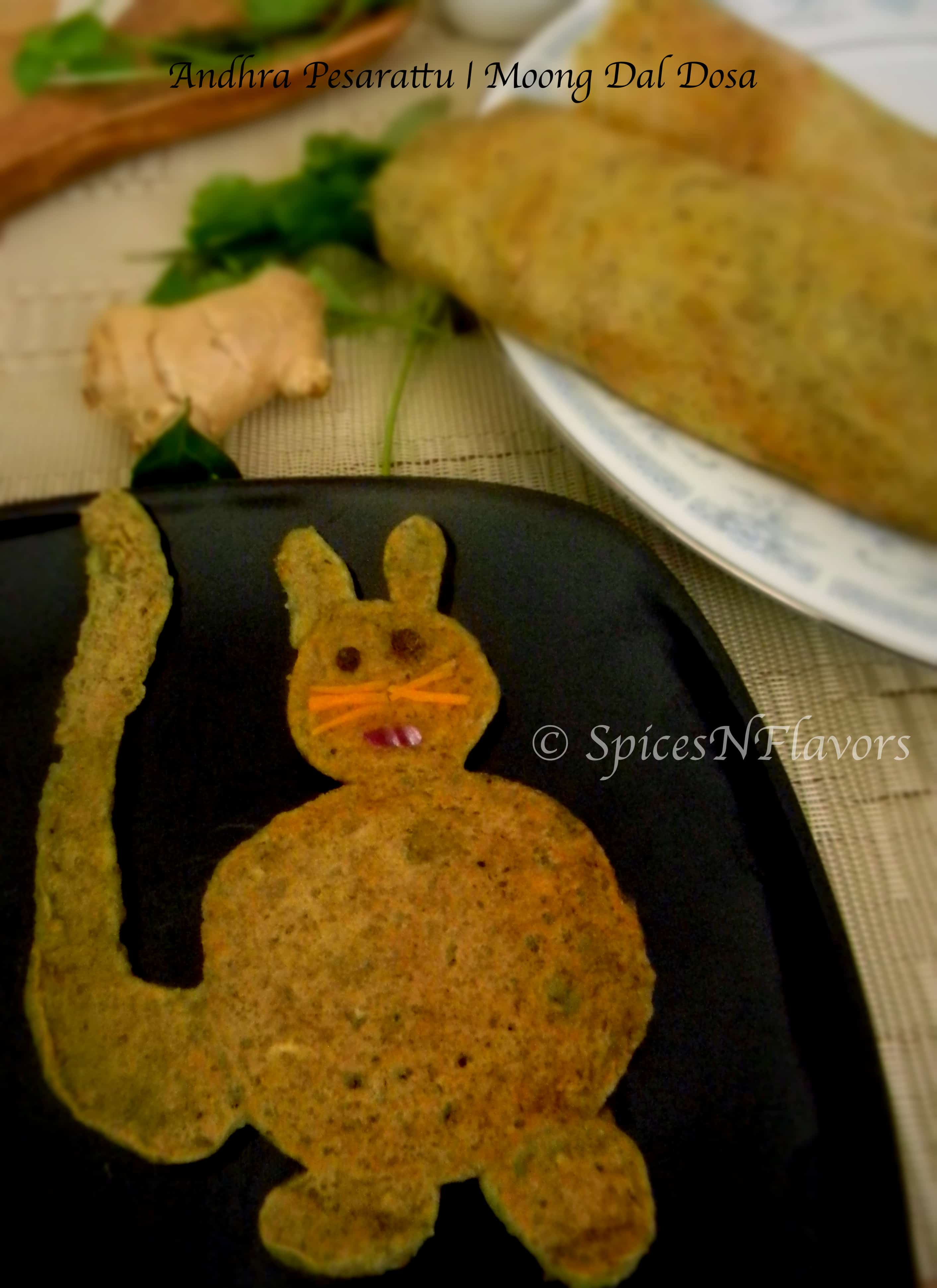 So its summer time in India, which means Summer vacation for Kids!! But extra work for Mommies.. hehe.. This is one such recipe to satisfy your kids hunger as it does not require any fermentation period. And to add to that I have made this Cat Dosa so even fussy eater kids will gobble it without any complaints.. ;)..
I have adapted this idea from Kurinji Kathambham, a very talented lady who blogs at www.kurinjikathambam.com
Here is the link to her blog.. http://www.kurinjikathambam.com/2015/03/cat-shape-dosai-for-kids.html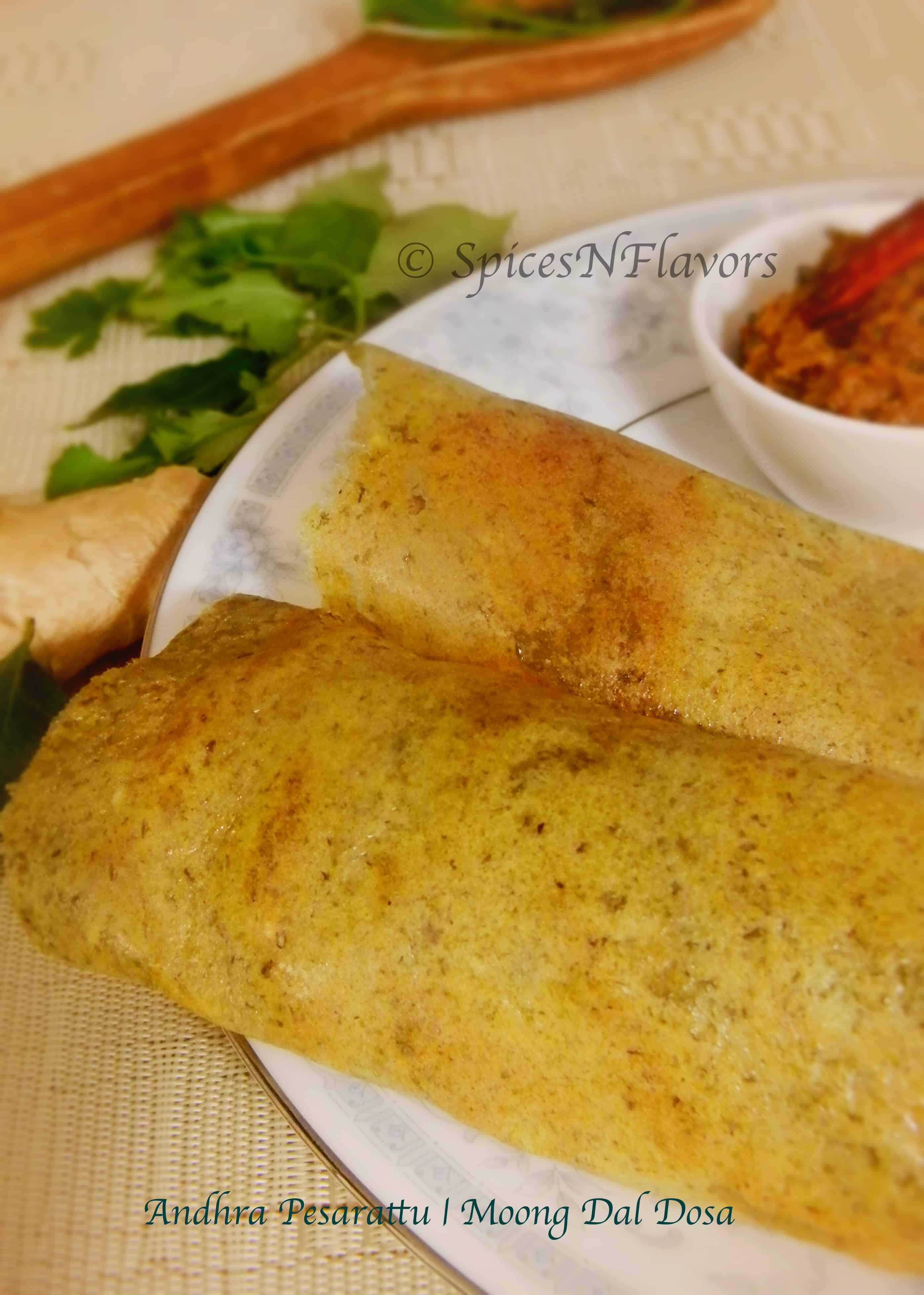 A very simple and no fuss Dosa variety.
A very traditional breakfast recipe of Andhra Pradesh.
This pesarattu is usually paired with Ginger chutney or commonly known as Allam Pachadi. More than the Dosa, He liked the chutney, it is that flavourful..
Without any  further ado here is what you will need to make it..
Soaking Time: 4-5 hours
Makes: 9-10 dosas
Ingredients:
1 cup green moong dal/pacha pasi paruppu/green gram
2 tbsp rice flour
1 onion, roughly chopped (optional)
2-3 green chilles
1/4 cup chopped coriander leaves (optional)
2 tsp salt or to taste
Oil
Water
Method:
Soak the moong dal for 4-5 hours. Drain out the water. Grind it in a blender along with the onion, green chillies and coriander to a coarse paste adding very little water at a time.
To this coarsely ground paste add in the rice flour, salt and mix well. Now adjust the consistency of the batter to pouring consistency like normal dosa batter with the help of water; adding very little at a time.. (It required about 1 cup of water to get the pouring consistency.)
Let it sit for 10 minutes.
In the meanwhile heat up your dosa pan or frying pan on high heat. Brush it with oil.
Once hot, remove the pan from the flame and with the help of a dosa ladle, spoon out some batter and add in the centre of the pan. With the back of the ladle using circular motions spread the batter on the pan to form a circle shaped crepe or dosa shape. And place it back on the gas top.
Add in little oil onto the sides of the dosa and let it cook from all sides. Rotate your pan so that the dosa cooks evenly.
Once you see some brown coloration or when your dosa begins to leave the sides of the pan, flip it and cook for few seconds and transfer it to serving plate. (if your pan is nice and hot, there won't be any need to flip and cook.)
Your pesarattu is now ready to be served. Enjoy it when hot along with chutney of your choice.
Variations:
Before the dosa on the pan cooks, you can add some chopped onions on top of it to give it a different taste. That is add chopped onions after Step 5. (In that case do not grind onions along with the dal.)
Pesarattu is also topped with Semolina Upma. You can try adding both the upma and the onions for a different flavour.
Grated coconut can also be added.
Tip/s:
If your pan is too hot, sprinkle some water to bring down the temperature.
Notes:
If you are using Yellow Moong Dal then reduce the soaking time by just 1 hour. I have used split green moong dal today but whole moong dal can also be used. Soak it minimum for 4 hours and maximum for 7 hours. Well, I had soaked it in the evening and forgot to grind it so I left in the refrigerator overnight. It did not alter the taste or texture.
Ideally 2 tsp of raw rice and 1 Cup of Moong Dal has to be soaked together and then ground to a coarse batter. But I forgot to soak rice along with the dal so added rice flour instead. You can do either way.
You should feel the granules in between your fingers, that is what is meant by coarsely ground.
How to make the CAT Shaped DOSA??
With the help of a spoon, drop in a very little batter in the centre to form the head.
Now take some more batter and drop in below the head to form the body of the cat.
Take a spoon full of batter, make a S shaped tail joining the bottom of the body.
Make the ears and legs of the cat and cook like a normal dosa.
I have used peppercorns for the eyes, carrot for the whisks and onion for the mouth.(Refer picture 3)
Enjoy your breakfast with this Andhra pesarattu accompanied by Ginger chutney and I am sure you will love it..
Happy Cooking!!
Sushma..