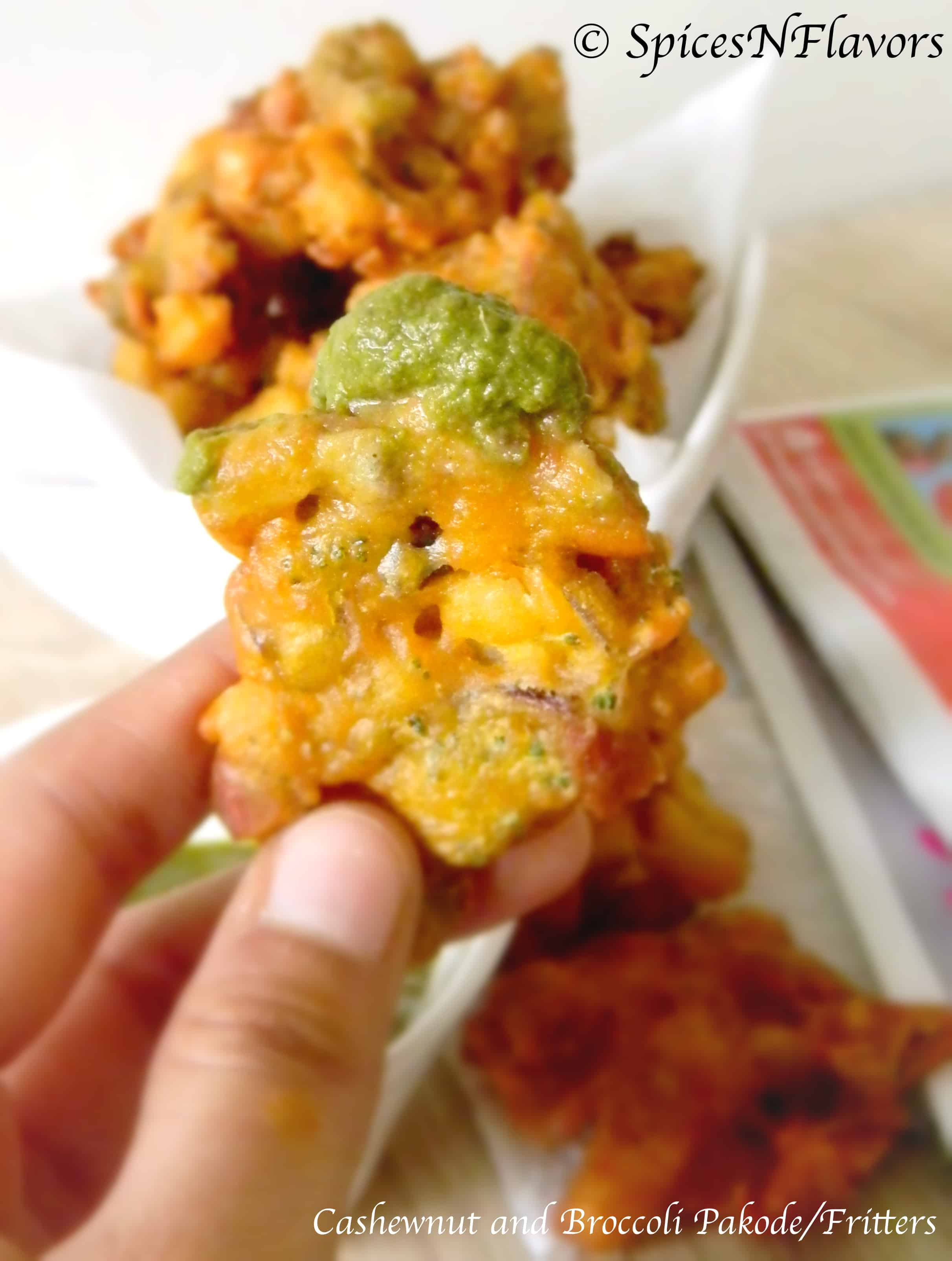 Indian tea time or any indian celebration is incomplete without this Pakode/Fritters. Keeping the basic ingredient the same, you can twist and turn this yummy pakora's to suit your taste-buds. This is the one recipe that my Mum resorts to when we have unannounced guests at home. Takes hardly any time to make it; that means you can spend time with your guests as well as serve them some finger licking snacks along with tea or coffee.. To my Mum's basic recipe I have added vegetables to make it a wholesome and filling snack.. This Cashewnut and Broccoli Pakode/Fritters is one recipe that you need to try for yourself..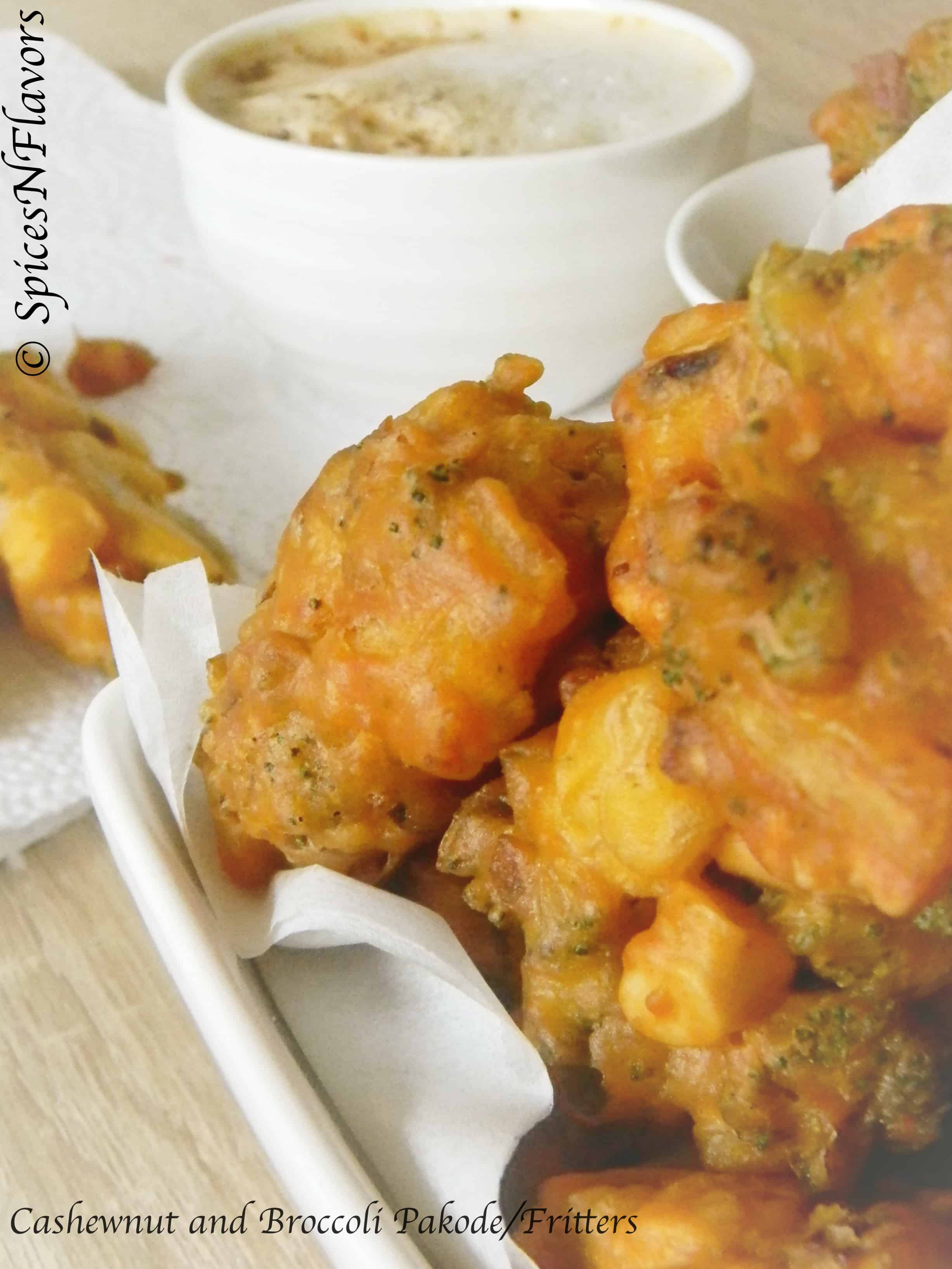 The thundering of the clouds.. the lightning struck sky.. When the sun plays hide and seek with the clouds.. the shining blue sky suddenly draped itself into thick grey blanket.. the sight of a peacock unfurling its feathers.. You know that its going to Rain. And you are a South Asian or an Indian to be specific if you can relate pakoras to rains. Yes.. come rains and your cravings for deep fried snack reaches its peak. When everyone seeks cover, I come out of my home to play with the droplets, catching it, dancing with it, and then after that I run back home to dig into these. Ahhh.. a soul satisfying day.. Rains and Pakora.. perfect combination..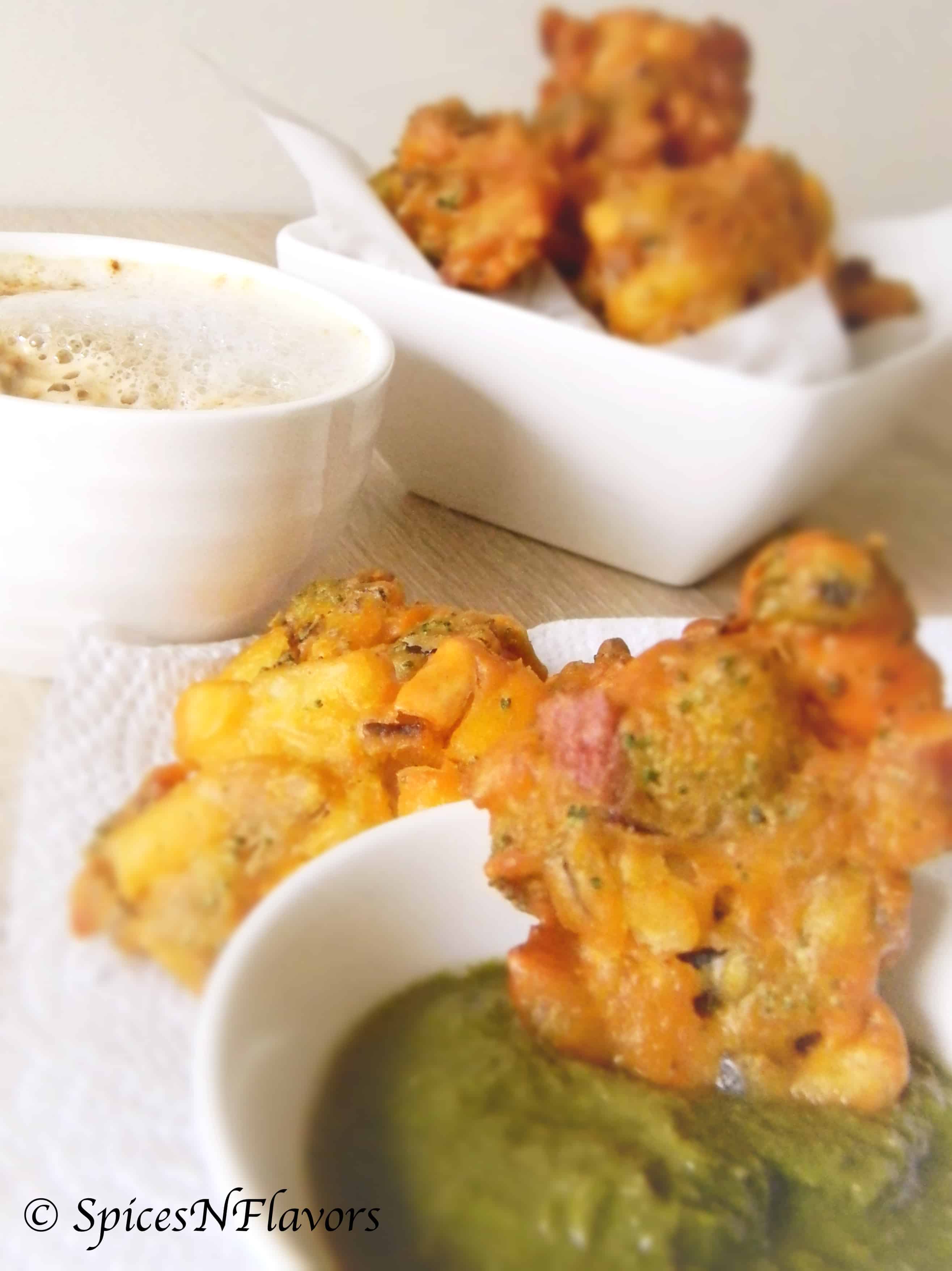 This is one snack that has its own importance from north to south of India. You would get this no matter which state you are in. A perfect street food snack when paired with tea/coffee followed by jaledi gives you an unique taste.. Yummy is the only word I can think of.. If marriages are made in heaven so is the combination of Rains, Pakoras and Tea. A die for trio combination..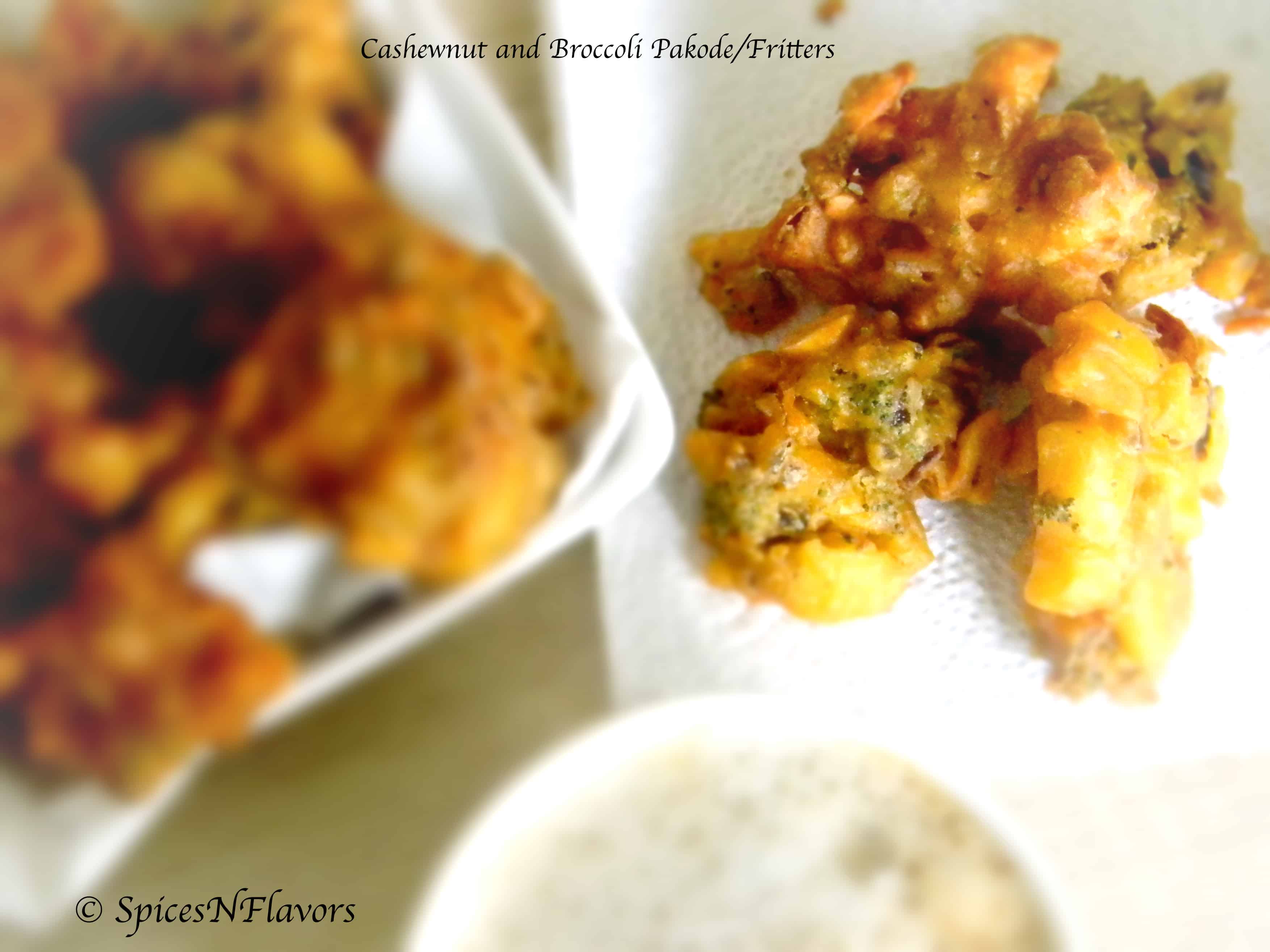 Be it unannounced guests, rains or snow.. whatever be the reason just make this quick and easy to make pakoras on a cold day and enjoy the moment..
These deep fried, crispy, crunchy and spicy fritters are always a hit.. You cannot go wrong with this recipe.. And when paired with hot tea/coffee and followed by jalebi.. thats it.. you don't need anything else to satisfy your cravings..
Here is what you will need to make them..
Ingredients:
Makes 13-18 pakoras/fritters
Preparation Time : under 5 mins
Cooking Time : under 15 mins
1 cup Besan/Gram Flour/Chickpea Flour/Kadalai Mau
2 tsp Chawal ka Atta/Rice Flour/Arasi Mau
1 onion, finely chopped
1 potato, diced
1/2 cup broccoli florets, grated or chopped into small bite size pieces
1/4 cup cashew nuts and almonds chopped
1-2 tsp red chilli powder (or to taste)
1/2 tsp hing/asafoetida
1 tsp salt (or to taste)
a pinch of cooking soda (optional)
Water
Oil for deep frying
Method:
Heat a wok/pan with oil for deep frying over medium heat.
Chop the onions, potato and broccoli florets. In a mixing bowl, add finely chopped onions, potato and broccoli (grated or chopped into bite size pieces). Add in all the other spices except nuts,water and oil.
Mix everything together. Add water to form a dough. (You want a sticky and firm dough unlike bajji where the dough is runny. You would require somewhere between 3-4 tbsp water not more than that.)
Finally stir in the nuts. Take a lime sized dough in your hands and clump together,drop them in medium hot oil and deep fry until golden brown in colour.
Serve hot with green chutney, imli ki chutney or just tomato ketchup
Notes:
Adding veggies and nuts are optional. Nuts add in a crunch. Just make sure you add onion and potato. You can add veggies of your choice like Cauliflower, Cabbage, Carrots etc and not just restrict to broccoli.
I use Kashmiri Red Chilli powder which is not spicy but gives a nice colour but you can adjust the spice level to taste. You can also use Paprika instead of red chilli powder to get the colour. The heat gives a kick to the pakoras, but the spice level depends on your heat tolerance.
Use water just enough to form a sticky dough. Few tablespoons are more than enough.
Curry leaves torn into small pieces can also be added to give a nice aroma and flavor to the dish.
Do try this simple, quick and easy to make pakoras and impress your family and friends.
Happy Cooking
Sushma.. 🙂