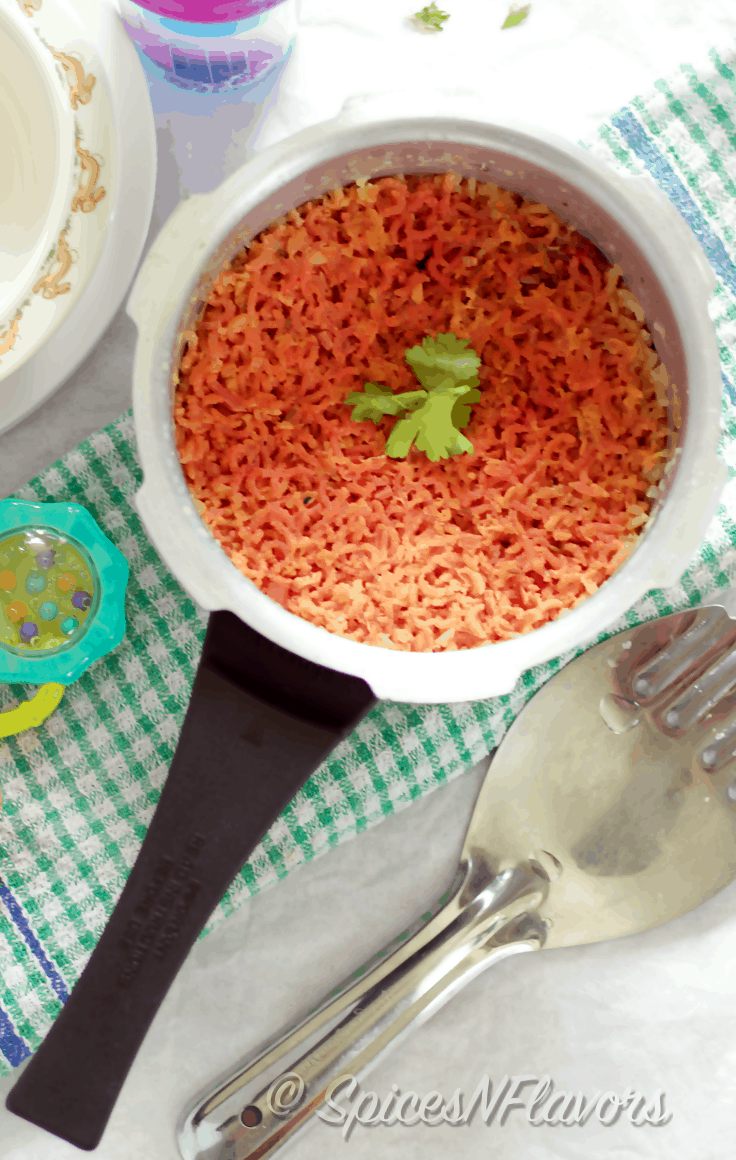 I hate Khichdi.. No please mom don't make Khichdi.. I mean who eats Khichdi, only sick people make something interesting please or I will eat out..
Yes that was me when I was a kid.. Or may be most of you?? Comment below and tell me how did your taste buds react to khichdi as a kid??
But now I love khichdi.. Its such a comfort Indian food..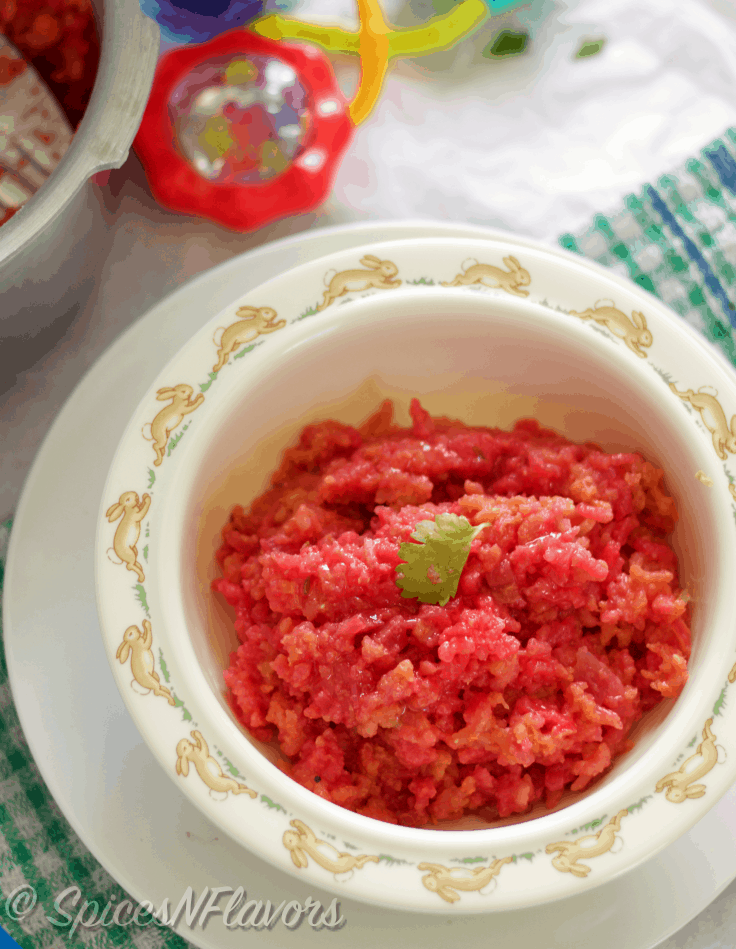 This week it has been all about kids recipes; be it the Sweet Corn Soup or the Palak Phulka. Even though it can be enjoyed by everyone in the family but still it was made with kids in the mind. And yes that is my #resolution for #2017 to cook fresh homemade food for my baby. And that is where a pressure cooker comes so much handy.. It makes life easier.. If only I could lay my hands on an instant pot or may be some electric multi-cooker; cooking would be a breeze..
By the way, I have this Easy Pressure Cooker Recipes board on Pinterest.. If you would like then follow me there for quick updates about cooking using a pressure cooker.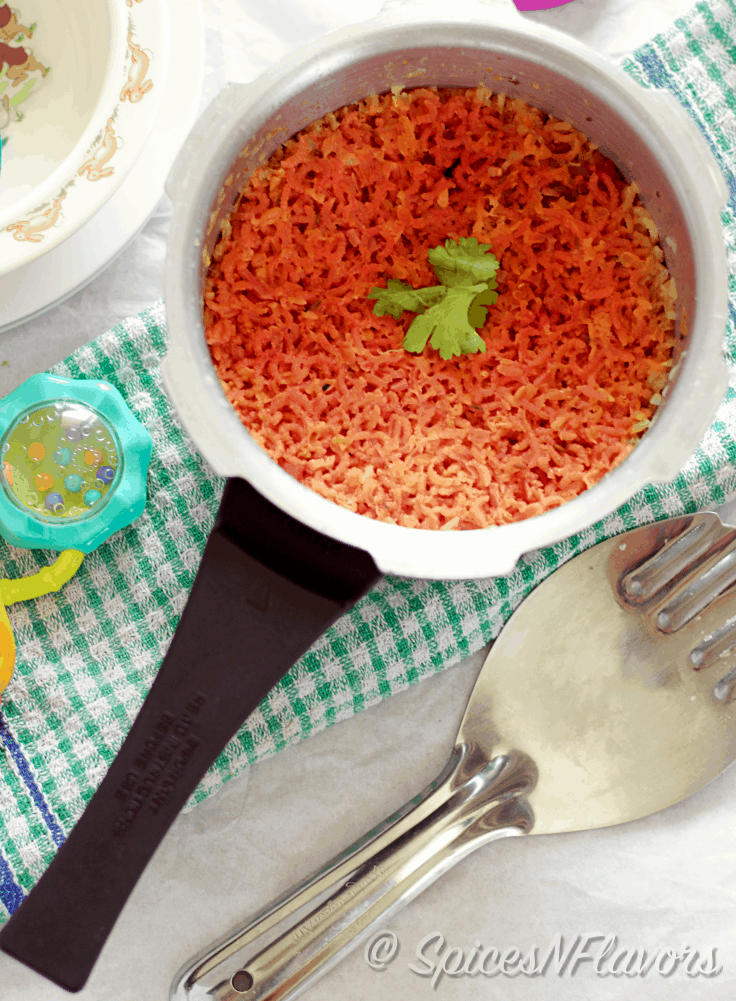 And tell me what do you think about the use of this pressure cooker in the images. It is totally inspired by my dear friend Sandhya; who recently posted an image using the humble cooker in her new post. Check out her blog Sandhya's kitchen for more such inspiration…
Because cooker is my favourite kitchen gadget I too had to jump in the bandwagon and couldn't resist myself from clicking it.
And that is my another #resolution of this year.. To click one pic a day; that is 365 days of photography. Check out my instagram page for this amazing journey of #365daysofphotography..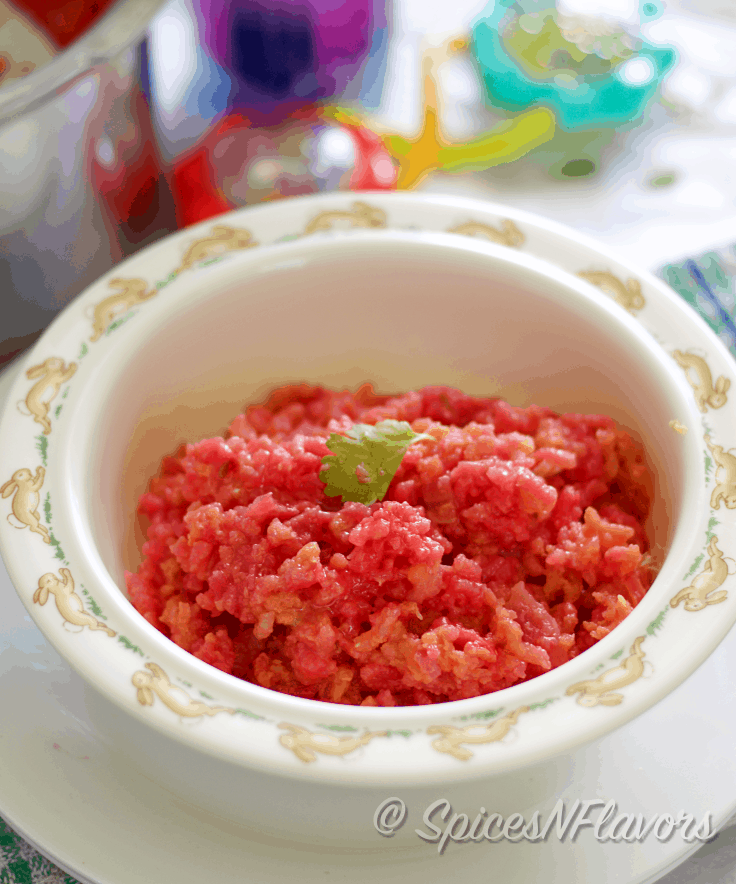 Khichdi is often considered as baby's first food. It is basically rice and moong dal (split green gram) cooked together to a mushy consistency. To begin with, at around 6-7 months we just use rice and dal and with days passing by one can add veggies and some spices to the khichdi.
So like every other khichdi recipe, I started off by soaking rice and moong dal till the time I prepared everything else. Chopped beetroot finely, note it super fine. And then tempering some ghee, saute beetroot and the addition of rice along with some spices is all one need to do for this easy peasy yet yummy Beetroot khichdi.
Beets are a rich source of calcium, potassium and even vitamin A. Both Vitamin A and Calcium play a large role in the healthy development of your baby. Did you know just 2 medium sized beets contain 2 grams of fiber; it is that rich in fibre..
Plus this recipe is..
Vegan (just substitute ghee with vegetable oil)
Gluten-free
Easy to make
Delicious
What more does a mom need?
I gave this Khichdi to YO (my daughter) when she was about 9 months old. You can introduce beetroot in the form of baby puree or soup(recipe of which is coming soon.. keep an eye) around 8 months. However, like I always say introducing new foods to babies is a mother's choice and no one can decide better than you for growing up your child. If in doubt its always better to consult your doctor for introducing new foods.
I make khichdi in the morning along with my regular cooking and feed her half of it for lunch and the remaining half for dinner. Just re-heat and add some ghee before serving.
Other variations you can try is..
1.Carrot and Kumara
2.Tomato
3.Mixed veggies like beans, peas, carrot
4.Potato
5.Pumpkin
Just the use of spices varies each time.
If you would like me try any other recipe or if I have missed any variation then comment below and let me know. I will share it with you all.
And yes that brings us to the recipe. And if you happen to try this recipe then please don't forget to tag me, tweet me or instagram me. I would love to see your creations or just drop by to say Hi!!.. I enjoy reading whats going on with you all.. (yeah yeah.. I agree I am a big time gossip queen.. :P)
Liked this recipe?
Let us know by giving it a star rating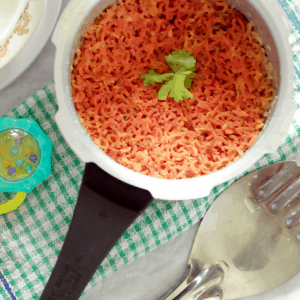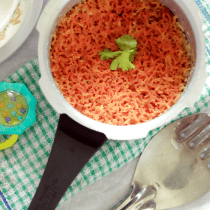 Print
Healthy Beetroot Khichdi for babies
Khichdi is a vegan, gluten-free Indian comfort food cooked with rice and dal to a mushy consistency. Addition of beetroot makes it even more healthier.
Ingredients
4

tbsp

rice

2

tbsp

moong dal (split green gram dal)

1/2

beetroot,

finely chopped

1

garlic pod

crushed or minced (optional)

salt to taste

(optional)

1/4

tsp

cumin seeds

1/4

tsp

hing or asafoetida

1

tsp

ghee

(refer notes for vegan option)

2

cups

water
Instructions
Start by rinsing and soaking rice and moong dal with enough water; till the time you prepare for rest of the recipe.

Heat ghee in a pressure cooker. Once hot add hing and then cumin seeds. Once it starts sizzling, add beetroot and crushed or minced garlic. Saute for a minute or two.

Drain the water from soaked rice and dal. And add to the cooker. Saute for a minute and add 1/4 tsp salt (if using). Stir and add 2 cups of water. Close the lid of the pressure cooker and cook it for 4-5 whistles on med flame.

Thats it, once the pressure subsides open the lid and serve the khichdi with some more ghee.
Notes
For vegan option, just skip ghee and use vegetable oil instead.
Skip garlic if you do not wish to use.
Did you make this recipe? Tag me today!
Tag me @spicesandflavors to get featured on my FB and Insta pages
Pin it


Until then
Hugs
Sushma
Keep an eye.. This Tuesday I have an interesting recipe to share to make your Valentine's Day special.. <3