Vegetable Cake is now the need of the hour.
This Indian Savoury Semolina Cake is a simple, easy and healthy cake recipe using semolina and yogurt that is loaded with vegetables and has no butter, eggs, APF or sugar. This healthy vegetable cake is perfect for your back to school breakfast recipes or even lunchbox ideas.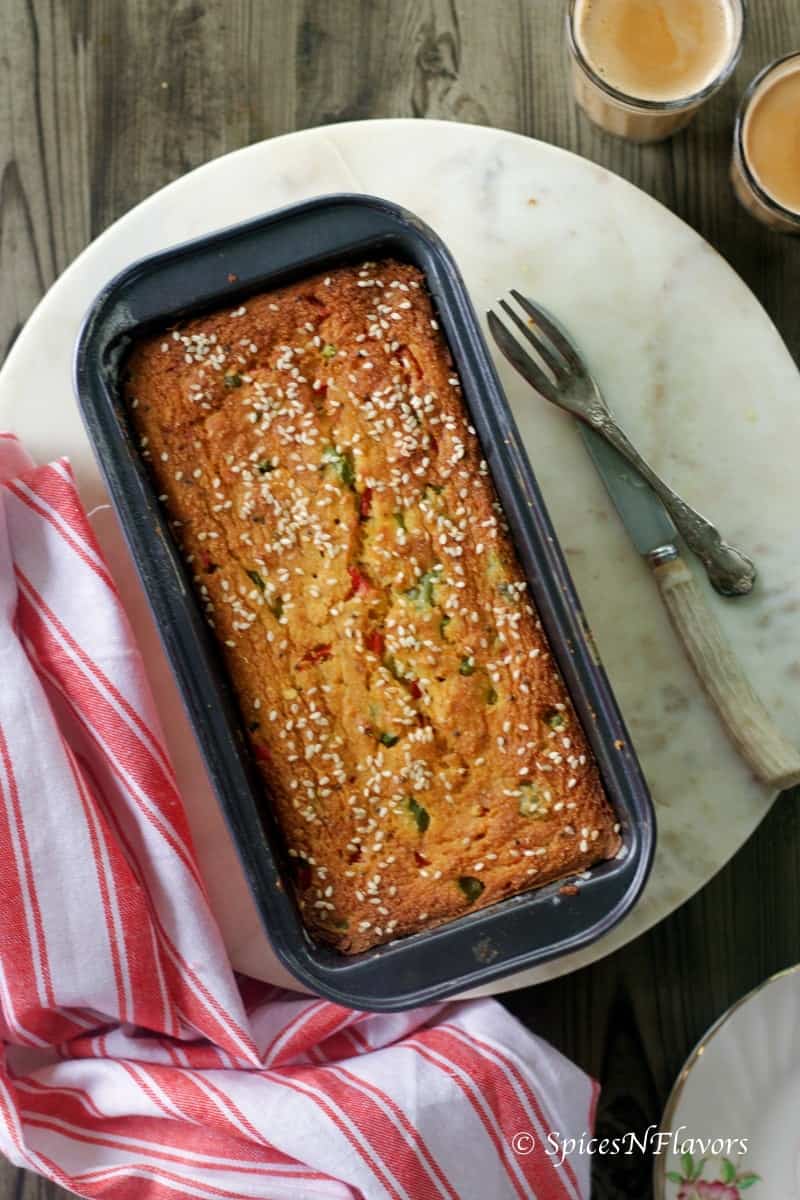 Vegetable Cake – 2 slices ✓
Fresh Strawberries – few piece ✓
Yogurt Dip – ✓
Mini Muffin – ✓
And that's a perfectly balanced tiffin box done and dusted.
It is that time of the year when one could enjoy the earthy smell of the land, cute little feet jumping in the puddles, colourful raincoats prettier than the rainbow in the sky, new bags-tiffin boxes-water bottle. New hopes, new sparkling eyes all set to take one step closer to the future with the smell of fresh new pages of the textbook eagerly waiting for the tiffin break bell to go off and enjoy the love of sharing your dabba with your chadi baddi friends.
Yes mommies.. Wake up.. It's back to school time!!!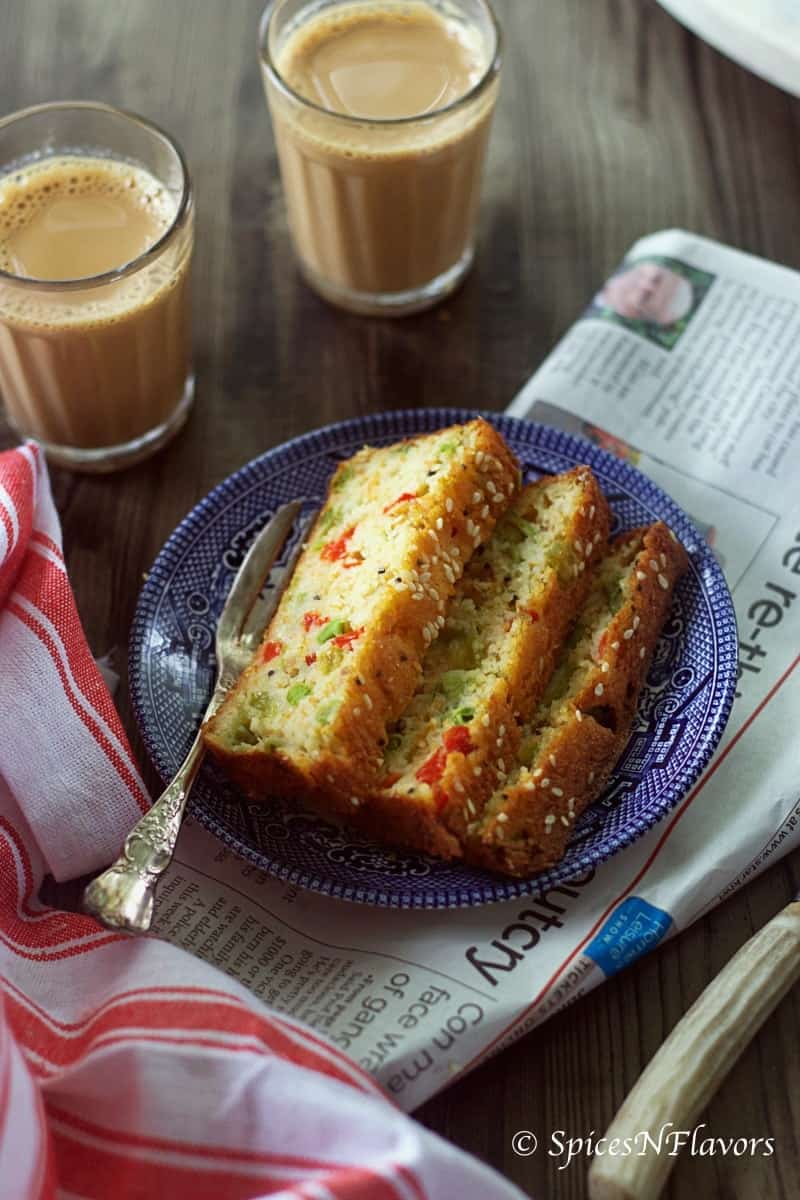 It is that time of the year when we are looking for some healthy and simple ideas for making a really quick breakfast for kids or even for packing their lunchbox.
Today I am gonna a share a very simple recipe with you all that is much much healthier too.
Also, this Vegetable Cake has
1. No Eggs
2. NO Butter
3. NO Maida
4. No Whole Wheat flour (Atta)
5. No Sugar
It is made using Semolina (Rava) and Yogurt.
Now don't frown at me as I am gonna reveal a little big secret (lol how can it be little as well as big at the same time.. :P) anyways what I wanted to say is that we are making a simple
"RAVA UPMA" today.. I get it I get it please don't make a face 😀
But being a mother some of you might relate how tiring and frustrating it can be to feed a fussy eater. You will have to come up with some or the other ideas to make your child eat healthy and nutritious.
This Vegetable Cake or Savoury Semolina Cake is one of those recipes. Loaded with so many colourful veggies that one would love to grab a piece of it.
I for one absolutely love it with a cuppa of tea in the morning.
By the way, if you have been in our community tab for a while you might know how much I love Rava Cake. They are simple, fuss free and even a novice baker can absolutely make it like a pro.
I have even shared the chocolate and coconut version of it. So a savoury version of rawa cake has to follow it right.. 😉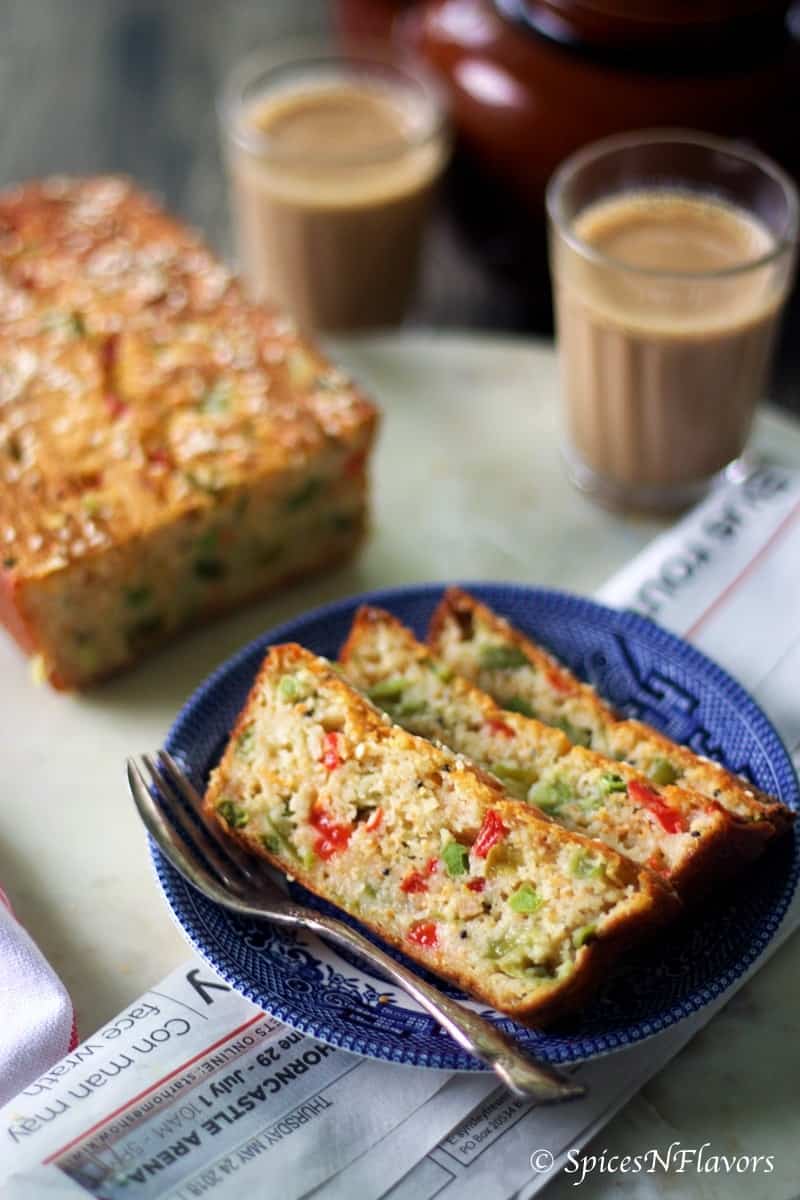 To make your work easier and organised in the morning it is so much important to plan the things beforehand.
Like for example in this case, if you have your veggies chopped the previous night then you just need 10 mins of active time to make this in the morning.
And while it is baking in the oven you can start prepping for your lunch routine
A hearty and healthy breakfast would be ready to serve hot in the dining table or pack it into your kids lunchbox. It tastes best when warm but tastes good for lunch too.
Certain things you need to note while baking this Vegetable Cake:
1. The most important thing is to not use too much water. As that would make the batter too wet; it would take a longer time to bake in the oven and also would be sticky to eat.
2. It is necessary to let the rava and yogurt mixture to sit for atleast 10 mins so that the rava gets time to absorb the liquid.
3. Once you add the baking soda, do not let the batter sit for a longer time on the countertop. Working quickly transfer it to your prepared loaf tin and into the oven at the earliest.
4. Chop your veggies finely so that it is easier for kids to bite into it. Use a selection of different coloured veggies to make it attractive.
Here is the detailed recipe:
Liked this recipe?
Let us know by giving it a star rating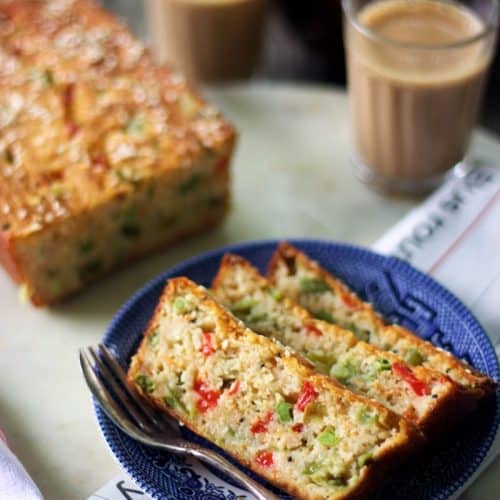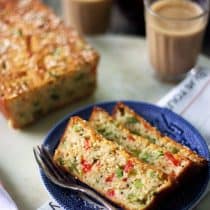 Print
Vegetable Cake | Savoury Semolina Cake
A savoury cake made using Rava and Yogurt that is loaded with veggies and has no eggs, butter, maida or sugar making it perfect for a hearty breakfast or pack it into your kids lunch box.
Ingredients
1

cup

Rava

1

cup

Yogurt or Dahi

1/4

each

Red and Green bell peppers

5-6

Beans

1/4

cup

Green Peas

1

med size

Carrot

1/2

tsp

Ginger

1

Green Chiili, finely chopped

refer notes

3/4

tsp

Salt

1/2

tsp

Baking Soda

Water as needed

refer notes

1/2

tsp

Sesame Seeds
For the Tadka/Seasoning
1.5

tbsp

Oil

1/2

tsp

Mustard Seeds

1/2

tsp

Cumin Seeds
Instructions
Mix together the rava and yogurt until combined. Add little water to get it into the batter like consistency. Let this sit on the countertop for at least 10 mins.

Meanwhile, chop all the veggies, grate the carrot and keep it ready.

After 10 mins, add the veggies into your rava batter. Give it a mix.

In goes the salt, green chilli, ginger. Mix everything and add little water if need be.

Prepare the tadka. For which heat up the oil and once hot add in the mustard seeds and cumin seeds. Let it crackle. And then transfer to the rava batter.

Add in the baking soda also. Give everything a final mix and quickly without wasting any time transfer it to the prepared loaf tin. Sprinkle the top with some sesame seeds.

Bake in a preheated oven of 180°C for 45-50 mins or until a skewer inserted in the centre comes out clean.
Did you make this recipe? Tag me today!
Tag me @spicesandflavors to get featured on my FB and Insta pages
If you like this recipe then do let me know by tagging me, tweeting me or instagram me. I would love to follow you and your posts.
Notes:
1. Absolutely any veggies of your choice can be used. No hard and fast rule there.. 🙂
2. But there is a rule for the usage of water.. hehe.. I would recommend you guys to not use more than 1/3 cup of water for this recipe.
Now I cannot give you an exact measurement of water here because it all depends upon the consistency of curd and the quality of rava that you are using.
3. You can skip the green chillies if you are making it for your little ones. The spiciness from the ginger would be enough for them but definitely add finely chopped chillies if you are making it for the entire family.
4. If you are planning to make it for breakfast the next morning or for packing it into their lunch boxes then I would highly recommend you guys to chop the veggies the previous night to make your work lot easier and smoother in the morning.
5. Do let the rava and curd batter let sit for 10 mins so that the rava can absorb the liquid.
6. One more point to note is that once you add the baking soda, act quickly do not let it stand for a longer time on your kitchen counter. Working quickly, get it into the oven at the earliest.
My honest opinion for you guys: I baked this cake twice in the past week but I felt that this cake remains dense even after the baking time. It feels like it is underbaked whereas it is not.
Then why am I still sharing it with you guys?
Well, it tastes delicious. And even though I agree with the fact that we eat with our eyes first but let's be honest at the end of the day my taste buds wins over my eyes. An absolute must try recipe in terms of taste and health 😀
Conclusion:
The Vegetable Cake or Savoury Semolina Cake makes up for an amazing back to school recipe idea because it is simple, easy and quick to make.
Tastes great with morning cuppa tea making it perfect for breakfast or you can even pack it into your kid's lunchbox.
Since we are baking it for a really long time, it forms a beautiful crusty top with a smooth filling; the contrast in the texture is really good.
Oh.. btw do check out my Spinach Muffins recipe too that makes up for an amazing breakfast too or also these Flourless Zucchini Muffins loaded with veggies minus the flour 😀
For now pin this Vegetable Cake for later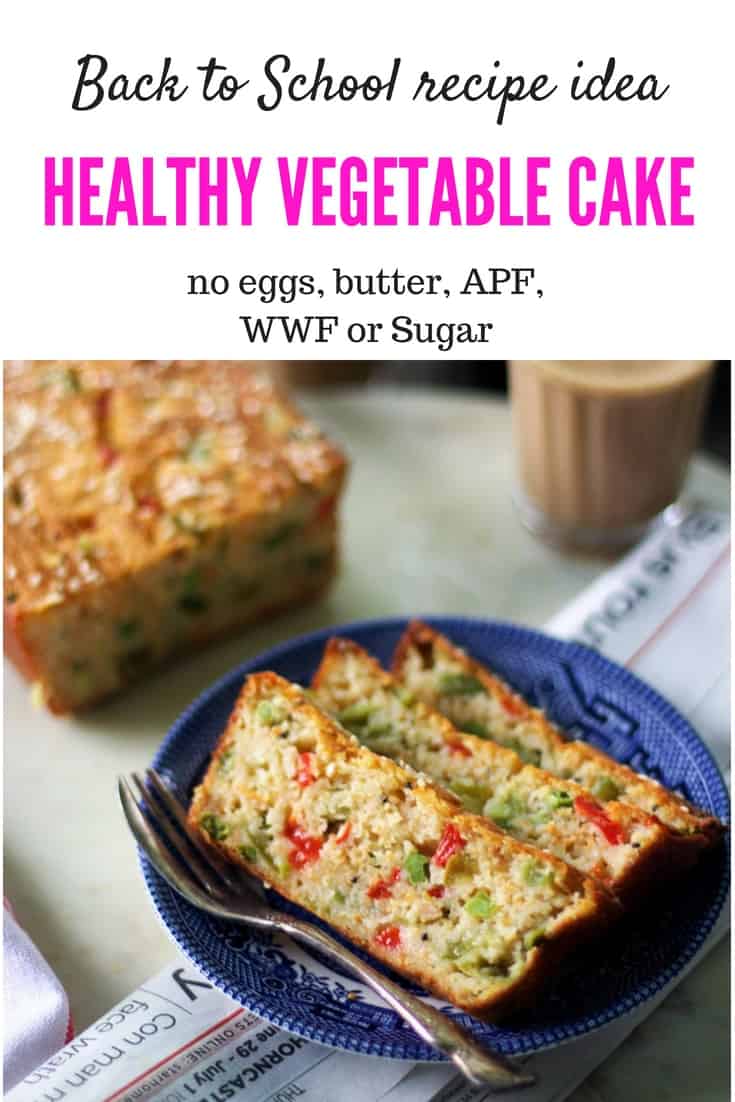 I will see you soon with yet another one
Until then
Hugs
Sushma