1. The basic dinner rolls recipe just needs water to bind everything into a dough.
Milk and Milk Powder are enriching agents so if you do not have milk powder handy, skip it and use flour instead.
Or skip the water and milk powder and use 300ml milk to make the bread dough. 
For an even richer bread, skip the water and use both milk powder and milk.
2. The total quantity of milk and water is 300 ml. So start making a dough with just that. However the additional 2 to 3 tbsp of milk mentioned in the recipe is to make the dough hydrated. Which means the dough should not be dry or else you will get harder baked buns. Refer my video to understand what exactly I mean by hydrated or please scroll up to read the article. 
3. If you are using Active Dry Yeast you will have to activate the yeast. To activate the yeast just combine the yeast with lukewarm water and milk. Give a stir and let it sit for at least 10-15 mins till it blooms and froths up. If it doesn't froth and bubble up it means your yeast is dead. Since I used instant variety I did not do this step.
4. One more reason to mix the yeast with the liquids first is that this way, you ensure that the yeast evenly disperses into the dry ingredients.
5. Please note that I no longer follow the method of milk wash or egg wash right before baking. I have observed that the fat in the dough is enough to give the pale golden colour on top of our dinner rolls.
6. This recipe is similar to our Skillet Pizza recipe. You might want to check that out too. Linking it here for you.
7. Check out the post for pictorial step by step recipe and also for the details all the tools and equiments needed to bake the bread.
WORD OF CAUTION :
If you are planning to double the recipe and use Instant pot for proofing make sure not to use the lid and opt for glass lid instead. The reason being the dough can rise too much and push the pin-up of the Instant Pot and lock the lid. So it is better to use a glass lid or a plate.
How to make Beetroot Dinner Rolls: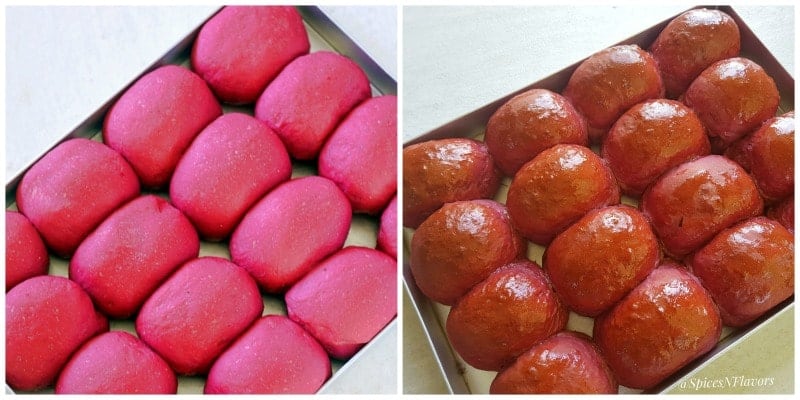 To make these naturally coloured and healthier variation of our plain dinner rolls we would need 150 gms (1/2 cup) Beetroot Puree.
To make the beetroot puree, peel the skin of a medium size beetroot, chop into small pieces add very little amount of water and grind to a puree.
Use 150 gms(1/2 cup) of this puree in place of milk. 
So follow the ingredients and steps mentioned in the above card, just substitute milk with beetroot.
You can follow the same steps for making a spinach dinner rolls too.
Though you will not taste the actual beetroot or spinach, it is a nice addition to have it in your kids lunch box or perfect for Valentine's Dinner Date. 
I have made a separate Youtube video on Beetroot Dinner Rolls. Please feel free to watch it if you like.