Coconut Mango Chia Seeds Smoothie; for those morning when you just don't feel like cooking anything or when you just want to stay in the bed for a little extra time.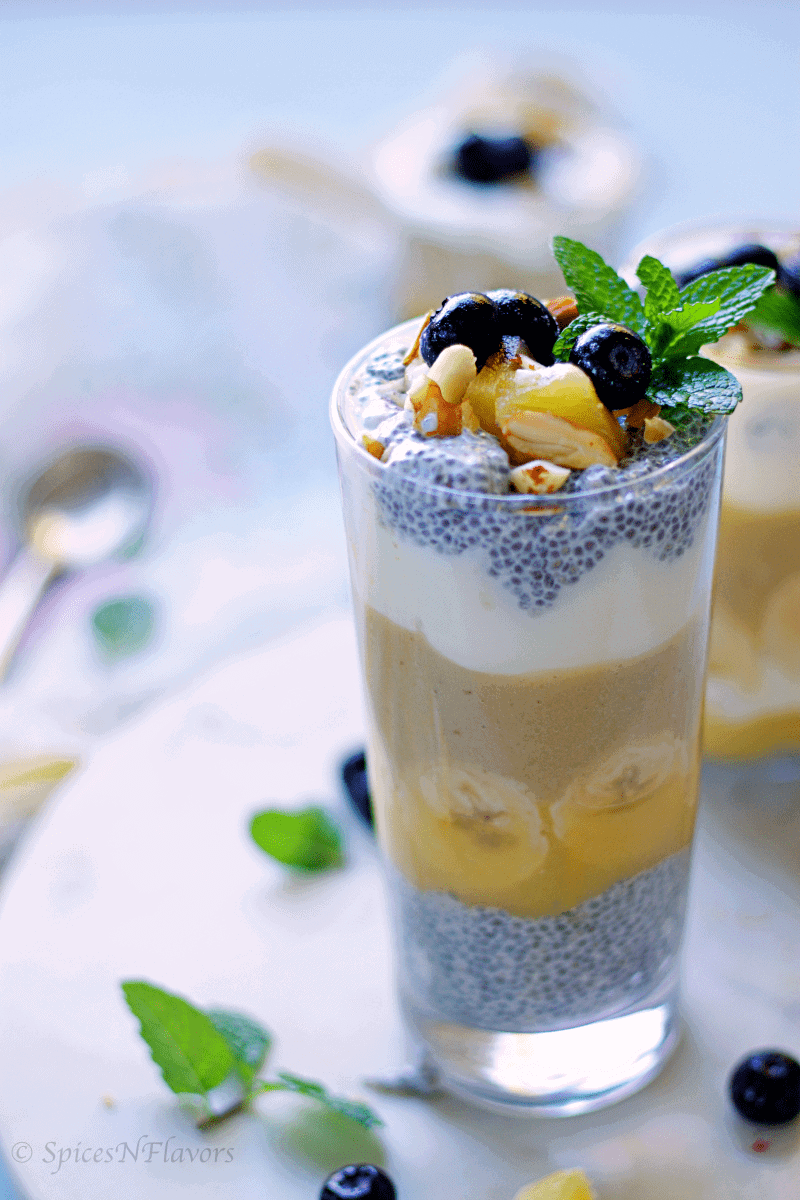 Coconut Mango Chia Seeds Smoothie glass is one refreshing and filling breakfast to start your day. This smoothie is packed with all the fresh seasonal Summer fruits that you do not want to miss out on.
I just happen to love smoothies. I also have a smoothie album on my facebook page if you would like to check.
Smoothies are so nutrient enriched that you should definitely start to include it in your regular diet.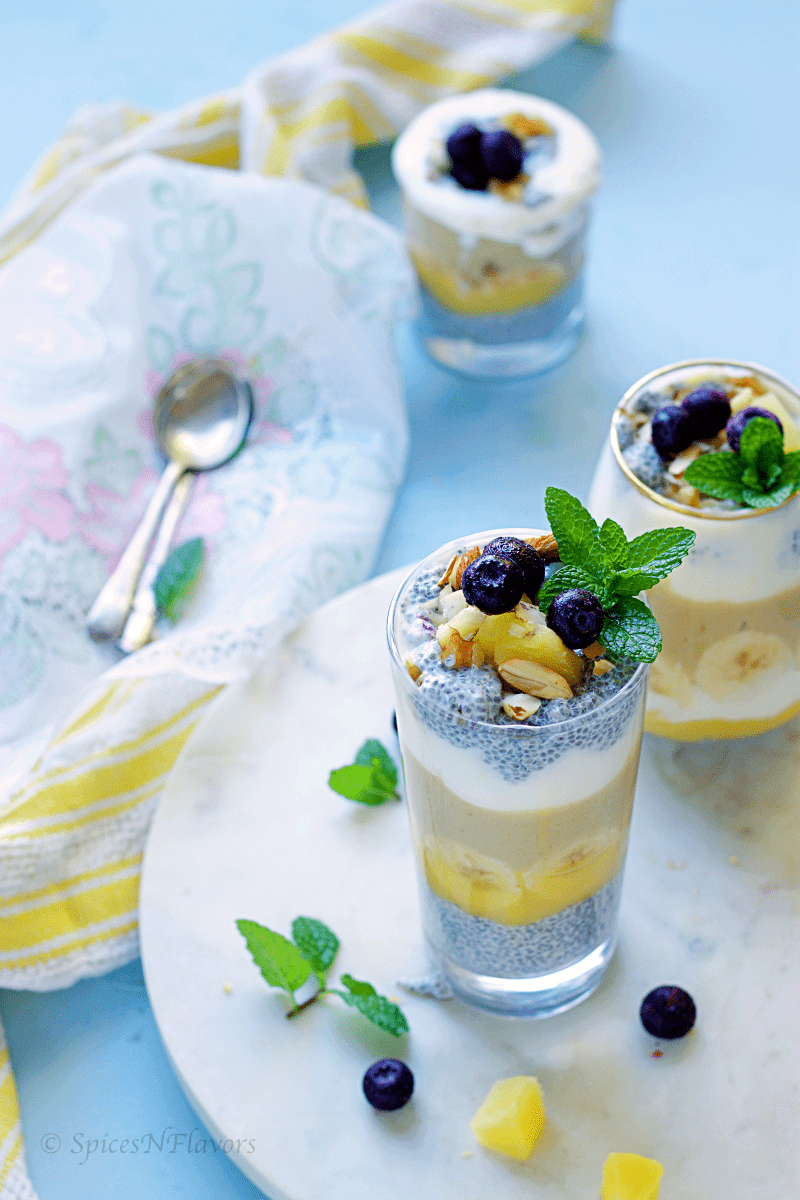 Whats so special about this Coconut Mango Chia Seeds Smoothie?
Off-lately all I could see, all over the internet was Chia Seeds. Well its been a popular food for some time now and to be honest I had never tried using them before. So I thought why not? Plus I cannot stress enough on the nutritional benefits of chia seeds. These are rich in fibre, protein and antioxidants.
Bonus they taste so lovely; just like a piece of jelly once they are allowed to absorb the liquid in which they are soaked; which also tends to increase the flavour quotient.
And the addition of fresh fruits makes this a filling and satisfying breakfast.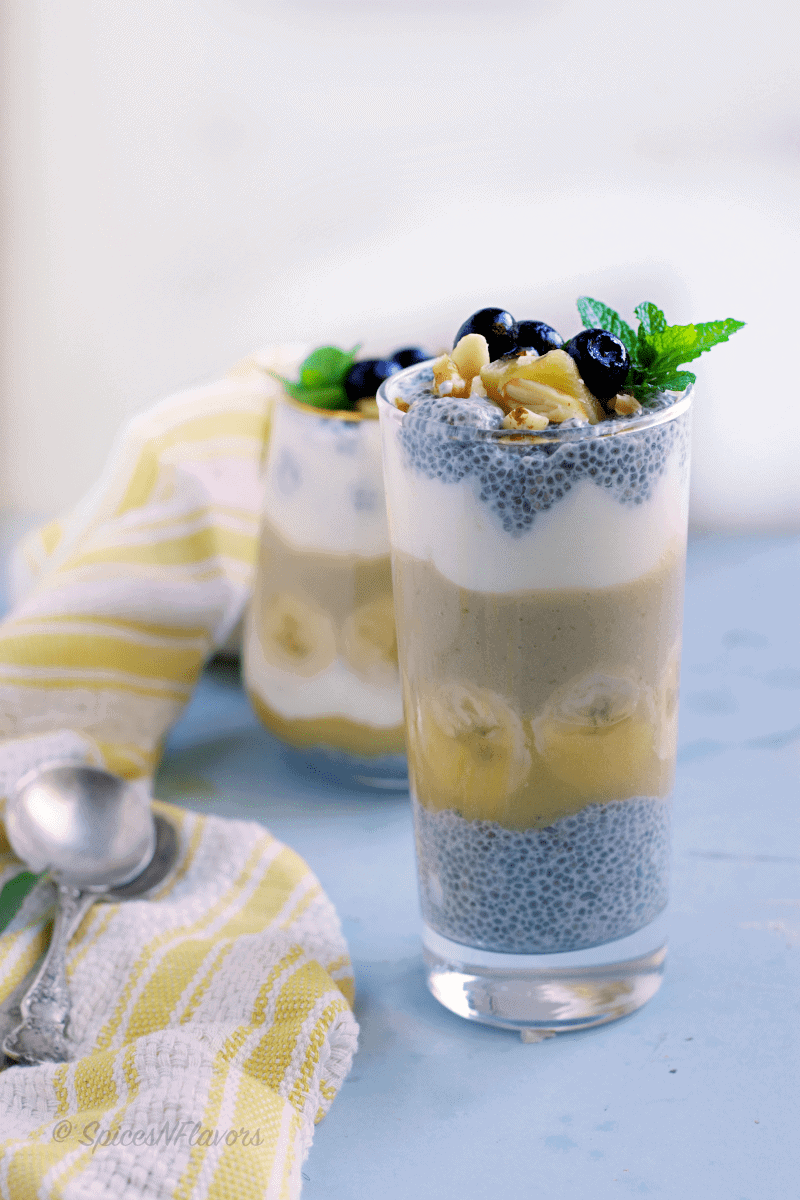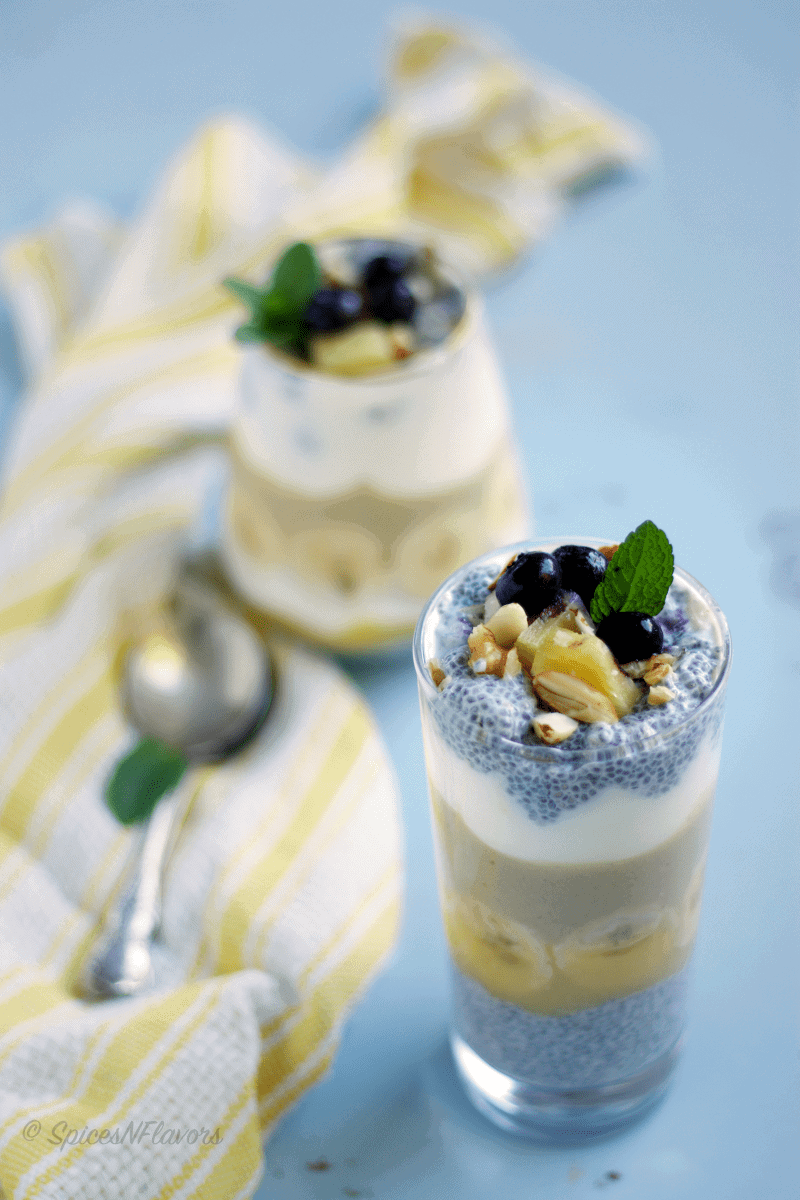 So how did this Coconut Mango Chia Seeds Smoothie taste?
Well Coconut and Mango is one combination that goes so well with each other. (I even made a Coconut Mango Mousse this Mango season. You must check that as well).
The sweetness from Mangoes and Pineapple were enough to sweeten this up. There is actually no need for honey or any other sweetener.
And the Chia Seeds added a nice bite thereby giving this smoothie a nice texture.
The topped fresh fruits and nuts were like the icing on the cake.
In all these Coconut Mango Chia Seeds Smoothies are
Flavour packed
Naturally Sweet
Vegan
Use of seasonal fresh fruits
Raw
Healthy
And like always if you happen to try this recipe do tag me, tweet me or instagram me. I would love to follow you and your posts.
Liked this recipe?
Let us know by giving it a star rating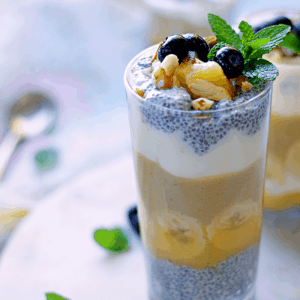 Print
Coconut Mango Chia Seeds Smoothie
Coconut Mango Chia Seeds Smoothie is a refreshing and filling breakfast recipe that is nutritious and healthy and made using fresh summer produce with no added sugar
Ingredients
1

cup

Coconut Milk

1/2

cup

Chia Seeds

1

cup

Diced Mangoes

1

cup

Diced Pineapple

1

no

Frozen Banana

1

cup

Almond Milk

Yoghurt, Fresh Fruits and Nuts for topping
Instructions
Start by soaking the chia seeds in the coconut milk. Leave it in the counter top for 10 mins until it starts thickening up. Meanwhile prepare rest of the ingredients.

Take half of the mangoes and pineapples and blend together until smooth. Keep aside.

Take remaining half of the mangoes and pineapples, bananas and almond milk; blend until smooth. Keep aside.

Take a tall glass; add the thickened chia seeds at the bottom, followed by mango pineapple puree, press bananas onto the sides of the glass, followed by mango almond milk puree, some yogurt on top and the remaining chia seeds. Top with fresh fruits and nuts to garnish and serve.

If you are running late then just don't bother about layering. Add all the ingredients except for Chia seeds and coconut milk in the blender and blend until smooth. In a glass add thickened chia seeds; followed by the mango puree. Garnish with fresh fruits.
Did you make this recipe? Tag me today!
Tag me @spicesandflavors to get featured on my FB and Insta pages
Notes:
If your mangoes and pineapples are not sweet enough; feel free to add a tsp of honey or 2 dates to sweeten up the smoothie.
This Thursday I am gonna share something different. Fingers crossed; hope you like it.
Pin it


See you soon guys..
Until then
Hugs
Sushma