Mango Coconut Mousse in Easter eggs is a smooth, silky, melt in the mouth creamy mousse with a subtle flavour of coconut; served in Chocolate Easter Eggs makes it a one perfect dessert for your Easter lunch. The bonus part is that it needs just 3 ingredients to make this.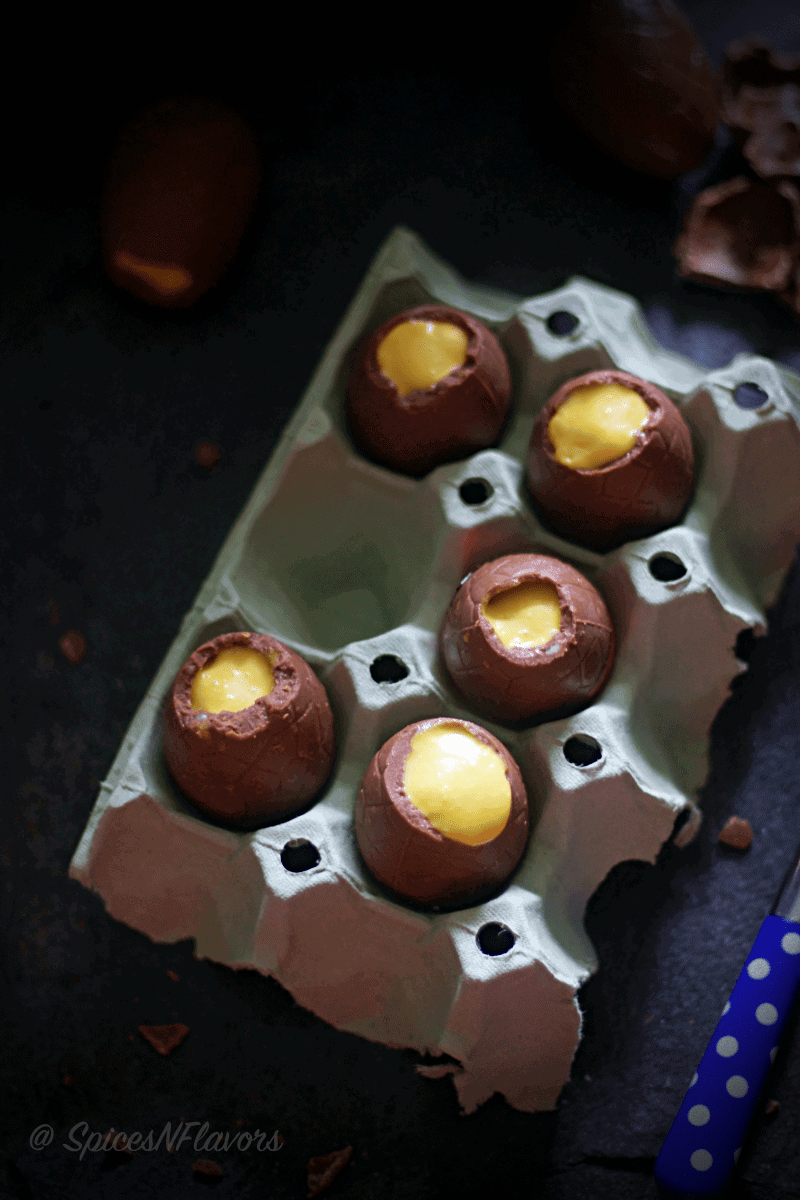 Mango Coconut Mousse is that one particular dessert that combines my most favourite fruit Mangoes with a subtle taste of coconut. Both these flavours go really well with each other.
The only reason why I hate the month April and June in New Zealand is not because its Autumn or getting colder or may be the end of day light saving.. No No No.. Its because I miss those juicy, fresh, aromatic Alphonso Mangoes. 🙁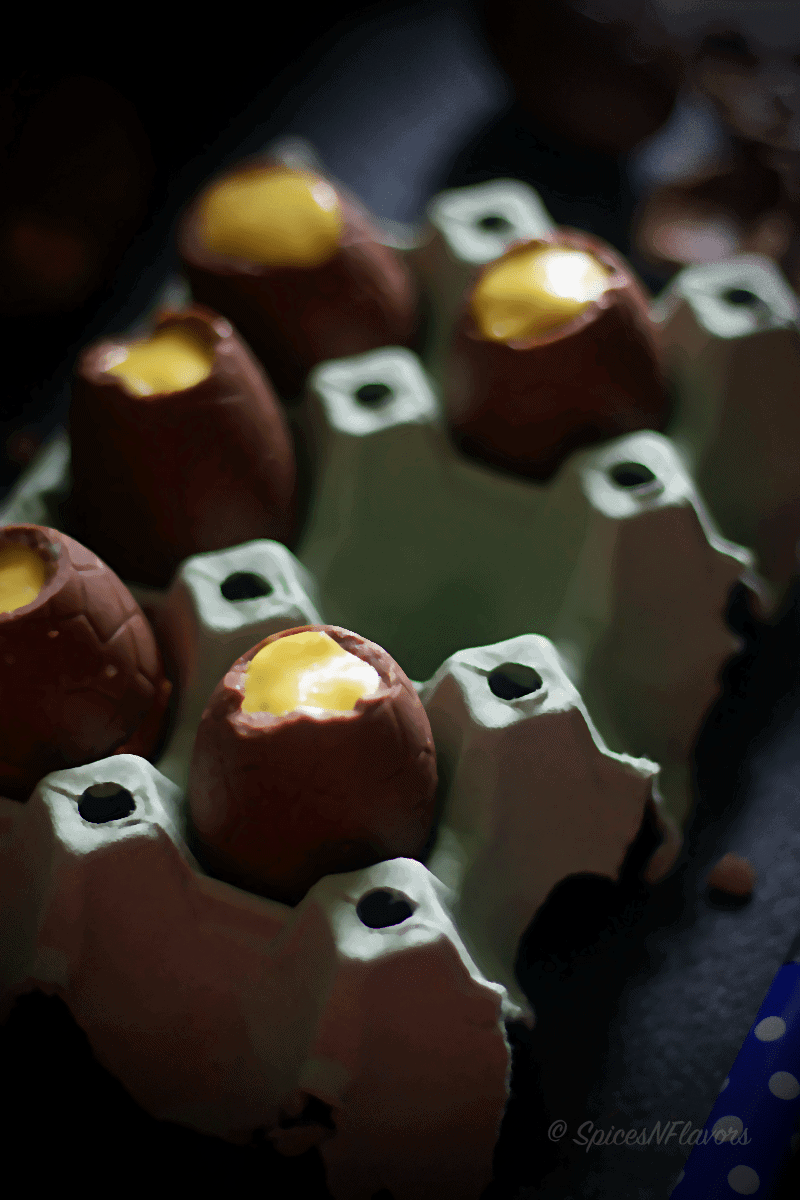 Why am I making these many desserts??
Damn!! I have put on like crazy but I just can't stop craving for desserts.. (No no i am not pregnant!! :P)
Yes blame this Mango season and the Internet. The Internet is going crazy about mangoes so how can I not make one.
But ain't it looking cute??
These Chocolate Easter Eggs and the Mango Coconut Mousse are a match made in heaven. Don't you think its so adorable..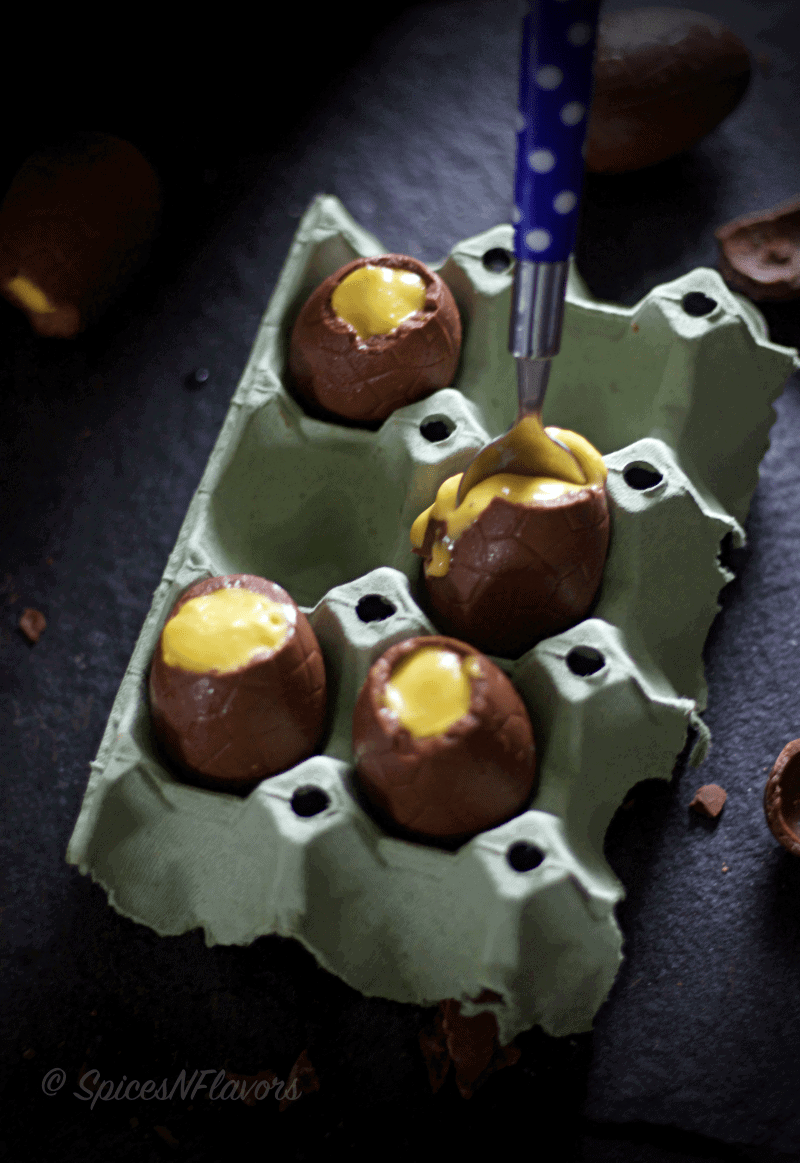 Whats so special about these Mango Coconut Mousse in Chocolate Easter Eggs??
Hmmm.. So firstly it is just made of 3 ingredients.. Can you believe it?? no eggs, agar agar or gelatine used. It is Gluten free. If you skip condensed milk and use plain sugar instead it would be vegan too. wow thats crazy.
Secondly these chocolate easter eggs are just perfect for Easter lunch table. It goes so well with the theme
I have used store bought eggs here. If you could not find any egg mould or ready made chocolate eggs then just serve your Mango Coconut Mousse in these adorable and edible chocolate cups that I am making since two years now. At that time I had served easy peasy Mango Ice-cream in it garnished with chocolate leaves.. Cool na!!
The mousse has a very smooth and silky texture to it. It is bursting with the flavours of Mango and a subtle hint of coconut. The easter eggs gives it a nice crunch. The chocolate, mango and coconut combined together is making it a very rich and creamy dessert.
I highly recommend you to try this..
And if you happen to try this then do tag me, tweet me or instagram me. I would love to follow you and your posts.
Liked this recipe?
Let us know by giving it a star rating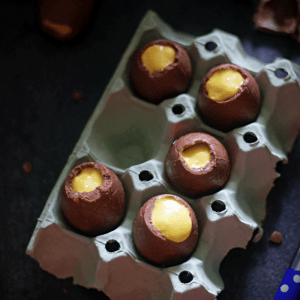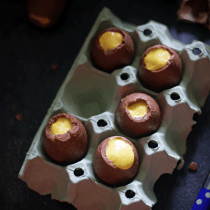 Print
Mango Coconut Mousse in Chocolate Easter Eggs
Mango coconut mousse has a very soft, silky, creamy and melt in mouth texture. Serving in Easter eggs makes it perfect for Easter lunch menu.
Ingredients
1

cup

Mango pulp

1/2

cup

condensed milk

1

cup

coconut cream

10-12

hollow chocolate easter eggs
Instructions
Break open the easter eggs carefully from the top without breaking the whole eggs

Blend mango pulp, condensed milk and cream together in a blender until thick and smooth. With the help of a spoon just fill the eggs upto the brim. Refrigerate overnight. Serve chilled.

Did you make this recipe? Tag me today!
Tag me @spicesandflavors to get featured on my FB and Insta pages
Recipe Notes:
1. If you cannot find these chocolate easter eggs then just use my chocolate cups to serve it or any other bowl. Just cling wrap the bowl with the wrap touching the mousse before refrigerating.
2. Use sugar instead of condensed milk to make it vegan.
Pin it

Keep an eye on this space for more exciting recipe.
See you soon.
Until then
Hugs
Sushma