Mango Ice-cream is a perfect summer ice-cream with flavours of mango bursting in every bite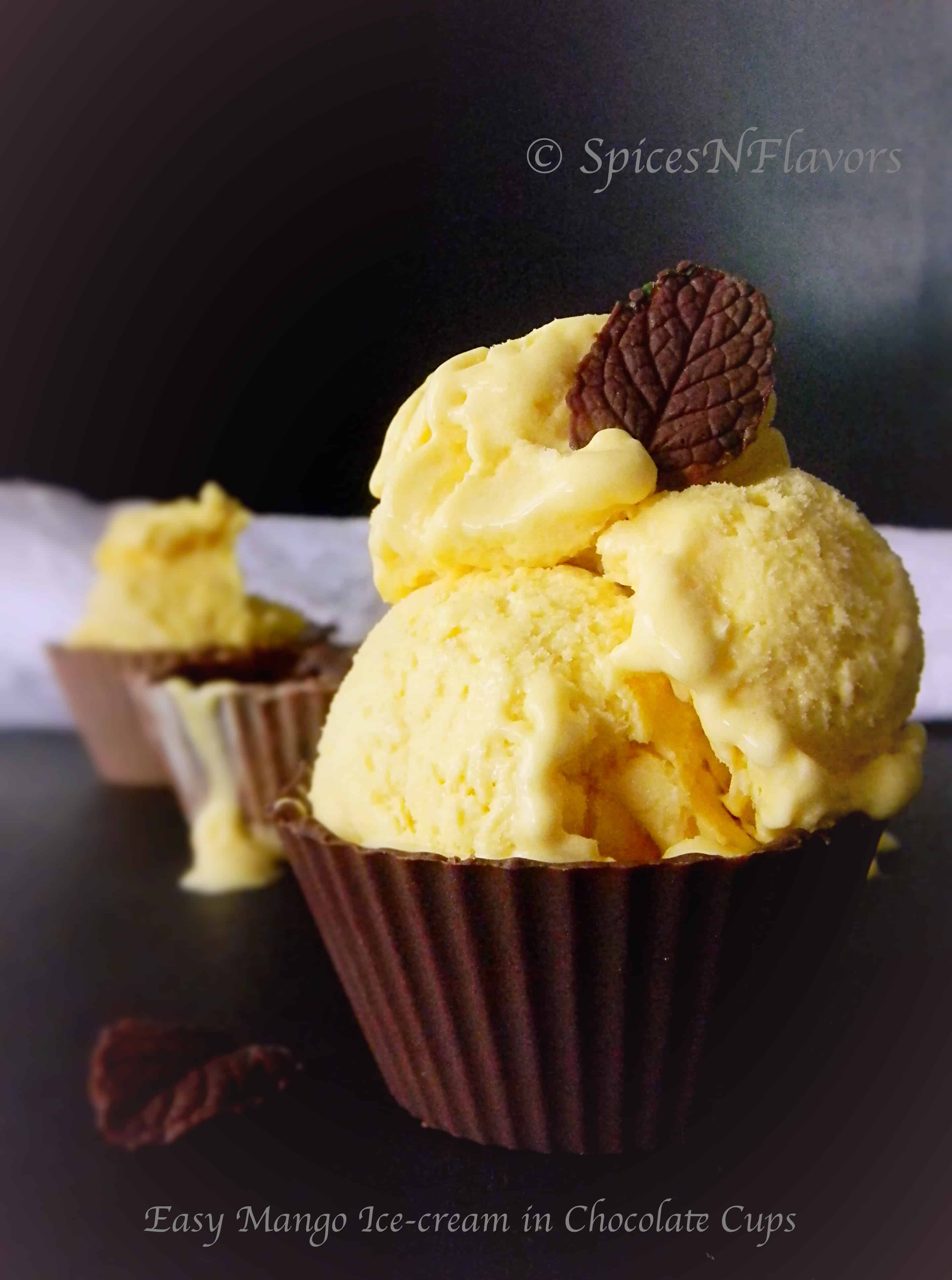 I scream.. You scream.. Na Na.. Lets all scream for ice-cream!!!
Ab har mausam aam(Now you can enjoy mangoes in all season).. Yes.. if you are a Indian by birth then love for mangoes is something that is born with you.. The only best thing about summer is MANGOES!!! Breakfast, lunch, tea time or dinner whatever it may be mango has to be in the menu..
This is one such easy and simple recipe for my love.. I mean for my love towards mango.. Easy Mango Ice-cream in Edible Chocolate Cups garnished with chocolate leaves..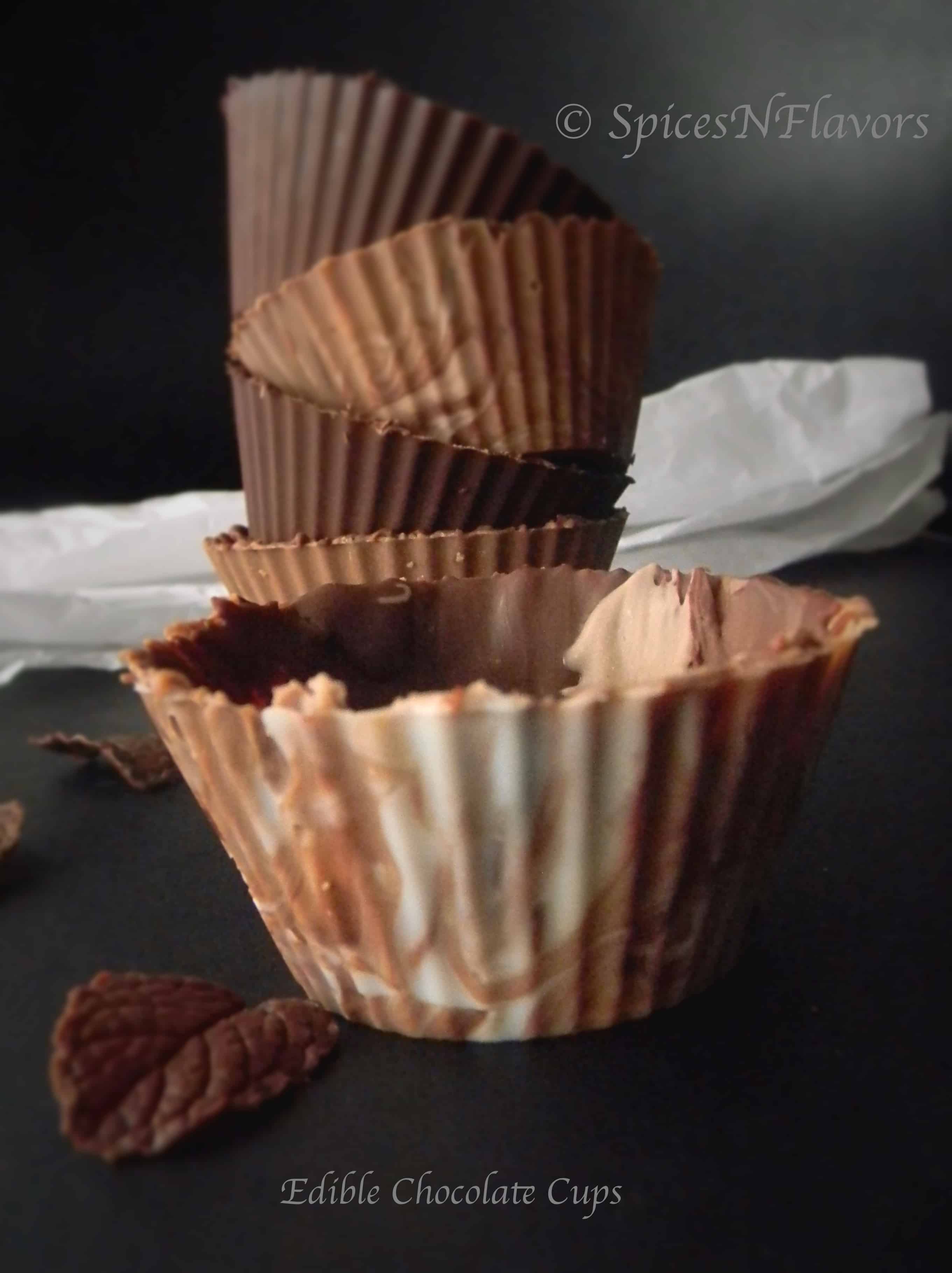 In today's world the way you present yourselves is what matters.. Be it going to your college, to a movie, to office or even to the shop next to your home; it is mandatory that you present yourselves. Proper dress up, branded clothes and cosmetics, fossil watches or gucci perfumes; everything has to be branded. These days even a school going kid demands for an i-phone..
Why do we need all those things?? You might be thinking why am I drafting so much on a food blog???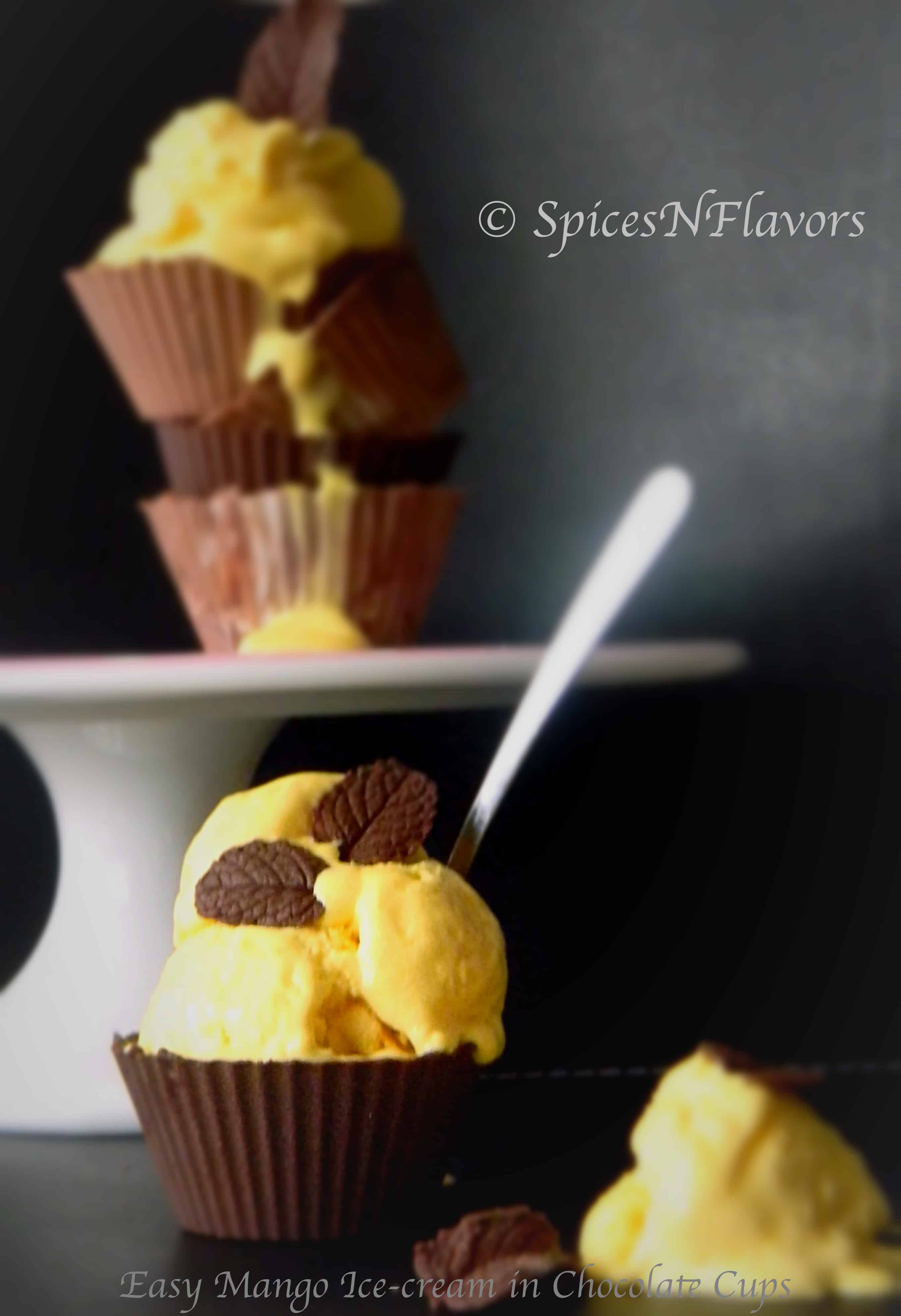 So presentation is important to attract, to make your space amongst so many other people. And so is the food presented onto your plate. Now that I have started blogging I could relate to the efforts put behind each and every picture that we willingly gaga go over..
To get the mouth watering click, or the awe moment; a lot of efforts goes behind the scene..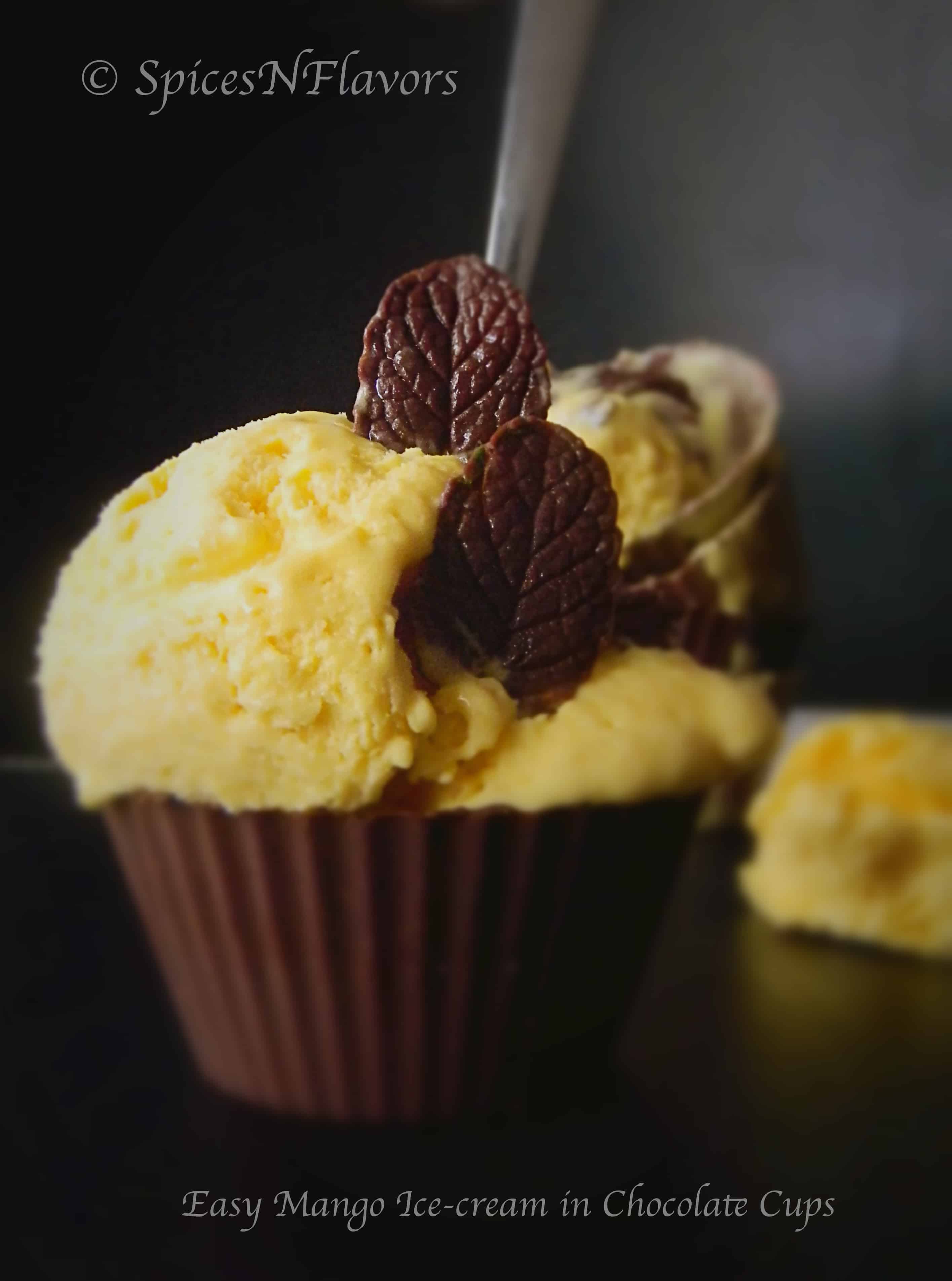 I have made ice-creams many a times but now I wanted to present it in a more appealing way. And that is when I tried my hands on these chocolate cups. These cups are so versatile and eye catching that you would surely get a pat from your friends and family, also an eyebrow raising dessert idea on your dinner table. Please your guests with these cups.
Also tried my hands on chocolate leaves.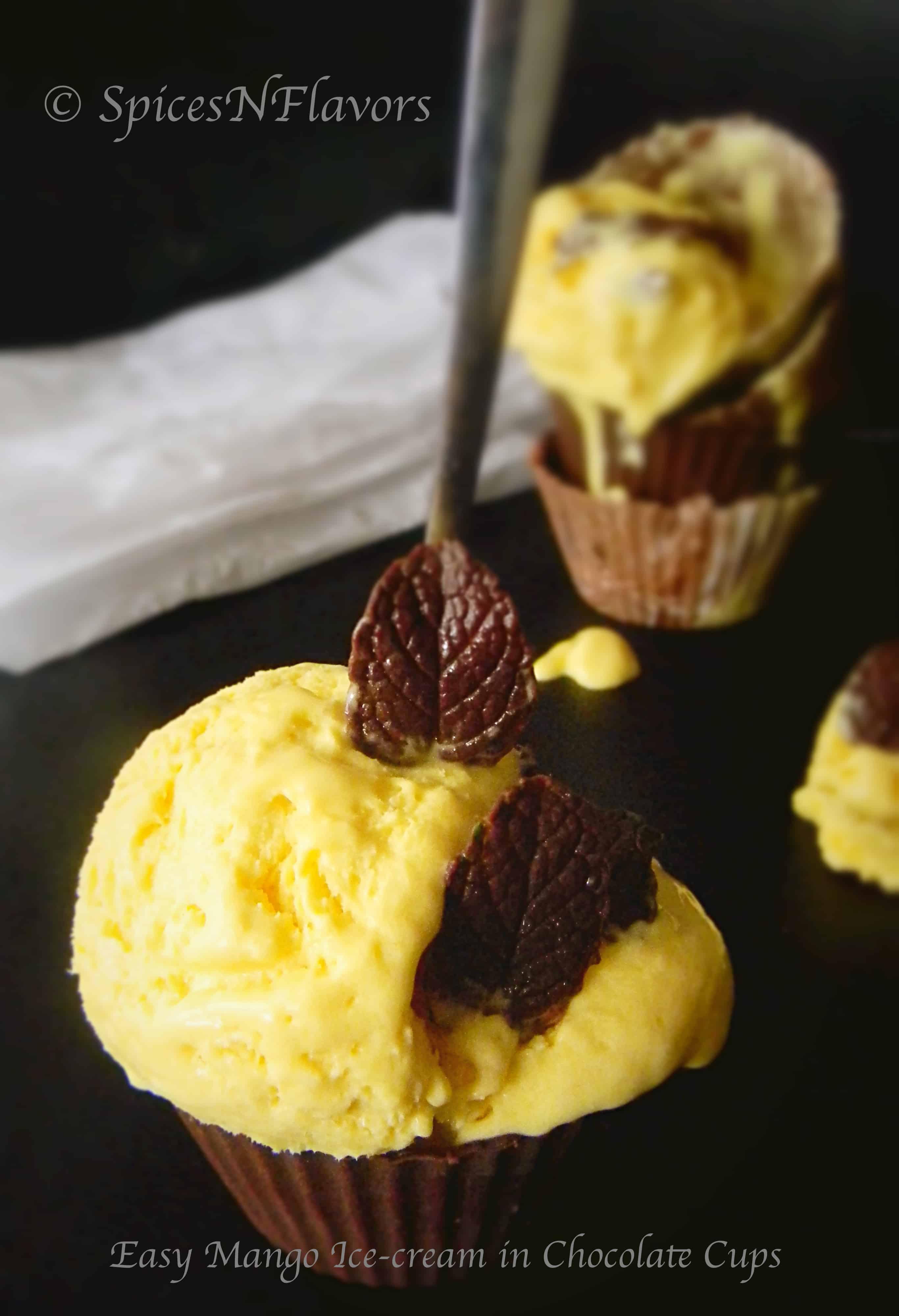 Ice-creams are everyone's favourite. Mangoes are my personal favourite and I know most of you are a big fan of it. Chocolates goes without saying; everyone from 5 to 50 years enjoys it. So a combination of the three has to be mind-bobbling..
Summers call out for some chilled desserts. The very thought of frozen creamy mango ice-cream lying in my freezer to set gave me a sleepless night. The silky creamy smooth texture of the mango ice-cream hits the right cord in my tongue to give way to the heavenly melt in mouth delight. Listening to the tune of my latest favourite song, licking the dripping cream from my spoon with my eyes closed leaving me mesmerised with the burst of flavours in my mouth.
This is a must try recipe as it is that simple and easy to make. Present it in the chocolate cups like I did and serve it with chocolate leaves and I am sure you will win over your guest's heart.
Here is what you need to make them..
Ingredients:
For the Ice cream:
2 cups mango pulp
1 cup sweetened condensed milk
1 cup milk
300 ml cream
For the Chocolate Cups and Chocolate leaves:
1 cup dark/white/milk chocolate of your choice
silicon cup cake moulds
some mint leaves
Method:
For the ice-cream:
In a blender, blend together the mango pulp and condensed milk. Do a taste-test, add more condensed milk for more sweetness. Then add milk and blend well.
Whip the cream until stiff peaks form. (This would take about 3-4 minutes).
Add the mango pulp mixture to the whipped cream and mix well.
Transfer them to freezer safe containers and freeze until set preferably overnight.
Tip/s:
Whenever you are whipping cream, make sure to place your hand mixers and the bowl in which you are whipping in the freezer for at least half and hour and make sure that the cream is also chilled. This helps in easy whipping of the cream.
To avoid the ice crystals from being formed in an ice-cream, what you can do is every two to three hours just mix the ice-cream well with the help of a spoon while it is setting in the freezer. You can do this 1-2 times.
Notes:
To make the mango pulp, peel and remove the seeds of two mangoes and blend them to a smooth paste in the mixer or blender. And use this as your mango pulp.
I have used store bought mango pulp which already has some sweet to it. So I started by adding 1/2 cup condensed milk and then adjusted it to 1 cup to suit the sweet buds of my family. You can adjust it depending upon the sweetness of the mangoes you are using. But adjust it in the blender itself.
The colour of the ice-cream will depend upon the quality of the mangoes you are using. Most of the time you will get a gorgeous yellow colour but if you are not satisfied with it add 2-3 drops of yellow colour if you wish to. I got a beautiful yellow colour with this store bought mango pulp.
If you do not have a container and wish to freeze it in a loaf tin or any other vessel, make sure to cling wrap it and also the plastic should touch the ice-cream part to avoid ice-crystals from forming on the top
For the Chocolate Cups and Leaves:
Melt the dark/white/milk chocolate whichever you are using by double boiler method or in microwave until smooth.
Take two spoonful of the melted chocolate and place it in the centre of the silicon moulds. Then with the help of a paint brush or kitchen brush just coat the sides of the mould with the chocolate brushing it from the centre to the sides. Coat it from all the sides.
Place it in the freezer for 5 minutes. Till then chocolate will be set. Remove and do a second coating the same way like you did the first time. This will make sure that the mould is coated completely from all the sides with chocolate.
Place it in the refrigerator for at least half an hour. Once completely set remove it from the fridge and de-mould it.
While de-moulding first release it gently from the top from all sides then slowly and carefully push it from the bottom and de-mould like the way you will do for your cup-cake or muffin.
And your chocolate cups are ready.

Update: Instead of two coatings with chocolate now I just give one. Thats because some guests find the chocolate cups to be too thick and hence are unable to enjoy it with the ice-cream. However just one coating of chocolate makes the cups thinner and easy to eat
Chocolate leaves:
For the leaves, take any non-toxic leaf. I have used mint leaves.
Apply chocolate on the back side of the leaf and let it set in the freezer for 5 minutes.
Remove it from the freezer, slowly and very gently pull the leaf from the chocolate and you will get a nice chocolate leaf.
Very simple isn't it!!
Notes:
Be very careful while de-moulding both the cups and leaves or else you may break it if you are not gentle.
If you do not wish to buy silicon mould, you can line your muffin tray with parchment cup-cake liners and follow the same procedure.
You can also use plastic cups instead of muffin moulds for making the chocolate cups.
Any non-toxic leaf can be used to make the chocolate leaves.
For the marble effect, add 1 spoon of dark chocolate and 1 spoon of white chocolate onto the mould and randomly brush up the sides with the chocolate.
This summer do not buy an ice-cream make one. And enjoy it in your homemade edible chocolate cups.
You can use these cups in various ways.. Serve mousse in these cups. Check out my Beetroot and White Chocolate Mousse. Or serve some fruits topped with whipped cream. Or a plain sponge cake. The list is just endless.
Happy Cooking!!
Sushma.