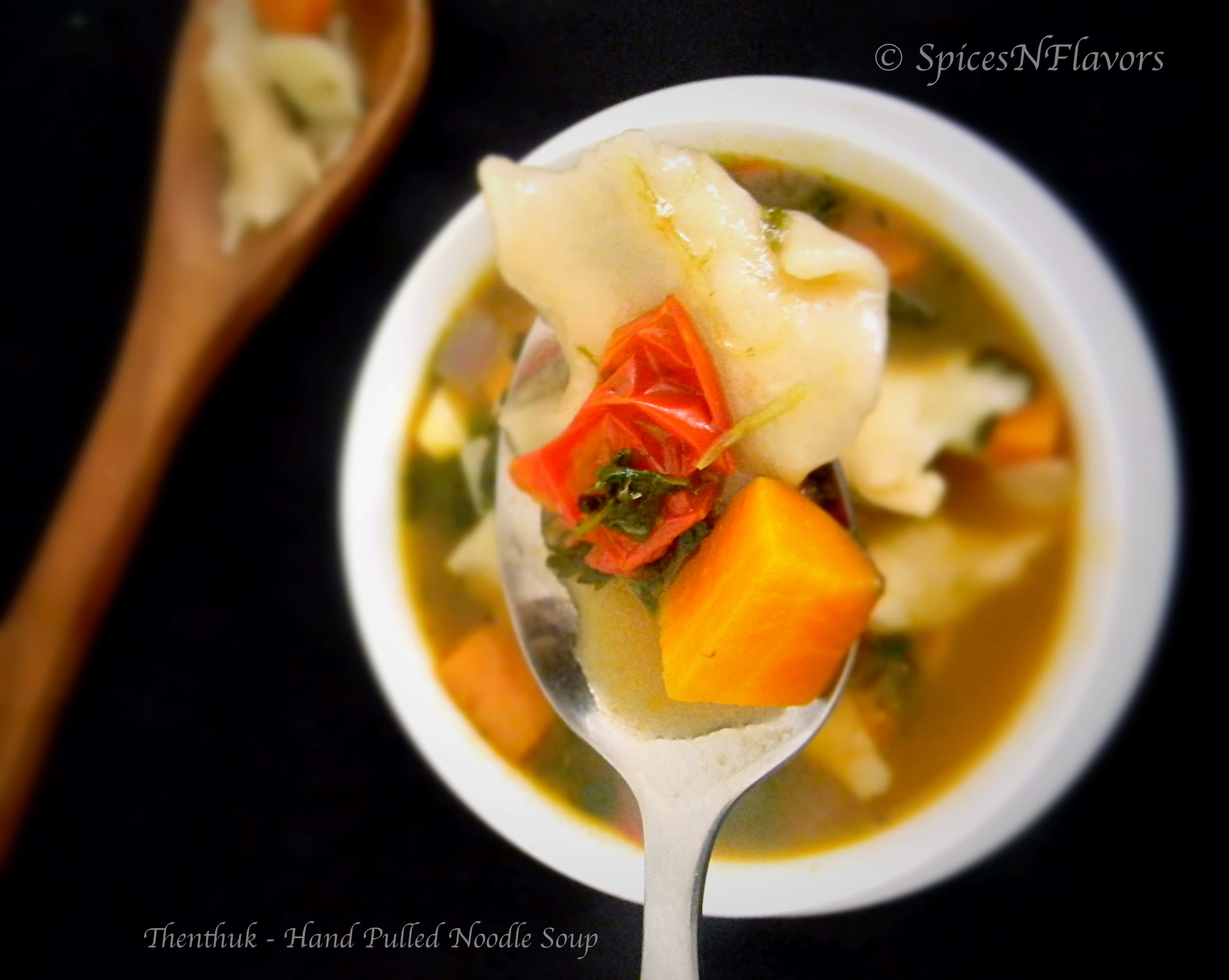 #SpicesNFlavorsofIndia
Weekends are always lazy for me.. No Cooking no cleaning just laze around.. Even though I had planned my menu for Arunachal Pradesh special, did not feel like trying it out; blaming weekends for that.. But somehow gathered my interest and made the main course for the same..
So Arunachal Pradesh special dinner menu was Thenthuk which is basically a hand pulled soup, Kharzi (rice flavoured with spices and cheese) and Egg Tadka Dal (cooked lentils seasoned with eggs and spices) along with Panch Phoron Tarkari (Vegetables cooked with five specific spices).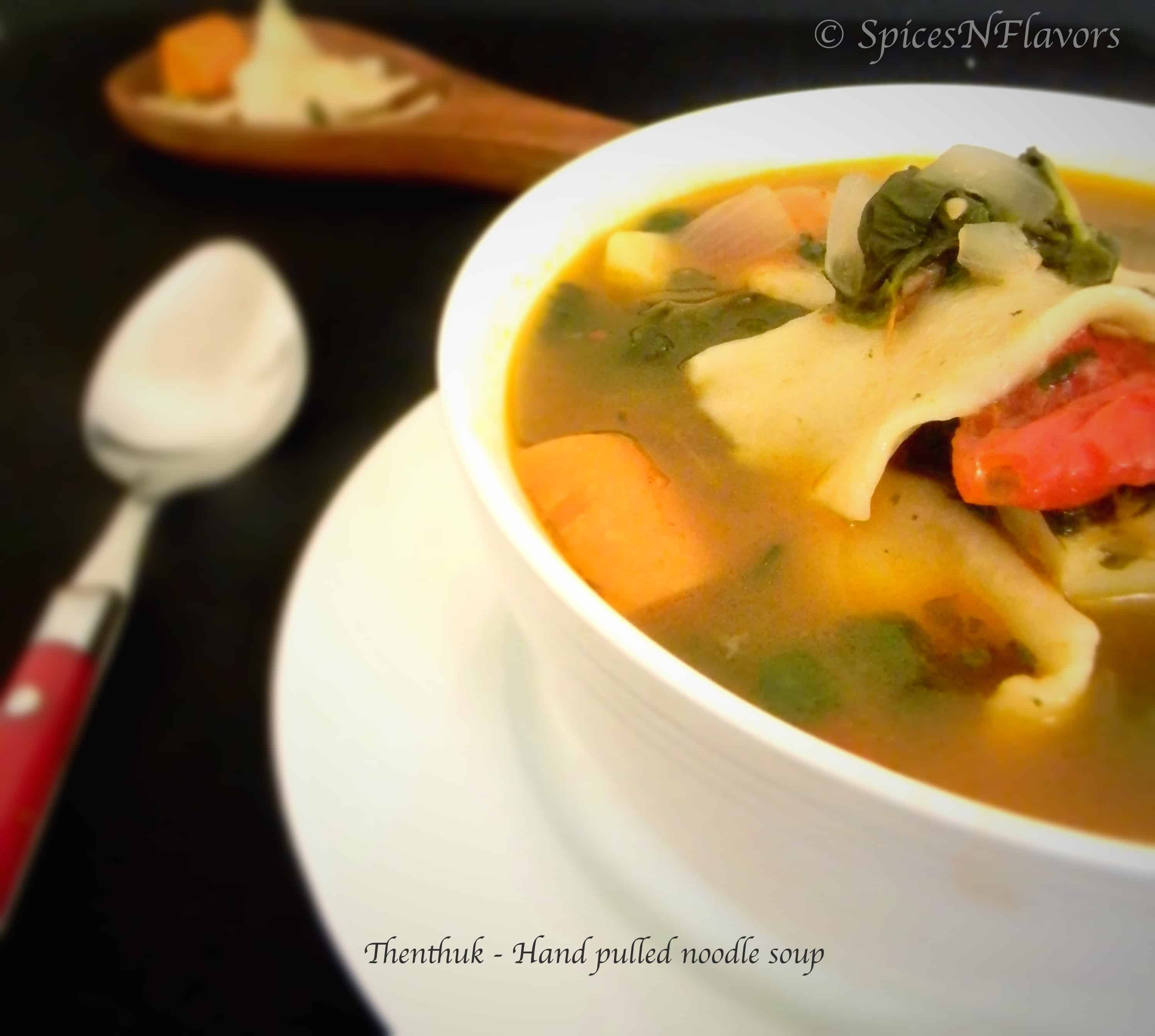 The timings were just perfect. I mean the temperature in north eastern states of India is generally cold owing to the Himalayas.. And so is the temperature of Christchurch.. Winters are on its way.. A sunday chilled evening always calls for a soup and HE is a big fan of soup. We drive all the way to Race course(Riccarton market) which is like 6 kms from our home for a soup..
And I am not a soup lover.. Sigh..
So it was very important for me to match his expectations and at the same time I should also like it..
Well He just loved it and if you ask me; I liked it (Remember I don't like soups.. :P).. But a must try soup, I will surely recommend..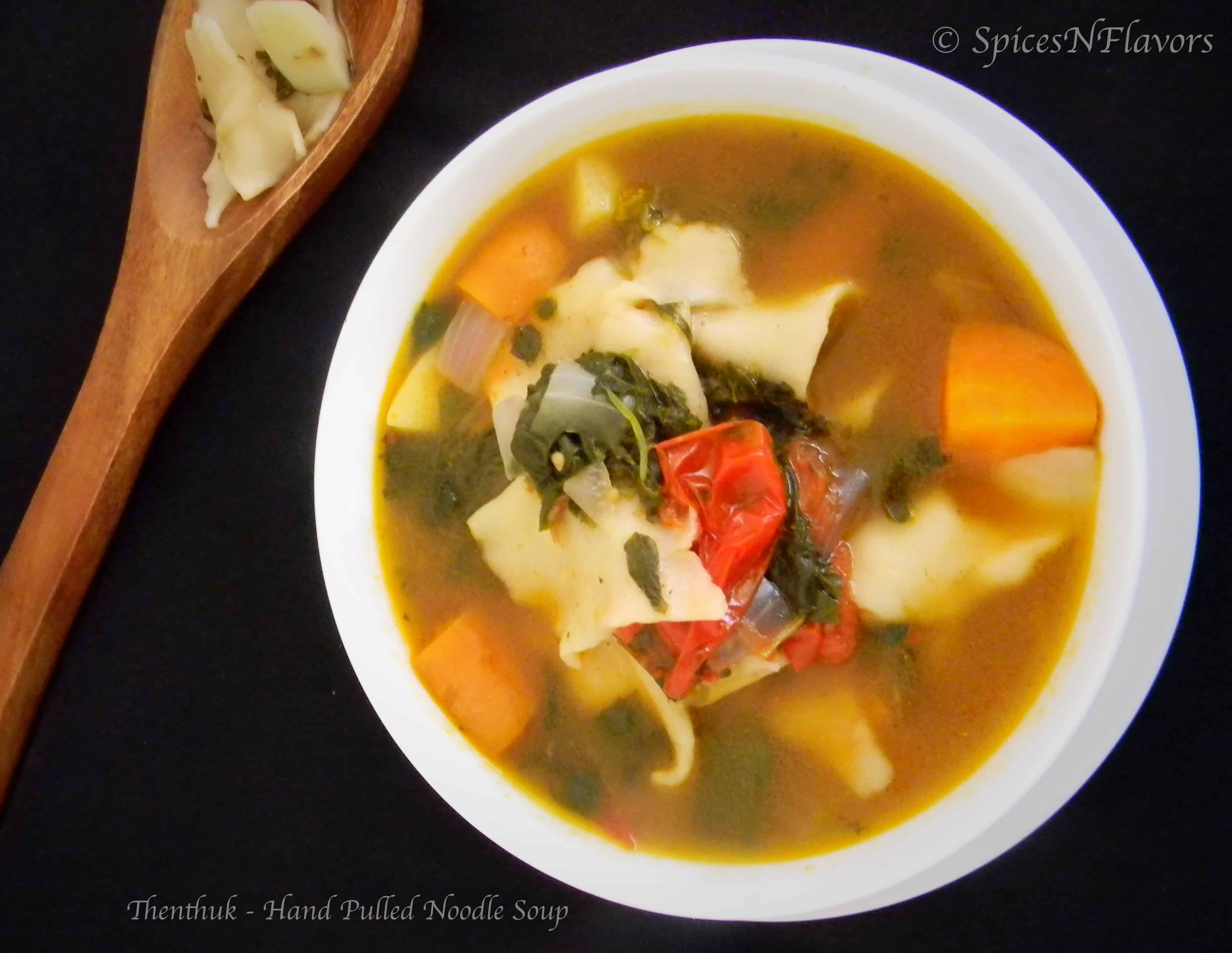 Thukpa is a Tibetan noodle soup. Even though it originated in Tibet it is widely popular in north eastern states of India. There are numerous varieties of Thukpa in Tibetan tradition, including Thenthuk, Gyathuk, Pathug, Drethug (Source:Wiki)
Thenthuk is hand pulled noodle soup. So named because we pull out thumb size dough made from All Purpose Flour and add it to the boiling broth in the pan. And allow it to cook along with the vegetables.
What was my major concern while trying out Arunachal Pradesh is the use of Red Chillies. Generally they don't use much of the Indian spices that normally the other parts of India use and hence most of their dishes are bland in taste. However I have tweaked the recipe here and there to suit my palate.
The whole idea of trying out something new was adding fuel to my interest. The different veggies that were used to make this soup is one added healthy advantage, I must say..
Here is what you will need to make it..
Recipe adapted from here and also from a video that I came across on Youtube. (Lucky me that I could understand Malayalam as well.. 😉 )
Ingredients : (Serves 2-3 people)
For the dough
1 cup All purpose Flour/Maida
Approx 1/2 cup water
For the Broth
1 onion, chopped
1 tomato, chopped
1 potato, peeled and cubed
1 carrot, diced
spring onions, (just the green part) 2 nos
1/2 cup spinach, chopped
1/4 cup cilantro/coriander leaves chopped
a small piece of ginger, chopped
Garlic, 2 pods chopped
4 tsp soya sauce
5 cups water
1/2 tsp salt or to taste
2 tbsp oil
Method:
Take 1 cup flour and by adding little water at a time, knead it to a soft pliable dough. (like your chapati dough). Pinch out fist size dough and form a roll like cylinder out of it and let it rest for at least half an hour. You can form around 2-3 rolls from the dough.
Heat oil in a pan and saute onion, ginger, garlic for 2-3 minutes in it once the oil is hot. Add in tomatoes and further saute for 2-3 minutes.
Add little salt and the soya sauce. Mix. Add in 5 cups of water. Stir and add the potato and carrot and bring the broth to a boil.
While that is cooking, chop your cilantro, spring onions and spinach.
When the broth comes to a boil, start by applying oil on your hands (so that the dough doesn't stick while pulling it out.) stretch the dough to increase it lengthwise, flatten the rolled dough with your fingers and pull out a thumb size dough from it and add it into the broth. (Refer the video)
When all the pulled out noodles are inside the broth, cook it further for 3-4 minutes.
After that add in the spinach, spring onions and cilantro. Cook for a minute and switch off the flame.
Serve hot. Enjoy it for your dinner.
Notes:
Add salt a little to begin with as soya sauce already has enough salt in it. So do a taste test first and then adjust accordingly.
If you see the recipe does not call for any pepper powder or chilli flakes, however I added both towards the end to suit my palate. You can adjust accordingly, or serve salt and pepper separately also.
Serve immediately, as the dough tends to soak in the water so if you leave it for a while, you will have to again add in water to get the consistency.
Other vegetables like beans can also be added. You can skip or add veggies as per choice. Do not omit potato, spinach and spring onions.
Mann leaves are used in place of spring onions, but as I do not have it I have used the substitute for the same.
Enjoy it with your friends and family..
Happy Cooking!!
Sushma..