Easy Ice-cream cake - woah ice-cream and cake; my two favourite things in one post. How cool does that sound!!!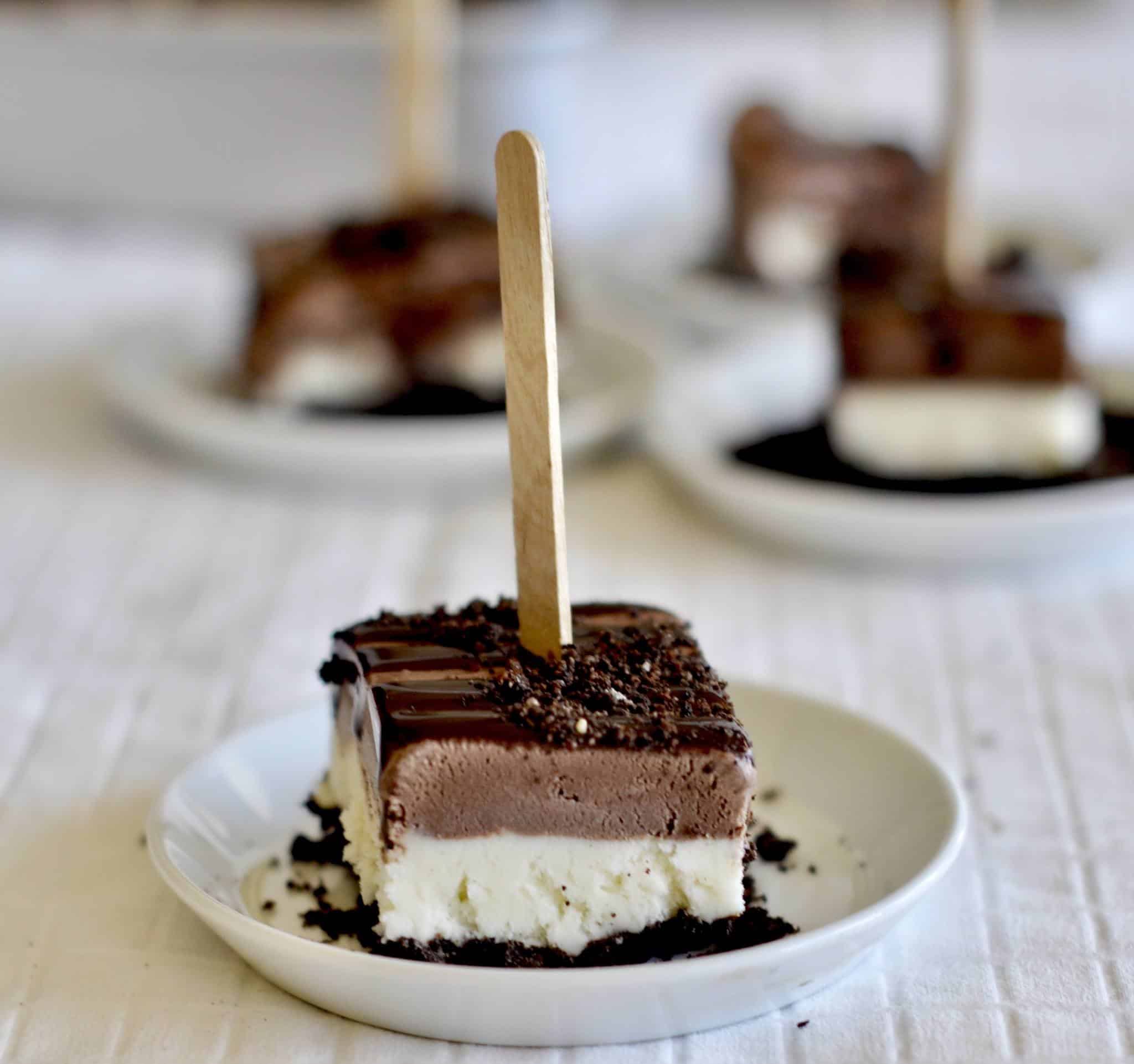 Easy Ice-cream cake - This special post is shared by a wonderful co-blogger, friend, photographer and author of My Yellow Apron - Aish-Das Padhari. Wow, I, really like the name of her blog. Sounds cool right!!!
A perfect share for summers is what I will call this beautiful treat.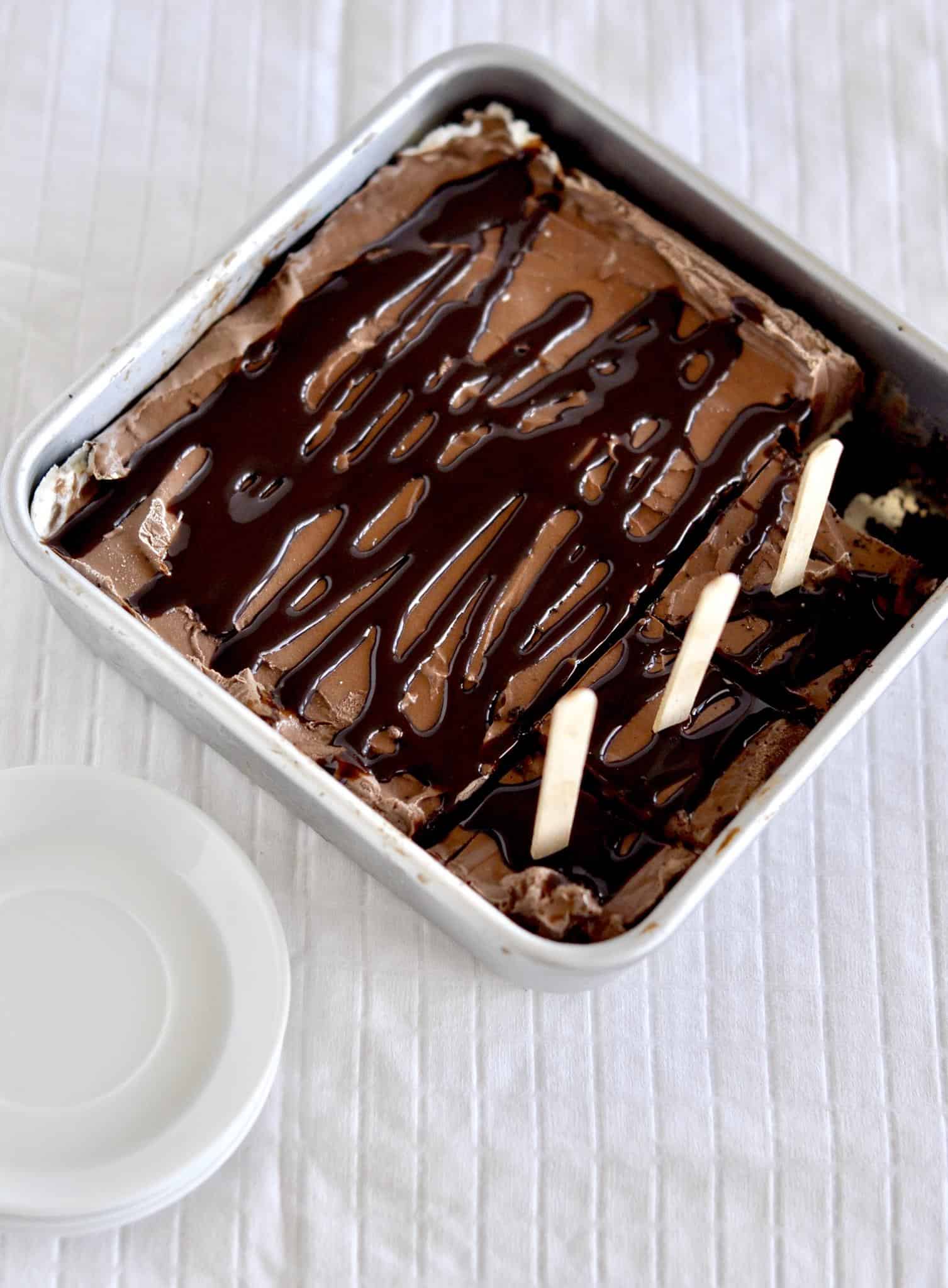 On #bloggerslove this month meet Aish Das Padhari from My Yellow Apron.
I fell in love with her amazing photography that I used to come across on facebook groups. Ended up sending her a friend request and since then there is no looking back.
We share a common love for food and photography and that is what got us together.
Her Cardamom Cream Cake is to die for.. you must try it out..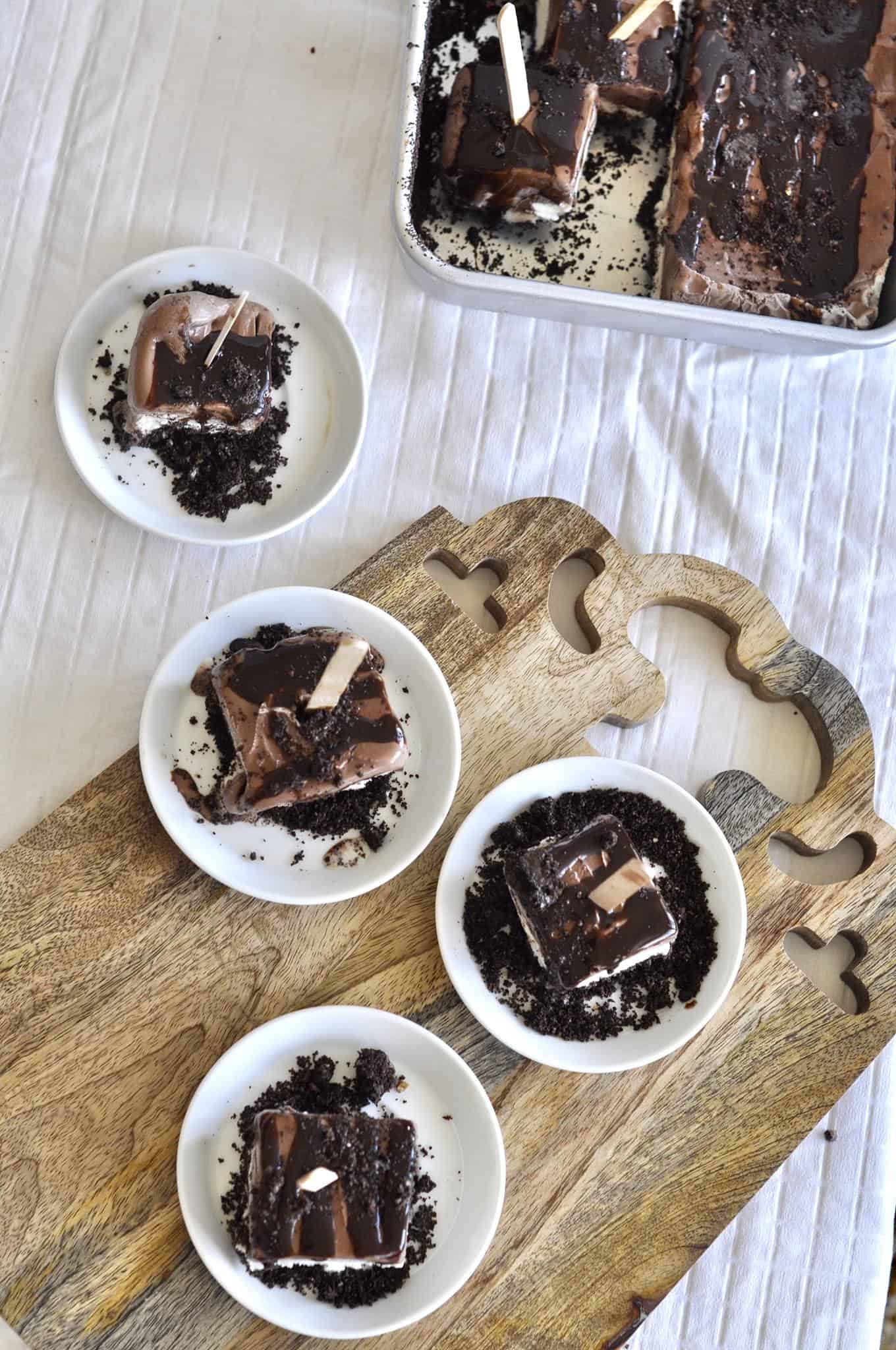 And this is what she has to say about this super tempting and at the same time a very easy peasy Ice-cream cake
This post is very special for me and the reason being, this is my first guest post. When Sushma from spicesnflavors.com contacted me for writing a post for her website, I was touched. My morale was boosted. I still consider myself a novice in the field of Food Blogging (ahh!! she is being modest here.. Do check out her blog for beautiful photography) and I have miles to go before I can master the art of Food Photography and that's why, every little encouragement, every little recognition.., means a lot.
(Thats so sweet Aish.. <3)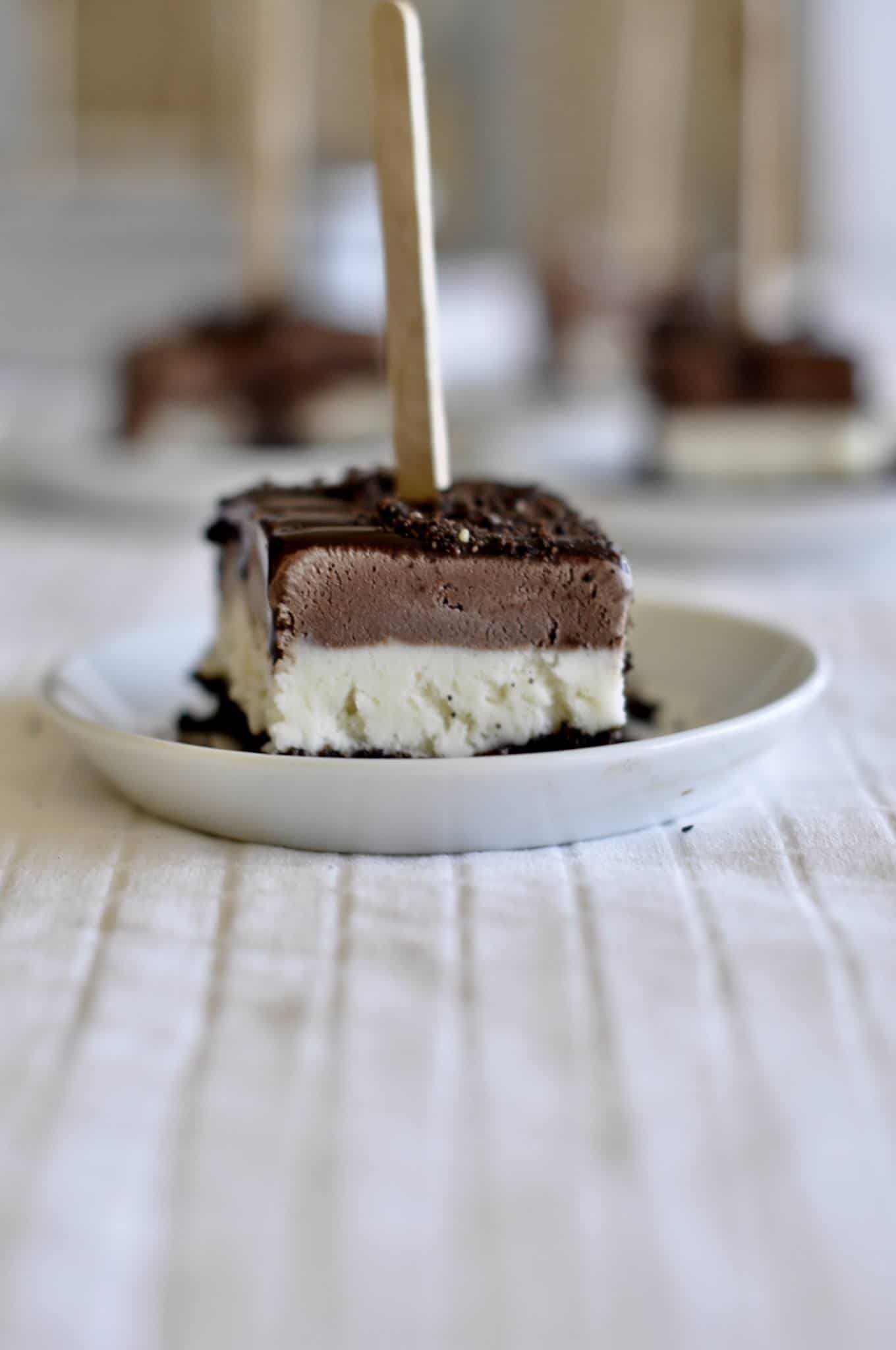 I prepared this Easy-Peasy Ice Cream cake, keeping summer in mind. These Ice Cream Cake pops are super easy to assemble and get your kids involved as well. They would love to get their hands dirty with melted ice cream and chocolate syrup.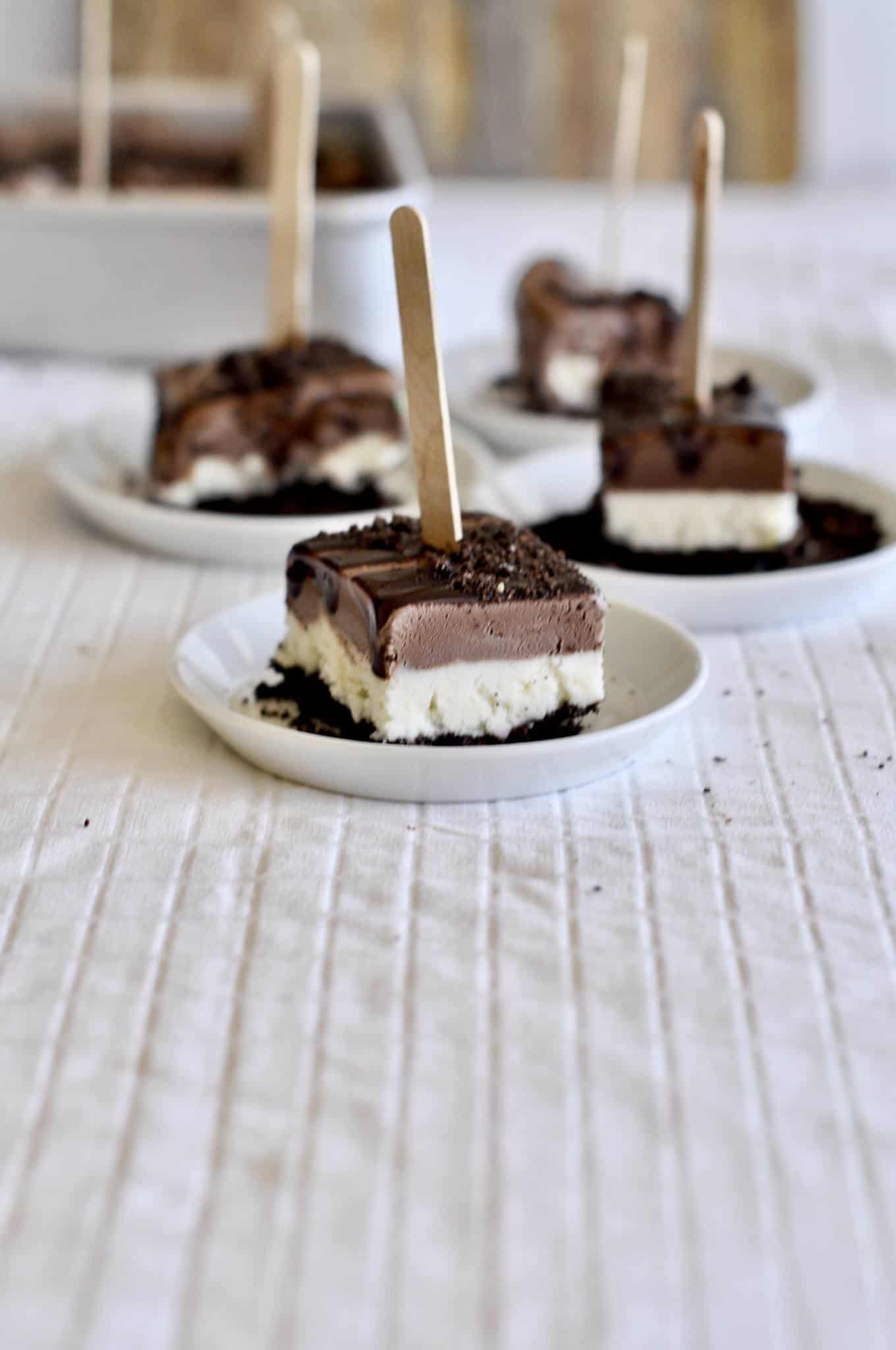 If you happen to try this super tempting but simple Easy Peasy Ice-cream cake then please feel free to tag me, tweet me or instagram me. I would love to follow you and your posts. Or you can even tag Aish and let her know what do you think about this delicious treat.
Over to the recipe..

Liked this recipe?
Let us know by giving it a star rating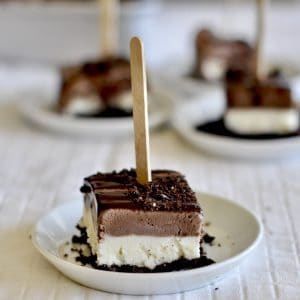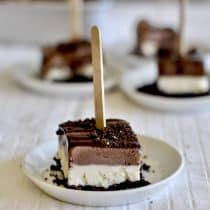 Print
Easy Peasy Ice-cream Cake
A super simple but delicious treat for summers.
Ingredients
2

packets

Oreo Cookies

(or any of your choice)

1/2

cup

melted butter

1/2

gallon

vanilla ice cream

1/2

gallon

chocolate ice cream

chocolate syrup

popsicle stick
Instructions
Pulse the Oreo cookies in a blender until coarsely ground. Add melted butter to it and give it few more pulses

Line a square baking dish with parchment paper.


Press the crushed cookie and butter mixture onto the baking pan and freeze it for 2 hours or so


Spread one layer of softened ice cream on top and keep it back in the freeze for couple more hours until firm again


Spread the second layer of softened ice cream and this time insert the popsicle sticks (like shown in the pic) and freeze for few more hours


Remove cake from the pan and place on a your serving tray.


Pour the chocolate syrup on top, cut and serve

Did you make this recipe? Tag me today!
Tag me @spicesandflavors to get featured on my FB and Insta pages
Your kids will be happy and this will be the star of your party.
CONFIDENTIALITY NOTICE: This communication with its contents may contain confidential and/or legally privileged information. It is solely for the use of the intended recipient(s). Unauthorized interception, review, use or disclosure is prohibited and may violate applicable laws including the Electronic Communications Privacy Act. If you are not the intended recipient, please contact the sender and destroy all copies of the communication.
Pin it

Stay tuned for more exciting recipes this week
Hugs
Sushma