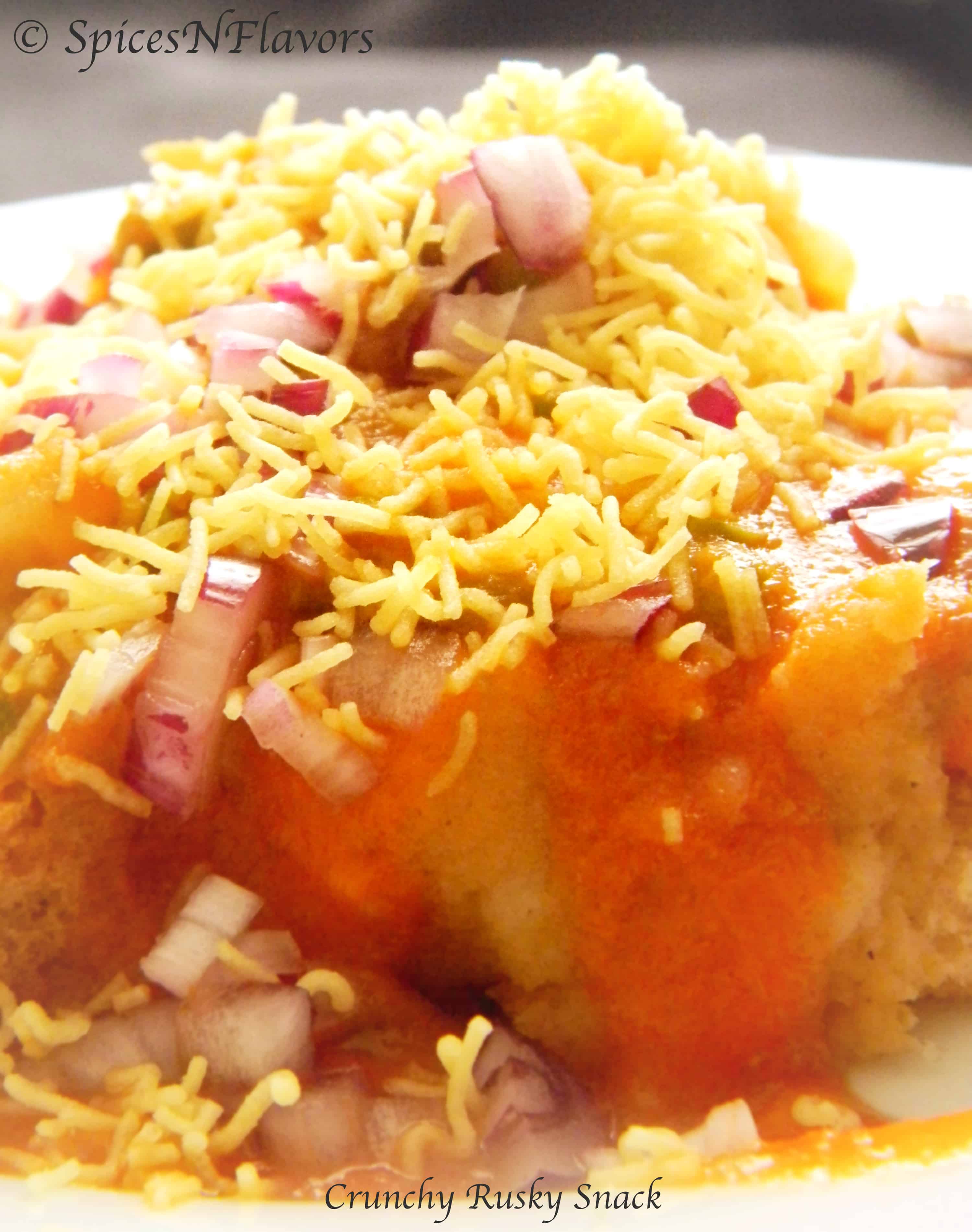 Do you remember the Khari wala (one who sells Rough Puff Pastry) who sells fresh Khari and Rusks every morning. You can buy fresh Rusk every morning right at your doorstep. Aahaaa.. That is the speciality of being brought up as an Indian kid. From enjoying fresh Rusks to Kulfis (Indian ice-cream) to Murmuras (Pori/Puffed Rice) delivered right to your door. And once you become a frequent customer they turn up more often and you end up having a cordial relation with them..
Ohhh suddenly I also remember the Bhandi walas (one who sells utensils in exchange of old clothes).. Sigh.. Feeling nostalgic.. There were two regular bhandi walas who used to visit my home and my Mom always used to feed them lunch; never sent them empty stomach...
Ahhaa.. I miss my childhood days.. Everyone does. Today I have made an evening snack using Rusk. Was wondering what to name it thats when He came up with the name Crunchy Rusky Snack.. Just yum!!!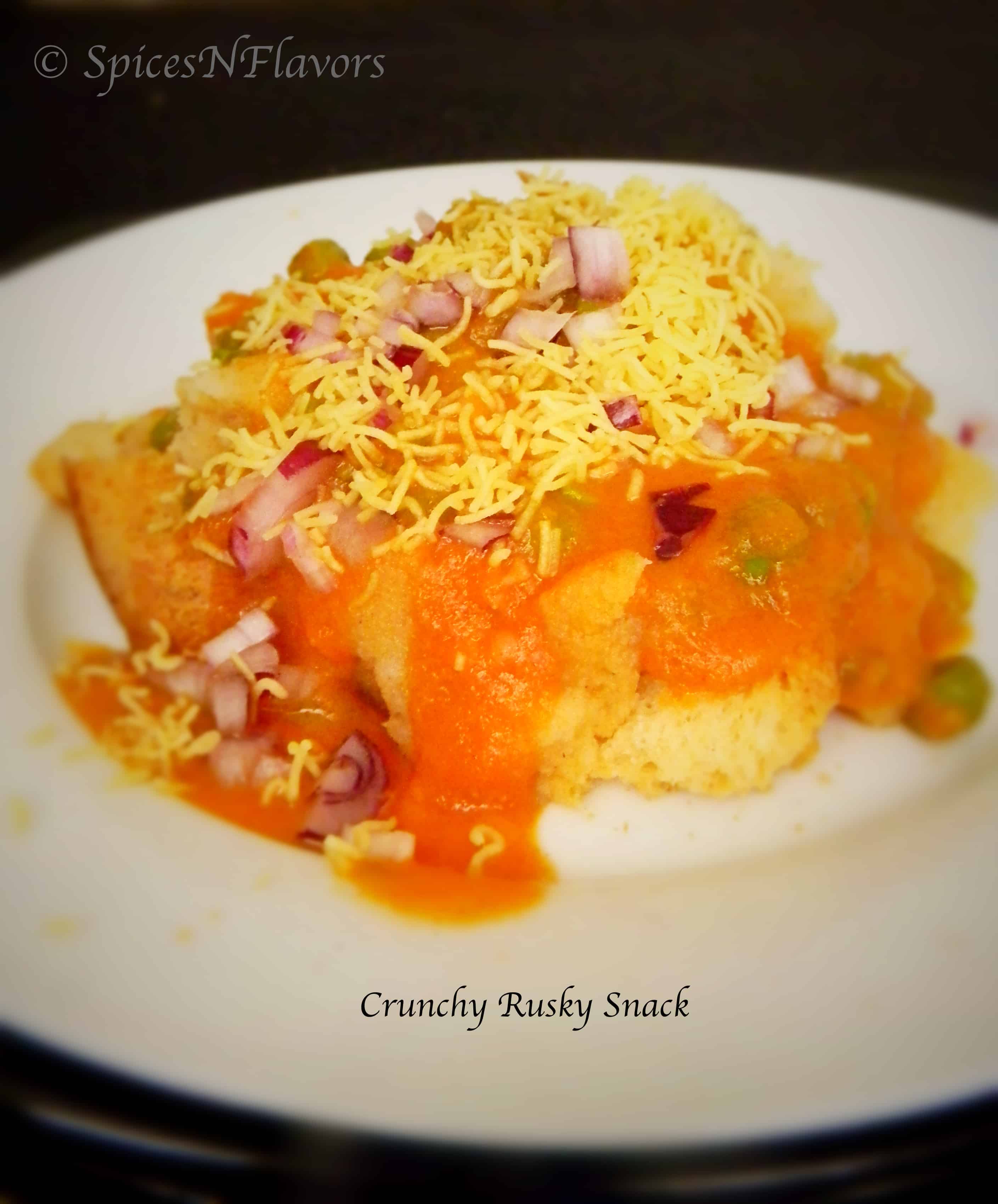 Suddenly it seems time has just flown away.. Life is a vicious circle. When in school you want to get into college.. When in college you want to start working.. When in office you want to spend time with family.. In family, you again want to become your mom's pampered child. Everyone goes through this phase. But rather than expecting or getting curious about your future try to live in the present.
The small joy of observing a bud blooming into flower, little jokes, life-long college friends and most importantly FOOD shared with your friends and family. I am sure there might be many memories linked to Food.. Do share it with me.. 🙂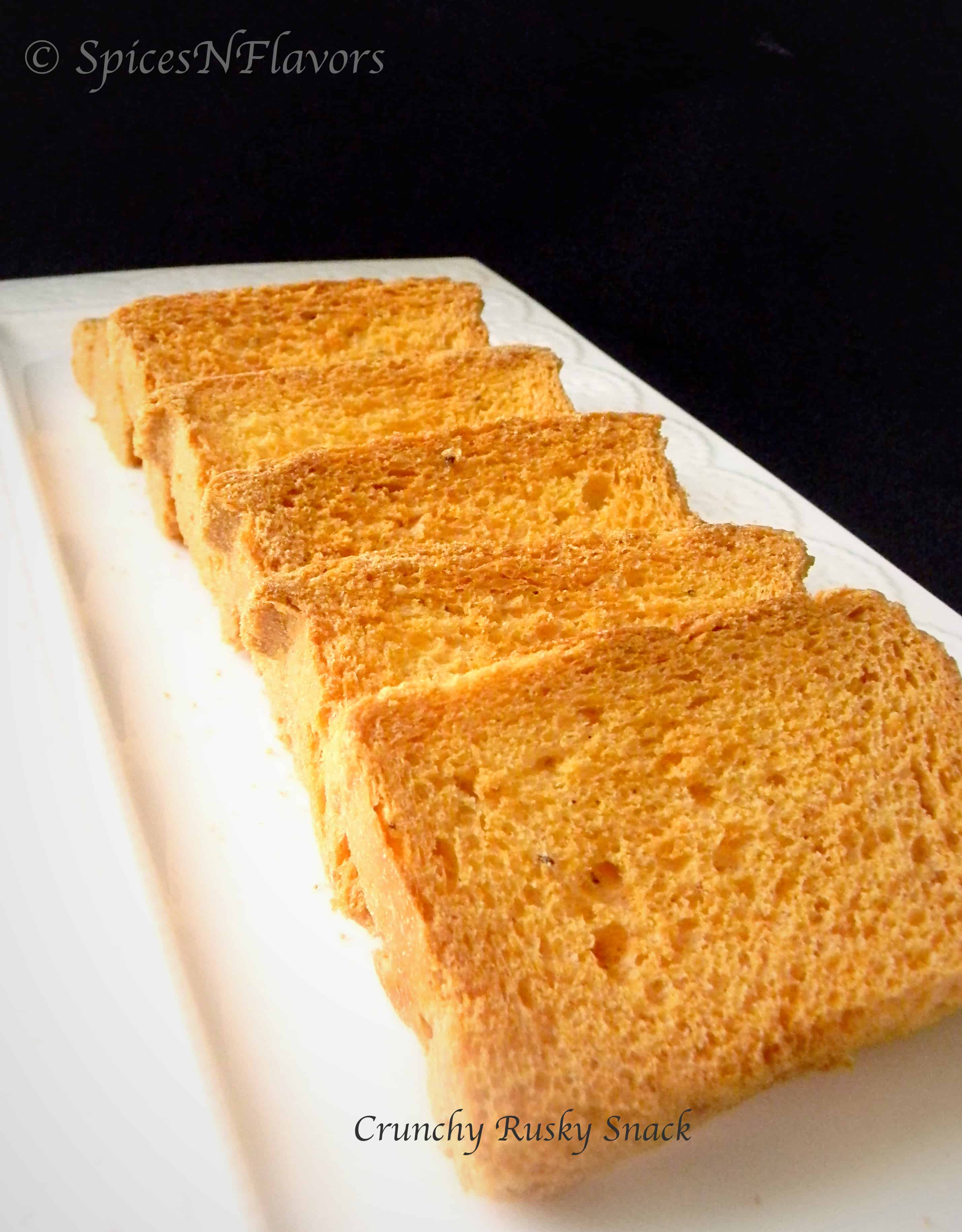 A rusk is a hard, dry biscuit or a twice-baked bread. It is sometimes used as a baby teething food. In the United Kingdom, the name also refers to a wheat-based food additive.
It is most commonly known as Rusk in India, Pakistan and Bangladesh; melba toast or biscotti in the US; Butcher's rusk in the UK and by many other common names in different countries of the world.
Source: Wiki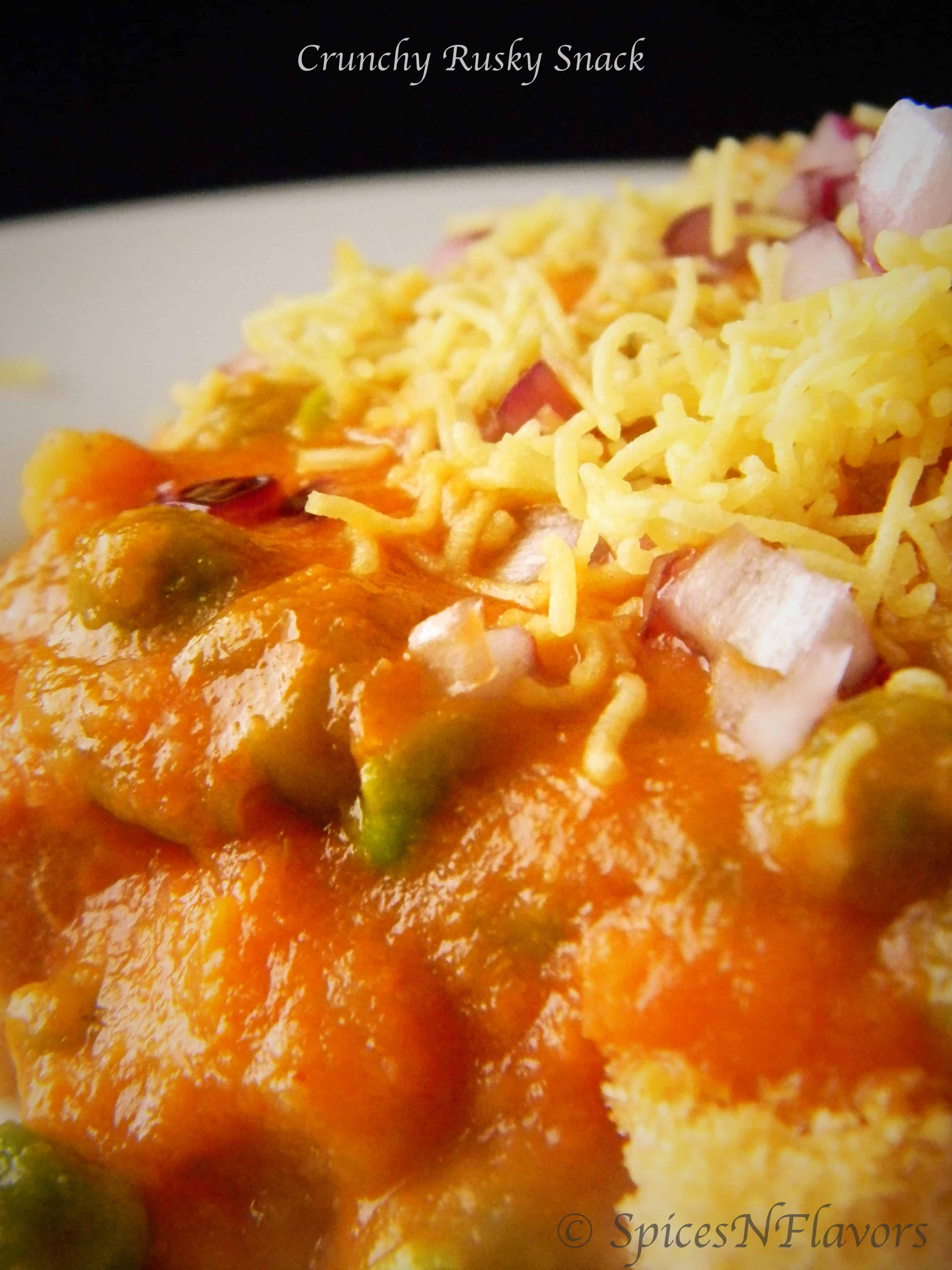 Evening snack has always been a challenge to me. I consider him also as a child ;), the first thing He asks after coming back from work is, Amma (Dear) gimme something to eat.. 😀 lol.. And I try to make something different each time.. :).. Loyal wifey you see.. 😉
The crunchy rusk that you bite with the juicy gravy of onions and tomatoes cooked in a perfect way to ooze out the slight tanginess, slight spiciness along with the bite of smashed potatoes flavoured with the correct spices to give you that punch in the mouth each time you bite into it..
It is neither a chat nor a dry snack. Somewhere in between.. Find out yourself..
Here is what you will need to make it:
Prep Time: 3-4 mins       Cooking Time: 15-20 mins         Serves: 2-3 persons
Ingredients:
For the Onion Tomato Gravy:
2 onions, roughly chopped
2 tomatoes, roughly chopped
4 garlic cloves
1-2 green chilly
1/2 tsp coriander powder
1/2 tsp kashmiri red chilli (non spicy one)
1 + 1/2 tbsp butter
1/2-1 tsp Salt or to taste
1 tsp aamchoor/dry mango powder
1/2 tsp fennel seeds
1/4 cup boiled or frozen peas
2 tbsp white sauce
For the White Sauce:
1 tsp butter
4 tbsp Maida/All purpose Flour
3/4 cup Milk
1/2 tsp salt or to taste
For the Smashed Potato Layer:
1 potato, boiled and peeled
1/2 tsp chaat masala powder
1/4 tsp pani puri masala (optional)
1/4 tsp kashmiri red chilli powder
1/2 tsp salt or to taste
3 pieces of Rusk
Some chopped onions, coriander and sev (Indian snack food) for garnishing
Method:
Heat 1 tbsp butter in a nonstick pan. Once hot, add onions, garlic and slit green chilli and saute until onions turn translucent (about 2-3 mins). Add tomatoes . Mix and add red chilli powder (just for a nice colour not for giving spiciness to the dish) and again let it cook for 3-4 minutes. Transfer this to a mixer jar, add aamchoor powder and fennel seeds. Let it cool, once cooled grind it into a fine paste.
In the meanwhile, while the onions and tomatoes are cooling prepare your white sauce in another pan on a medium heat. Add 1 tsp butter. Just about when it starts to melt add your maida and saute for 2-3 mins. Stir continuously. Gradually add milk and stir continuously scrapping the sides and the bottom of the pan to avoid burning of maida. Add salt and stir continuously and within few minutes you will get a nice creamy white sauce. Keep it aside
In the same pan (in which you cooked the onions and tomatoes) add butter. Once hot add the onion tomato gravy. Add in coriander powder and cooked peas. Using your potato smasher smash the peas. Add water to adjust the consistency and bring it to a boil.
While that is boiling, prepare your potato layer. Take the cooked and peeled potatoes. Add in all the other ingredients and mix well smashing it nicely like the way you would do for making tikkis. (

Check out my Mushroom Tikki Chaat in a Glass

)
Once the gravy comes to a boil, lower the flame and add the white sauce. Saute for a minute, stirring continuously and switch off the flame.
To Assemble:
Break the rusks into bite size pieces, place it in the plate or serving bowl.
Top it with boiled potatoes that is seasoned with spices
Pour the gravy on top and garnish with coriander, onion and sev.
Serve immediately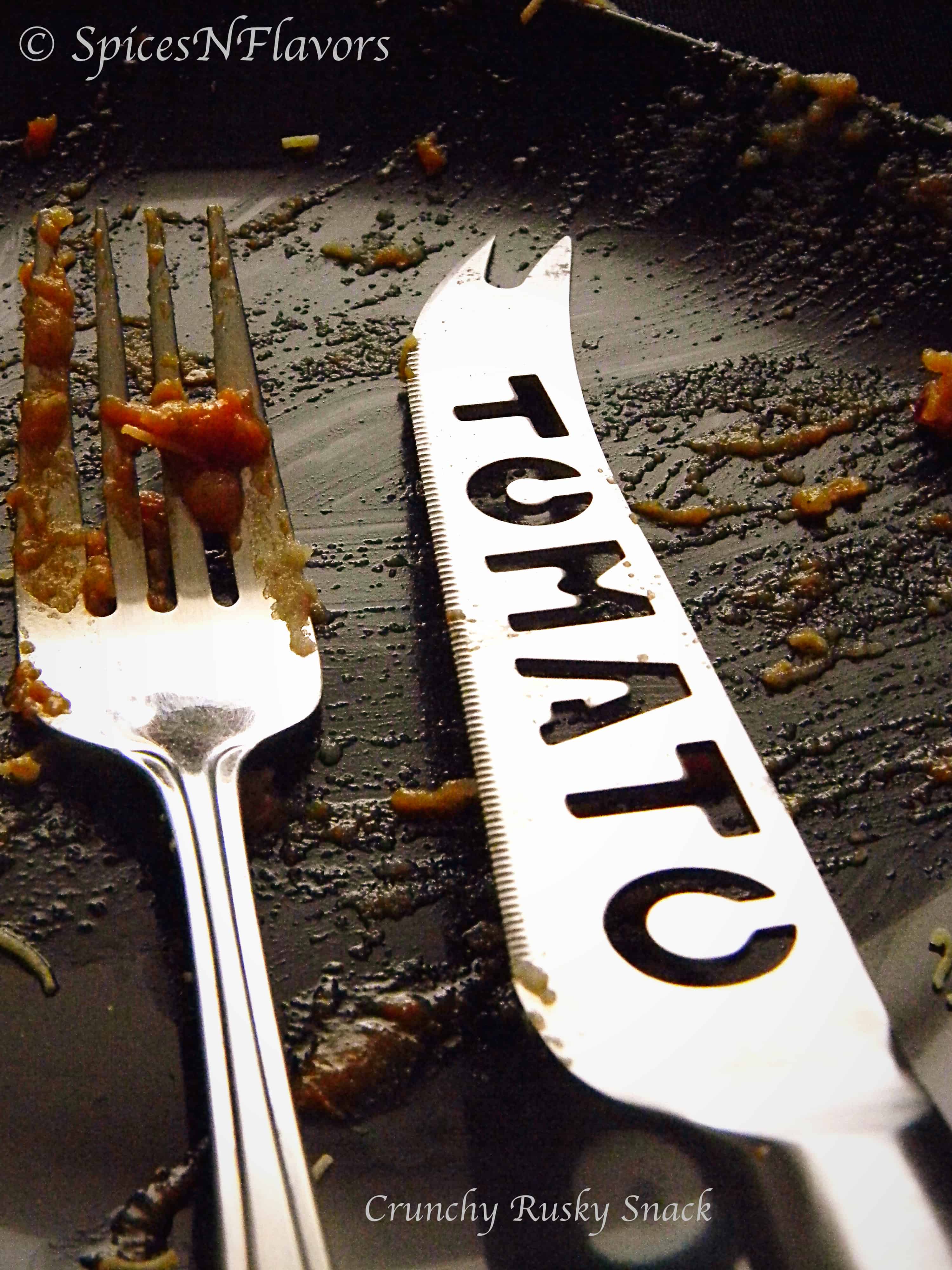 Finished my plate even before I could finish my post.. 😉
Variations:
If you are running short of time, or not in a mood to grind you can finely chop your onions and tomatoes and follow the gravy procedure as it is and use it.
Instead of peas other veggies like sweet potato or corn or a combination of the three can be used.
Tip/s:
Today I am sharing with you all how to boil your potatoes in microwave. Saves a lot of time when you want to use just 2-3 potatoes for a particular recipe.
Slit the potatoes lengthwise, taking care not to cut the potato into two or four pieces completely. Slit from all the four sides. Place it in a microwave safe container. Pour enough water so that the potato is completely immersed in it. Close the lid and microwave for 10 mins. Take it out and let it cool for few minutes and Ta Da your boiled potato is ready.. 🙂
Notes:
Cream can be used instead of white sauce.
If some white sauce is left out, you can always store it in an air-tight container in the fridge and use it as a spread over toast or in sandwiches or for making white sauce pastas. (BTW if you like variation in your regular pasta check out my

Pasta Pizza

)
You can keep everything ready and assemble right before serving or else the rusk will absorb too much gravy and wont be crunchier.
If you are planning to keep everything ready, then do not add salt in the potatoes at the start itself, add it right before serving. Do not forget to add salt later.. 😉
You can always double the quantity, divide the gravy into two use some for this snack and use the same gravy for your dinner as well. Add some boiled veggies to the gravy and your dinner is ready.. 😉
Enjoy your Crunchy Rusky Snack with your friends and family!!
Happy Crunching!!
Sushma..