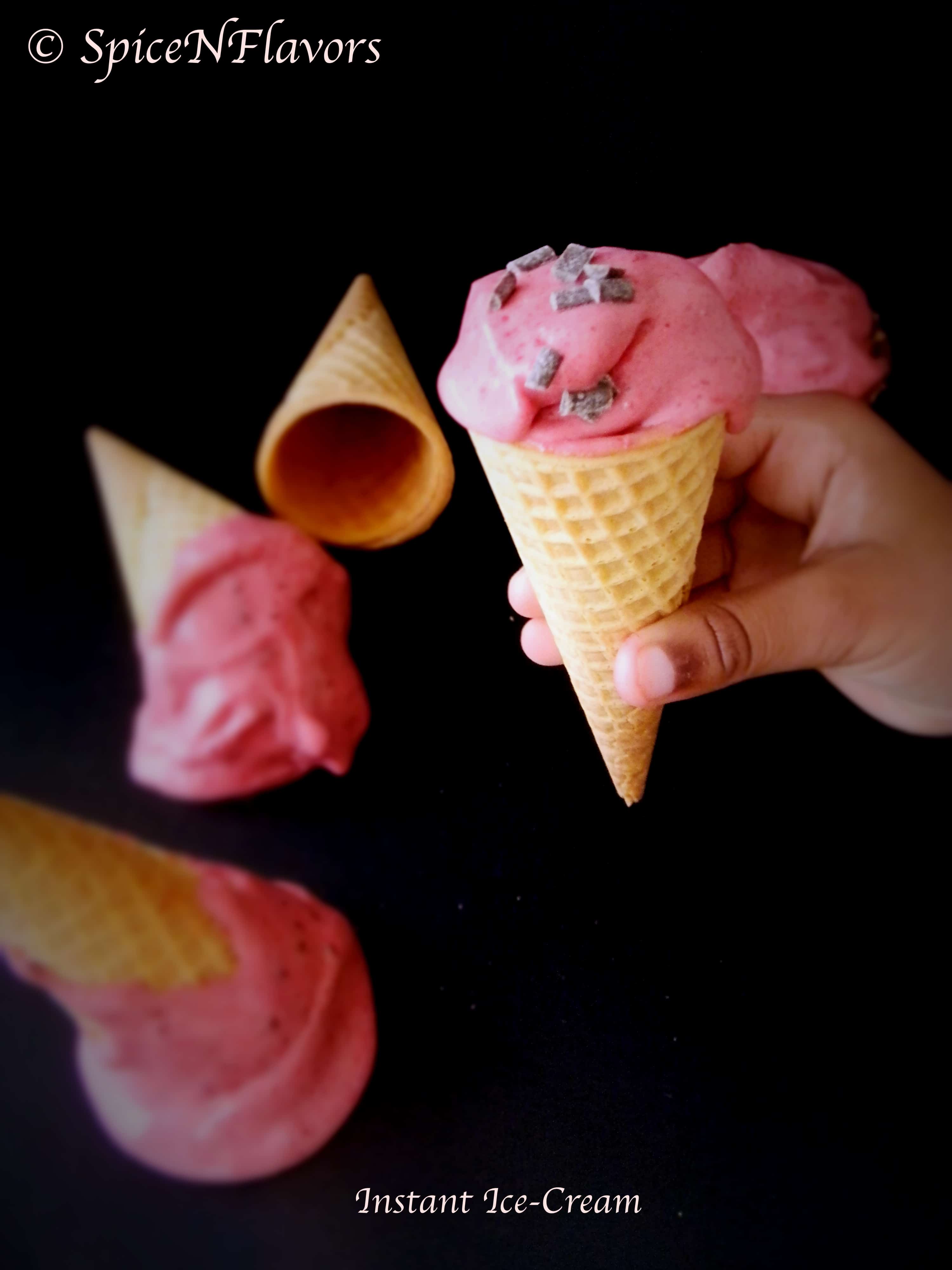 Once again Lets scream for ice-cream. Once again because I recently blogged about Easy Mango Ice-cream in Chocolate Cups garnished with Chocolate leaves. Since its summer in India I wanted to make something, that you can make in a jiffy. I know how tiring it is to work in the kitchens during summers. Yes and for that reason made this Instant Ice-cream. Instant because this requires no freezing time.. Cool na.. 😉
With this recipe, you will enjoy your summers too.. 😀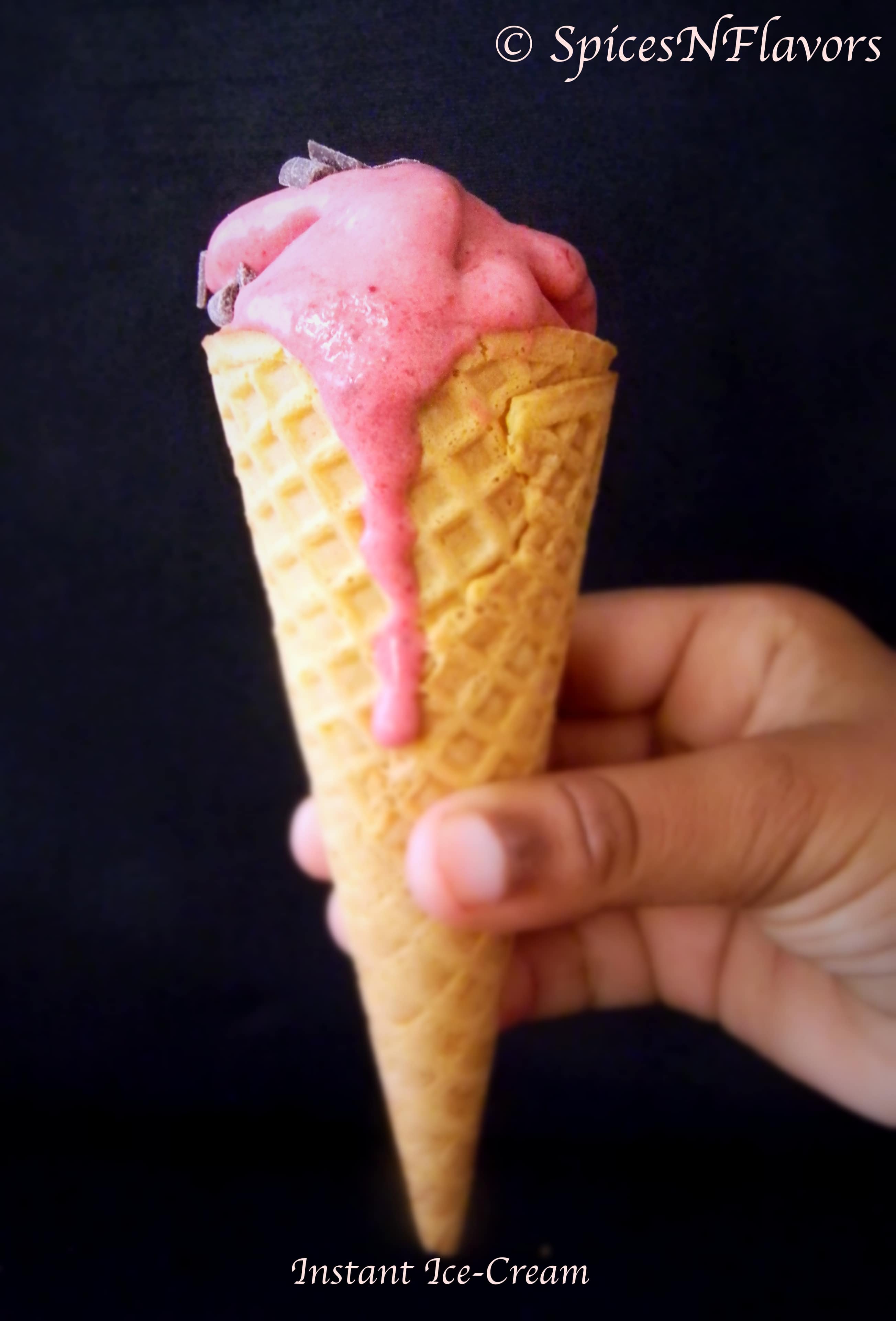 Younger generation like me.. 😉 Well I call myself young.. Hope you don't mind.. 😛 So what I was saying is we all want everything instantaneously. Instant money, instant fame, instant success, instant loans, instant services phew lets stop it here. I meant we also need instant recipes.. Recipes that take hardly any time to cook and more than that hardly any time to eat as well. Aaj kal time kis ke paas hai (No one has time in this fast paced life these days..)
If you are in search for some instant recipes then your search ends right here.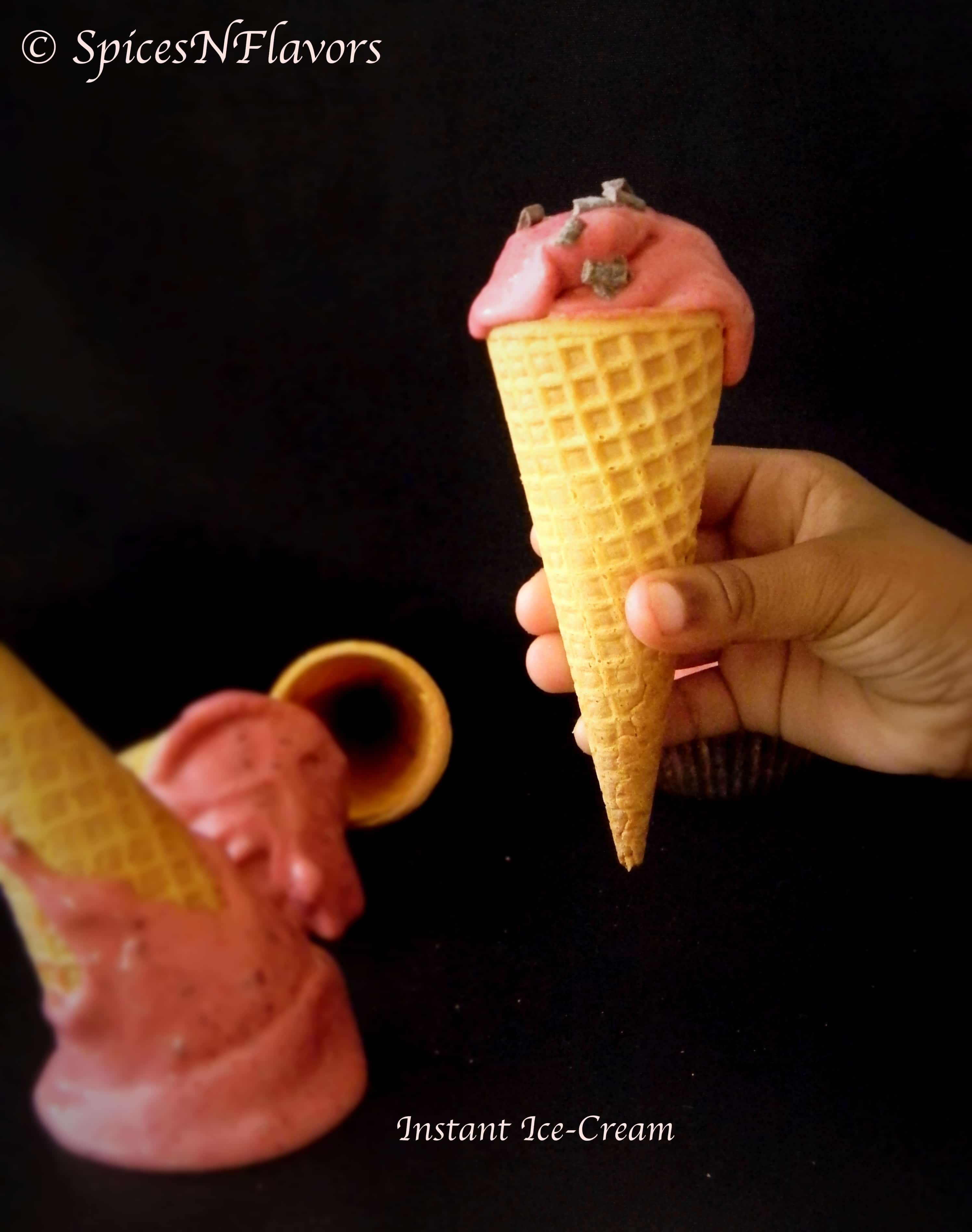 Like I always say from 5 to 50 everyone just love ice-creams and chocolate. If I say you can make this in what 5 to 10 mins, hassle free in a jiffy what more do you want. Homemade food always tastes better than anything else. This instant ice-cream recipe is nothing exceptional. Your kids will love it.
The freezing time of my Easy Mango Ice-cream gave me a sleepless night; but this instant ice-cream gave me a restless afternoon. lol.. I mean I hardly spent anytime on presentation and photo-shoot as I myself couldn't resist from enjoying it asap.. (well.. sshhh.. its a secret.. I licked many spoons of this ice-cream while blending itself.. 😉 just couldn't keep my fingers away.. )
Puberty for me was to merrily walk to the store nearby and enjoy Vanilla Cornetto each day.. Love for me is having ice-cream daily. Trust me on this, I used to have one cone of ice-cream everyday. But now, Love for me is to make one at home. Aahaaa.. Complete bliss is to close your eyes and drift away into the world of heaven with every bite of your ice-cream.
Here is what you will need to make this..
Prep Time: Overnight freezing     Making Time: 8 mins     Serves: 8 scoops
Ingredients:
2 cups frozen berries
1/2 cup caster sugar
1/2 cup chilled cream/milk/yoghurt
Method:
Freeze 2 cups of strawberries or a combination of berries like raspberries, blueberries and strawberries overnight. Or you can also use readymade berries available in the market.
Freeze your blender jar in the freezer for at least half an hour.
Chop your berries to 1 cm thickness or smaller pieces and blend it in the chilled blender jar until the fruit is finely chopped (20-30 seconds).
Add in the icing sugar and blend again until the two is combined.
Tip in the liquid of your choice (either cream, milk or yoghurt) until you get a nice creamy, smooth and ice-cream like texture. Scrap the sides of your blender or food processor once or twice to get an even texture.
Serve immediately.
For serving options check my Chocolate Cups.
Enjoy it with your friends and family.
Notes:
It is important to chill everything beforehand. The fruits, blender jar, cream/milk/yoghurt everything must be chilled. Everything must be very cold.
Serve immediately to get an ice-cream like feel or else it would resemble flavoured yoghurt.
You can also use flavoured milk for the preparation. Just keep in mind that the flavour should suit the fruits you are using.
You can also experiment with other frozen fruits.
This would be one noisy operation but anything for an ice-cream.
You can also try my Easy Mango Ice-cream in Chocolate Cups garnished with chocolate leaves to beat the heat.
And of course my No Cook Instant Coconut Barfi for some other instant recipes and yes also Quick Fried Rice, an omelette and a Salad all in under 10 mins.. 😉
This summer don't just enjoy store bought ice-creams make one.. 🙂
Happy Cooking!!!
Sushma.. 🙂