No Knead White Bread as the name suggests is a regular White Bread but the catch is it requires no kneading whatsoever yet yields an amazing super soft and chewy textured bread.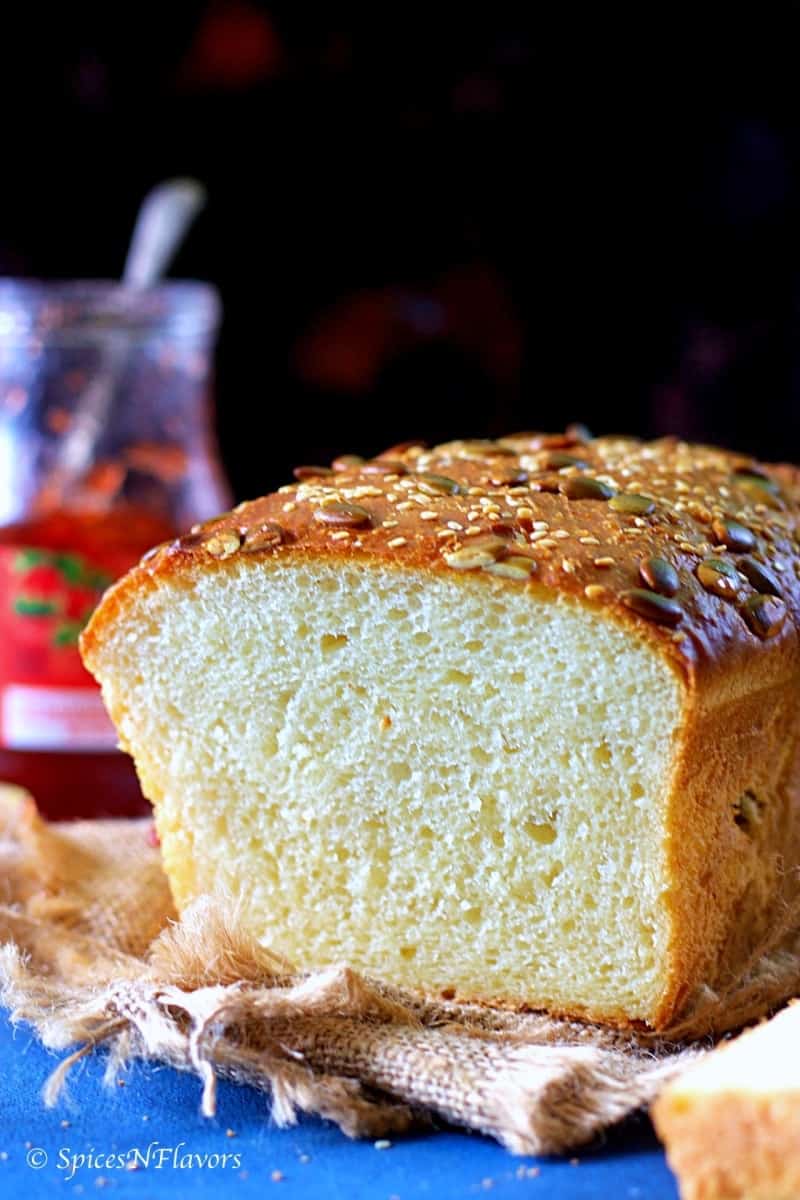 No Knead White Bread!! That feeling when you spend your day baking at home!! sheer bliss!!!
I have always enjoyed baking but were never a fan of bread baking. Somehow I am more into cakes, cupcakes, muffins and cookies but I hardly ever bake bread, just have this easy Laadi Pav recipe and the Tawa Pizza recipe on the blog so far.
And that is what has become my challenge or you may say New Year Resolution that is to venture into the art of bread baking.
What is your New Year Resolution?? Do you enjoy bread baking??
And what perfect timing!! No recipe could be simpler than this..
If you are new to baking and don't know where to start from then look no further. You have landed in the right place. This No Knead White Bread recipe just needs 5 simple steps..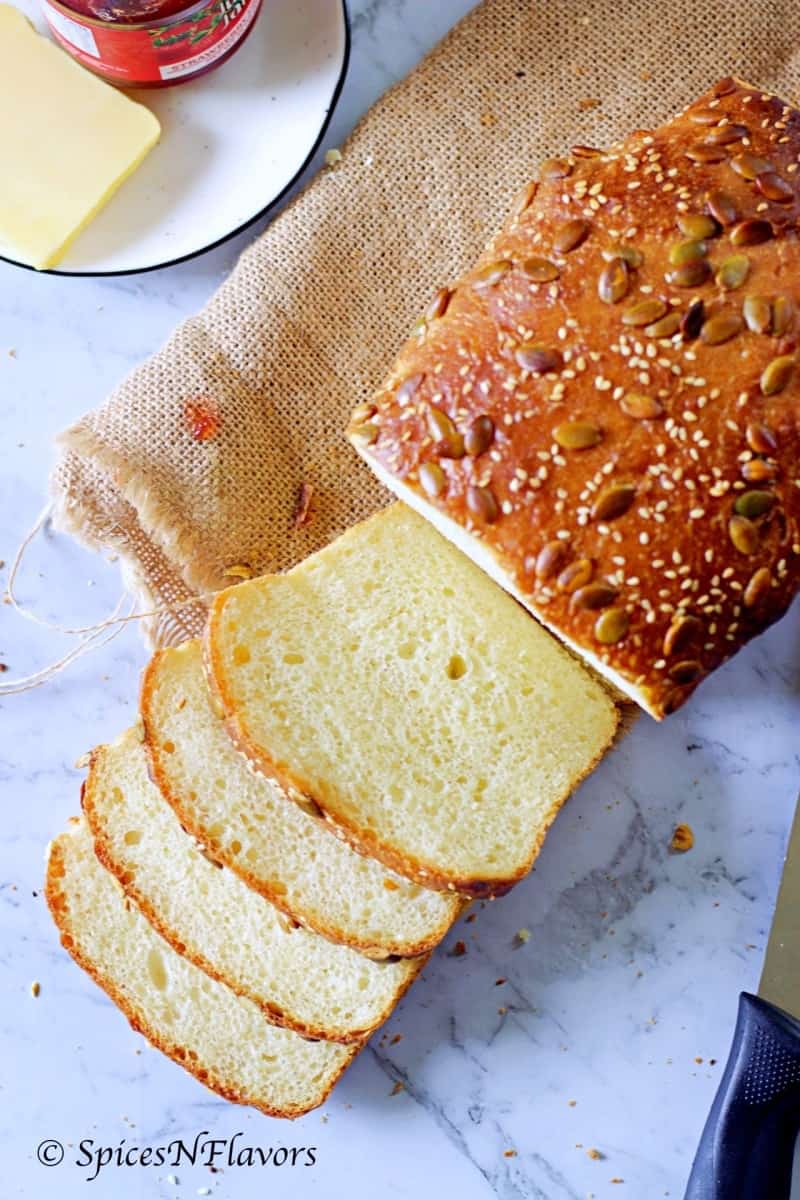 The 5 simple steps needed to make this No Knead White Bread recipe is:
1. Make the dough (which is so simple that even a 5-year-old can put it together.. 😉 )
2. Allow it for first proofing
3. Shape (that is to transfer it to loaf tin) and allow for second proofing
4. Sprinkle some seeds on top
5. Bake
Do you even count these as a step?? Well, practically what you need to make this No Knead White Bread is to simply combine everything into a dough, proof and bake that's it. I wish life was as easier as this!!
Comment below and let me know how did 2017 treat you?? Officially this is my last post for the year.. 😀
Can't wait to see what 2018 has got in store for me.. 😀
Here is the detailed recipe of this easy, simple and super soft No Knead White Bread recipe: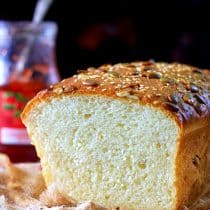 Print Recipe
Easy Super Soft No Knead White Bread Recipe
No Knead White Bread is a simple, soft and chewy bread recipe that requires no kneading whatsoever.
Ingredients
400

ml

(1.5 cups) Lukewarm Water

5

gms

(1 tsp) Instant Yeast

20

gms

(1 tbsp) Sugar

520

gms

(3.5 cups) Flour

11

gms

(1.5 tsp) Salt

15

gms

(1.5 tbsp) Milk Powder

2

tbsp

Olive Oil
Instructions
To the lukewarm water add in the yeast and sugar. Stir to combine.

To your mixing bowl add the flour, salt and milk powder. Mix and add in the yeast water mixture. Combine everything until all the flour is mixed through. You will get a very sticky dough.

Add the olive oil and once again combine until everything is mixed.

Cling wrap the bowl and allow it for FIRST proofing for 6 hours.

After the first proof, dust a tbsp of flour on top and deflate the dough folding it over and over thereby trying to shape it. It would still be sticky. Transfer this a bread loaf tin that has been greased with oil.

Allow it for second proofing - 1 hour.

Sprinkle some sesame seeds or pumpkin seeds (any seeds of your choice) and then bake in the preheated oven at 200°C for 35-40 mins.
Notes:
1. Instead of Instant Yeast, you can also use Active Dry Yeast, however, in that case, make sure to activate the yeast before adding it to the flour.
2. Adding milk powder is optional. Milk Powder acts as an enrichment thereby softening the final product. You can also use half water and half milk here to soften the bread. But if you are skipping the milk powder then definitely add equal amount of flour to it.
3. The recipe actually calls for 25 gms of Butter. I have replaced the butter with olive oil as we are trying to avoid direct fat in our diet. You can use whatever you wish to.
All you need is the basic bread ingredients and a bread loaf tin. That's it and your delicious super soft homemade No Knead White Bread is ready.
If you like today's recipe then do let me know by tagging me, tweeting me or Instagram me. I would love to follow you and your posts.
Pin it for later.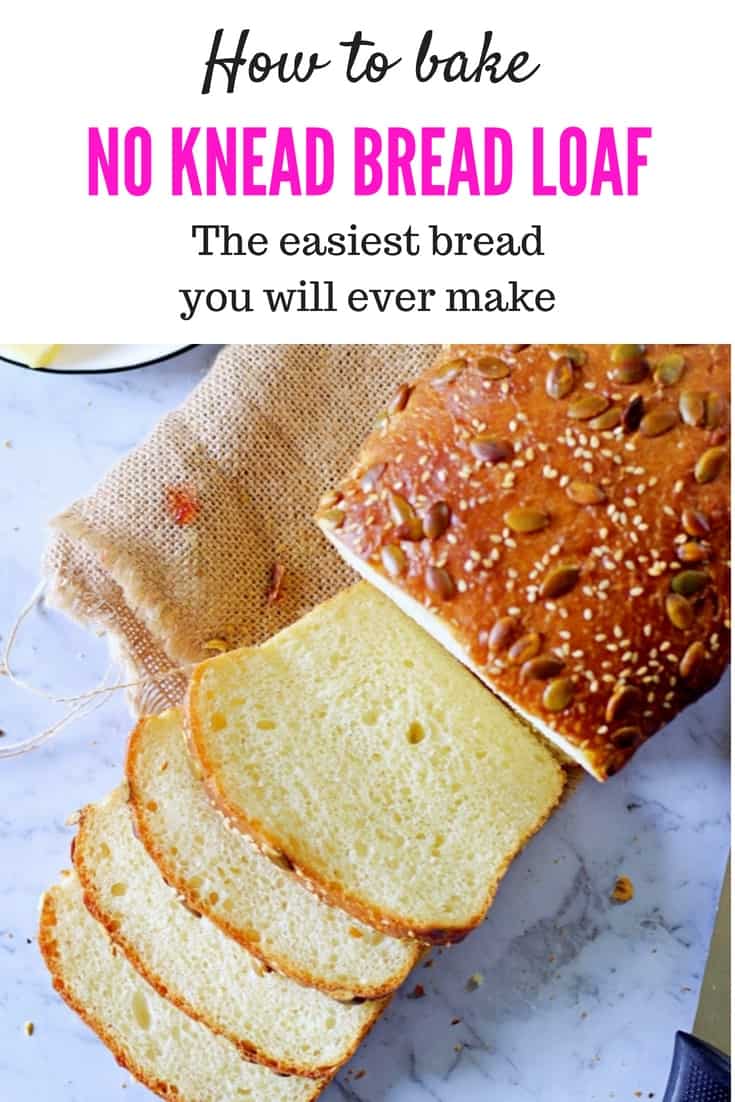 I will see you soon next year with yet another recipe.
Until then
Hugs
Sushma