Arisi Thengai Payasam translating to Rice Coconut Kheer is a traditional South Indian style Kheer which is generally made to welcome son-in-law in the month of Aadi (as per South Indian calendar).
Arisi Thengai Payasam is a smooth, creamy Payasam that is kheer which is packed with the flavours of Coconut.
Winter is at its peak here in Christchurch. All I want to do is just lie on my bed the whole day and watch Youtube videos.Thanks to my Mom who has taken over the kitchen now; and all I am doing is just relaxing. I know I am being selfish here but mothers are self-less no matter how much I persuade her she is just not allowing me in the kitchen.
What is your favourite winter comfort food?
This Arisi Thengai Payasam is one such comforting dessert to me. You all know how much I love desserts. This bowl of Kheer brings in so much warmth just like a hot soupy cup.
My other favourite winter comforting food has to be this Apple Rasam.
Even though I used to love winters back in India, I just hate it now here in Christchurch. One it becomes too cold here and two everything gets dark by 4 in the evening; and there is just no activities to do. So boring.. It is just so difficult to keep one occupied. I am already counting days for summers which seems so far away..
Did you guys enjoy my first video of Mushroom Matar that I had posted on Tuesday.
Yes yes.. you guessed it right I made a video for this post too.. Infact I will be making video recipes most of the time and will be sharing it here as well as on Fb. Please like my page and let me know that you are liking this so that I can make more and share it with you all.. <3
Coming to Arisi Thengai Payasam which basically means Rice Coconut Kheer; is an authentic traditional South Indian recipe. This recipe has been shared by my Mom infact you could see her making it in the video too. Look for her hands mixing it.
It was such a joy to learn from her. How I wish I had started cooking before my marriage so that I could have learned loads from her.
Neverthless I would make the most out of the time that I am spending with her now.
This Arisi Thengai Payasam is a very creamy payasam with flavours of rice and a punch of coconut. The cardamom powder makes it oh so aromatic. When you take a spoonful of it, you could immediately feel the coconuty, creamy smooth kheer with textures coming from the roasted nuts and a trail of cardamom. In all its a very soothing payasam which tastes best when served warm or even hot.
Perfect winter dessert must say.. <3
And if you like this recipe or if you would like to see more of my mom cooking then do tag me, tweet me or instagram me. I would love to hear from you.
Update: Due to all the spammy content that happened over the last week; I am updating all my videos onto Youtube which wouldn't take more than a week. Please bear with me till then. But yes you can watch all my video recipes on Facebook page at any time.
Liked this recipe?
Let us know by giving it a star rating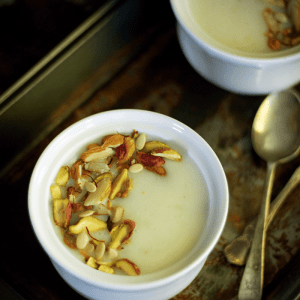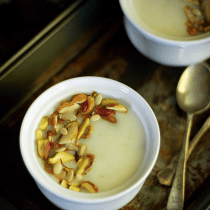 Print
Arisi Thengai Payasam - Rice Coconut Kheer
Arisi Thengai Payasam is a traditional and authentic south indian kheer recipe that is packed with the flavours of coconut and cardamom
Ingredients
2

Cups

Rice

1/2

Cup

Coconut

6-7

Cups

Water

1

Cup

Milk

5

nos

Cardamom pods

1

tbsp

Cashew nuts roasted in ghee
Instructions
Soak rice in water for 30 mins. Drain the water and transfer to a blending jar. Add about 1/2 cup water and grind to a coarse paste.

Add coconut and grind to a smooth paste. (Add little more water for grinding if necessary)


Transfer to a pan. Add 4 cups of water. Stir continuously. It would start forming lumps and would also start thickening. You do not want it to form lumps so keep on stirring. This might take anywhere between 15-20 mins.


Once it thickens add 2 more cups of water and cook until the rice is completely cooked. Keep on stirring or else it would form lumps. This might take another 10-15 mins.


Add sugar and stir until it dissolves.


Heat milk in a separate pan and once it is hot add to the rice-coconut mix. Mix well. (Add more milk to adjust the consistency as desired)


In goes the cardamom powder and roasted cashew nuts. Combine everything well. And serve warm or even hot garnished with few more nuts if desired.

Did you make this recipe? Tag me today!
Tag me @spicesandflavors to get featured on my FB and Insta pages
Notes:
1. You have to keep on stirring this Arisi Thengai Payasam as rice tends to lump up together and it doesn't taste good then. Yes it needs your dedicated time but you will love the outcome.
2. Powdered Jaggery can be used instead of sugar. The ratio would be twice the amount of sugar used.
3. The quantity of milk can be adjusted to meet the desired consistency. If you prefer a thin consistency use more milk. But make sure to heat it. That is how it would come together easily.
Recipe Variation:
1. Dry roast 4-5 pieces of jackfruit in ghee. Pulse it in a blender and add along with the cardamom powder and give a mix. This would taste even better.
2. If you intend to use Jaggery then use coconut milk for even more added flavour.
To serve:
1. If you are making this ahead of time then before serving you might have to heat up some more milk and then adjust the consistency of the kheer. That is because the rice thickens the kheer on standing so you might need some more milk.
2. If you find the sweetness is little less for you, then while heating the milk you can add 2 tbsp of sugar to it, dissolve and then add this to the payasam.
Thats it for this Authentic and Traditional South Indian Arisi Thengai Payasam; Rice Coconut Kheer that I learnt from my Mom.
Pin it for later
See you soon
Until then
Hugs
Sushma