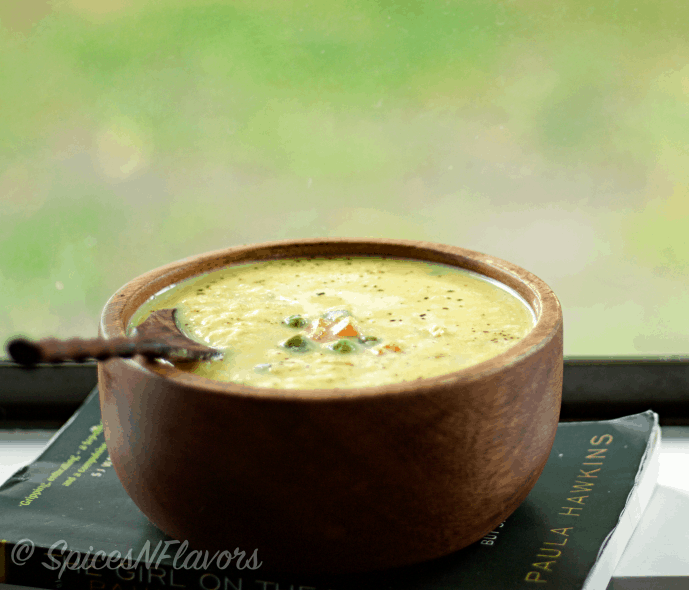 There comes a phase in every baby's life when he or she just refuses to eat our plain old khichdi (Rice and lentils cooked to a mushy consistency). So what does mamma darling then do; try to sneak in the veggies and nutrition through some other way. And what better way then a soup. So this sweet corn soup can be enjoyed by not only babies but mammas and daddas can also enjoy it.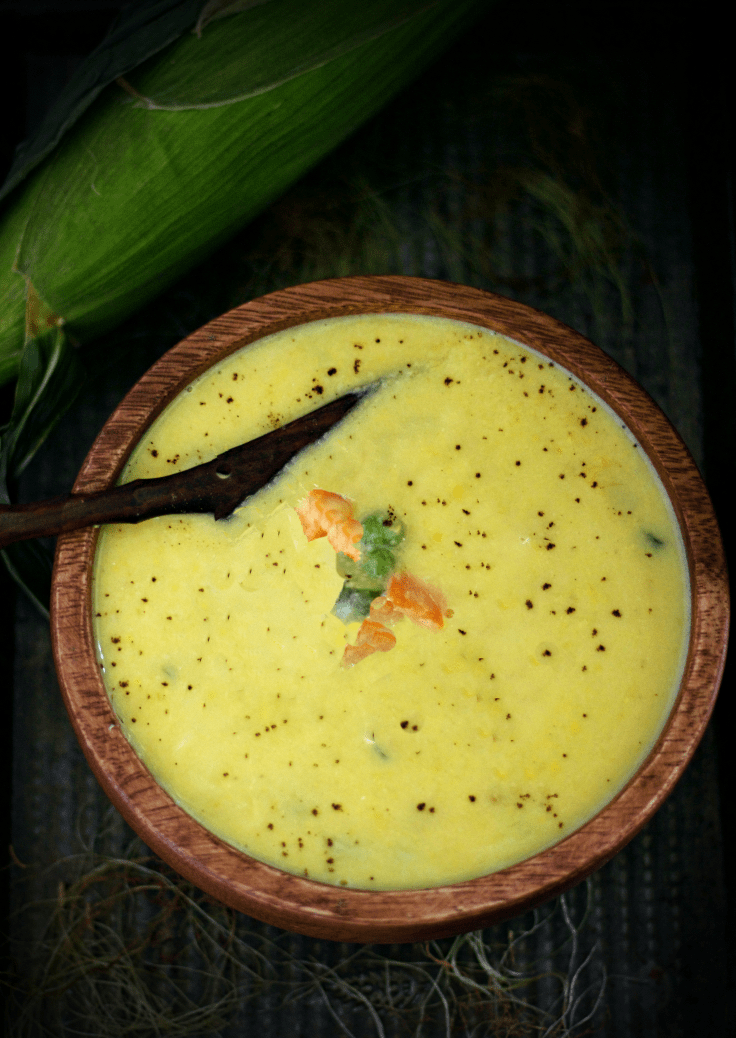 I am not a soup person. Except for this Cucumber Soup which I love as this tastes more like our Raita than Soup. 😉
Really I mean, growing up I never enjoyed soup. For that matter; to be honest I was a very picky eater. I used to hate veggies. Potato was the only vegetable for me.. I know I know how stupid I was!!!
Now that I have started cooking myself; I feel I missed so much amazing tasty dishes that my mom used to make for us. She is a hands down amazing cook; aahhh how I miss her dishes.
So now when I make soup for Yo (my daughter) she has a couple of tablespoons of it and the rest is whole-heartedly enjoyed me. Ofcourse hiding behind the saying, " I don't want to waste things". Even if that is completely true but I end up having more than what I am supposed to have. 😉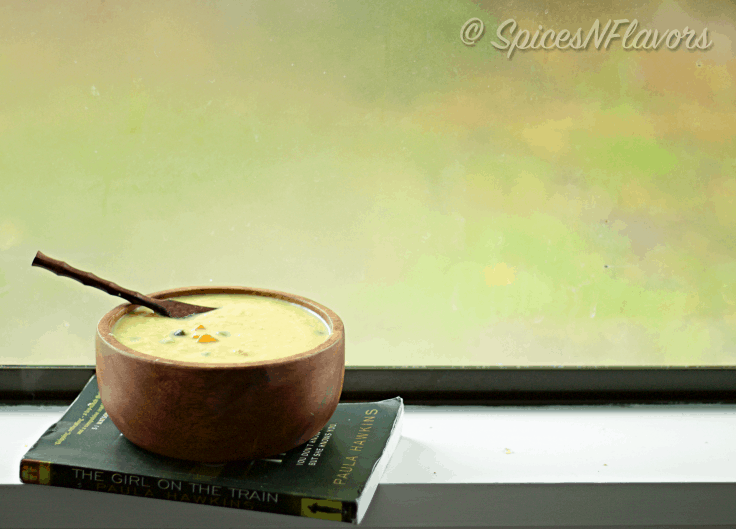 Since this soup has sweet corn to it, it is naturally sweet which generally babies enjoy.
Also corn is loaded with vitamins, essential minerals and antioxidants. Also it acts as a natural laxative. However some don't recommend giving it to babies until they are a year old. But I leave it up to you mommies to decide whats best for your child. I started giving her this soup when she was 9 months old. I definitely recommend not giving this as a first food. However, in case of doubt please consult your doctor before introducing anything new.
Yo was totally fine when I first gave her this. She had her share and I had mine.. 😉 And my hubby he couldn't stop himself even after the third serving.. ;P
As I said this has a natural sweetness to it and when combined with bits of steamed veggies its like a complete meal. The smooth texture of the soup along with the bite of veggie is what we craved for on this chilly day.
Plus..
Plus..
It is
Vegan (just substitute butter with oil)
Gluten-free
Easy to make
Healthy
Delicious
Do you need any more reason to not make this.. Then definitely try this out.
And..
If you happen to make this soup for your baby or even for you to enjoy then don't forget to tag me, tweet me or instagram me with the hashtag #SNF. I would love to see your creation.
By the way now is the time to follow my instagram page as I have taken up this #project365 to post one pic daily, so keep watching the space, I have lot to share.
For my Thursday post I am coming with yet another basic recipe for kids and adults alike. So please come back.
Until then
Hugs
Sushma
Liked this recipe?
Let us know by giving it a star rating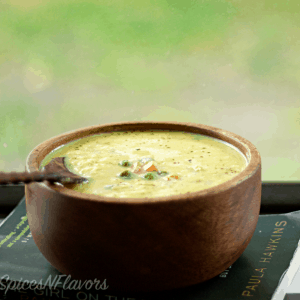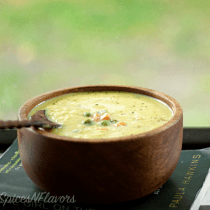 Print
Sweet Corn Soup for babies
A healthy gluten-free and easy soup recipe for babies from 9 months old. Can be enjoyed by everyone in the family. Vegan option given.
Ingredients
2

corn on the cob or 2 cups corn kernels

1

cup

mixed vegetables (carrot, beans, peas etc)

chopped into small cubes

1/4

tsp

turmeric powder

1/2

tsp

butter or clarified butter (ghee)

1/4

tsp

grated garlic and ginger

pinch

of

pepper

(optional)

pinch

of

salt

(optional)

water

as needed
Instructions
Take 2 corn on the cob and pressure cook it with turmeric, little salt and enough water for 3 whistles. Once the pressure subsides, remove the corn kernels (around 2 cups) and puree it to a smooth paste like consistency. You can adjust the consistency as per your liking using the same water in which you boiled the corn. This is the base of our soup. If you wish you can directly buy corn kernels from the market or can even use frozen in this recipe.

Meanwhile, steam veggies of your choice (carrot, potato, beans, ) until done. (Test: Crush it in between your fingers and you should be able to easily mash it).

Now in a saucepan, heat up the butter or ghee whichever you are using. Once hot add in the minced ginger and garlic. Sauté really well. Add in the steamed veggies and give a quick stir. Add the pureed sweet corn and get one boil.

Season the soup with some salt and a dash of pepper.
Notes
Cook the soup on low flame, and do not give more than one boil as it will curdle and lose its flavor.
Remember we have used salt to boil the corn kernels so use salt accordingly. Older family members can season with some extra pepper or even use chilli flakes.
To make it vegan.. Just omit using butter and use olive oil instead.
Did you make this recipe? Tag me today!
Tag me @spicesandflavors to get featured on my FB and Insta pages