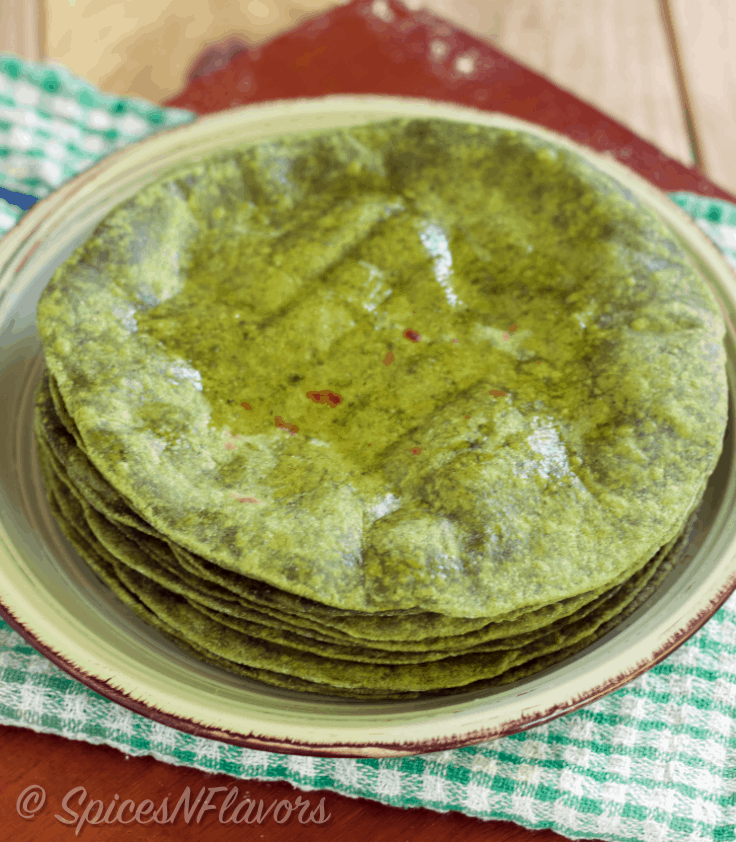 Palak Phulka - Is there anyone out there who doesn't love Phulkas. Most of my friends happen to be Gujratis so I enjoyed phulkas all through my college life. Phulkas are nothing but a kind of Indian flatbread made of wheat flour; cooked directly on the flame and loaded with clarified butter (ghee). Just omit ghee for Vegan options.
Let me tell you these are Yeast-free.
And what more when combined with the goodness of greens (Spinach) makes a hearty healthy wholesome treat.
Wait.. What..
Did I say Spinach well I thought its just a green coloured Phulka; (whispers.. we don't even taste spinach in it). Making it perfect for our favourite picky eaters (kids) out there.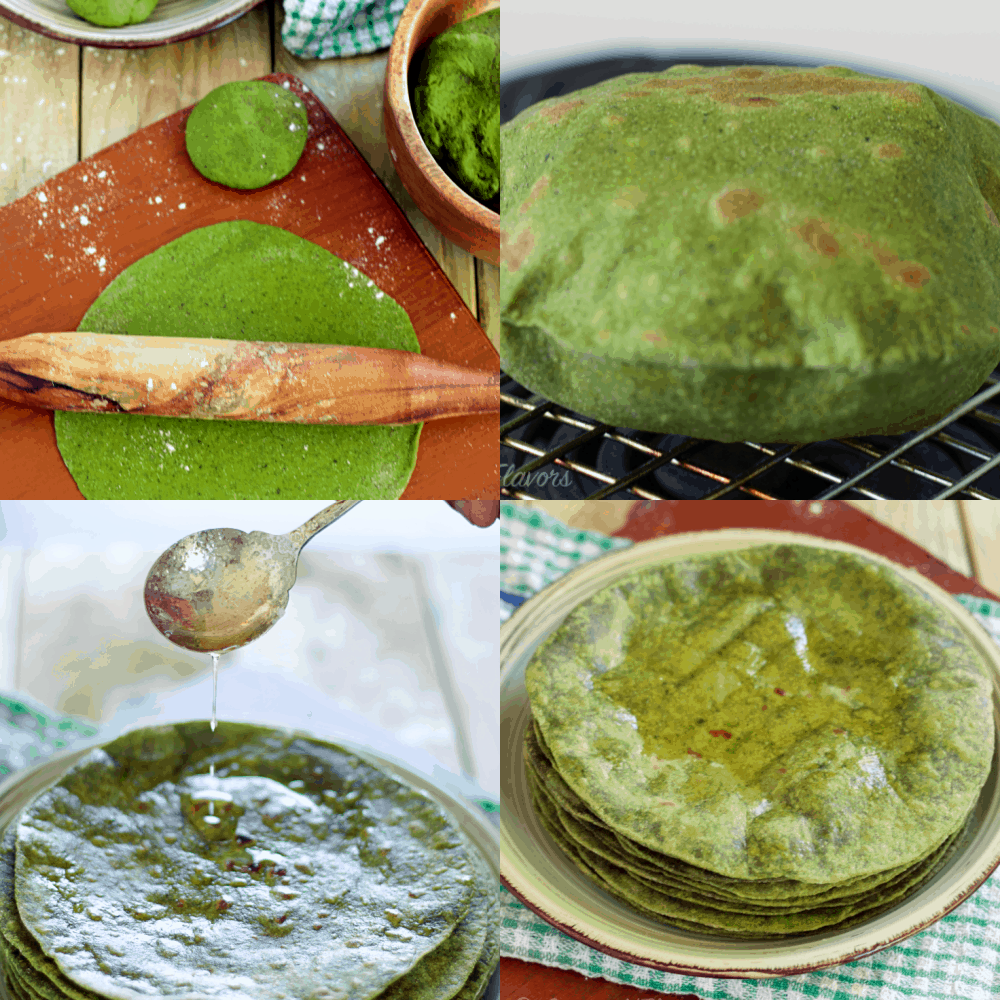 So like I said in my earlier posts as well, there was a time when Yo just refused to eat khichdi. That is when I started sneaking veggies into her diet by making soups, kanji, parathas and even dosas.
Try this Sweet Corn Soup for your family; even though the recipe is baby friendly everyone in my family enjoyed it.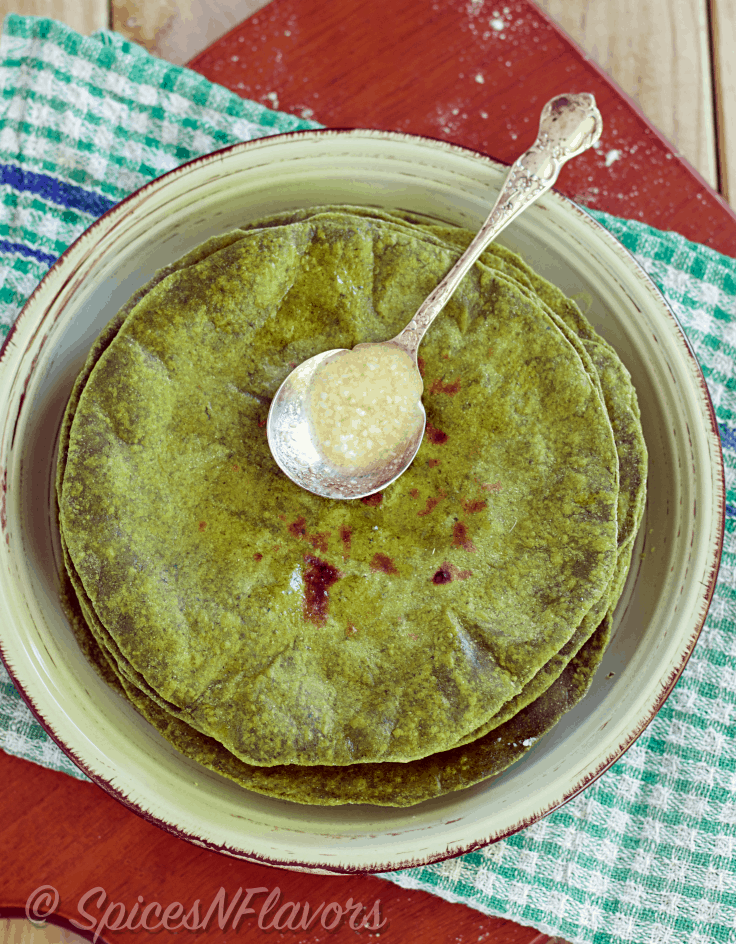 In these many days, when I was away from blogging the one thing I realised is how much I missed pouring my thoughts, sharing my recipes and most importantly connecting with you all. Even though I didn't blog but still I tried new recipes, read lots about food photography and of all saw my baby trying to turn onto her back, pushing herself ahead with the help of her stomach, crawling, trying to sit and now stand on her own. Even though this is the most natural thing but still feels so special.. <3 I would love to hear what are you doing these days?? Comment below or feel free to tag, tweet or instagram me. Or just say Hi!!!
So if you have read my new year resolution then you know that blogging topped the list. And I thought even if I do not find time to make something special; with Yo hugging my legs all the time (you know what I mean) I will make sure to post at least everyday cooking recipes that are made on a daily basis on almost all households in India.
Phulka is one such comforting food. All you need to do for this recipe is blanch some spinach, puree it and add it to the wheat flour. Knead it well and make phulkas out of it. Isn't it crazy simple.
Also check this Green smoothie recipe with an secret ingredient that makes it even more healthier. In that post I talk in depth about health benefits of spinach and why you should always include spinach in your regular food.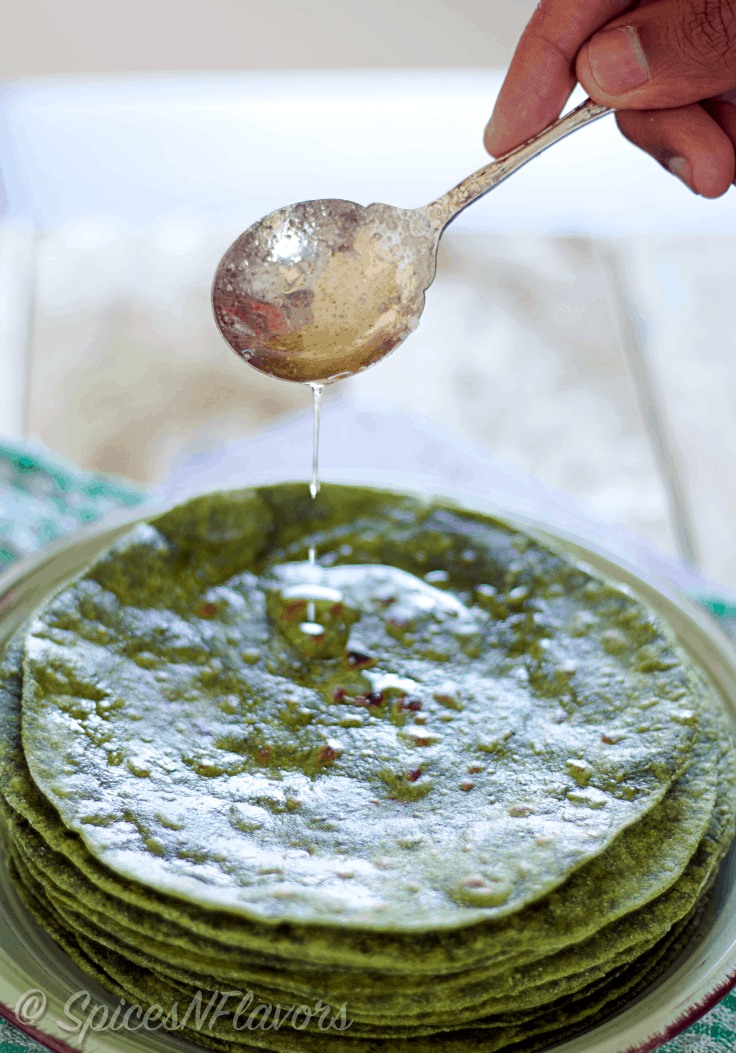 Before I forget, just wanted to tell you that if you are not following me on instagram then now is the time as I have taken up this #project365 #365daysofphotography so I will be sharing one photo daily on instagram as part of this project. Come join me there to say hello.
And if you like this recipe or do happen to try this then don't forget to tag, tweet or instagram me.
Liked this recipe?
Let us know by giving it a star rating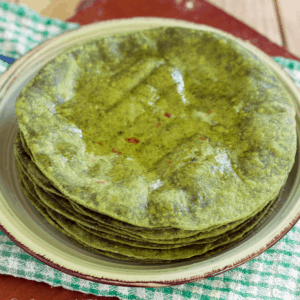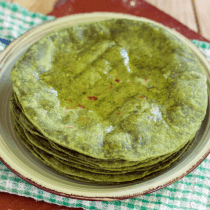 Print
Palak (Spinach) Phulka
Phulka is a Yeast-free Indian flatbread made using whole wheat flour giving it a healthier twist is the addition of spinach.
Ingredients
250

gms

spinach leaves (i.e. one bunch)

2.5

cups

whole wheat flour

1

tsp

salt

1

tsp

oil

ghee as needed

water as needed
Instructions
Bring a pot full of water to boil. Roughly chop spinach leaves. Wash well to remove the dirt. Add the leaves to the boiling water. Blanch for 3-4 minutes. Remove the leaves and immediately run under cold water to stop the cooking process. Let it cool and grind in a mixer to a smooth puree (approximate 1.5 cups puree).

In a large mixing bowl, combine together the flour, salt and oil. Add the spinach puree and knead it to a soft dough. You may or may not require water while kneading as it depends on the water content in the spinach puree. If at all you need water, add 2tbsp at a time and knead into a soft piable dough. Let this rest for 15-20 mins.

Divide the dough into 20-25 equal proportions. Make small roundels, flatten it in between your palms. Dip it into dry wheat flour and roll it with the help of roller.

Heat up a non-stick pan or tawa, place the rolled out phulka on the hot pan. Once you start seeing some bubbles flip over and cook for a minute or until you see nice brown spots on it. Now flip the phulka and place it directly on the flame. This is where you will see the phulka puffing up.

Once puffed up, remove from heat and place it on a plate. Apply ghee onto the side which was cooked directly on the flame. And thats it your phulka is ready. Pile the phulkas in the hot packs which is available to keep the food warm. Enjoy with curry of your choice or as it is.

If you do not wish to flame cook it directly, then you can cook it on the pan itself by pressing with a soft spatula and cooking until you see brown spots on both sides.
Notes
For Vegan options just use vegetable oil instead of ghee.
If you are not making this for kids then feel free to add some green chillies and ginger while grinding the spinach.
Enjoy it with curry of your choice or on its own by just applying some jam and then roll it or dip it into curd to enjoy this phulka
Did you make this recipe? Tag me today!
Tag me @spicesandflavors to get featured on my FB and Insta pages
Pin it

Until then
Hugs
Sushma
By the way I am planning to post a bonus recipe on Saturday so please subscribe to the blog to keep track of it.