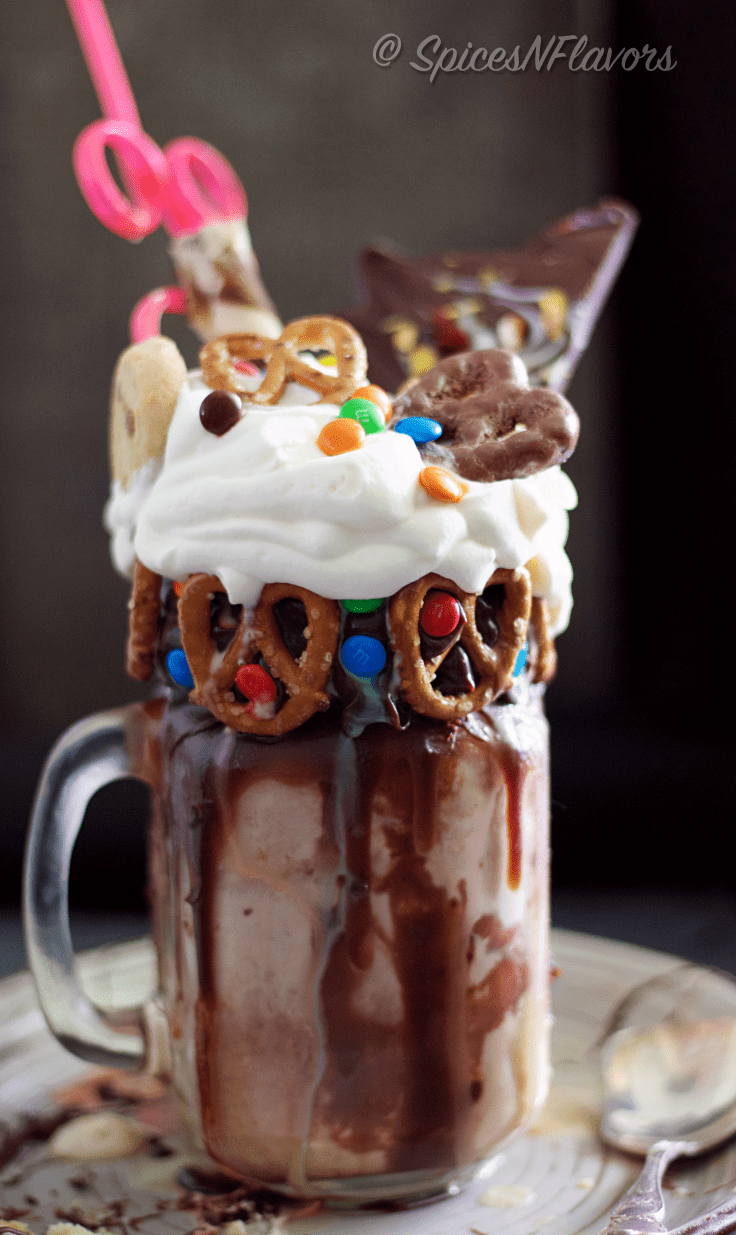 This Salted Caramel Cookie and Pretzel Freakshake is FREAKING good.. And trust me on this it is FREAKING FREAKSHAKE..
Wait for it...
I am lovingggg itttt!!!!
Oh yeah.. BTW.. Happy Valentine's Day you guys..
What its not valentine's day yet.. With my JAANU its always a valentine day.. (so cheesy..) (with all the sarcasm dripping... :P)
Lol..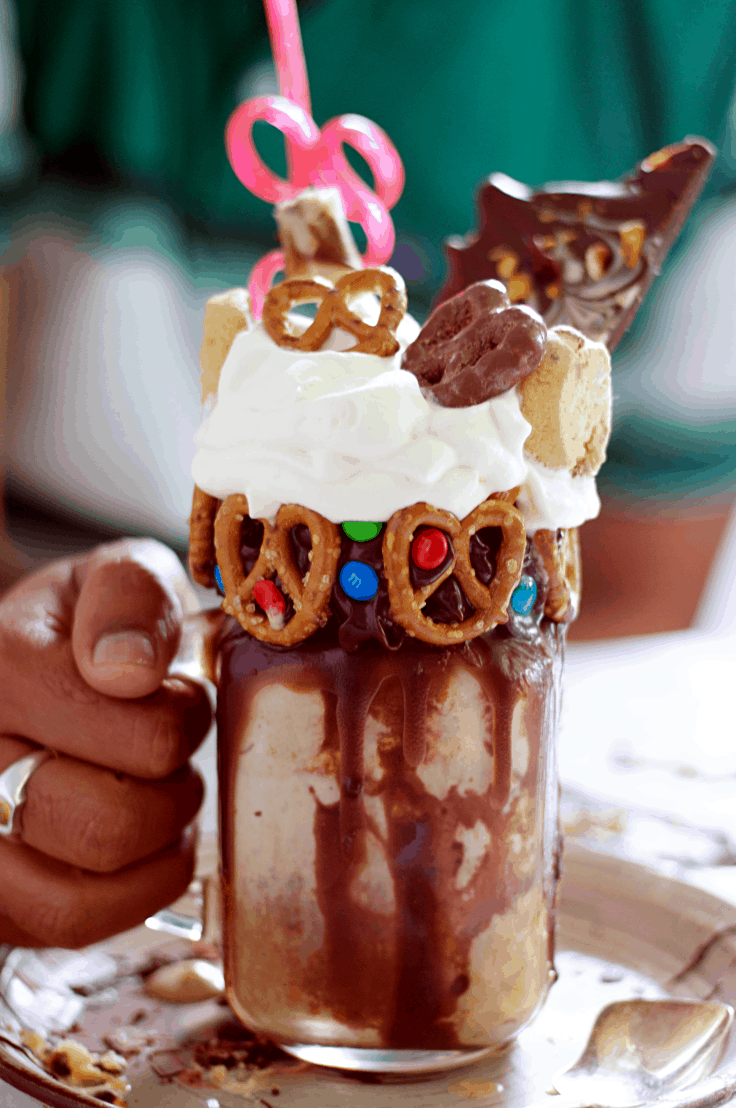 Of-late the internet has gone nuts over freakshake. New York style Freakshakes, where to be seen everywhere; all over the internet.. So how could I not try it..
I even heard people were queueing outside cafes for hours together.. Did you queue up too?? Comment below and let me know..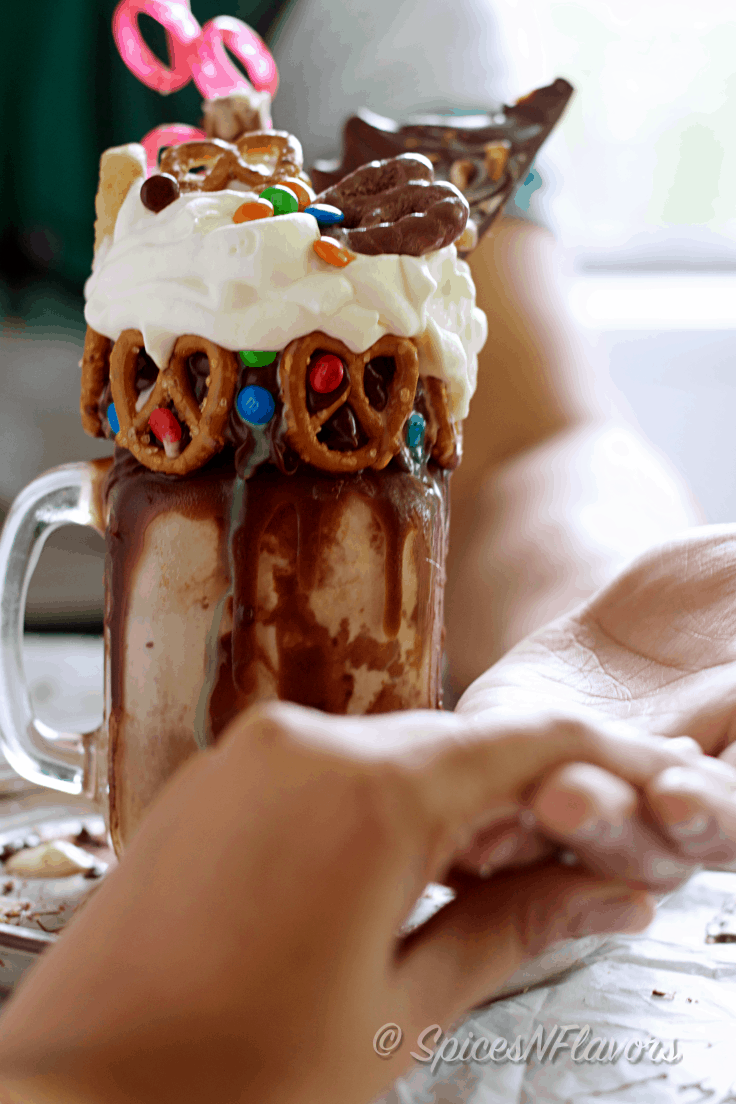 This weekend was so much fun. We (me and bala) spent quality time (not exactly..) arguing what topping should go onto the freakshake.. 😉 I added the chocolate bark and he the chocolate waffle.. My choice was cookie and he added the M and M to make it colourful.
It was such a fun activity. I wish Yo was old enough then it would have been the perfect activity with kids..
This Valentine's Day share your love with everyone and anyone. Spend time with your family and your kids; they grow up so fast. Also share your favourite Valentine's Day Chocolate Cake with your house maid, servants and anyone who knocks your door that day.. 🙂 Thats my another resolution this year to be kind and generous..
What is your resolution this year?? Read my Self Hosted post for more of my resolutions..
If you are anything like me, then somewhere you still have your Christmas cookies leftover in the pantry. Then don't worry this freakshake is the best recipe to use those up..
This freakshake is..
Made from leftover cookies ✔
Has Chocolate bark, Pretzels, M and M's and lot more ✔
Delicious ✔
Takes 10 mins to make ✔
Perfect for Valentine's Day ✔
Unless you are on a strict Diet plan, there is no reason for not making it. And even if you are on diet then once in a blue moon indulgence is totally fine.. (don't worry won't tell anyone that you had it.. 😀 pinky promise)..
Everything about this recipe is as per taste. Basically you just make a salted caramel and pretzel milkshake and then top it up with your favourite toppings to make it a freakshake.
Toppings that I have used is
Chocolate Ganache
Pretzels
Chocolate Bark
Waffles
M and M's
Some more cookies and pretzels..
Other toppings you can use is
Melted chocolate syrup
popcorn (as it is salted caramel flavour)
cookie sandwich
salted caramel sauce
nutella etc etc..
Suggestions:
1. If you do not have salted caramel cookies just use 3 tbsp salted caramel sauce.
2. Instead of puhoi valley milk use any flavoured milk or even plain milk tastes equally good.
If you happen to make this then tag me, tweet me or instagram me with #snf or #spicesnflavors. I would love to see your creation.. Infact would love to have a look at your freakshake toppings.
Liked this recipe?
Let us know by giving it a star rating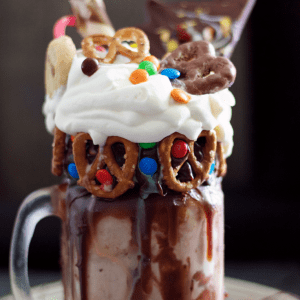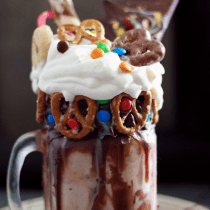 Print
Salted Caramel Cookie and Pretzel Freakshake
A milkshake made from leftover salted caramel cookies, pretzel and flavoured milk. Added over the top toppings to make it a freakshake.
Ingredients
1

cup

puhoi valley salted caramel milk

10

pieces

of mini salted caramel cookies

5

pretzel bows

4

scoops

vanilla ice-cream
Chocolate Ganache
1/4

cup

cream

1/4

cup

chocolate buttons
Other toppings
Chocolate Bark

whipped cream

M and M's

Waffles

some more cookies and pretzels
Instructions
In a blender, blend together 2 scoops of ice-cream, milk, cookies and pretzels until smooth. Do a taste test and add more cookies or pretzels to suit your taste buds. Keep aside

Heat the cream in the microwave or in the double boiler and add it to the chocolate buttons. Let it sit on the counter for 5 mins. Then mix it to melt the chocolate completely and then leave it on the counter-top to thicken; just enough to spread it on the mouth of the mason jar. Would take around 15 mins
To Serve
Take a mason jar. Apply the ganache to the rim and also to the inside of the jar. (Just get as messy as possible) Stick pretzel bows and m and m's on top of the ganache.

Add 2 scoops vanilla ice-cream and then pour the prepared milkshake.

Top it off with some whipped cream. Arrange the chocolate barks, waffles, some more cookies, pretzel bows and m and m's. Place a straw and spoon and you are good to go
Notes
1.Skip the chocolate ganache and use nutella or melted chocolate instead to make it even more simpler.
2. If you do not have salted caramel cookie then just use 3 tbsp salted caramel sauce.
3. Instead of puhoi valley milk use any flavoured milk that you find or even plain milk tastes equally good.
Did you make this recipe? Tag me today!
Tag me @spicesandflavors to get featured on my FB and Insta pages
DISCLAIMER: This is NOT, let me be clear NOT a sponsored post; however would love to do a post in future (Puhoi Valley if you are listening.. 🙂 ). I just happen to love Puhoi Valley.
By the way this Thursday I have yet another summer recipe lined up.. Do come back for this and many more
Until then
Hugs
Sushma
Pin it..