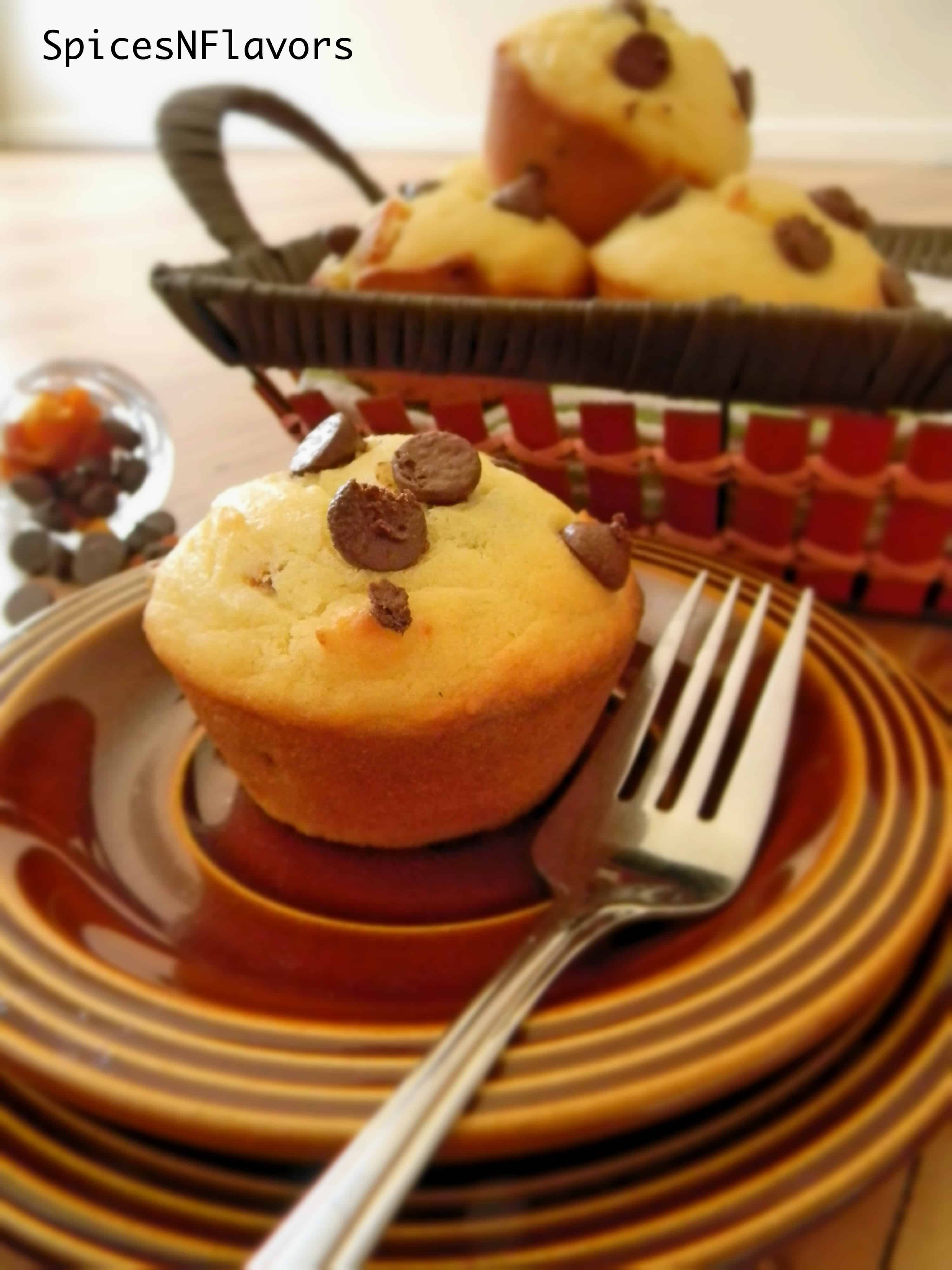 In India, its a practise to begin any thing new by having a sweet dish. Be it just sugar mixed in curd or any high calories sweet lovingly prepared by your family members or friends. More than a practise its a belief that signifies good omen; you will be successful in the new work that you have started. Following our traditions and belief, I am entering into this world of blogging with my Chocolate Chip Cornmeal/Makkai ke Atta/ Cholamau Muffins.
Muffins are basically individual size quick bread which can be savoury or sweet. There is always an ongoing debate about the difference between muffins and cupcakes. Well you always have Google Baba to help you out with exact differences. But what I have learnt so far is the difference between the amount and form of sugar and butter that goes into its making which makes it light or dense giving you the final end product. Though I have never been a big fan of cakes (can you believe it.. ;)) but now I am very much fond of tea cakes or muffins.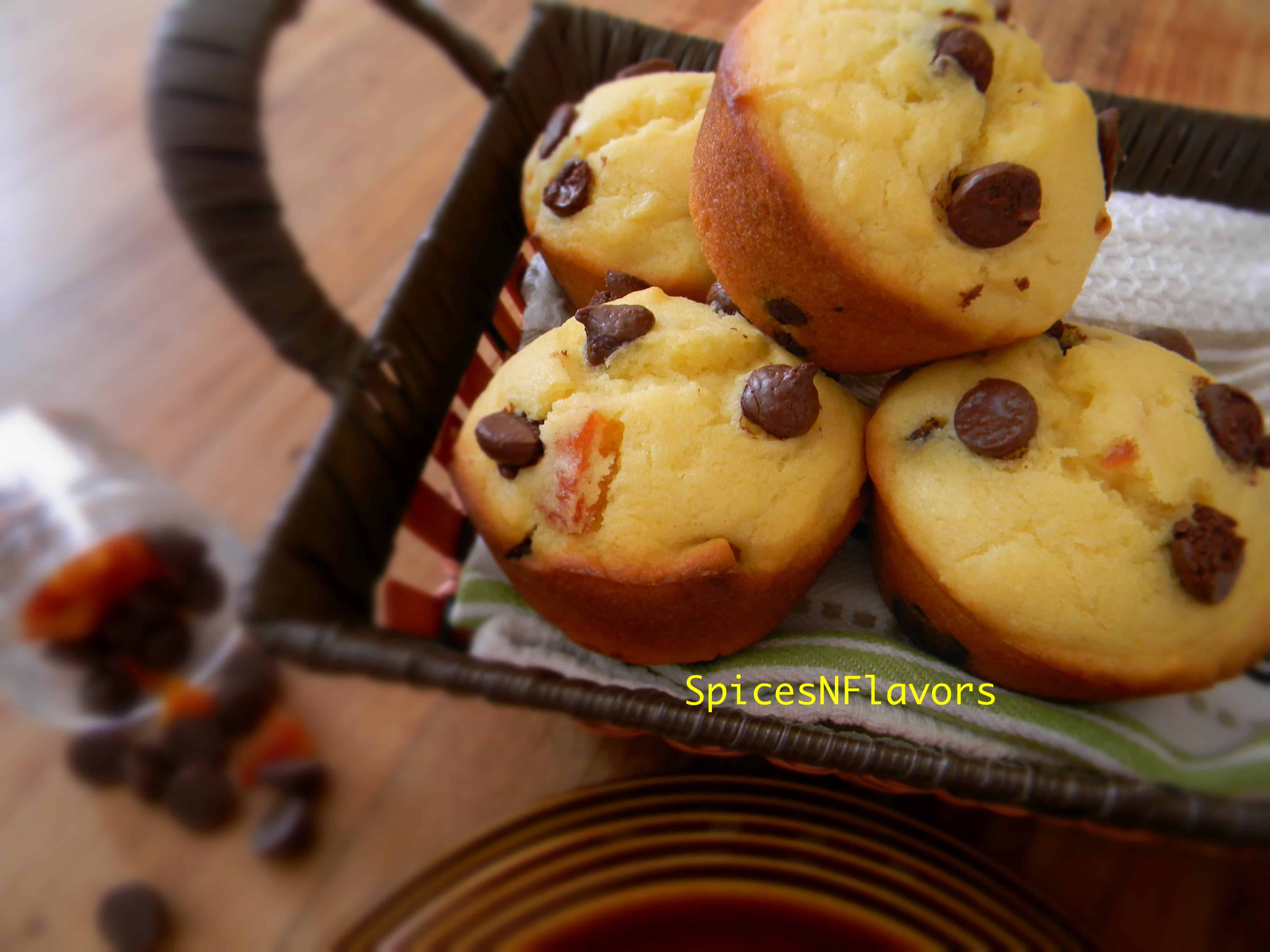 I have had many failures in baking than success. But gradually I have learnt to bake tea cakes or muffins. I kind of find baking a muffin pretty much easier. That's because in most of the cases, you need to mix the wet ingredients in one bowl, dry ingredients in the other and then just combine the two and bake. So simple isn't it!! And you know the best part about this is just it takes hardly any time for preparation and baking. Just whip and bake!!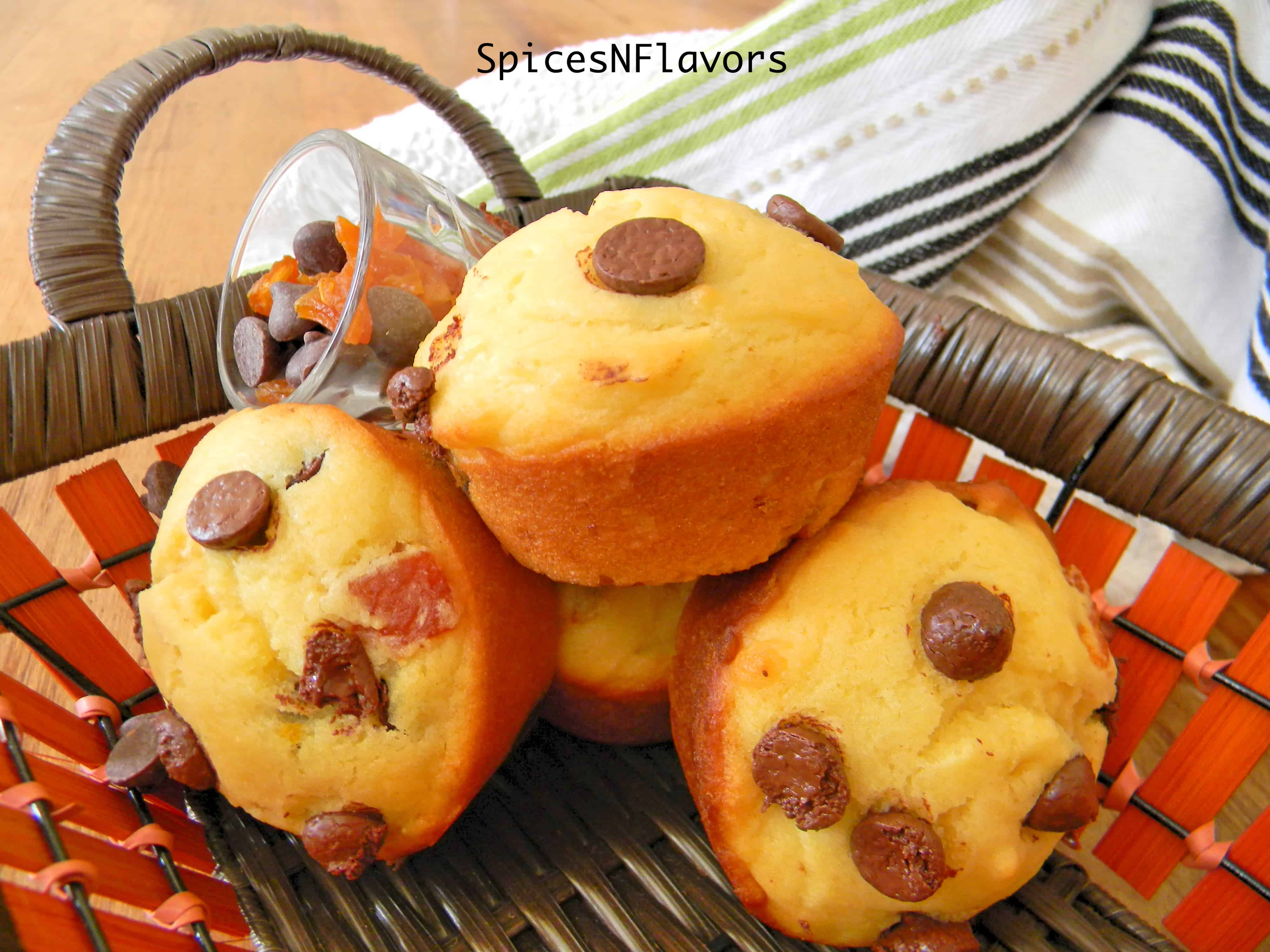 When you stay away from your motherland, you tend to miss your family and friends. Talking about family, its just me and HIM (you obviously know who.. my dear husband.. :)) living here in New Zealand. My husband used to stay as a PG with a tamilian family during his bachelorhood days and they are now more like a family,a friend, a guide; like my elder brother his wife and two loving kids. Their daughter is school going kid and is very fond of muffins. (Now you get the link.. :P) She is so much into muffins that she insists on taking one to school in her tiffin box. And I was glad to pack her a homemade one this week; to my happiness she liked it even more than the store bought one. So this could be a great tiffin idea as well.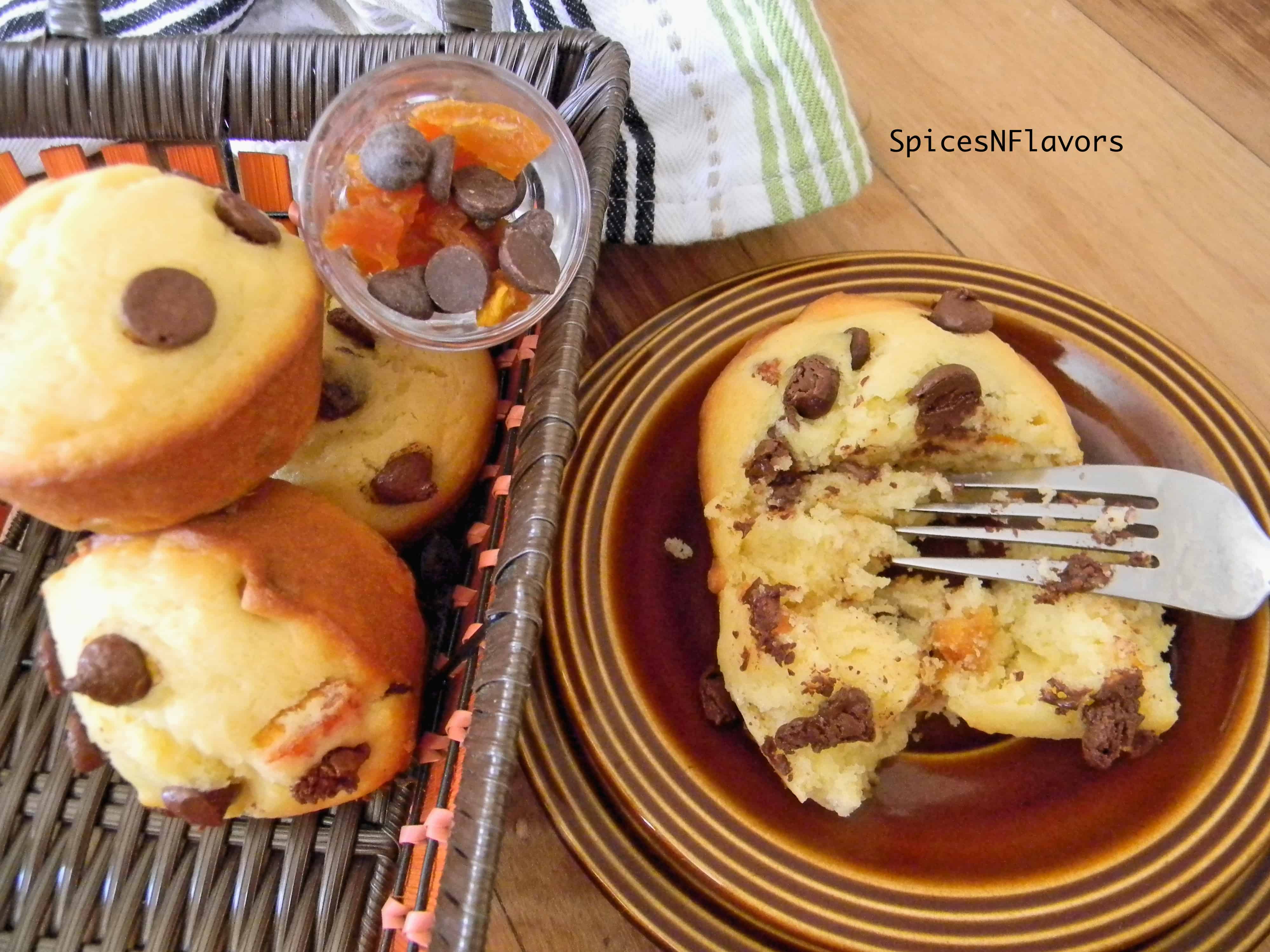 Recently, I read an article which stated that All Purpose Flour(APF)/Maida is not easily digested by our digestive system so should not be consumed more often. And hence we have seen that now-a-days people are substituting it with Whole wheat flour or any other substitutes. But what makes me wonder is that, I have seen some posts wherein they claim that its a healthier version. I don't understand just by susbstituting APF will it make it healthy?? What about the amount of sugar and fats that go into its making?? Please advice me if you know any details!!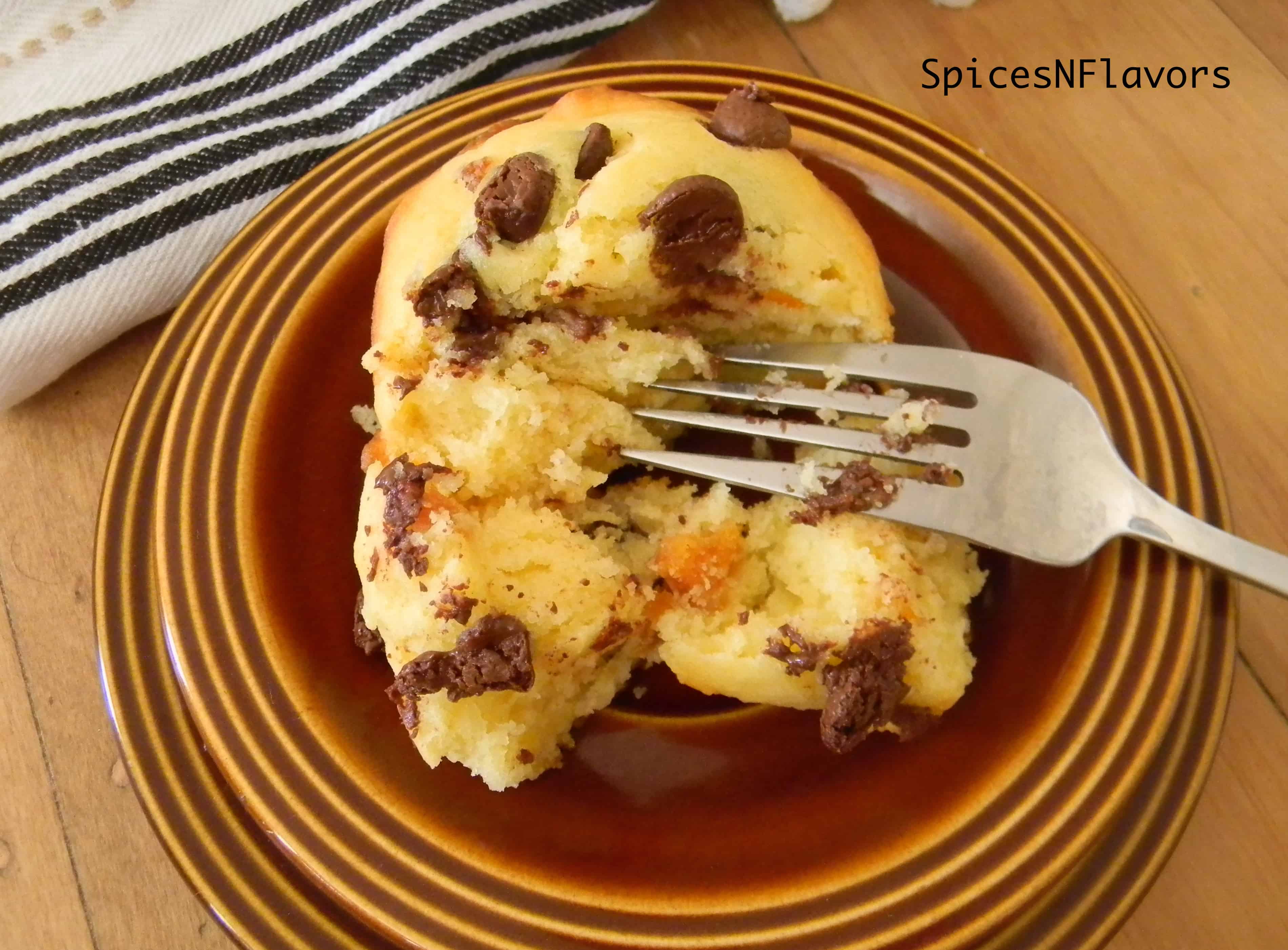 So today in my recipe I have used APF and Cornmeal (yellow) you can use either yellow or white as per your availability in the ratio 1:1. The addition of chocolate chips and apricots brings about the umph factor in this dish. This dish combines the fruity nutty and sweetness from the ingredients used and gives you a burst of flavors in your mouth. Thats what all you need; food that tastes good.
Preparation time: 10 mins Baking Time: 10-20 mins Makes: 5-6 muffins
Ingredients:
Dry Ingredients:
Cornmeal Flour/Makkai ke Atta : 1/2 cup
All Purpose Flour/Maida : 1/2 cup
Sugar : 1/2 cup
Baking powder : 3/4 tsp
Baking soda : little less than 1/4 tsp
Salt : A pinch
Orange zest : 1 tsp
Wet Ingredients:
Curd : 1/2 cup
Melted Butter : 1/8 cup
Oil : 1/8 cup
Vanilla essence : 1/2 tsp
3 tbsp chopped apricots and 1/8 cup chocolate chips to fold in
Method:
Preheat the oven to 180 degree celcius for 10 mins, grease and line the muffin tray and keep aside.
Mix all the ingredients mentioned under dry ingredients in one bowl.
Mix all the ingredients mentioned under wet ingredients in another bowl. Whisk well. Everything should be combined properly.
Now add the wet ingredients slowly and gradually into the dry ingredients and mix well. Do not overbeat. Mix using the cut and fold method. It won't take longer. Just take care not to over beat the two.
Fold in the apricots and chocolate chips gently.
Fill in your muffin tray to 3/4 of the space available. Top it with few chocolate chips and bake in the middle rack of the preheated oven for 10-20 mins. Be careful after 15 minutes.It took me exactly 18 mins. Check every 3 minutes after first 10 minutes has passed.
And your yummy muffins are ready. Simple isn't it!!!
Notes:
I have used both butter and oil in this recipe but you can use only 1/4 cup melted butter. Everything should be at room temperature only.
You can fold in nuts of your choice like walnuts, almonds or even tutty fruity. Entirely your choice.
I generally set my oven to preheat once all the ingredients are measured and kept ready. Because if the oven is too hot, you will eventually end up having a cracked top. In this recipe I set my oven to preheat after the second step that is once you have combined the dry ingredients.
Every oven is different just take care that a toothpick inserted in the centre should come out clean and the muffin should have a gloden brown colour to it. Do not overbeat while mixing or overbake or let it dry. It should be moist.
Hope you liked it!! Share your feedback and comments.
Happy Cooking; oh I mean Happy Baking..