Eggless Choco Lava Cake is a oozy, gooey, warm and so chocolaty cake that you just cannot resist having just 1 bite.. 😉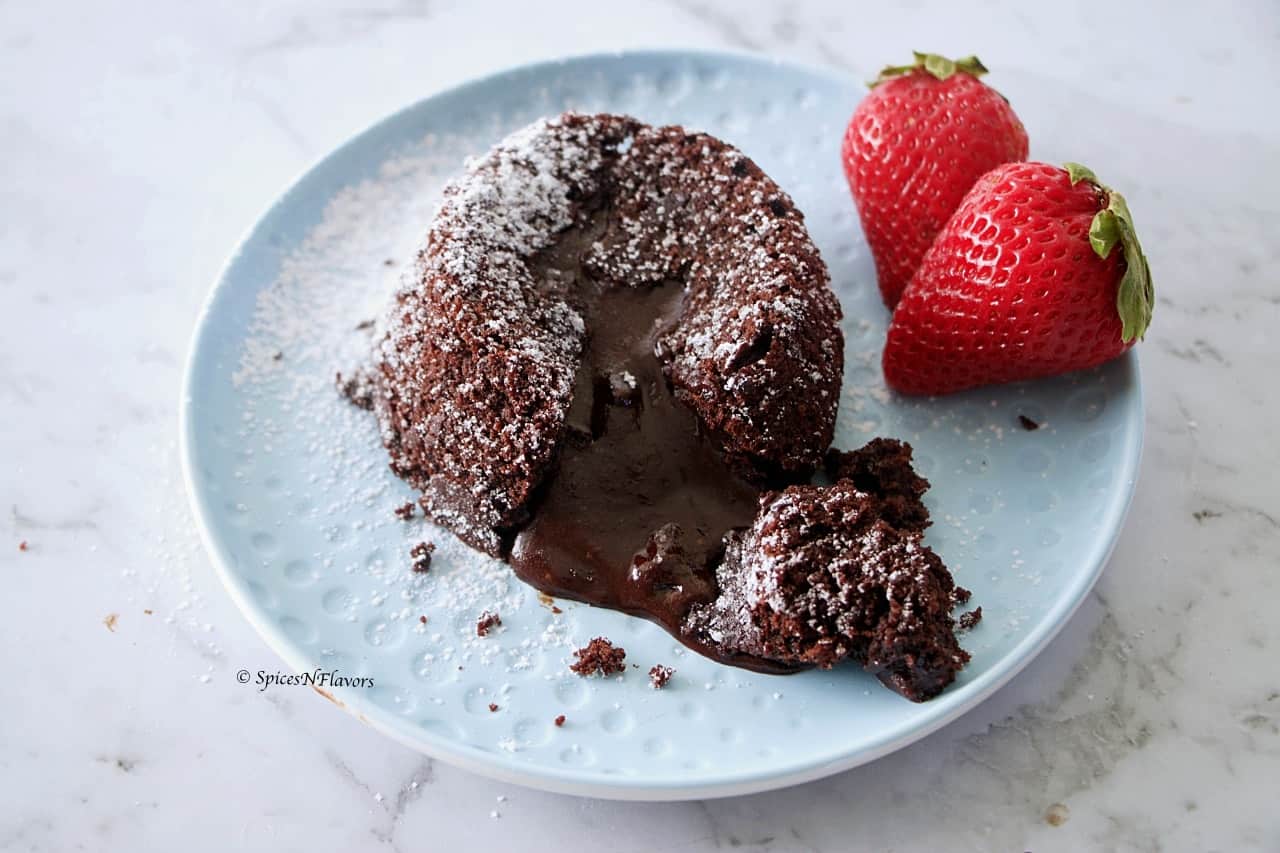 Eggless Choco Lava Cake; the name itself is enough to make my mouth water.. Don't you agree??
Baking is something that we all enjoy..
Seeing my chocolate melt, that shiny glossy texture and a silky smooth flow; sifting of my dry ingredients watching the tiny granules falling taking the shape of snow flakes..
The addition of this silky smooth chocolate to the mountain pile of sifted dry ingredients when folded together with some milk makes it a oh so flowy chocolaty batter that I am tempted to already dunk my finger into the chocolaty batter and lick it straight away (love love love chocolate.. <3 ) Watching this taking a shape under the heat; seeing it rise and stand together clinging to the sides of the ramekins holding it.. that jiggly wiggly centre made me eat it with my eyes.. Watching my knife slide though the then formed cake; the bubbling molten lava waiting to release itself in the form of the oozy, gooey, warm chocolate like a river that has just found a new way to flow through.. The warm chocolate; the chilled ice-cream and a fresh fruit on size.. gosh I am in a heaven of chocolate.. <3 <3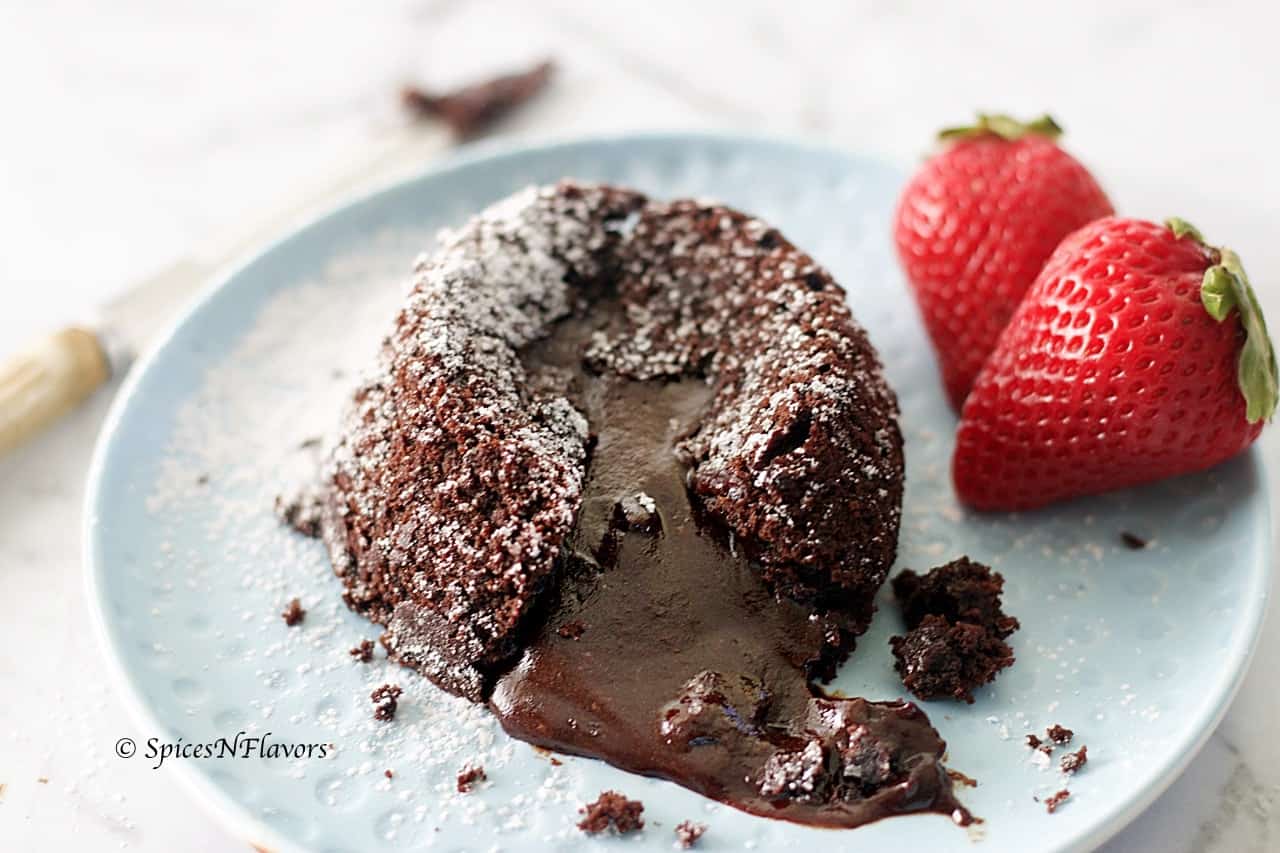 The speciality of this Eggless Choco Lava Cake recipe is that it makes use of both butter and oil..
Butter adds an amazing flavour and oil makes this eggless choco lava cake super moist..
Unlike other recipes this does not call for an addition of chocolate pieces so you have to be careful while baking these.. that is because there is a thin line between raw cake, the actual lava cake and over-baked cake..
If you bake it for a minute less this would have a beautiful lava but it would taste raw.
And if you over-bake it would still taste amazing but won't have that oozy lava instead would be a regular cake.
So I would suggest you to first test bake just one ramekin to see how long it takes in your oven and then you can go ahead and bake all..
Liked this recipe?
Let us know by giving it a star rating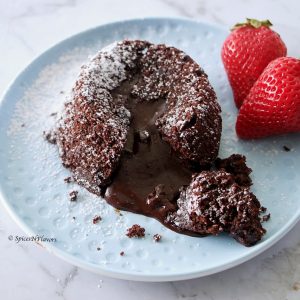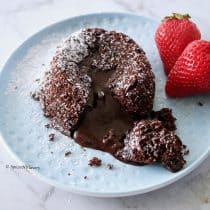 Print
Eggless Chocolate Lava Cake in Pressure Cooker and Oven
Eggless Chocolate Lava Cake is a warm, oozy, gooey and chocolaty dessert perfect for any occasion..
Ingredients
1/2

cup

Flour

1/3

cup

Cocoa powder

1/2

cup

Powdered or Icing sugar

1/2

tsp

Baking Powder

Pinch of salt

140

gms

Chocolate or 1 Cup chocolate melts

15

gms

or 2 tsp Butter

1/4

cup

Oil

1/2

cup

Milk
Instructions
Sift together the flour, cocoa powder, sugar, baking powder and salt together. Keep aside

Melt the butter and chocolate over a double boiler. (Check my video on how to melt chocolate the right way) Once melted add in the oil and mix well

Add this chocolate mixture to the dry ingredients and mix.

Finally add in the milk and form the cake batter.
To Bake in Oven
Divide the batter into buttered and floured ramekins. Bake in a preheated oven of 200°C for 12-15 mins.
To Bake in a Pressure cooker
Start by preheating the cooker. For which onto the base add in a layer of salt and spread it out evenly. Place a stand on top and a perforated plate if you have. Close the lid without gasket and whistle. Pre-heat on med high flame for 10 mins.

Once the cooker is pre-heated place the ramekins within and bake in the cooker for around 14 mins.

I checked after 11 mins it was not baked so I baked for another 3 mins. ( This was for my steel bowl. Check the video for clear picture)

However when I baked it in ramekin it took only 12 mins. (Again check my video for clear picture)
Did you make this recipe? Tag me today!
Tag me @spicesandflavors to get featured on my FB and Insta pages
To bake it in the pressure cooker I made use of this steel bowl regular coffee davra in Tamil. I found that it took me 14 mins to bake in these and the lava was also pretty decent.
However the ones that were baked in the ramekins were baked quicker and had a much better texture and lava to it..
May be because the cooker was hot till then or may be because of the ramekins.. but taste wise both were equally amazing..
For easy un-moulding you can also choose to use silicon moulds.
And trust me these cute little finger mittens were so much handy for this or else I would have definitely burned myself..
To be honest I loved the lava cakes from the cooker rather than the oven ones.. 😉
Most of the time I also halve the recipe and make just two ramekins for that special moment.. 😉
I have a whole playlist solely for pressure cooker baking you must definitely check that out..
If you like today's recipe then do tag me, tweet me or instagram me. I would love to follow you and your posts..
Pin it for later..

I will see you soon with yet another recipe
Until then
Hugs
Sushma