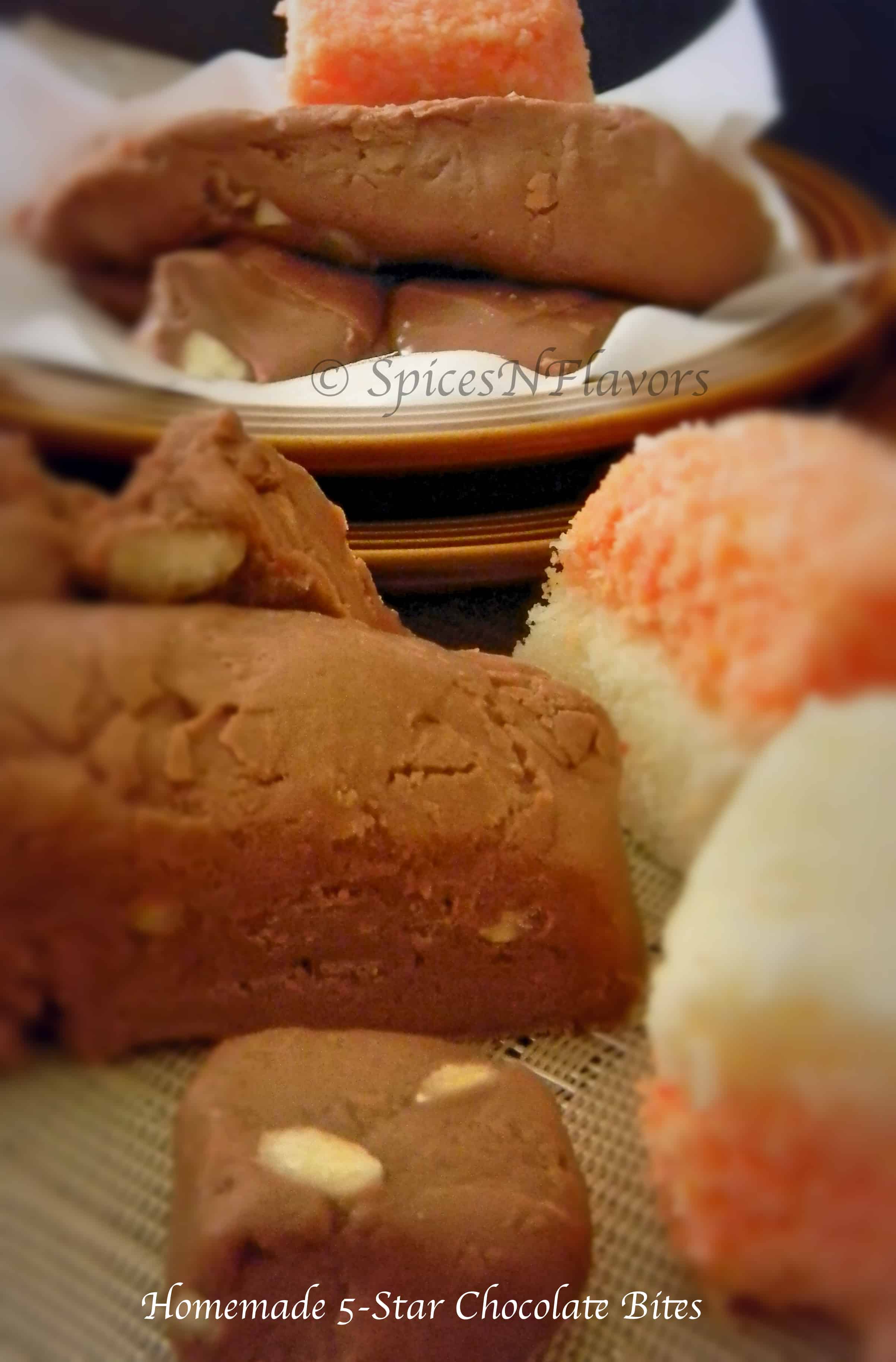 There is always some relation between chocolate and you!!
Itti si hansi
Itti si khushi
Itta sa tukda chand ka
Khwabon ke tinkon se
Chal banayeinn aashiyaan
This is the lyrics of a Bollywood song from the movie Barfi.. Talking about Barfi, did you check my No Cook Instant Coconut Barfi. So coming to the lyrics, it means that you don't need bigger things in life to make you feel happy. Some small moments gives you immense pleasure and joy that you will hold close to your heart. And whatever be the moment there is always Chocolate to suit your mood. I made these 5-star chocolate Bites to celebrate my Mum's birthday, along with No Cook Instant Coconut Barfi.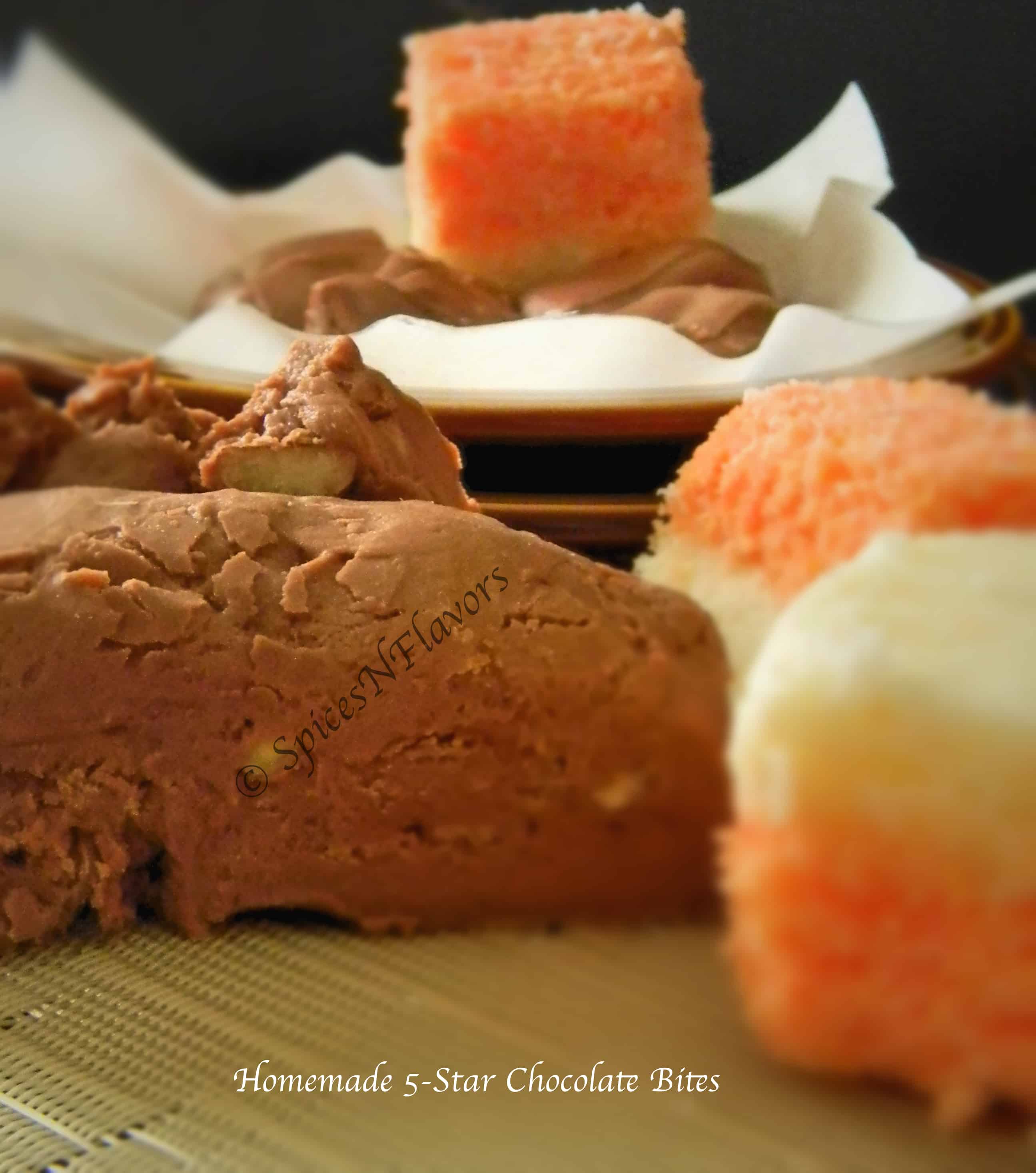 Sharing is caring!!.. There was a recent television add which had the tagline School mein nahi sikhaya Sharing.. Well if you are born with siblings then right from young age you are taught to share things with your brothers or sisters. From pencils to books, from new clothes to the one worn by your elder one ages ago, from the little space in the bed to your mother's lap, fight over using toilets and bathrooms to get ready to school early morning, the countless tv remotes that you broke over fights; how can you leave Chocolates!!.. Yes there might have been endless fights over sharing chocolates. If there is only one 5 star in the house then even that is broken into half. Remember the cracks that develop on the chocolate bars, I have deliberately kept the cracks in the pictures to take you back to those days..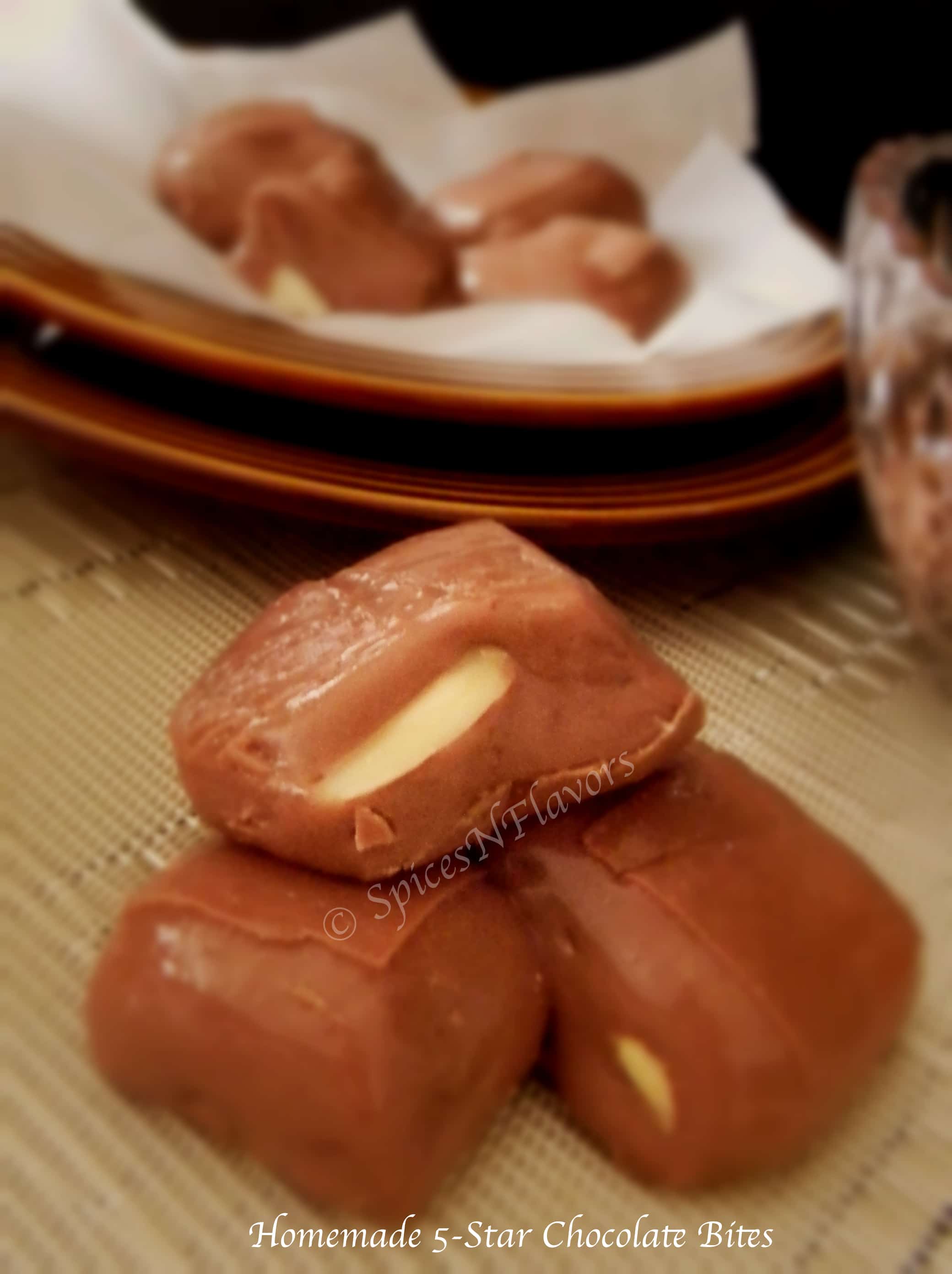 When you are the youngest in the family you always have an advantage over everything. I used to attend school in the morning and my brother in the afternoon. My mum had an habit of sleeping in the afternoon. And I used to sneak in the fridge in the meantime and eat away all the chocolates but I used to keep the wrappers in the same exact way so that no one knows.. ;).. In the evening when my brother used to check the fridge for chocolates he used to find only wrappers and no chocolate inside..
Brother : Amma (MOM) ava ellam chocolate sapta ma.. (She ate all the chocolates)
Mother to ME: Jinju.. inga va.. nee daan saptiya (Did you eat the chocolates Jinju)
Me: Paal vadinja mugam.. illay amma.. enaku teriyadu (With such innocence on my face, I used to say No mom I didn't)
But everyone knew I am the culprit but who scolds the younger one of the family.. :P.. I am sorry bro now you know I am the one who ate all your chocolates when we were kids.. 😀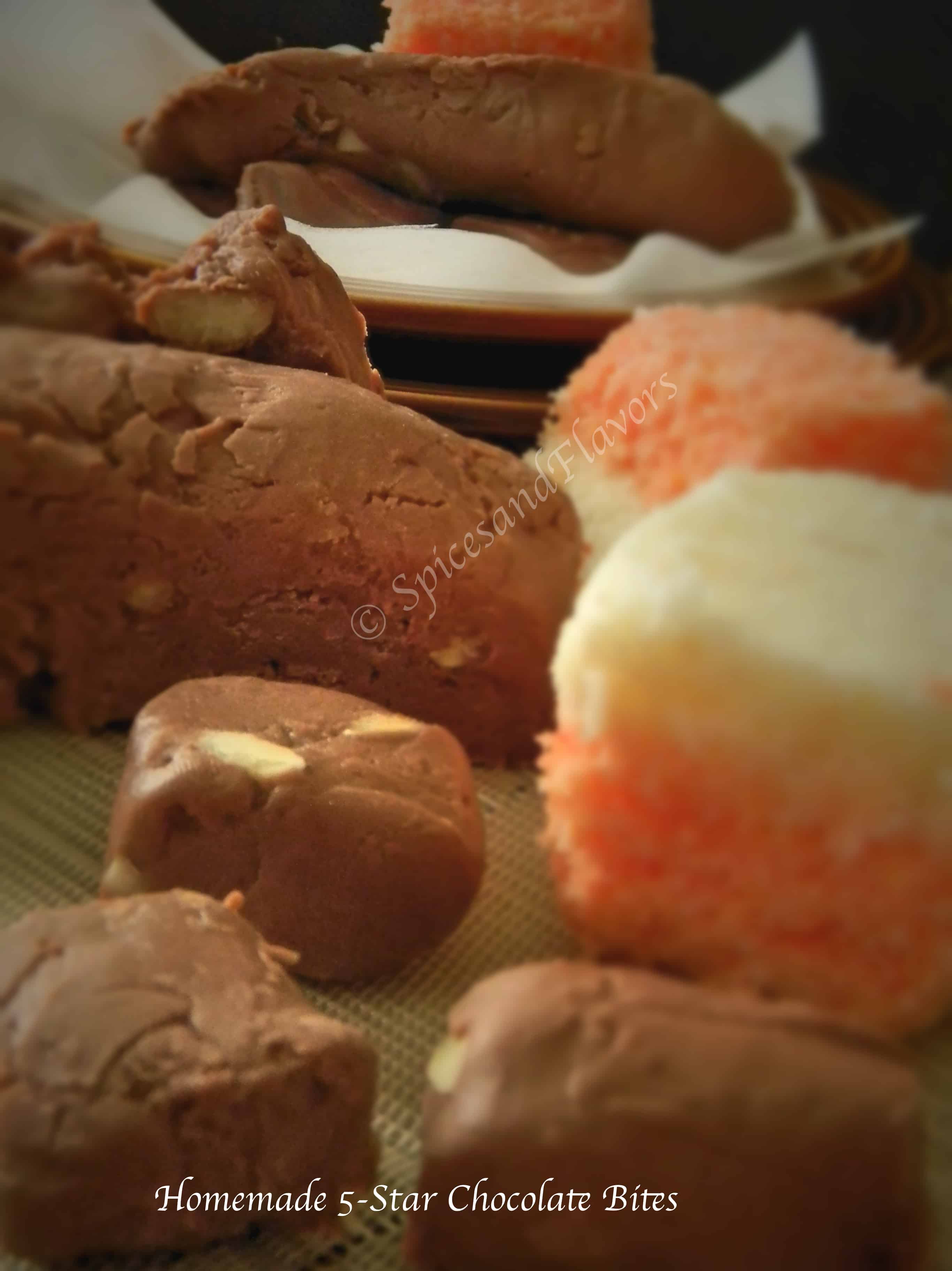 This chocolate bites resembles the 5-star chocolate that we get in the market. It is chewy, gooey and of-course chocolaty.
This is a simple recipe that I have adapted from Christine France from her book Chocolate Fantasies. This is the basic recipe of Chocolate Fudge but I have named it Homemade 5 Star Chocolate Bites as the texture and taste resembles the 5 star chocolate.
A simple and easy to make dessert that I have made today to celebrate my mother's birthday. Also have made No Cook Instant Coconut Barfi to go with the occasion.
Here is what you need to make it..
Ingredients:
1 cup granulated sugar
1.5 cups condensed milk
1/4 cup unsalted softened butter
1 tsp vanilla extract
1.5 cups dark chocolate chips
3/4 cups almonds, pistachio nuts or hazelnuts
Method:
Grease a 7 inch square tin and line with parchment paper.
In a heavy bottom pan, mix the sugar, condensed milk and butter. Heat the pan on a medium low heat, stirring occasionally until the sugar dissolves and the mixture is smooth.
Let it come to a boil.
Meanwhile, in a separate bowl add in the chocolate chips. Once boiled, remove the pan from the heat and pour it over the chocolate chips. Add in the nuts and beat the mixture until smooth and creamy.
Pour it into the prepared pan and spread evenly. Let it set in the refrigerator for 4-5 hours and then cut into pieces and serve. I left in overnight in the fridge.
Notes:
Beating the mixture may take some time. So this is specifically for beginners, beat it patiently remember its not whipping cream.. 🙂
Enjoy this chewy, gooey, chocolaty Homemade 5 star Chocolate Bites with your family and friends. And yes wondering what to do with the remaining tin of condensed milk, check out No Cook Instant Coconut Barfi.
Happy Cooking
Sushma.