Kalkandu Pongal is a traditional and authentic recipe that is made especially during Pongal festival in TamilNadu, India.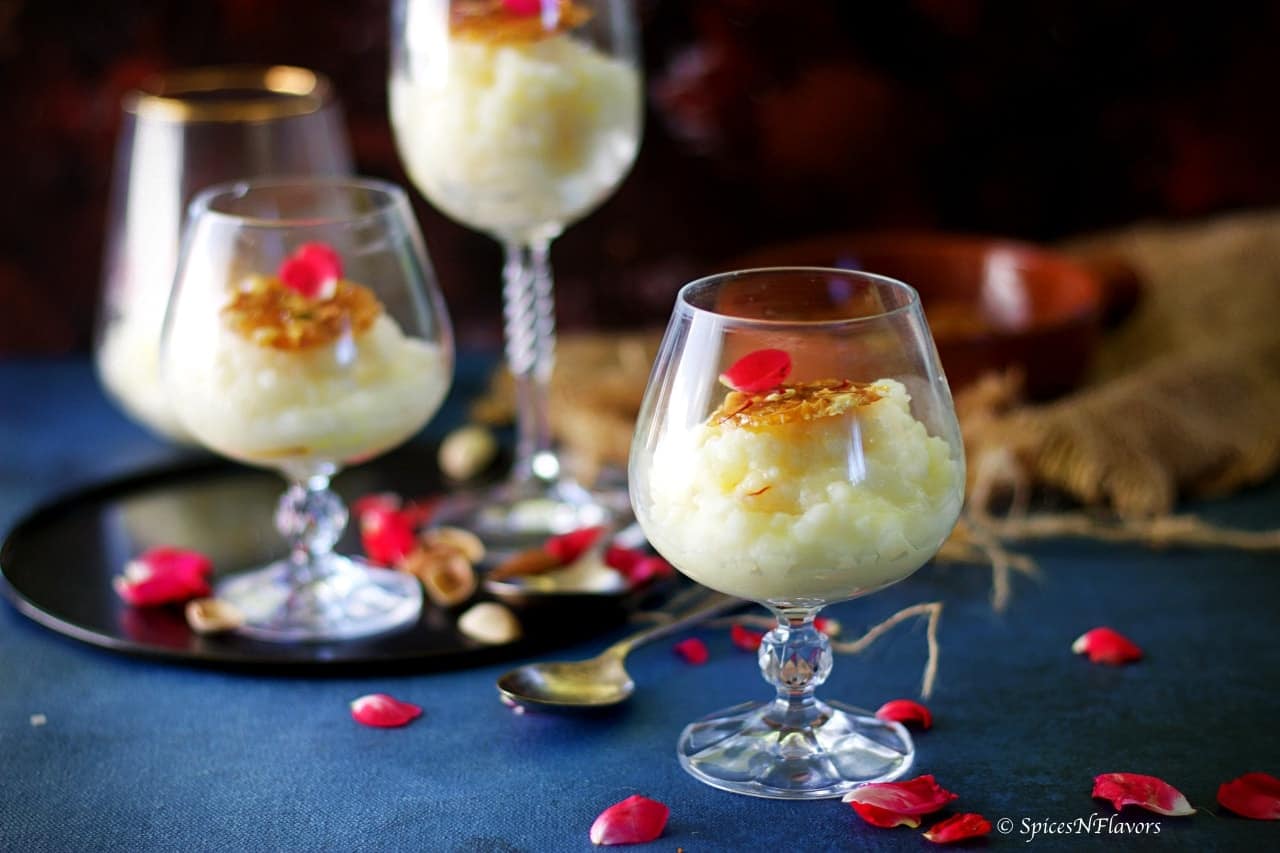 Kalkandu Pongal is another family recipe that I am sharing with you all today.
You won't believe how easy it is to put it together. Even a 10 yr old can easily cook this.
Pongal is one of the most important festivals for us; Tamilians. It marks the onset of the harvest season in general.
Be it any festival I am always excited about it; we tend to make so many goodies at home and then share it with our near and dear ones by visiting them. It gives another reason to come together and celebrate.
And what is more joyous than coming together and spreading happiness.
If you have been following me for a while then you might be knowing that I take pride in celebrating and making Indian sweets to mark in any celebration. You can check out an entire playlist of Indian sweets that I have created on Youtube if you wish to.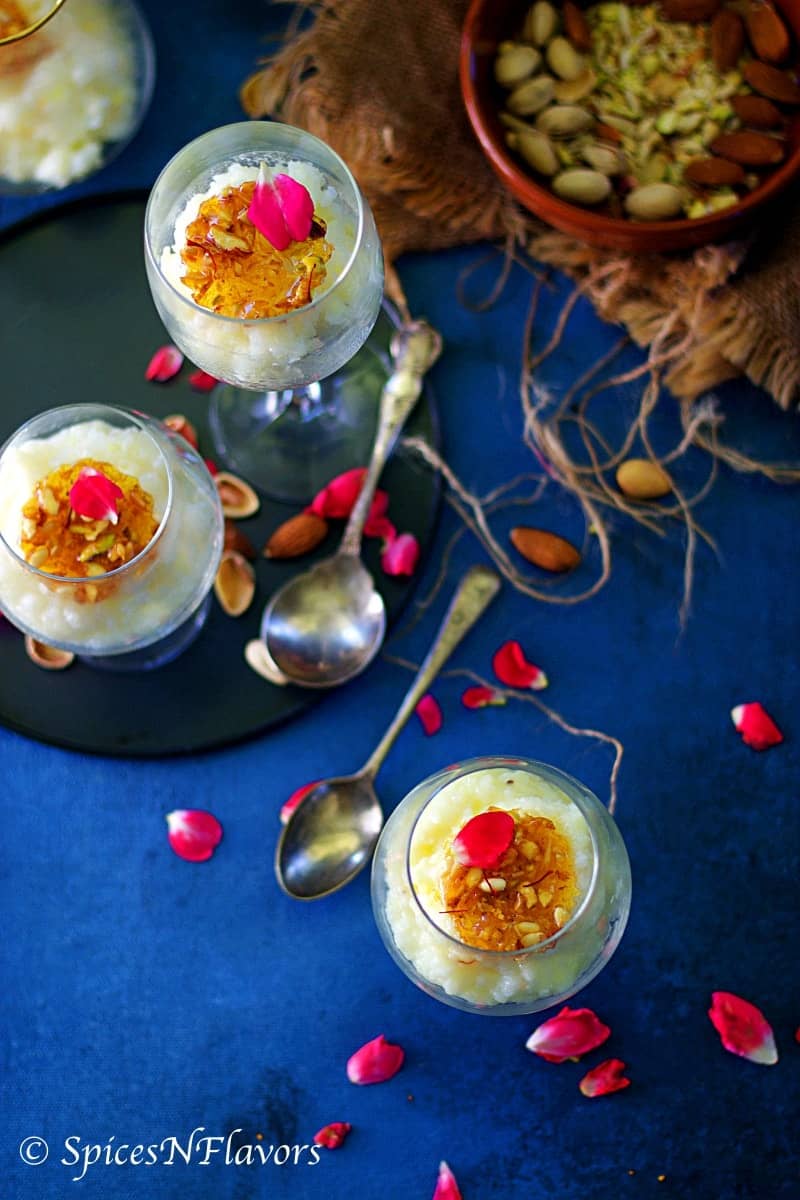 Last year I have shared with you all this Sakkarai or Sweet Pongal recipe which is made in every Tamilian's house during Pongal.
But this year I thought of sharing this Kalkandu Pongal recipe with you all. Kalkandu means Sugar Candy in Tamil; so basically this is a pongal recipe that is sweetened with Sugar Candy instead of Jaggery.
Also, I would like to share with you all that with this Kalkandu Pongal recipe I am also starting up with a brand new Tamil Youtube Channel - Vanga Samaikalam.
I hope that you would extend your love and support to that channel as well like the way you have been doing here. Thank you so much for all this.
Now coming back to today's recipe:
Kalkandu Pongal is a mildly sweetened mashed rice recipe. This is a creamy, rich and tasty rice recipe that is sweetened with sugar candies as I mentioned.
Since this is so smooth I thought of serving this with crunchy caramel disc so the combination of this smooth pongal and crunchy caramel is to die for.
Here is the detailed recipe:
Liked this recipe?
Let us know by giving it a star rating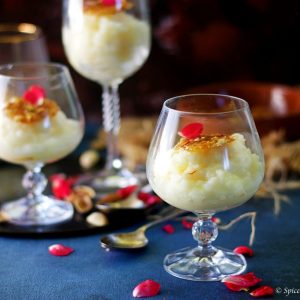 Print
Kalkandu Pongal with Caramel Disc
Kalkandu Pongal is a rich, creamy and smooth rice recipe that is sweetened with sugar candies and is garnished with caramel discs.
Ingredients
Kalkandu Pongal
1

cup

Rice

3

cups

Water

1

cup

Milk

(Refer Notes)

1 + 1/4

cups

Sugar Candies or Kalkandu

2

tbsp

Ghee

1/2

tsp

Cardamom Powder

pinch of saffron
For Caramel Disc
1/4

cups

Sugar

1

tbsp

Water

2

tbsp

Mixed Nuts, chopped

cookie cutters
Instructions
In a pressure cooker, add in the rice and water and pressure cook for 3-4 whistles until rice is mushy.

Let the pressure subside, open the lid mash it with the back of the ladle and put it back on flame.

Add the milk and mix well. If you find the consistency to be thick add some more milk and cook well. About 3-4 mins.

Switch of the gas and add kalkandu or sugar candies. Mix to melt the sugar and mix well.

Finally add in the ghee, cardamom and saffron. Mix well. Our Kalandu Pongal is ready.
Caramel Disc
Heat up sugar and water until it turns golden brown. Stir in the nuts and immediately transfer it onto a silicon sheet.

Spread it out wait for 40-50 sec and using a cookie cutter press it on caramel to create roundels.

Let is cool completely and you will be able to remove the disc easily,
To Assemble
In a glass add in 3-4 tbsp pongal, place a disc on top and garnish it with rose petals and saffron.
Did you make this recipe? Tag me today!
Tag me @spicesandflavors to get featured on my FB and Insta pages
If you like my today's recipe then do let me know by tagging me, tweeting me or instagram me. I would love to follow you and your posts.
The silicon sheet makes it so much easier to unmould the caramel disc. You must definitely check this product as this can be put to so many uses in decorating cakes as well as desserts.
Notes:
1. If you find that the consistency of Kalkandu Pongal is thick you can always adjust it with some additional milk around 1/4 to 1/2 cup.
2. I have used this Diamond shaped Sugar Candy today but if you find the other bigger variety then definitely use those.
3. Use the same measuring cup to measure all the ingredients. You can check mine in the video.
4. Making Caramel Disc is optional you can serve the Kalkandu Pongal with some roasted cashews and raisins too.
5. You cal also make this Kalkandu Pongal in a pot instead of Cooker.
6. Mushier the Rice, tastier the pongal would be.
Do check out my Sakkarai Pongal post too..
Wishing you all a very Happy Pongal, Sankranti and Lohri.
May you all get all the happiness and success this year.
Pin this for later.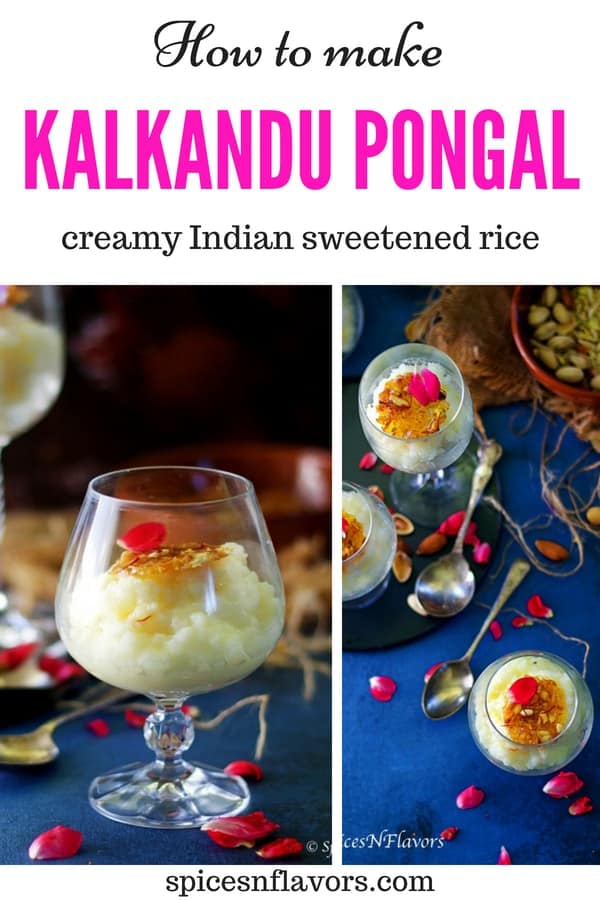 I will see you soon with yet another recipe
Until then
Hugs
Sushma