Raspberry Hot Chocolate - super rich, creamy, comforting, and satisfying and will warm you up on a cold winter evening.
Making hot chocolate from scratch is much much easier than you'd think. And once you do, you'll never buy those packets again!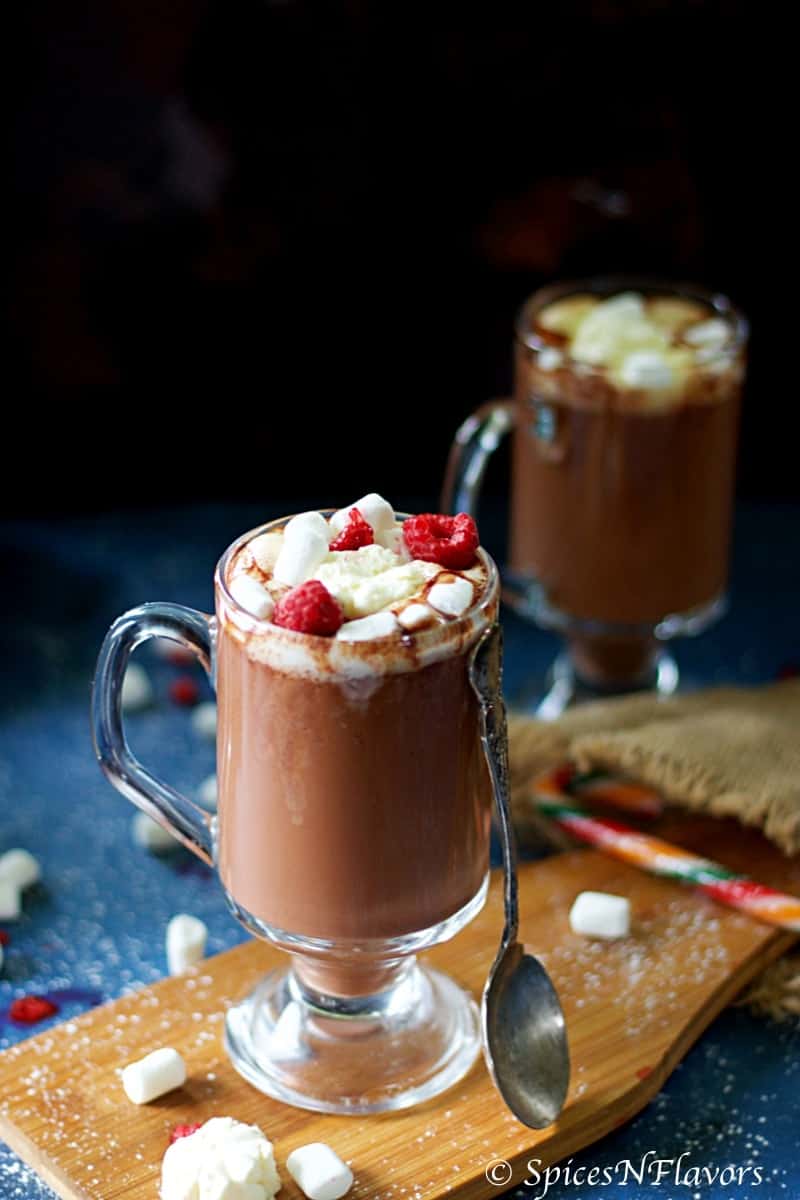 Raspberry Hot Chocolate is one of those recipe posts that I had never thought that I would ever share.. lol..
Actually, I had some raspberries left out from a cake order (Chocolate and Raspberry Gateaux) that I had made for my friend. And whenever I was opening the door of the fridge; it was there waiting for me.. waving at me.. asking me to pick me up..
Damn.. I know I had to use them quick. But wait if you know me I am one lazy brat and I, were in no mood to actually make a classic raspberry chocolate mousse or desserts..
Yes, I love making desserts but give me a break not always.. (shrugging shoulders... 😉 )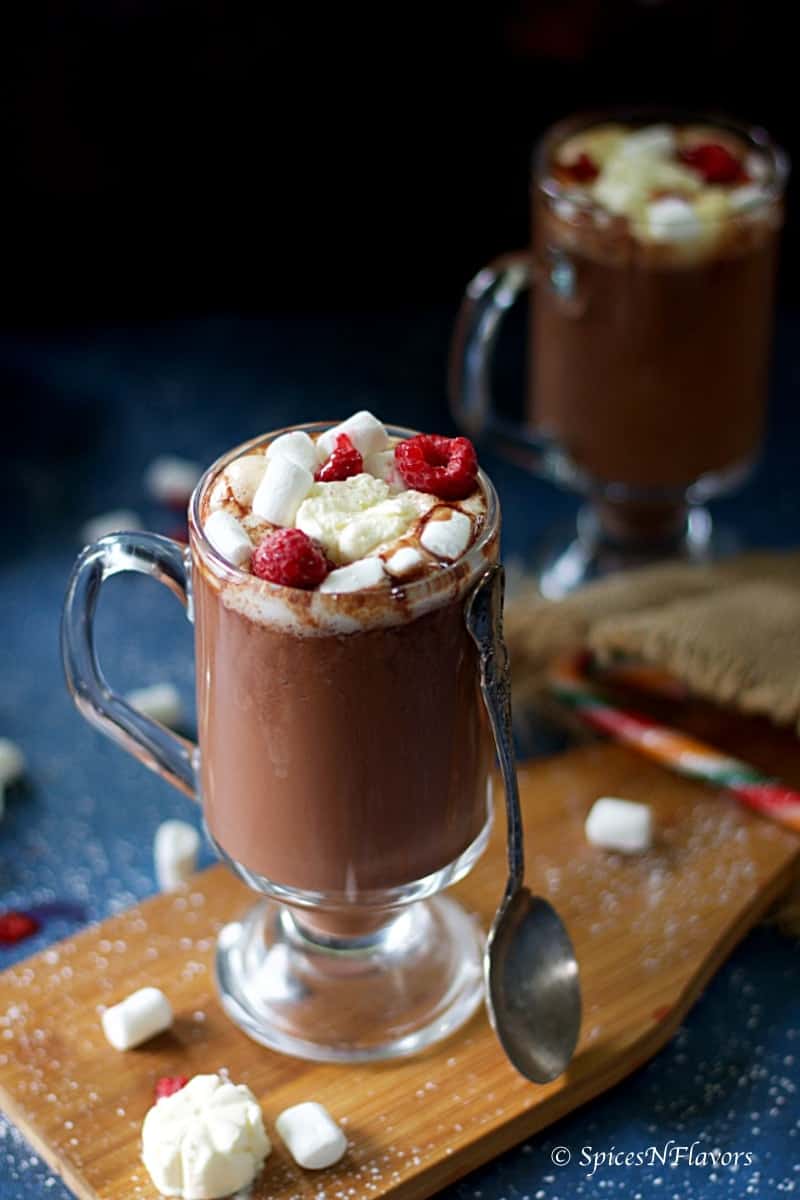 Oh, ya.. they were still lying in the fridge..
Until..
When all of a sudden in the midst of long, sunny summer day when the sun started playing hide and seek with the clouds..
The sky hid inside the blanket of dark clouds changing its colour from blue to orange to midnight blue...
As I look up; the first droplet hitting the ground, soon I knew I had to wipe off the mist on my window panes to admire the gushing droplets, the swaying tree-leaves, the thunderous thuds on the rooftops sounding as if a squeaking old radio has just come to life...
When the weather is so romantic; all I want to do is sit with a mugga besides my window and admire the beauty of nature..
Quickly rushed to make myself a hot chocolate and who doesn't love the classic combination of chocolates and raspberry. And finally, I ended up making this beauty, Raspberry Hot Chocolate..
How do you spend a cold rainy day?? Comment below and let me know.. 😀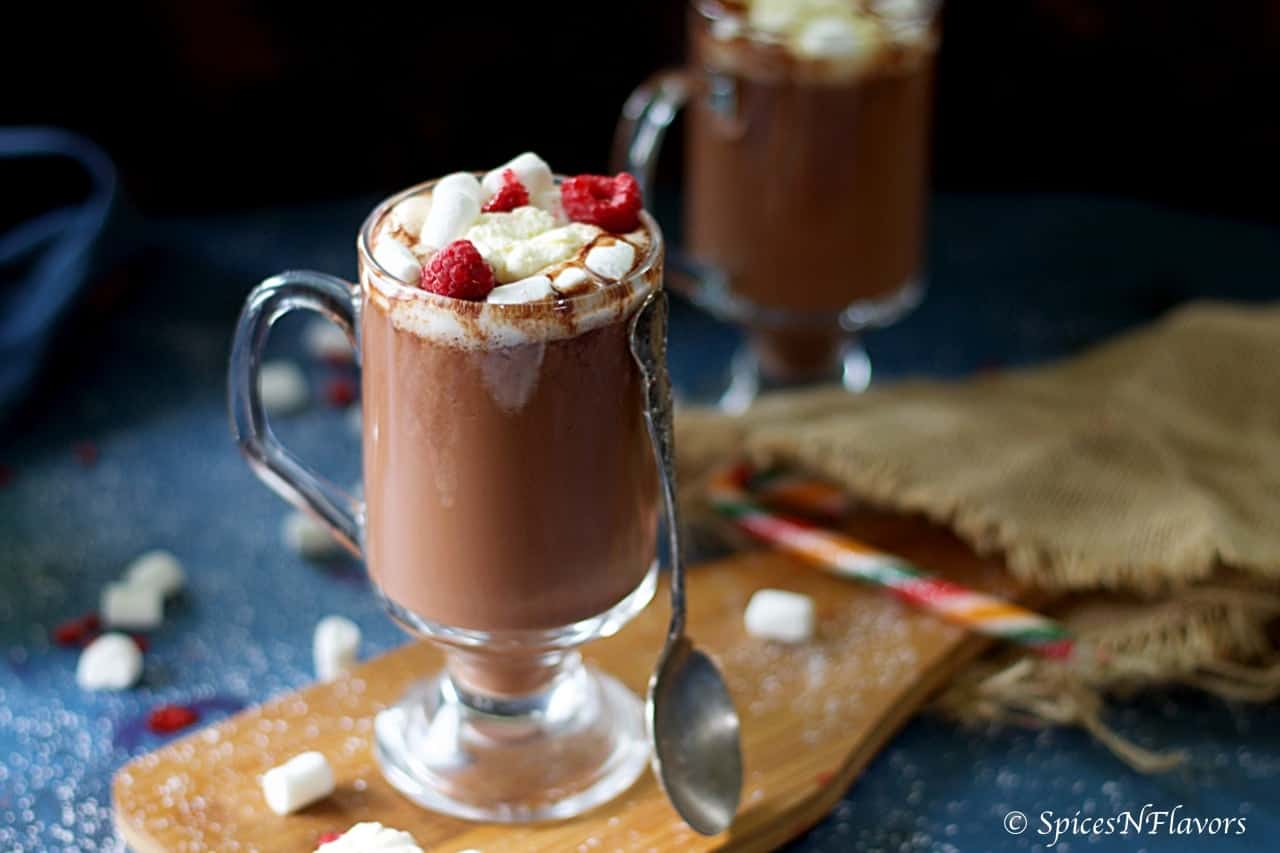 Will you believe if I say the first time I tasted a hot chocolate was Starbucks hot chocolate after I moved to NZ. I know right!!
But ever since my encounter with this best hot chocolate drink happened; there was no looking back.
If you had to name your top five hot chocolate flavors what would that be. Let me tell you mine here and you can tell me yours in the comment below.. 😀
1. Mexican hot chocolate
2. Peppermint hot chocolate
3. salted caramel hot chocolate
4. Yes Raspberry hot chocolate too and ofcourse
5. Classic Hot Chocolate
Oh, by the way, talking about flavours, this Raspberry Hot Chocolate tasted divine..
The subtle tartness from the raspberries, the couverture chocolate, the cocoa powder further enhancing the chocolaty flavor.
The addition of cream made this drink aka Raspberry Hot Chocolate one thick and creamy drink.
Something that I would love to indulge once a while.
Yes this would make your New Year Resolution go down the lane but wait I have this amazing Healthier Eggless Dates and Walnut Loaf Cake just for you.
Here is the detailed recipe for this absolutely delicious Raspberry Hot Chocolate
Lets see how to make hot chocolate at home:
Liked this recipe?
Let us know by giving it a star rating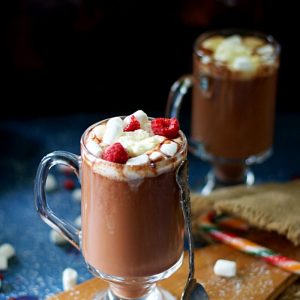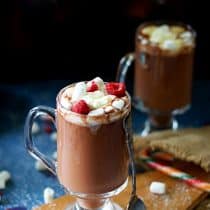 Print
Raspberry Hot Chocolate | Homemade Hot Chocolate
Raspberry Hot Chocolate is little twist to the classic evergreen hot chocolate drink that is perfect for this cold weather.
Ingredients
Raspberry Puree
1.5

cups

Raspberries

Fresh or Frozen

1/3

cup

Sugar

2

tbsp

Water

(Refer Notes)
Raspberry Hot Chocolate
1

cup

Milk

3/4

cup

Cream

2

tbsp

Sugar

(optional)

50

gms

Dark Chocolate

(Refer Notes)

2

tbsp

Cocoa Powder

Raspberry Puree
Instructions
Start by preparing the raspberry puree. Take the raspberries, sugar and water in a saucepan. Cook until the sugar dissolves and the raspberries are broken down and everything well combined say about 4 mins.

Pass it through the sieve to collect the raspberry puree and discard the seeds. Keep aside

Rinse the saucepan and add milk, cream and sugar if using. Heat it up until it forms bubbles on the sides.

Once it starts bubbling, add in the chocolate and cocoa powder. Stir to dissolve.

And right when it starts to boil add in the raspberry puree and get it to a rolling boil.

Switch off the gas and serve immediately.
Did you make this recipe? Tag me today!
Tag me @spicesandflavors to get featured on my FB and Insta pages
If you like this recipe then do let me know by tagging me, tweeting me or instagram me I would love to follow you and your posts.
Notes:
1. Since I used frozen raspberries, 2 tbsp water was enough to make the raspberry puree but if you are using fresh raspberries use 1/4 cup water.
2. Make sure that you use good quality chocolate like this, this or even a regular bournville with at least 70% cocoa as that is what will give a richer taste.
3. Also, a good quality cocoa powder is essential. Check out the best cocoa powder for hot chocolate on amazon (affiliate).
4. The more you boil the hot chocolate the thicker it will be.
5. If you do not have cream you can make this by using just plain milk. However cream makes this Raspberry Hot Chocolate creamier and thicker.
6. Some other drinks recipe that might interest you: Refreshments
And definitely let me know which hot chocolate flavours you would like to try. Did you know there is also banana hot chocolate flavour. I know peanut butter would taste good but bananas? Seriously?
Now that you are actually thinking about flavours let me also know do you like hot chocolate and marshmallows
or hot chocolate with whipped cream or do you like ice cream in hot chocolate
I like my hot chocolate with whipped cream and marshmallows.
If you are someone who loves hot chocolate drink then definitely try different kinds of hot chocolate this season and stay warm and comforting.
Speaking of staying warm and comforting have you checked out this amazing soup collection from the blog that can all be made in one pot. 😀
Pin this for later: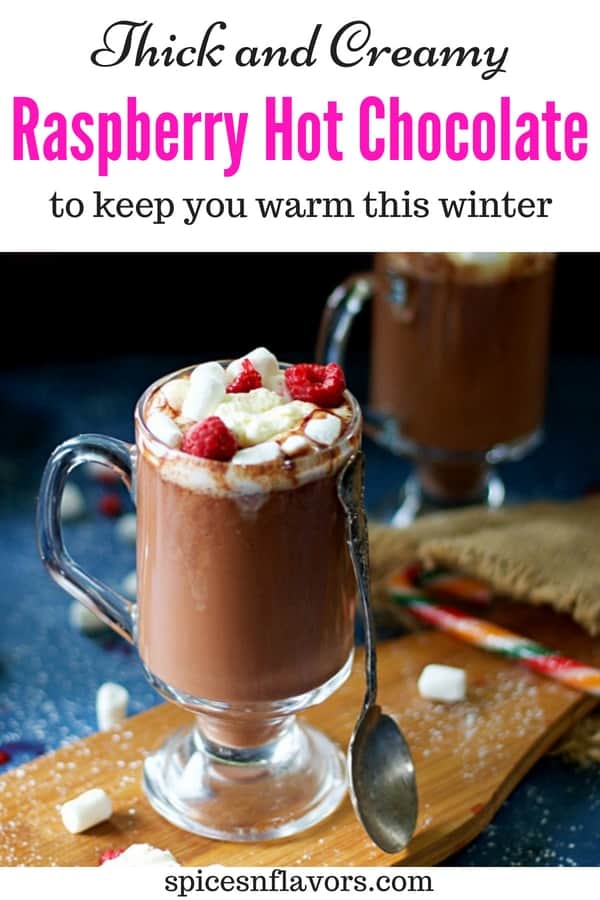 I will see you soon with yet another recipe
Until then
Hugs
Sushma