Malai Sandwich with Kesar Mousse, Cardamom Crumble and Passionfruit Coulis is my twist to the classic evergreen and world famous recipe - RasMalai.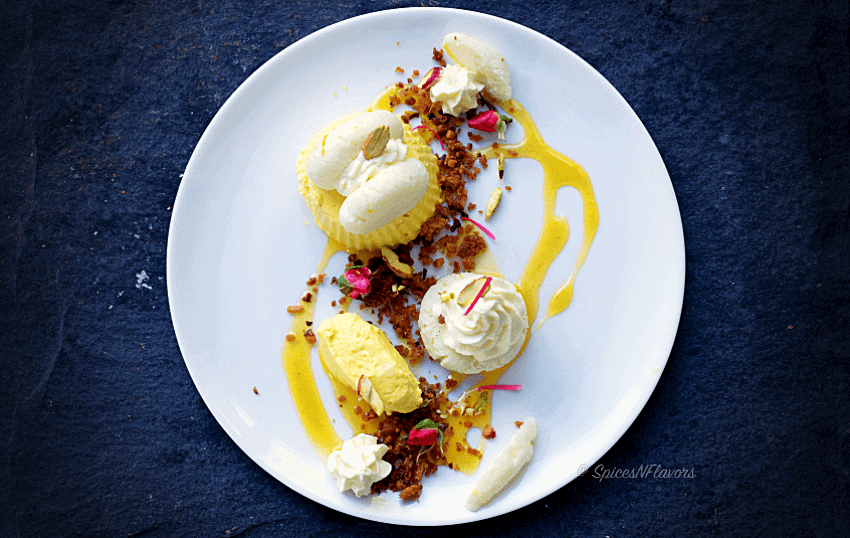 These Malai Sandwich with Kesar Mousse, Cardamom Crumble and Passionfruit Coulis is inspired by the classic Indian Dessert Rasmalai wherein I have tried to incorporate all the flavours of RasMalai in different forms.
As in they do have the Cottage Chesse Patties but instead of soaking them in Milk which is flavoured with Kesar (saffron) and Cardamom I have made a mousse out of Kesar and Cardamom Crumble and to cut the sweetness from all of these I have used Chantilly Cream and Passion fruit Coulis.
Sounds complicated?? Don't worry it is not too complicated.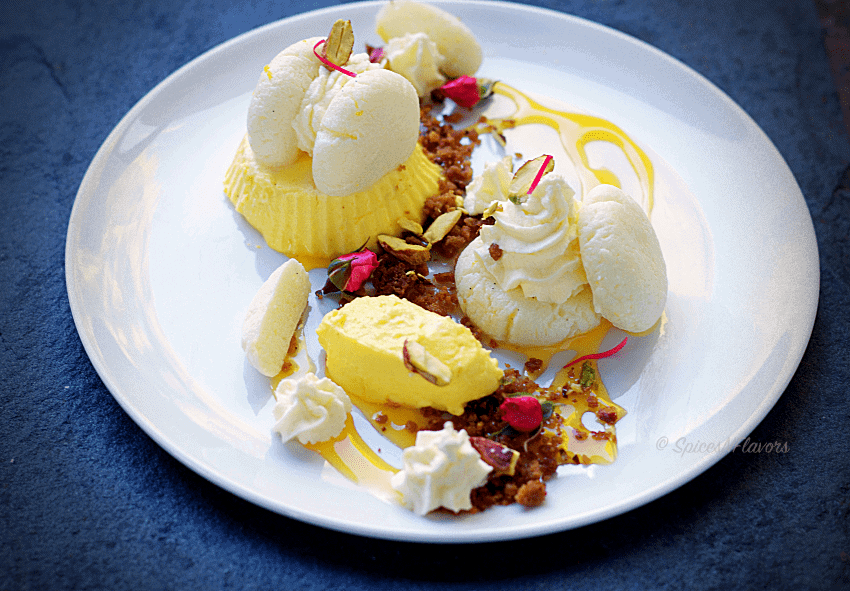 If you have lived in Mumbai, India or even visted Mumbai you might be knowing that its a cosmopolitan city. You find people from different states of India living in harmony.
When so many culture live in one place, there has to be certain influence of food coming from different sectors. One such dessert is Rasmalai or a Rasgulla which is originally from Calcutta
And my childhood memories is filled with me happily gorging on these Cottage Cheese beauties aka Rasmalai. I just love the moist cottage cheese balls dunked in the sweetened milk.
And my inspiration for this dish is clearly from my fond memories of Rasmalai.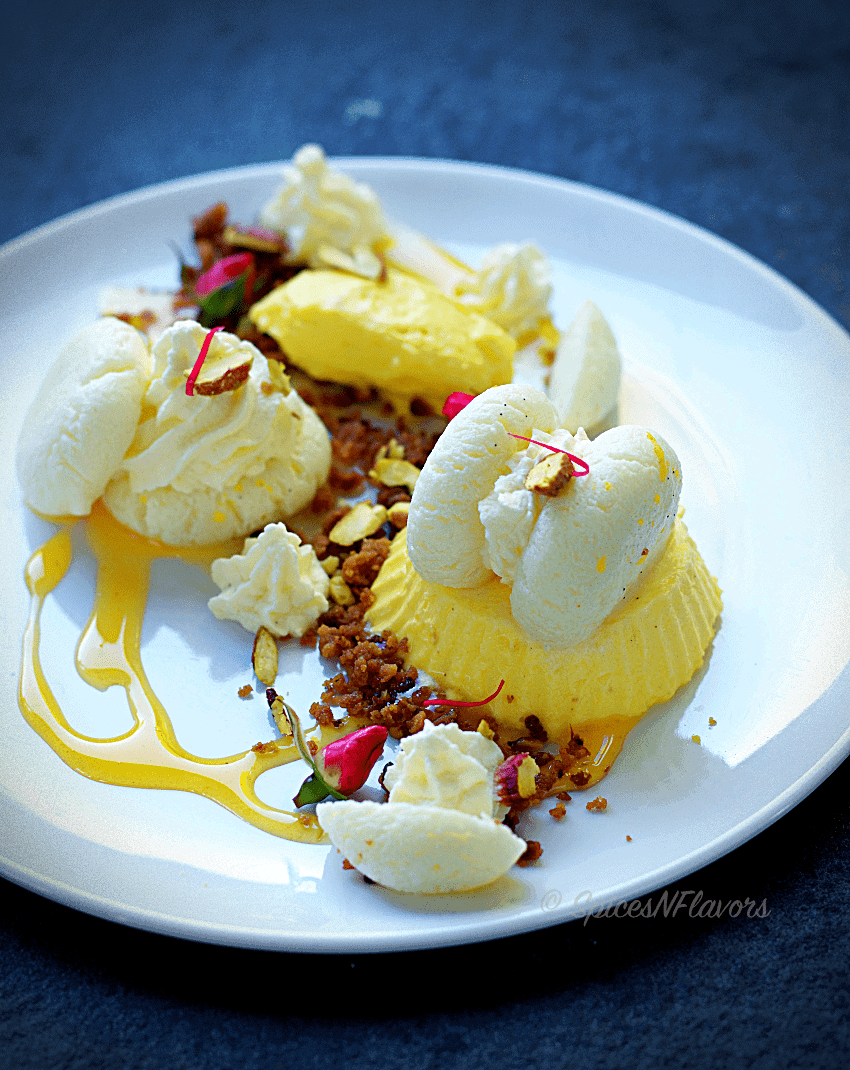 Few month back I had made this amazing Thandai Cheesecake with Plum Compote and today this Fusion Malai Sandwich. Why am I trying all these fusion or different dessert recipes like this and this?
hmm.. Its my dream to become a pastry chef and open my own line of desserts shop one day.. Yes its a far fetched dream but this dream is what keeps me motivated to try these new recipes.
And this blog is the space where I can share all these. Do you like my dessert recipes? Do you think those are good enough that someday I can open up my own dessert line? Comment below and let me know please.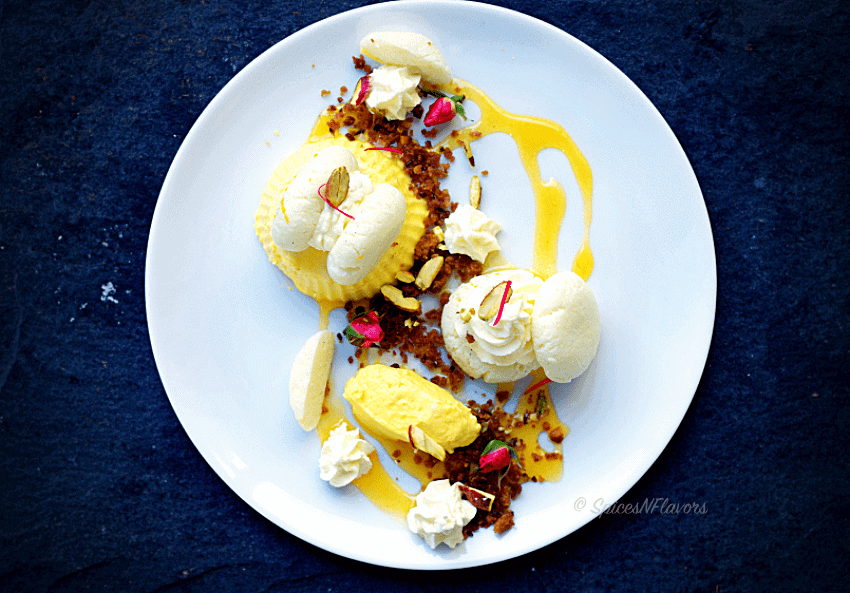 Let me quickly run through the flavours of this amazing Malai Sandwich recipe.
So the cottage balls or patties are super moist, oh so juicy and the subtle flavouring from orange zest and vanilla adds a new dimension.
Chantilly Cream is basically whipped cream that is flavoured with vanilla bean seeds. This slightly sweetened cream sandwiched between the cottage cheese patties makes it even more moist.
To compliment the malai sandwich I have made a Kesar (Saffron) Mousse. You can definitely taste Saffron in every bite and this is the part that is most sweetened of all.
For the crunch comes the Cardamom Crumble which is basically flour and butter rubbed in together flavoured with some pistachio and cardamom which is then baked. You can even choose to dry roast the flour.
To balance the entire dish comes in the Passion Fruit Coulis or Passion Fruit Sauce. Trust me it is the base of the dish and I just love the tart flavour of this amazing sauce. This compliments the entire dish and cuts the sweetness of the mousse.
In all this Malai Sandwich is one amazing combination of sweet and tart with textures coming from the cottage cheese patties and the cardamom crumble. The garnishing with rose buds and pistachios makes this dish super pretty. Do you agree?
So in all there are 5 components in this dish:
1. Cottage Cheese (Malai) Patties
2. Chantilly Cream
3. Kesar Mousse
4. Cardamom Crumble and
5. Passion Fruit Coulis
Seems a lot but it is not that difficult to put them together.
As always if you like this recipe or you think I can open my own line of desserts some day then please do tag me, tweet me or instagram me. I would love to follow you and your recipes.
Liked this recipe?
Let us know by giving it a star rating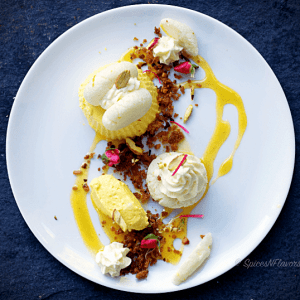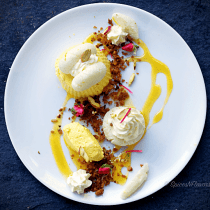 Print
Malai Sandwich with Kesar Mousse and Cardamom Crumble
Malai Sandwich with Kesar Mousse, Cardamom Crumble and Passionfruit Coulis is my twist to the classic Indian dessert RasMalai. Lots of flavours complimenting together to make this pretty plated dessert.
Ingredients
For the Cottage Cheese (Malai) Patties
1

litre

2% Milk

Juice of 1 lemon

2

cups

Water

1/2

cup

Sugar

zest of 1 Orange

1

tsp

Vanilla extract
For the Chantilly Cream
100

ml

Whipping Cream

2

tbsp

Icing Sugar

1

tsp

Vanilla bean paste with seeds
For the Kesar (Saffron) Mousse
50

ml

Warm Milk

50

gms

Curd

(Room temperature)

150

gms

White Chocolate

250

ml

Whipping Cream

1/4

cup

Icing Sugar

1

tsp

Saffron Strands
For the Cardamom Crumble
1/3

cup

Plain Flour

3

tbsp

Brown sugar

6

nos

Cardamom pods

1/4

cup

Pistachios

30

gms

Conditioned Butter
For the Passion Fruit Coulis
4

nos

Passion Fruit

1/2

cup

Sugar

2

nos

Star Anise
Instructions
Cottage Cheese (Malai) Patties
Bring a litre of milk to rolling boil. Once boiled switch off the gas. Add few drops of lemon juice. Stir. Add some more lemon juice. Stir. Keep on adding lemon juice and stirring until the milk splits completely to form paneer and whey.

Strain the water by passing it through the cheesecloth so that you collect the paneer in the cheesecloth. Do not throw the water(whey) away.

Tie the cheesecloth at the ends and pass it under running tap water to remove the acidity aka the lemon juice smell. Once washed squeeze a bit to remove the excess water, sandwich the cloth between two plates and put some weight on top of it. Let it be like that for 8-10 mins.

Take the paneer out of the cloth and start kneading until it comes together as a dough and your hands starts feeling greasy. About 5 minutes.

Meanwhile in a pot add the water, sugar, orange zest and vanilla and bring it to a boil.

Once the dough is formed divide it into 12 equal balls and press lightly to give it a patties shape.

Once the water is boiled and the sugar is dissolved completely, add half of the patties to it. Cover with a lid and cook for 10 minutes. You will see that the balls have doubled in size. Remove from the pan along with some of the water and transfer to a bowl. Cook the remaining half of the patties in the same way.

Keep these patties in the fridge until required.
For the Chantilly Cream.
Whip the cream, sugar and vanilla bean seeds until soft peaks form.

Put the cream into a piping bag with star nozzle and keep it in the fridge.
For the Kesar (Saffron) Mousse
Whip the curd until smooth and lump free. Keep aside.

Melt the chocolate and keep aside.

Crush the saffron strands a bit in a mortal pestle and add this to the warm milk. Once the milk is at room temperature again add it to the curd and mix until lump free.

Add two tbsp of melted chocolate (should not be hot) to the saffron mixture to temper it. Now add this to the remaining chocolate and mix until well combined.

Whip the cream along with icing sugar until soft peaks; add half the chocolate saffron mixture and mix until combined. Add the remaining mixture to the cream and combine everything well.

Pour this to silicone mould cups and fill it half way. Cover with cling wrap so that it touches the mousse and freeze overnight.
For the Cardamom Crumble
Remove the seeds from the cardamom and crush it to a fine powder with a pinch of sugar.

Take the flour, sugar, pistachios and freshly ground cardamom in a bowl. Combine everything. Rub in the butter until there are some large and small chunks of flour mixture.

Bake this in a pre-heated oven at 180°C for 9-12 minutes until golden brown in colour.

Let it cool completely before using.
For the Passion fruit Coulis
Remove the seeds and juice from the Passion fruits and take in a saucepan. Add sugar and star anise.

Bring this pot to a boil stirring to dissolve the sugar and then reduce the flame and let it simmer for 2-3 minutes.

Strain the mixture using a sieve and let it thicken naturally.
To Assemble
Take a plate. Add the coulis to a sauce bottle and using bottle make a random oval shape with the sauce.

De-mould the mousse from the silicone moulds. Place it to the left top corner as shown in the image. And using a spoon scoop some to the bottom side of the plate. (Refer image)

Cut the base of two cottage cheese patties. Fill it with some cream. Place them on top of the mousse. (Refer image).

Place another cottage cheese patties on bottom side. (Refer image) Make a rosette on top.

Sprinkle the cardamom crumble in between and garnish with rose buds and pistachios.

Impress your family with your gourmet style dessert plate.:)
Did you make this recipe? Tag me today!
Tag me @spicesandflavors to get featured on my FB and Insta pages
Recipe Notes:
1. Use 2% Milk to make Paneer. Full fat will make it soft and they might break while cooking.
2. If you think you are confused with the written format of making Paneer that is Cottage Cheese Patties refer Youtube videos on how to make Paneer.
3. The patties need space to swell up and cook so don't crowd the pan by adding everything together.
4. The left out whey is super nutritious full of protein so do not throw away use them to make roti dough or in soups.
5. For making the mousse, do not add warm milk to the curd, it might split. Likewise do not add hot melted chocolate directly to the curd mixture it might form lumps.
6. For the Cardamom Crumble you can directly add 1/2 tsp store bought Cardamom powder but I feel freshly ground makes it even more aromatic and flavourful.
7. Conditioned butter here means softened butter that is when you touch the butter with your fingers you should be able to slide in easily.
8. Any other fruits like Mango, Pineapple, Strawberries etc can be used in place of Passion Fruit.
Tip:
If you are likely to try this recipe then I would suggest you to divide the work in two days. As in make the cottage cheese patties and store in the refrigerator. As such you will have to make the mousse as it needs to time to set. So make these two things the day before serving.
The next day start by making the crumble. While that is baking you can work on the sauce and chantilly cream.
Would you like to pin this?

Hope you enjoyed my plating.
See you soon
Until then
Hugs
Sushma