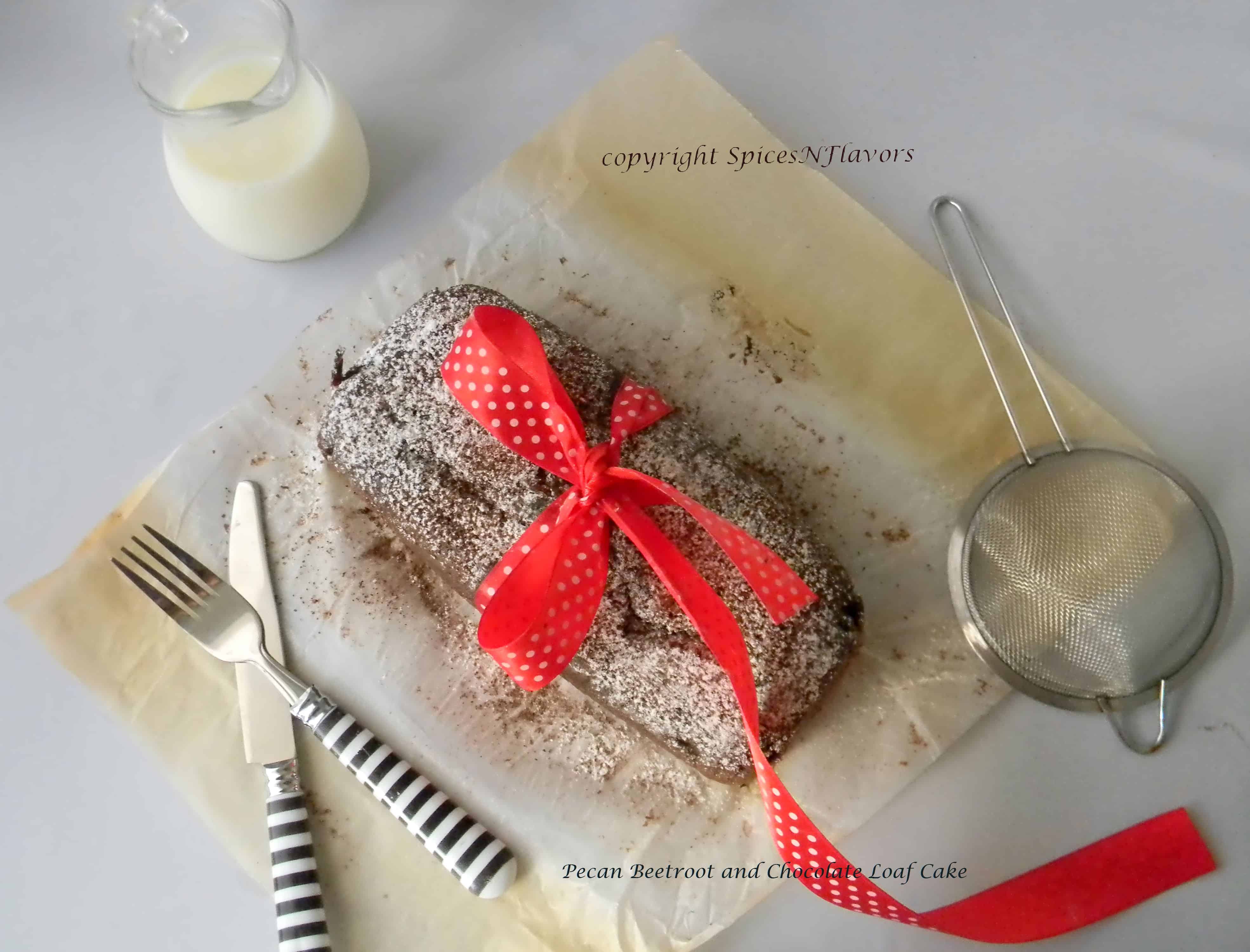 Aaawwww.. How I miss baking!!! Sigh!!! I knew that there is no oven at my home in India. So I decided to bake a cake before I leave. So baked this the previous day of my departure. Everyone asked me not to stress beore travelling but only a baker will know how much joy or inner peace it brings in. And adding a vegetable in desserts is what I really love. Well, if you consider adding vegetable to your desserts healthy then I will call this Healthy Pecan Beetroot and Chocolate Loaf Cake.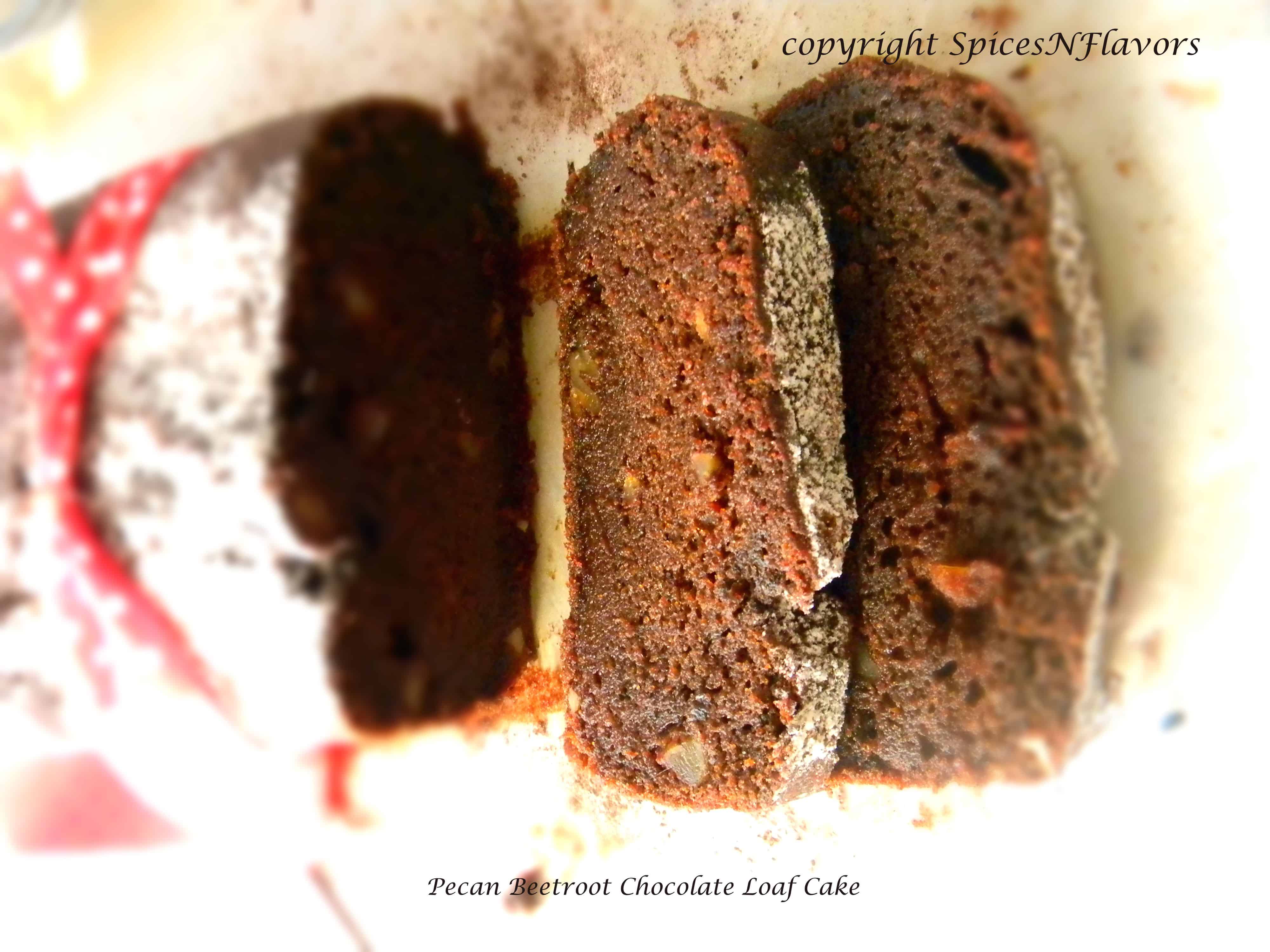 When you come out of your comfortable zone that is when you actually gather the strength to make all the things work. When I came to Chennai, India to visit my in-laws the first thing that struck me was that there was no Wi-fi or internet connection. To add to that my mobile is not accepting any local sim card.
And if there is one thing that I am addicted to these days, then it has to be Whats-app. God what will I do without internet and mobile. 🙁 Tried so many things but finally now I am at a cyber-cafe to update today's post.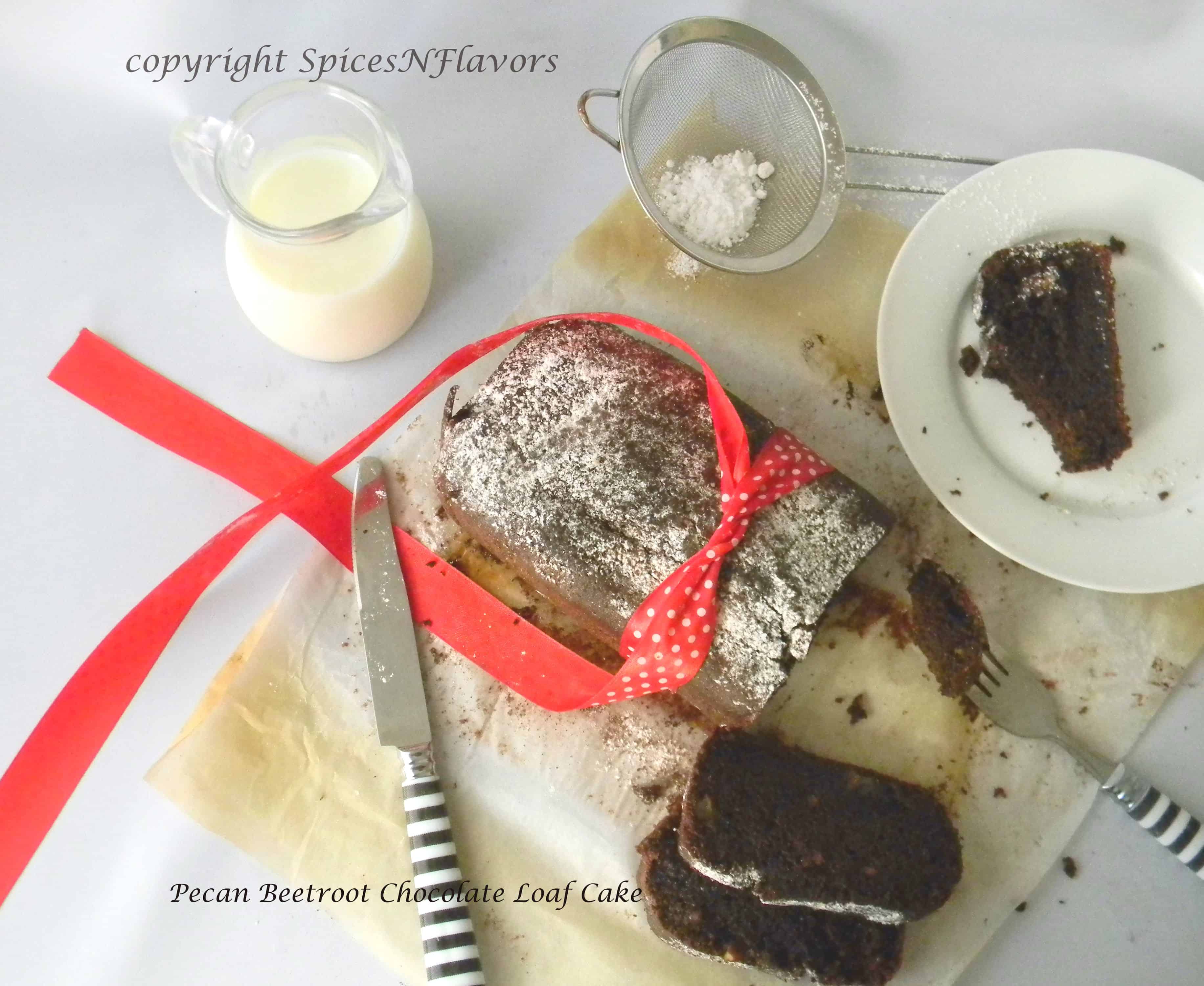 But the good side of my visit is that I got to enjoy mangoes. Yummy!!! How I missed fresh mangoes back there in New Zealand. Psstt Psstt I am also enjoying this little gap from my kitchen.. Didn't cook from the day I arrived here in Chennai. Of course I miss cooking for my blog but enjoying the little gap from my regular meal.
By the way, if you love Mangoes like I do then do check my Easy Mango Ice-cream in Chocolate Cups and also Roasted Cauliflower in Mango Curry.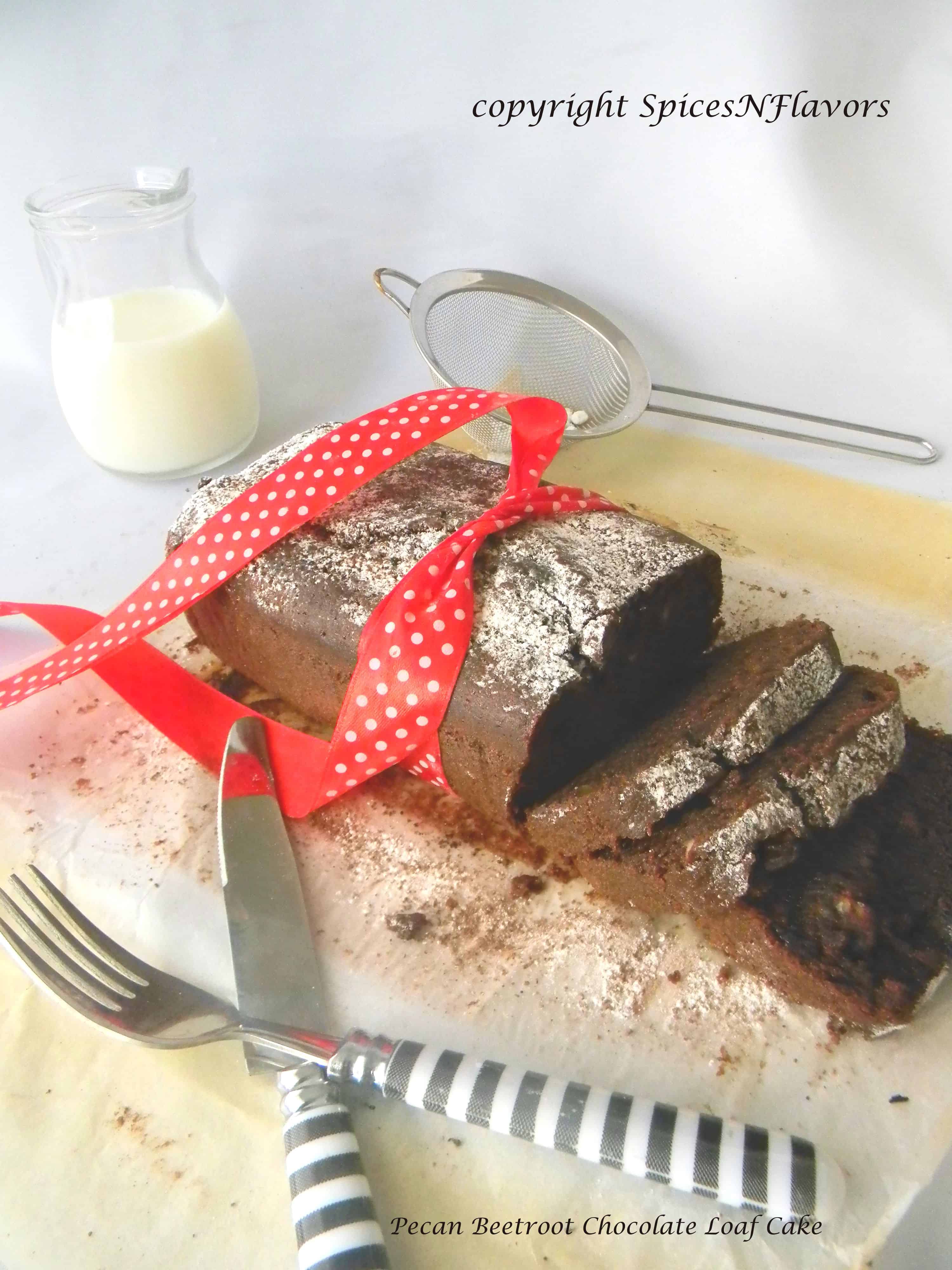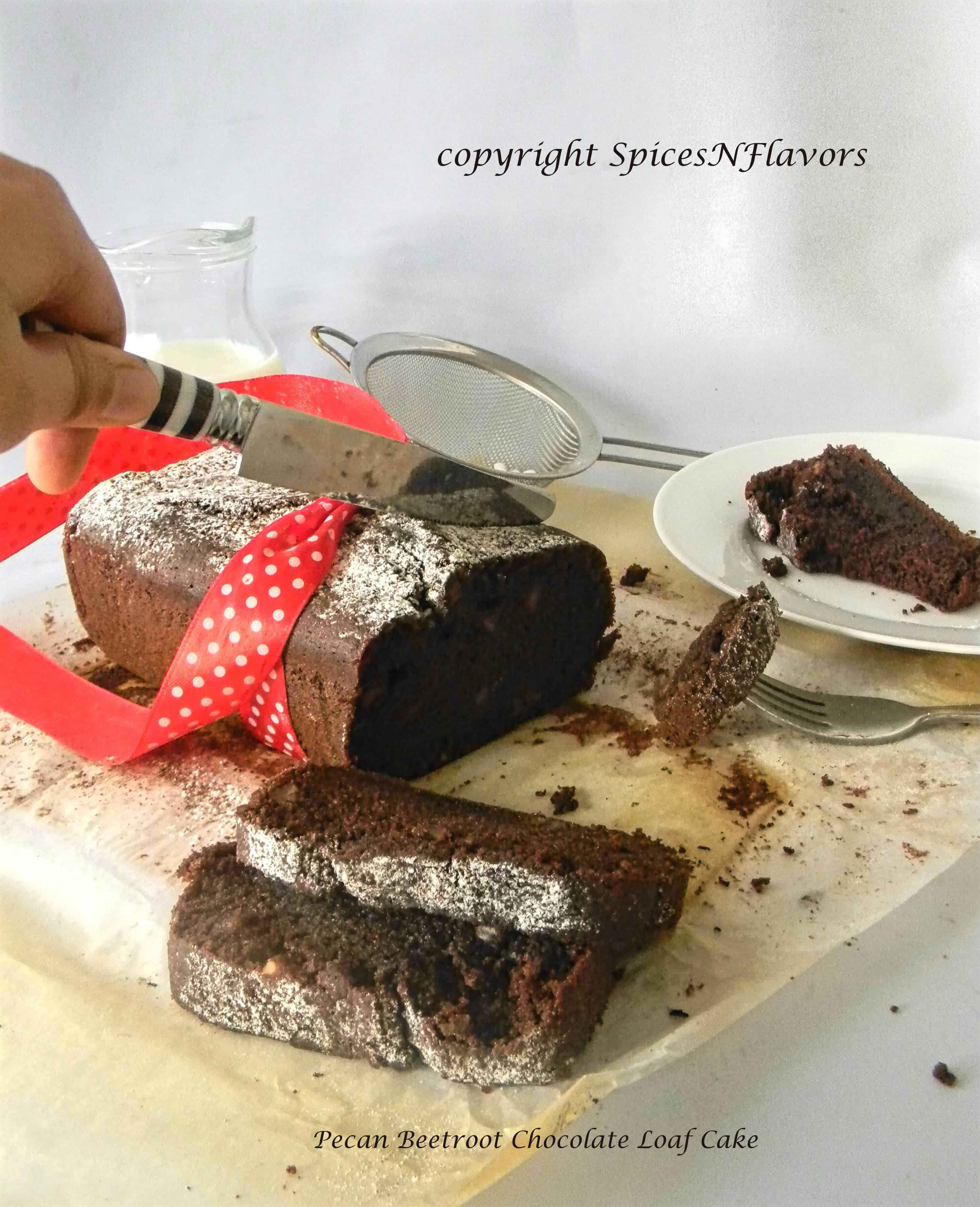 So again a tea cake. I kind of really love tea cakes. They are soft and moist. And the best part is not too sweet and heavy, that means we can have an extra piece 😉 Yes this cake is soft, moist and naturally sweet. Beetroot enhances the sweetness of the cake.
The crunch from the pecans and the sweetness from the beetroot and with basic ingredients this cake is a must try.
Do check my other tea time recipes:
Here is what you will need to make this loaf cake.
Prep Time: 20 mins
Baking Time: 35-45 mins
Ingredients:
Dry Ingredients:
 3/4 cup All Purpose Flour/Maida
1/4 cup cocoa powder
2 tsp baking powder
1/2 cup pecans, roughly chopped
Wet Ingredients:
2 medium size beetroots, cooked and pureed to 1 cup
1 cup sugar
3 eggs
1/2 cup castor oil
1 tsp vanilla extract
Icing sugar for dusting.
Method:
Grease and line the cake mold with parchment paper and keep aside. You can use a 23cm cake mold or 20cm square tin or a loaf tin
Sift together all the dry ingredients (except pecans) at least twice and keep aside.
Cook the beetroots and puree it to get 1 cup and keep aside. Pre-heat your oven to 180 degree Celsius.
In a mixing bowl, add the 1cup beetroot puree and sugar. Add in the eggs one at a time. Beat well after each addition. And in the vanilla extract and oil, beat well.
Mix the sifted dry ingredients reserving two tbsp of it with the wet ingredients in the mixing bowl.
Mix well and beat until combined.
Add the roughly chopped pecans to the reserved 2 tbsp flour, mix well and combine with the rest of the ingredients in the mixing bowl. Give a final mix, pour the batter to the baking dish and bake for 35-45 mins at 180 degree Celsius.
Dust with icing sugar and enjoy your evening tea with these Pecan Beetroot and Chocolate Cake.
Notes:
Skip pecans if you do not have any. You can also add other dry fruits of your choice.
Check after 35 mins of baking time. Then check after every 3 mins.Rotate the tin for even baking after first 30 mins of baking time.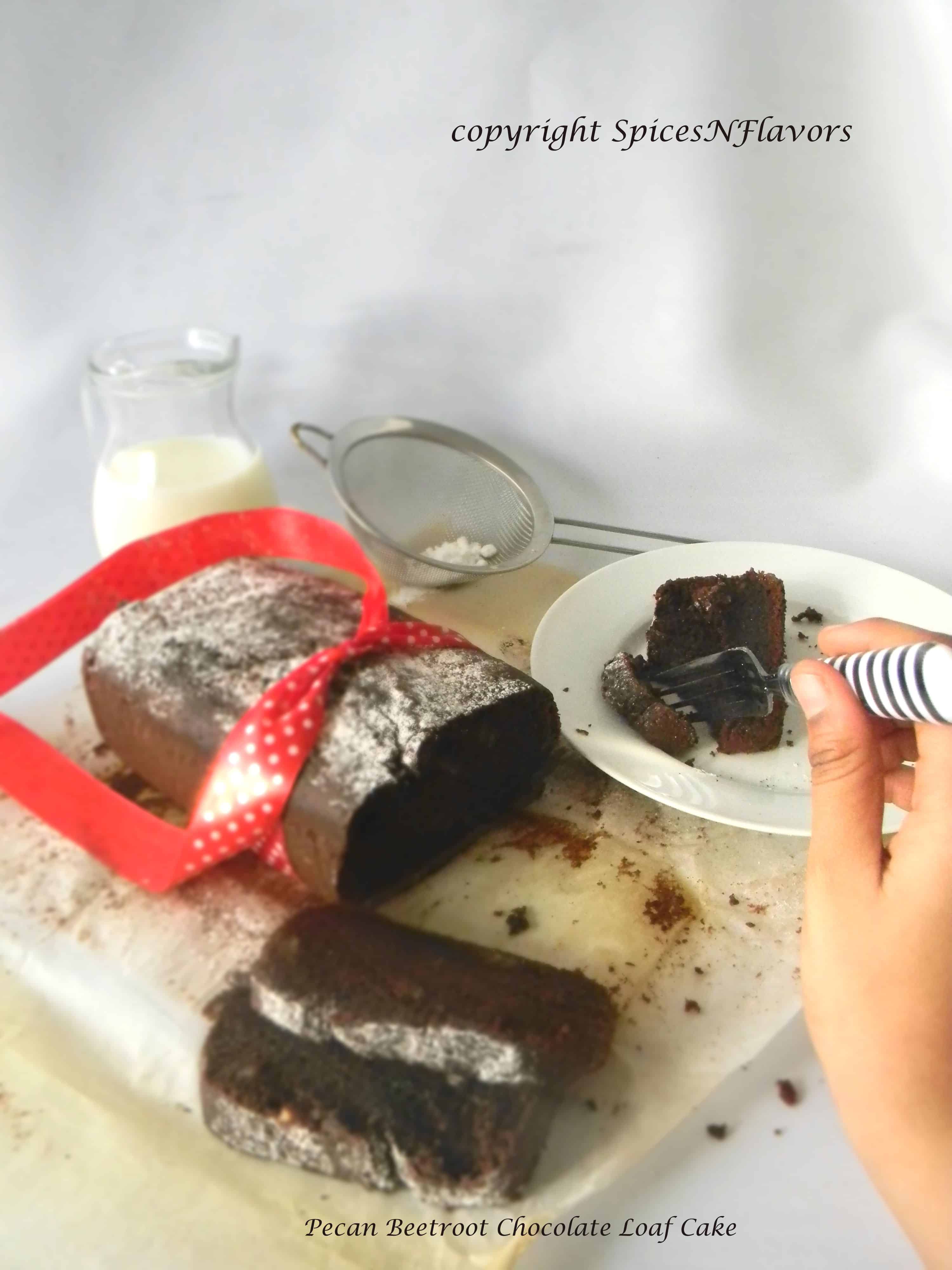 I am taking this to this week's blog party at Fiesta Friday. Catch you there.. 🙂
Happy Baking
Sushma!!!