Ribbon Nada is a traditional South Indian snack that has been made in my family through generations.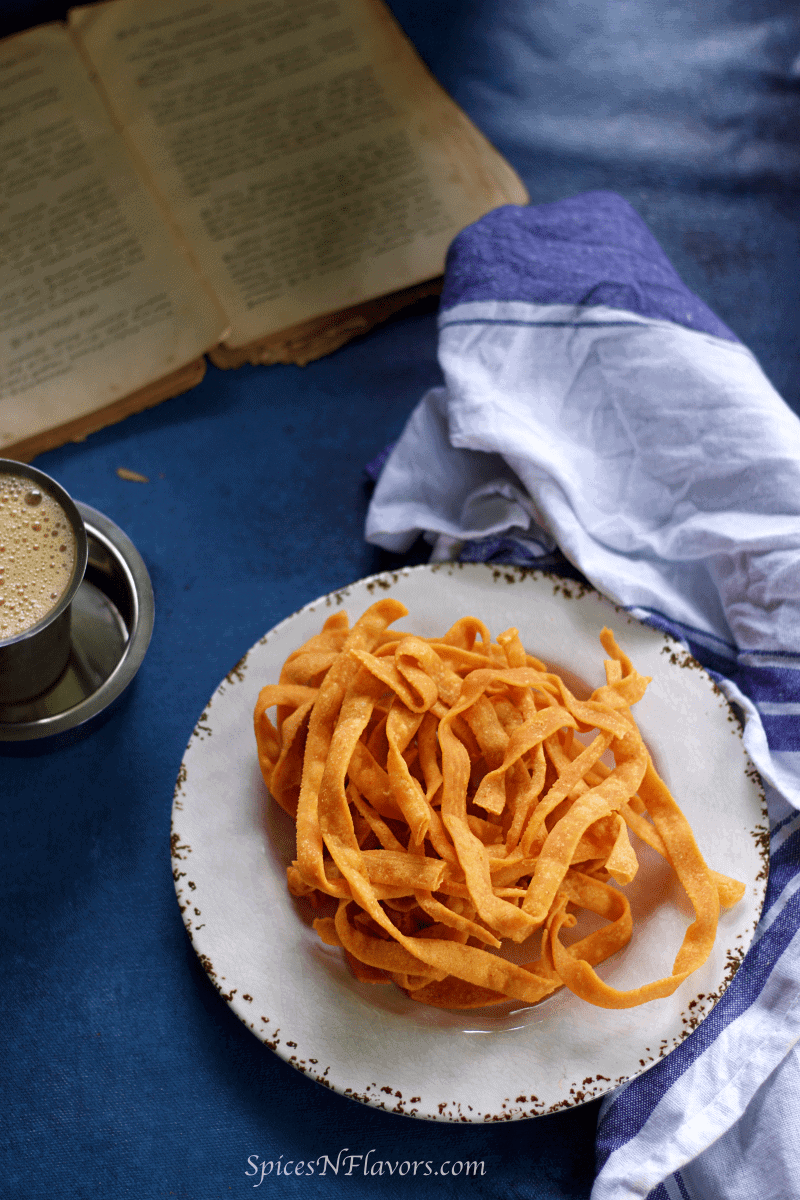 Ribbon Nada is a crunchy, spicy and crisp snack that is made from chickpea flour.
I have got so many childhood fond memories of Ribbon Nada and many other South Indian delicacy like Murukku, Mixture, Seedai. Gosh!! I can just go on and on. I am already salivating here.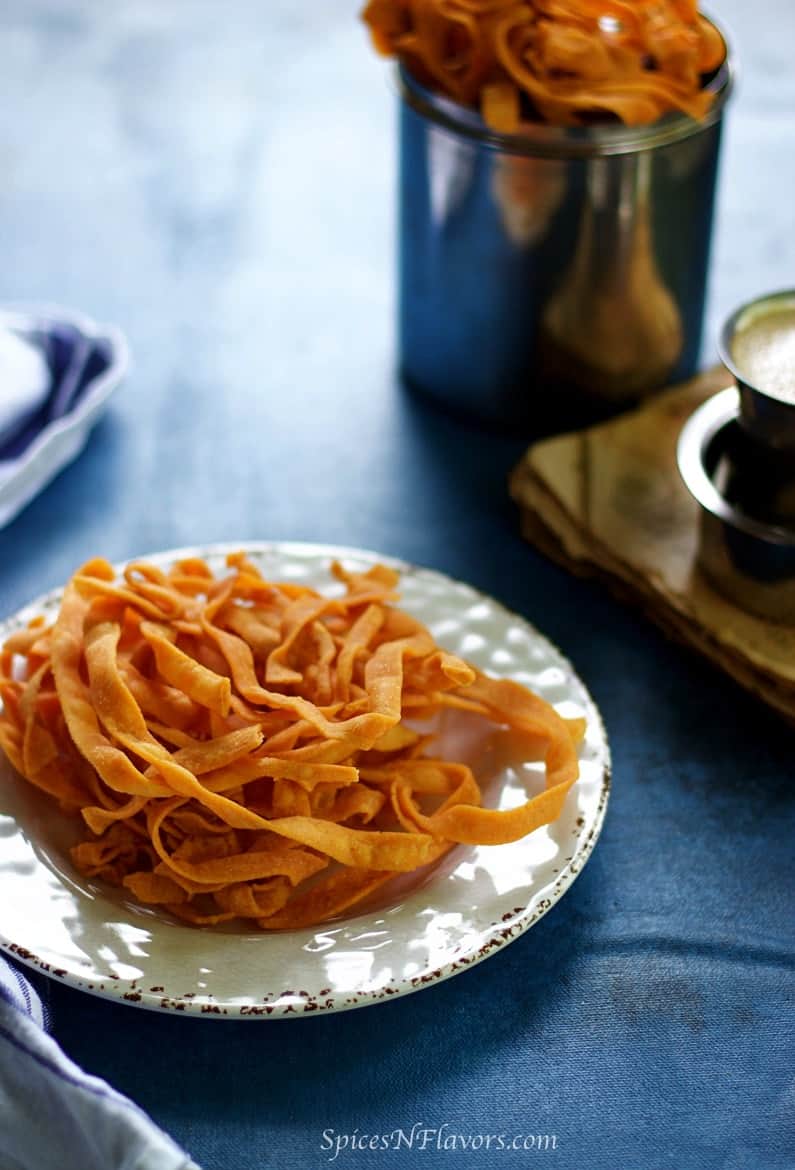 What is so special about this recipe?
Hmmm.. I learnt this recipe directly from my Mom. Yeaaaa.. Infact you can even see her making it in the video. Just like my Arisi Thengai Payasam even this is an authentic recipe that I have learnt directly from her.
Feels so good to learn some traditional recipes from your Mom. I see that these days we often buy goodies directly from shops and somehow avoid making those at home. But ever since I have started enjoying cooking I have made it a point to learn such dying recipes from her so that I can pass it on to my daughter too.
Do you know of any such recipe that has been a tradition in your house but these days you often tend to buy it from shops? Then please try to learn it and share it with me; I would love to know.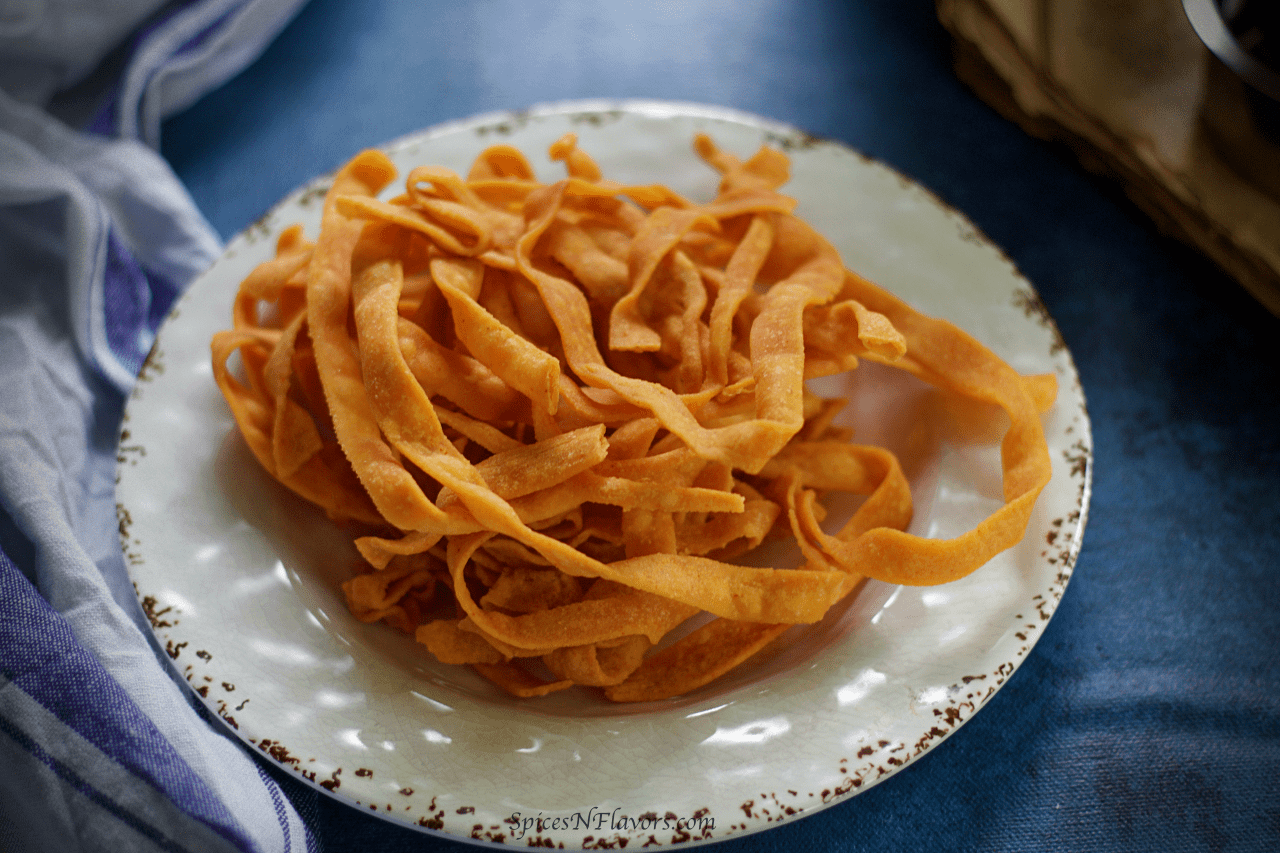 You might be missing my Thursday posts, right!!
Well yes, I have decided to make some changes on the blog.
This Thursday I am starting with my Youtube Channel; and so I have decided to post on Thursdays and Saturdays. So that will be two new recipes each week like always just that instead of Tuesdays I will now post on Saturdays. Hope you guys don't mind this small change.
That means this Tuesday there won't be new upload but you can definitely expect one on Thursday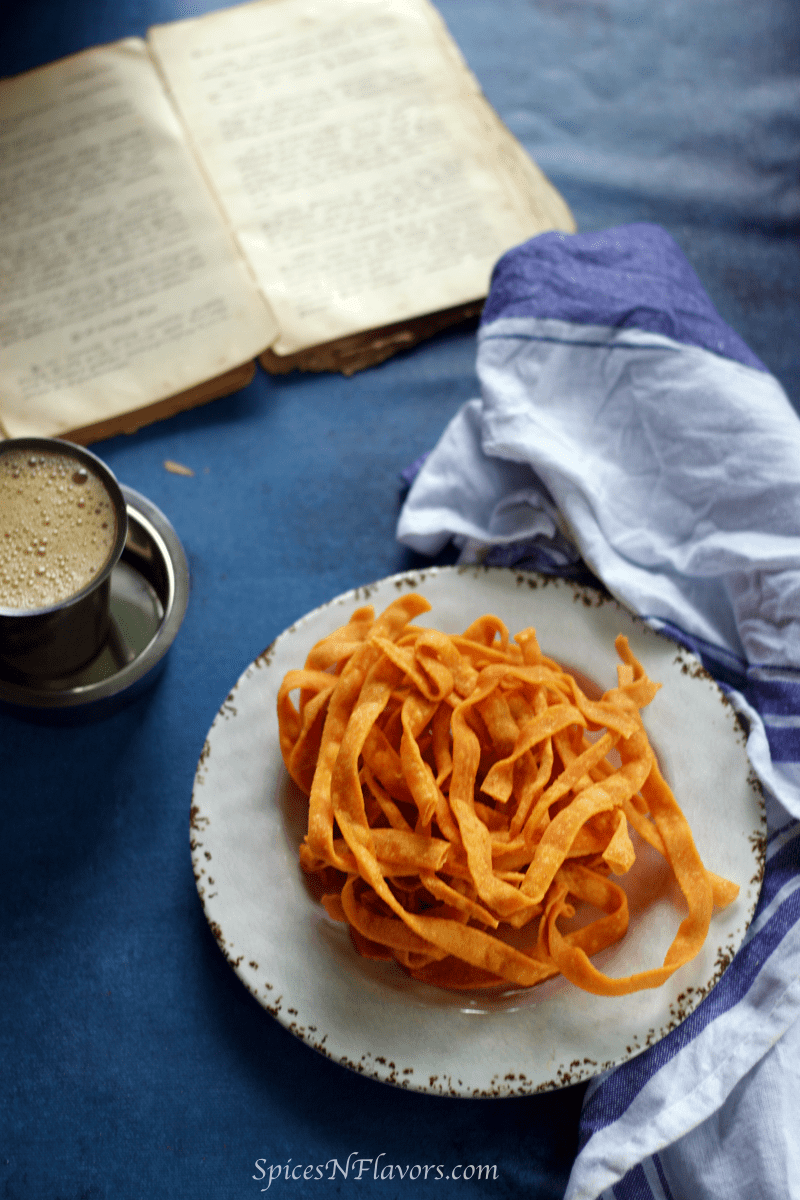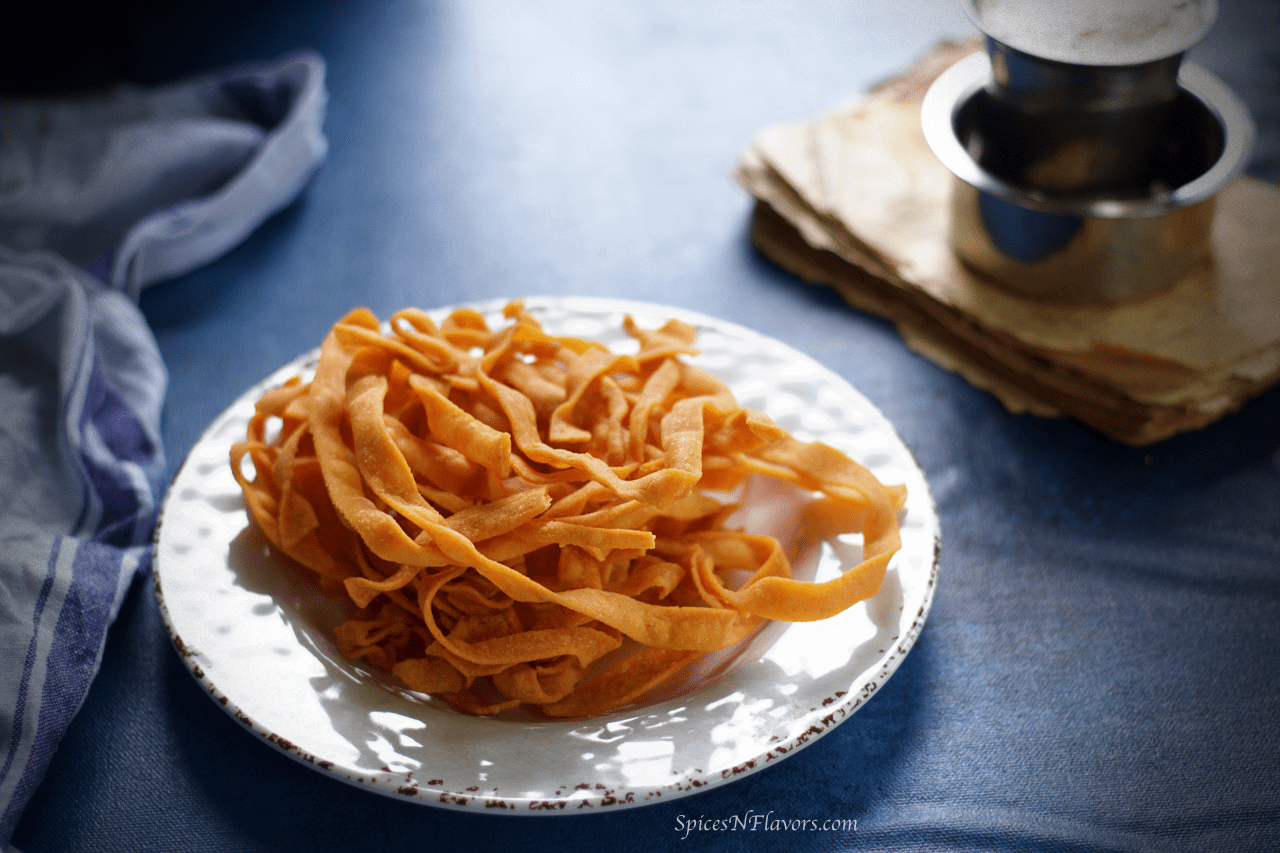 A kid friendly snack; Ribbon Nada is crunchy, crispy and spicy and oh so flavourful.
I started with just 1tsp of Chilli Powder which was not spicy at all perfect for kids. However to make a batch of these for myself and hubby I had little more spice to increase the heat.
So I would suggest you to do so the same way. Make a small batch first to check the spice levels and salt.
Check out the video for this recipe on FB until I share it on my Youtube Channel
Liked this recipe?
Let us know by giving it a star rating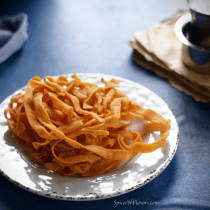 Print
Ribbon Nada
Ribbon Nada is a traditional South Indian snack that is crunchy, crisp and spicy perfect for tea time
Ingredients
2

cups

Besan or Chickpea Flour

1

cup

Rice Flour

2

tsp

Red Chilli Powder

1/4

tsp

Asafoetida

1

tsp

Salt

2

tbsp

Ghee

2

tbsp

Hot Oil

Water as needed
Instructions
In a bowl combine all the ingredients except for water. Mix

Add water little at a time to form a dough. The dough might be little sticky but that is absolutely fine.

Take a big ball of the dough. Place in the mold (Refer the video). Press the mold (with the batter inside) in a circular motion over hot oil.

Deep fry until golden brown. Serve with evening tea or coffee
Did you make this recipe?
Tag me @spicesandflavors to get featured on my FB and Insta pages
Tips:
1. If you could find white butter then use that instead of ghee. White butter makes the batter soft and tenders unique flavour profile and gives you a crunchy yet melt in mouth kinda texture.
2. If you note I have mentioned hot oil in the ingredient list. By that I mean use the oil that you have kept for deep frying. But be sure to add it when hot. Again this is done to increase the taste quotient.
Test:
1. When you add the batter into the hot oil, you would get a sizzling sound and lots of bubbles. One of the indication that the batter is cooked is that the sizzling will stop and there won't be any bubble formation. That is the right time to remove the batter from the oil. Your tasty Ribbon Nada is ready.
Notes:
If you are making this for kids I would suggest to use just 1tsp of Chilli Powder.
If you happen to try this recipe do tag me, tweet me or instagram me. I would love to see your creation.
Make sure to follow me on Pinterest. Off-lately I have been pinning too many recipes that I am sure you would love to.
Wish to pin this Ribbon Nada for later?
Here you go

See you soon
Until then
Hugs
Sushma