Rock Cakes are so named because they resemble like a rock in shape that is without any actual shape to it. Now don't go by the name it does not taste like a rock though.. 😛 Neither are they hard.. 😀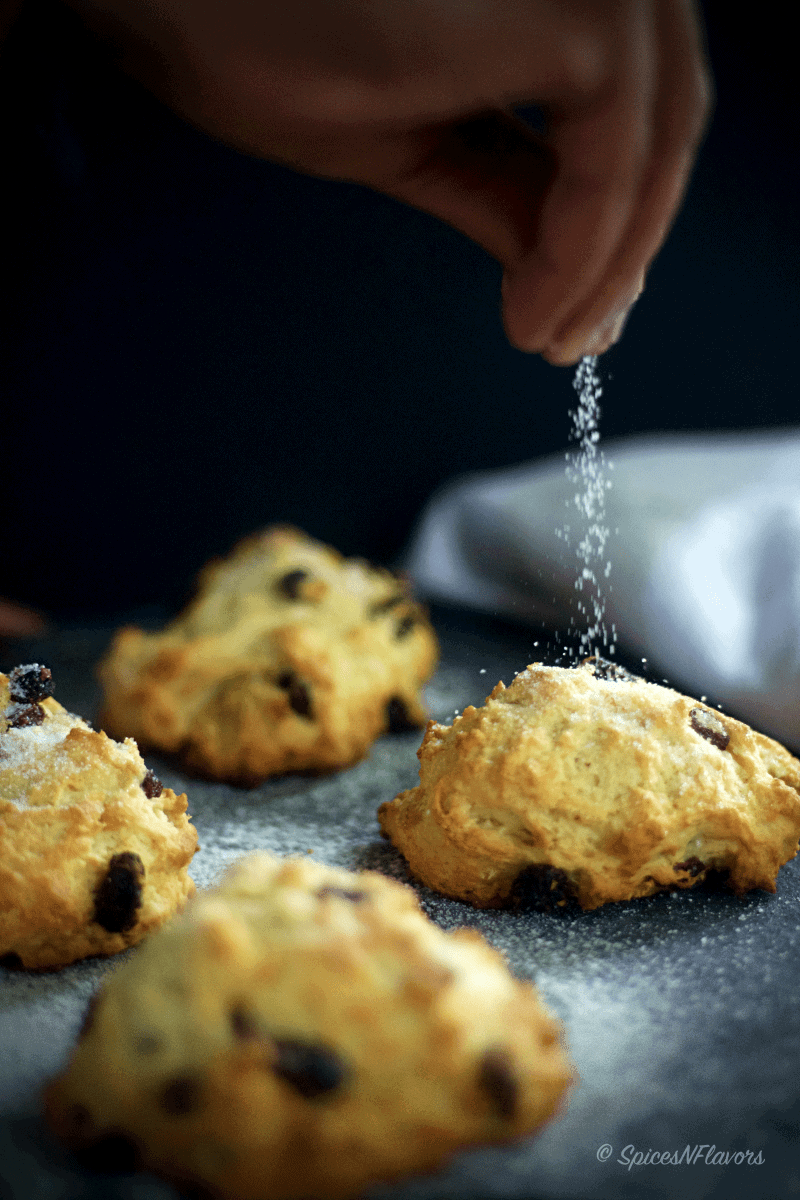 Rock Cakes are basically individual portion size cakes with a rock surface and not perfect shapes and probably hence the name rock cakes.
Sugar buns uses both chemical and mechanical aeration method to aerate the mixture in order to make the final product even more palatable and digestible.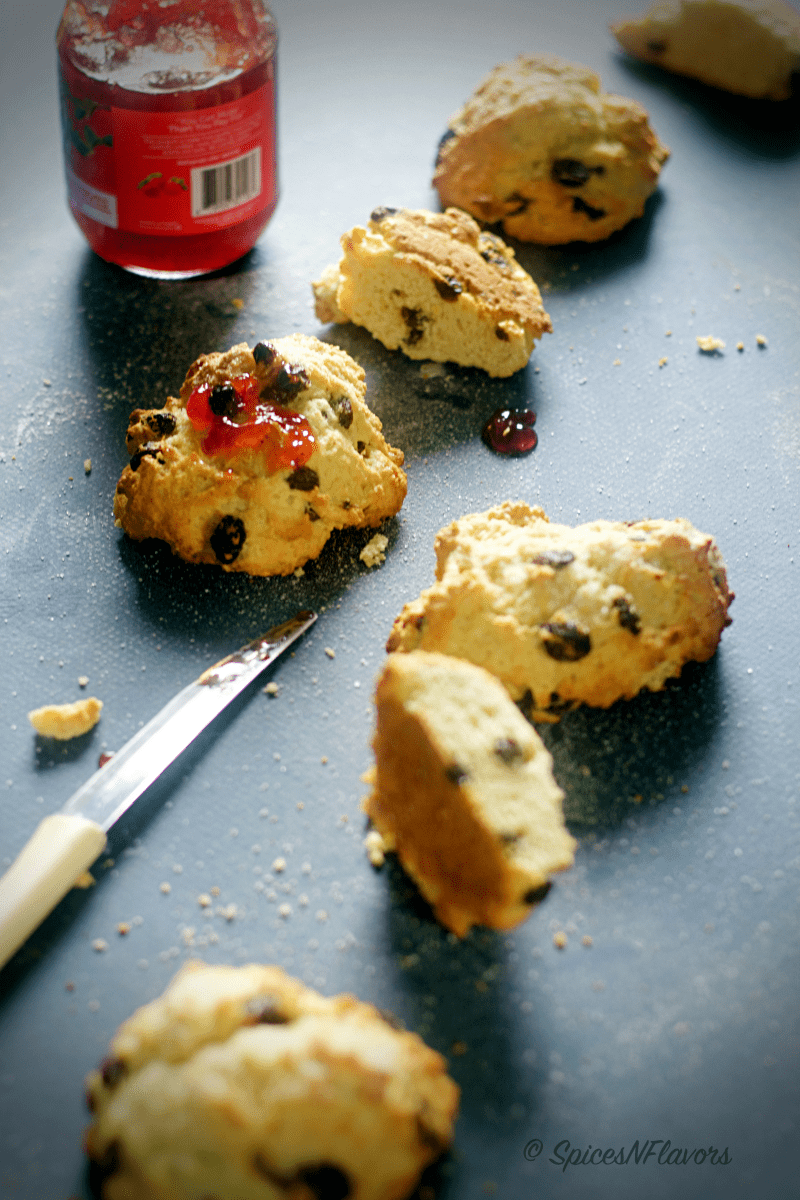 What are the steps involved in baking Rock Cakes or say Sugar buns?
Creaming : Butter and sugar are creamed together to form a light and airy turning pale yellow in colour thereby creating air pockets for the eggs.
Rubbed in : The flour is rubbed in with butter like the scones, in order to deactivate the gluten.
Clear Mix : The batter is mixed just until we get a clear batter there by not over-mixing the batter.
Hand dropped : Hand dropped is a method to drop the batter into even sized portions to resemble rock like structure
Double Pan - It is baked using the double pan method to allow slow conduction of heat.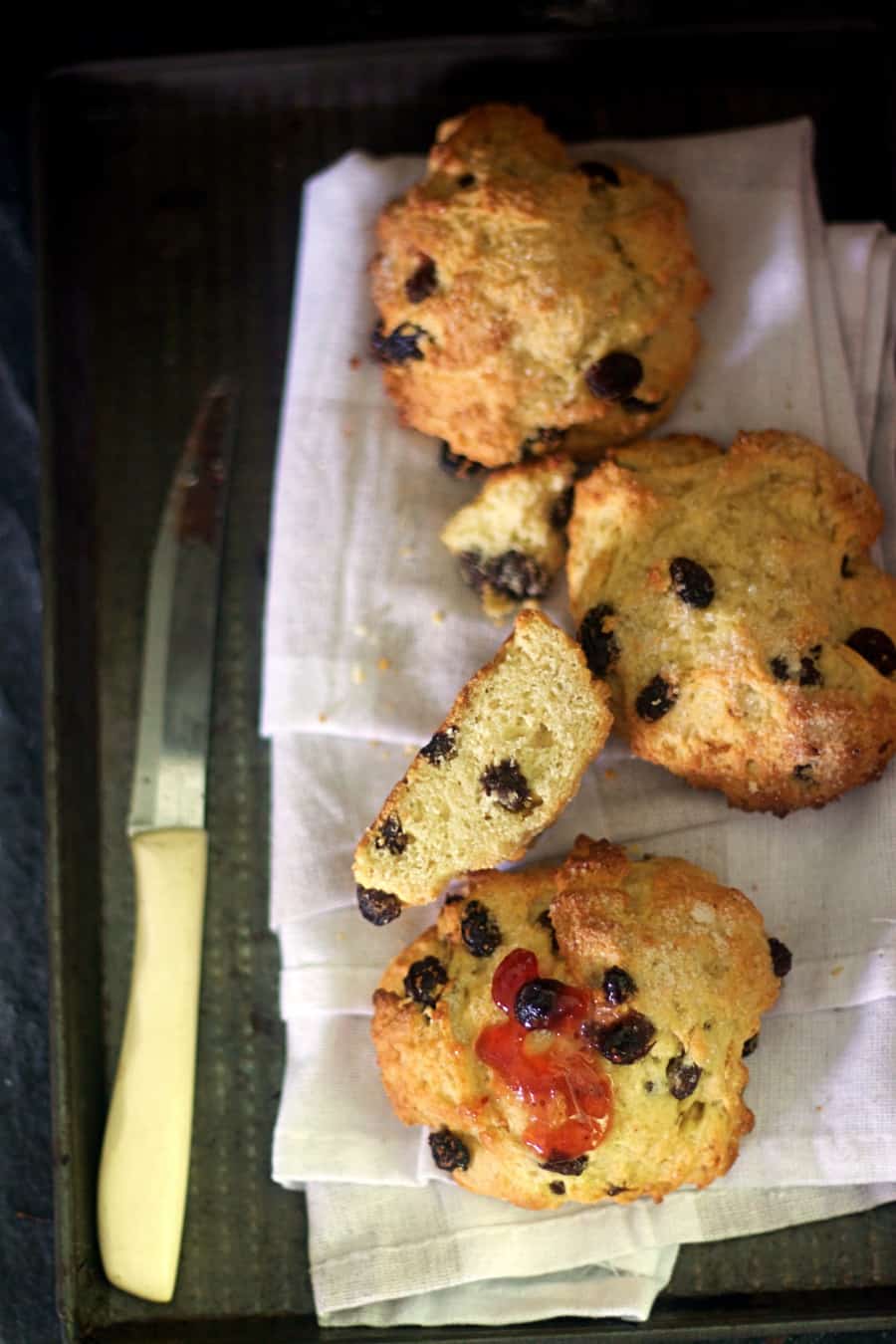 Wondering what is the double pan method for baking these Rock Cakes?
Well, To bake Rock Cakes we use the Double Pan method to allow slow conduction of heat.
Double Pan is basically placing a pan beneath the pan that actually has the rock cakes and then baking it in the oven.
Since it has a high ratio of sugar and butter in order to prevent it from getting burnt we use this method.
Rock cakes are basically fruit cakes and got its fame through the famous Harry Potter series where Hagrid makes these for the 3 musketeers. Ofcourse this recipe is much better than what was shown in the movie.
Here is a detailed step by step recipe

Start by creaming your butter, sugar and lemon paste until well aerated.
It takes at least 10 mins to cream your butter and sugar using a stand mixer. Since the quantity of ingredients is less you can also cream using hand whisk.

Meanwhile, pat dry the conditioned fruit using paper towel or tea towel to remove the excess moisture.
Once butter and sugar is creamed, add the sieved dry ingredients and rub in until the flour is coated with the butter.
Make a well, add the milk and fruit and mix until clear batter stage.

Hand-drop the batter to make 9 equal size balls which need not be perfect round ones.
Line them on the baking tray leaving enough space.
Sprinkle some granulated sugar on top of it.
Using a piping bag, pipe in jam into a small hole on top of the bun. Use a bake-stable jam. (Optional: Skip this step if you do not have a bake stable jam)
Bake using the double pan method at 210° C for 10-12 mins turning in between.
Enjoy these rock cakes with some jam and butter. Tastes best when warm
Liked this recipe?
Let us know by giving it a star rating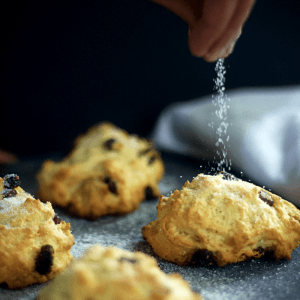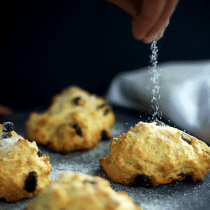 Print
Rock Cakes or Sugar Buns
Rock cakes are basically individual portion size fruitcakes which got its fame from the Hagrid character of Harry Potter
Ingredients
300

gms

Flour

17

gms

Baking powder

75

gms

Castor sugar

75

gms

Butter

1

gm

Salt

4

gms

Lemon juice

45

gms

Egg

135

gms

Milk

100

gms

Sultanas

zest from one lemon
Instructions
Soften the butter and cream with the sugar and lemon juice until well aerated

Add eggs (ideal temperature - 23°C) in stages and cream well after each addition

Add the sieved dry ingredients - flour, baking powder and salt. Rub the mixture until it resembles bread crumbs.

Make a well and add milk and conditioned fruit, mix until just clear. Do not over mix


Hand drop onto tray to get 9 equal size buns and sprinkle with granulated sugar

Pipe in jam into a small hole on top of the bun. (Skip this step if you do not have bake stable jam. I didn't have any so I just applied jam on top of the cake while eating it).

Bake - Double pan at 210°C for 10-12 mins on Med oven settings.

Enjoy these rock cakes with some jam and butter when warm
Did you make this recipe? Tag me today!
Tag me @spicesandflavors to get featured on my FB and Insta pages
Recipe Notes:
1.Always condition the fruit before starting with the recipe. (Read my scones post for all the detailed explaination).
2.The butter has to be conditioned which means softened in baking terms in order to cream it with the sugar
3.Use paddle attachment in a stand mixer to cream butter and sugar.
4.Egg should be at 23° celsius - to get the temperature just let it sit on warm water bowl. And add it in at least 4 stages in order to avoid collapsing of the air pockets created by creaming.
5.Use a bake stable jam to avoid the melting and then burning of jam in the oven.
6.Always bake using double pan method.
If you happen to try out this Hagrid's famous Rock Cakes then do tag me, tweet me or instagram me.
Like to pin it

See you soon
Until then
Hugs
Sushma