Momos Chutney is a hot and sour spicy tomato chutney that is basically served with popular street food Momos.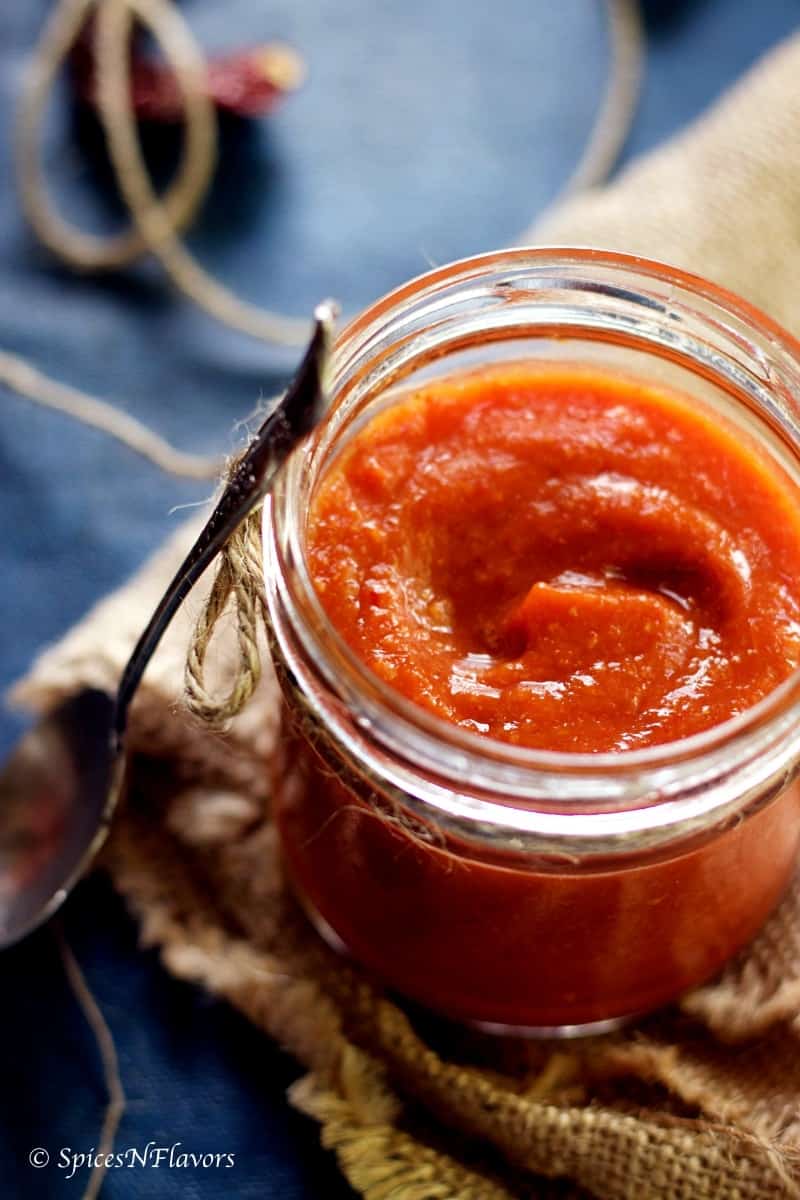 Momos Chutney has a combination of different flavours..
It has a prominent spicy taste and thats how it is meant to be..
Other than that it is tangy, garlicky (is that even a word??) anyways so what I am trying to say is unlike our regular tomato chutney this has a little bit different flavour to it..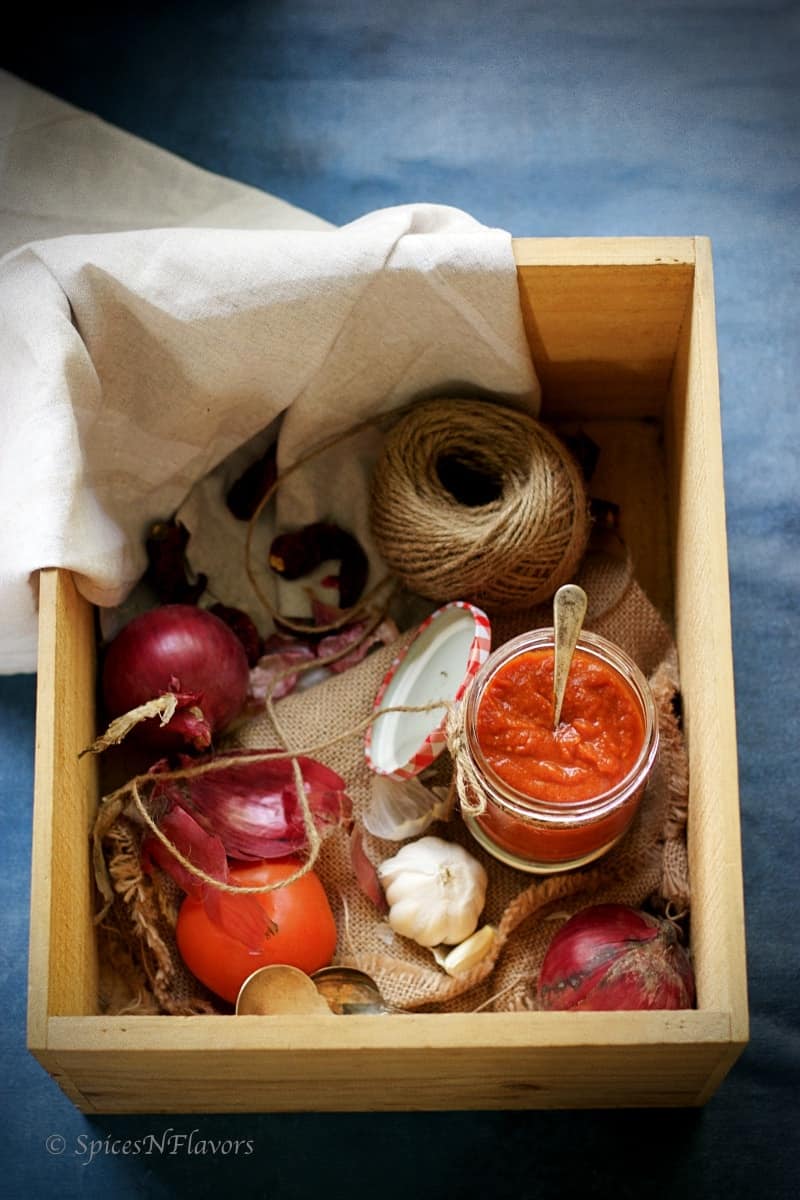 I think if you ask any Indian about his/her favourite food. Then it has to be Indian street food.
Just imagining the different kinds namely Pani-puri, chaat, pav bhaji, vada pau, bhajji, kachori, jalebi, samosa and this and that phew is making my mouth water.
If there is one thing that I really miss staying away from Indian then undoubtedly it has to be the street foods.
One such street food that is gaining popularity in India lately is Momos and the delicious Momos Chutney served with it.
I have already shared the recipe for Palak Paneer Momos and this Momos Chutney pairs perfectly well with it.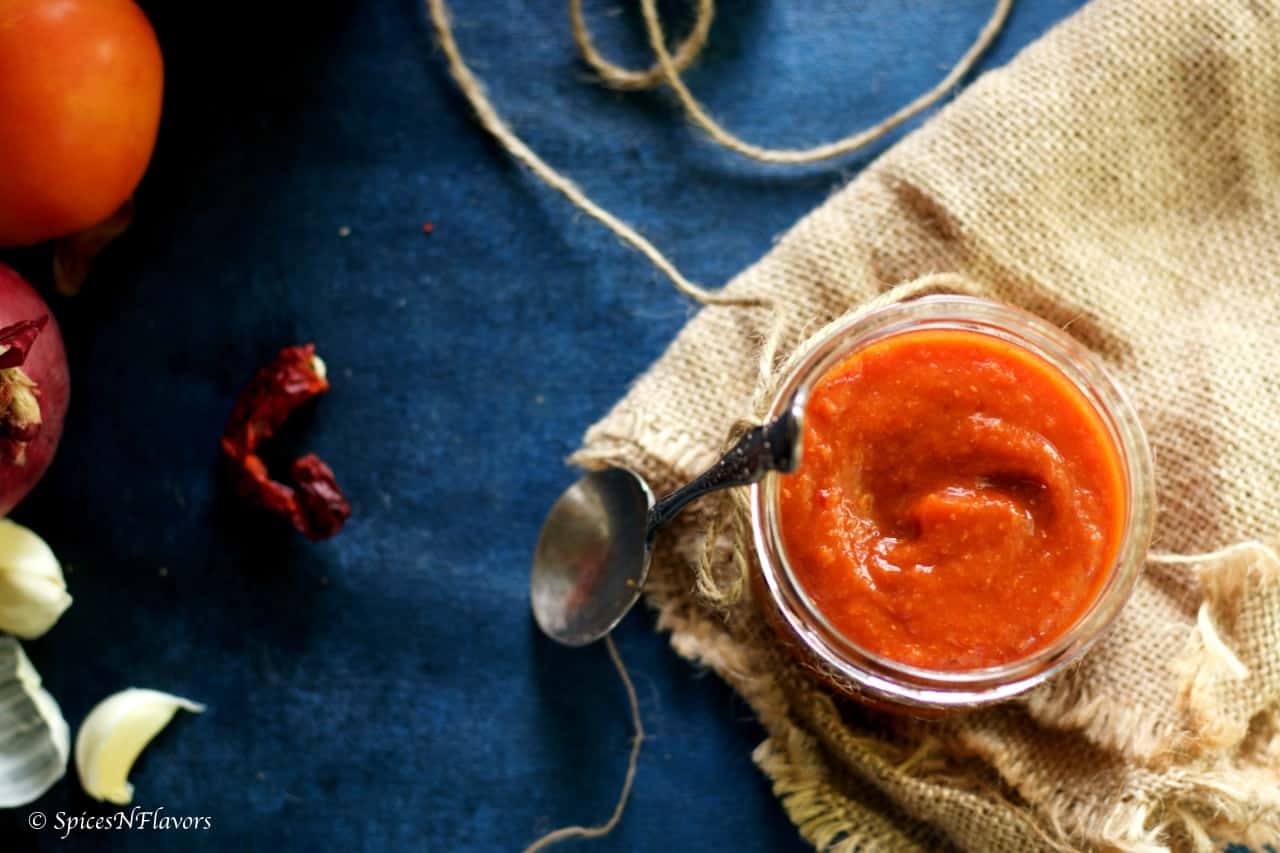 Let me tell you this Momos Chutney is not for the faint hearted person.
This is super spicy.
So if you do not like to eat spicy food then there are two things that you can do to adjust the Momos Chutney taste.
A. You can remove all the seeds from either the Kashmiri red chillies or the red chillies and use it accordingly or
B. Simple just reduce the number of chillies used to taste your needs.
But let me tell you this is one spicy dish and the red chillies is what brings the taste in this Momos Chutney recipe.
There is one particular ingredient that I would like to mention here and that is Sichuan pepper, Sichuan peppercorn, Szechuan pepper, or Chinese coriander.
If you could find this ingredient then do definitely use it in the Momos Chutney recipe this will give a authnetic taste to the recipe.
Oh yes by the way guys do subscribe to my Youtube channel, as I share lots of things there and also make vlogs which you might find to be interesting. You can check my latest Diwali vlog by clicking here.
So now lets quickly look into the detailed recipe..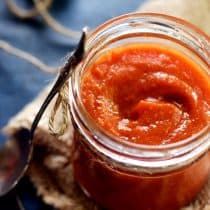 Print Recipe
Momos Chutney - Hot and spicy chutney
Momos Chutney is basically a hot and spicy accompaniment served along with Indian street food Momos.
Ingredients
3

nos

Tomatoes

1

no

Med size onion

8-10

nos

Garlic cloves

thumb size ginger

4

nos

Kashmiri Red Chillies

(non spicy)

7

nos

Dried Red Chillies

1/2

tsp

sugar

1

tsp

soya sauce

1/2

tsp

vinegar

salt to taste

water as required
Instructions
Bring a pot filled with 1/2 cup of water to a boil and add in the tomatoes, onions, ginger, garlic and red chillies.

Add water just enough to cover the veggies and let it simmer for 15-20 mins.

After 20 mins or once the tomatoes are cooked and softened, remove the skin on top of tomatoes. strain the water through a sieve and transfer the veggies to a blender jar.

Add in the sugar, salt, soya sauce and vinegar and blend to a smooth paste. Adjust the consistency using the strained water if need be.
Notes:
This is a very spicy chutney if you do not like to eat spicy food, then remove the seeds from the chillies and use or reduce the amount of chilles as per your family needs.
But let me tell you this is supposed to be a spicy chutney.
If you like this recipe then do tag me, tweet me or instagram me. I would love to follow you and your posts.
By the way comment below and let me know if you would like to have the recipe for 3 essential or staple South Indian chutney recipe for your Idlis and dosas.
Pin it for later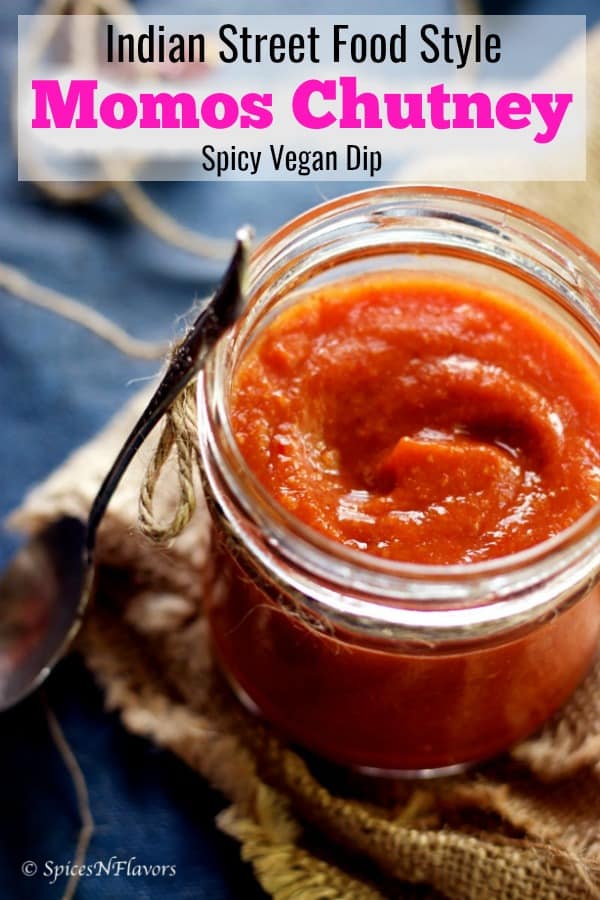 I will see you soon with another recipe
Until then
Hugs
Sushma