Toffee Cookies is basically a regular cookie but flavoured with toffee ofcourse; tastes just like our Indian chikki.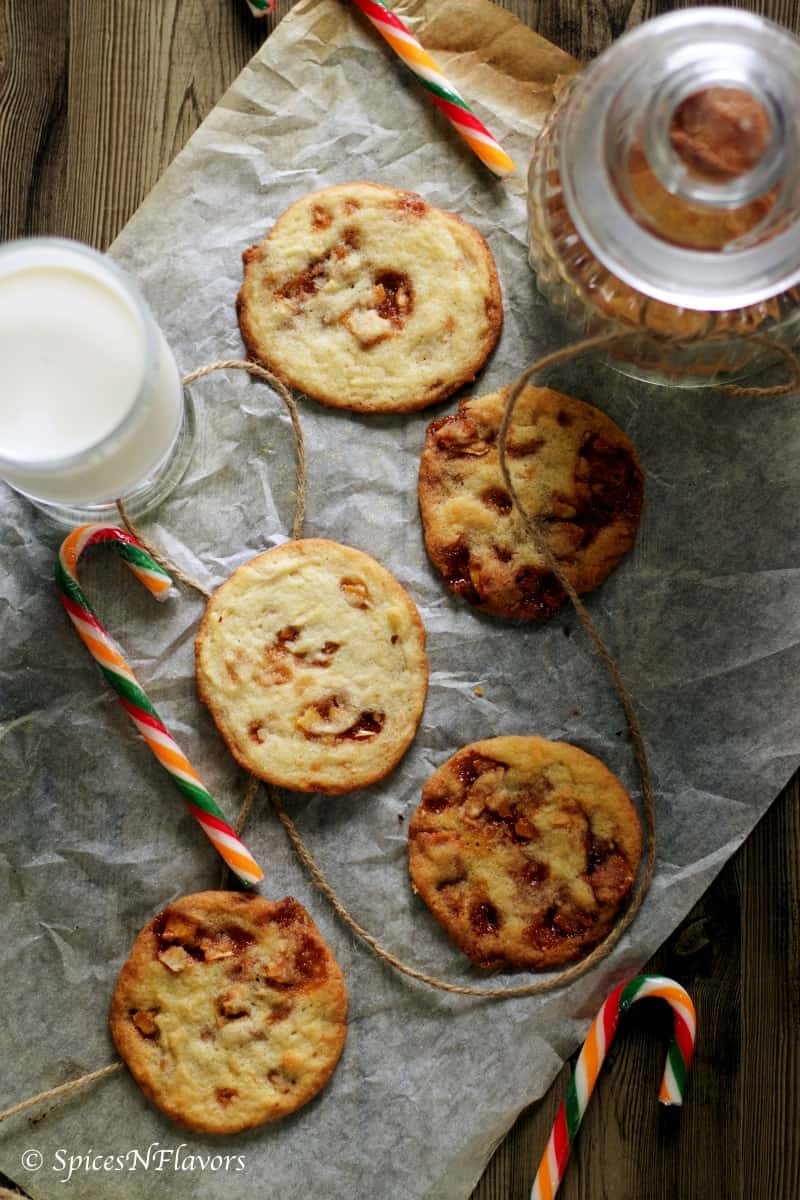 Toffee Cookies as the name suggests is a toffee flavoured cookie that is light, crispy and chewy in the centre. However if you bake for a minute longer you would definitely get a completely crisp cookie.
Its December and officially a cookie month..Yahoooo.. You might have guessed by now how much I love baking cookies..
Its fuss free, quick, simple and easy to bake a cookie rather than a cake.
Plus it does not call for many ingredients as well..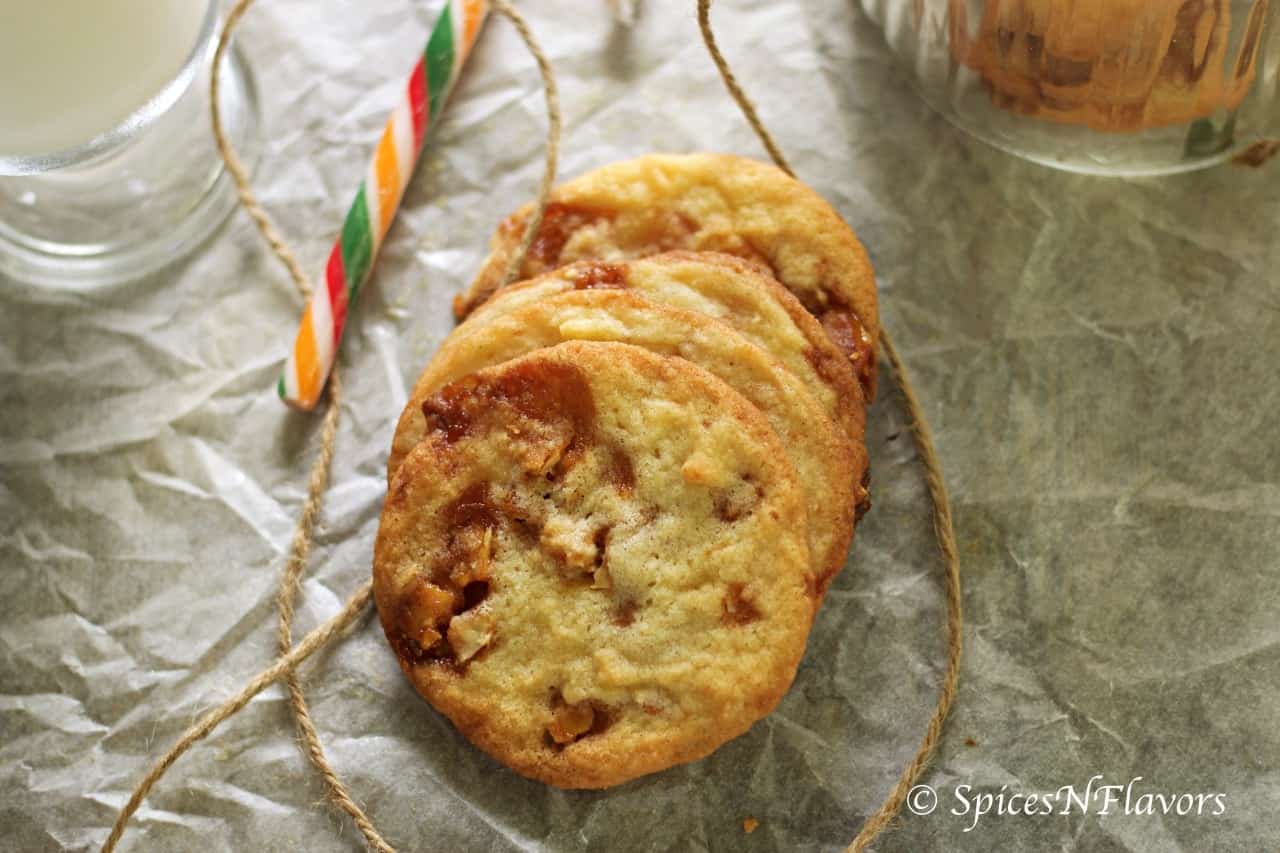 Along with my Toffee Cookie; I have a variety of other cookies to offer to you guys this Christmas season. And trust me when I say each one is so simple that it hardly takes any time to bake these.. <3
I will link a few here for your quick reference:
1. Very basic Chocolate chip Cookie - very informative post with tips and tricks on baking a cookie.
2. Eggless Checkerboard Cookie
3. Cardamom Pistachio Whole Wheat Cookie
4. Eggless 3 ingredient Nutella Cookie
5. Bakery style Butter Biscuit - 3
6. Homemade Oreo Cookies
7. Hyderabad Karachi Biscuits..
Now thats a holiday baking goal.. I must say..
Infact what you can do is make a selection of 3-4 types of cookies and then put them in these cute little mesh bags and gift it to your loved ones..
Who doesn't love edible gifts.. I definitely do.. 😀 Do you like it??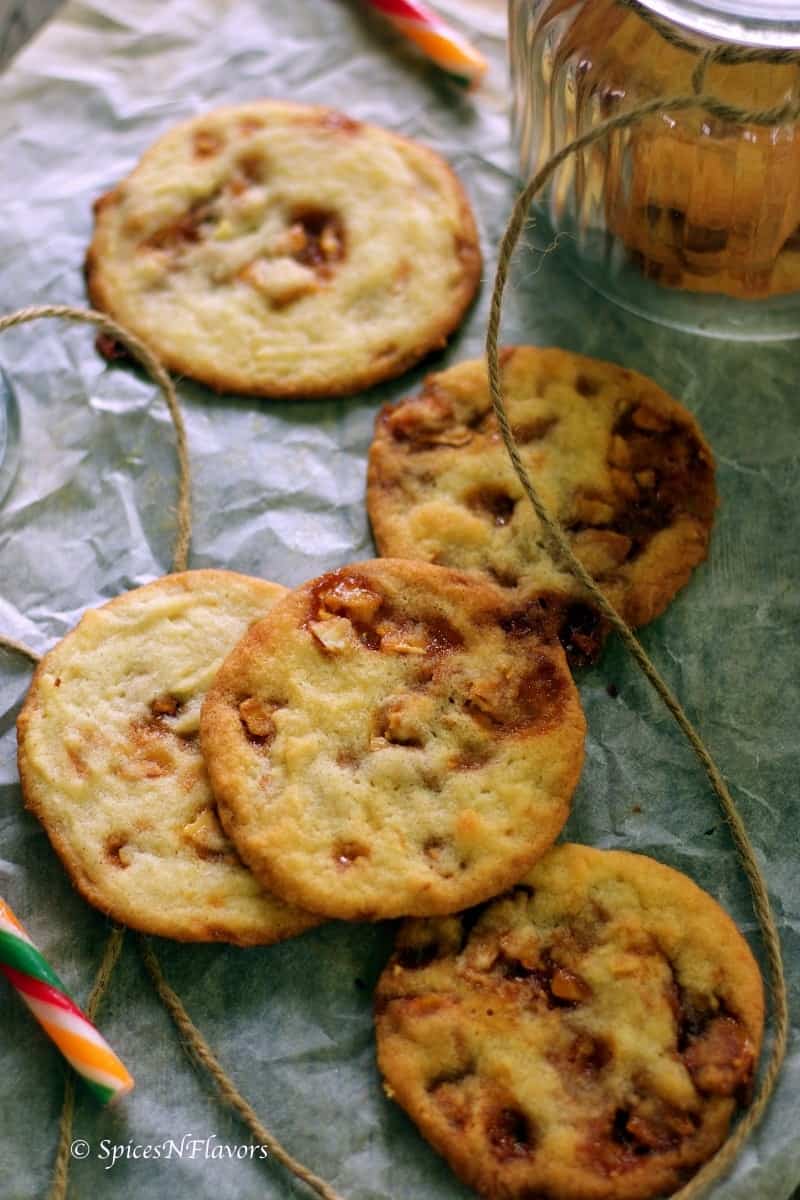 Coming to the flavours of these Toffee Cookies..
Well these are definitely light as we had creamed the butter and sugar really well.
The Toffee Cookies are crispy and chewy at the same time. If you do not prefer chewy centred cookie then definitely bake them for a minute longer.
What we are looking for a is a golden brown colour around the edges and slightly pale colour in the centre.
My family really enjoyed the praline flavour. The caramel coated almonds give in such a nice texture to these Toffee Cookies that I was reminded of having the chikkis from childhood days.
These Toffee Cookies are an essential Christmas cookies I must say..
Liked this recipe?
Let us know by giving it a star rating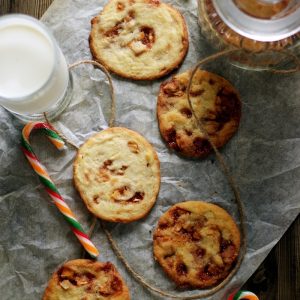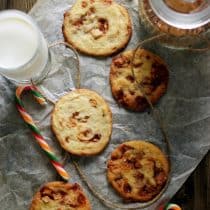 Print
Toffee Cookies - Christmas special
Toffee Cookies as the name suggests is a toffee flavoured cookie which is light, crispy, crumbly and chewy cookies with amazing texture from the praline.
Ingredients
Praline
100

gms

Granulated Sugar

25

gms

Water

25

gms

Sliced Almonds
For Cookie Dough
95

gms

Butter

95

gms

Caster Sugar

2

gms

Vanilla

20

gms

Curd

100

gms

Flour
Instructions
Start by preparing the praline. Keep a baking tray lined with aluminium foil ready. Also keep the sliced almonds ready or nearby.

Now in a saucepan combine together the sugar and water and bring to a rolling boil and then take it to a caramel stage without burning the sugar.

Once it reaches the caramel stage quickly add the almonds; give a stir and then pour it onto the aluminium foil. Spread it out using a spatula and allow it to cool completely.
Cookie Dough
Cream together the butter, sugar and vanilla using a hand mixer until the butter is light, airy and creamy about 10 to 15 mins.

Then add in the curd in two stages. Add half of it; mix using the blender, scrape the bowl and then add the remaining curd. Repeat.

Once curd is mixed through add in the flour, again in two stages. Mix, scrape and add the remaining flour. Blend until creamy once again.

Meanwhile, using a mortal pestle, grind the praline until you have some small and some big bits of praline. Add this crushed praline to our cookie dough and combine to get a smooth batter.

Transfer the cookie batter to a piping bag with round nozzle and pipe a portion of it onto the baking tray lined with parchment paper.

Using your hands spread it out a little bit and give a round shape. (Refer video for the same).

Then bake in the preheated oven of 180°C for 8 to 10 mins. Allow it to cool completely and transfer to an air tight container.
Did you make this recipe? Tag me today!
Tag me @spicesandflavors to get featured on my FB and Insta pages
Notes:
1. If you do not have a piping bag no worries you can spoon the batter out using a regular spoon because as it is we are going to shape it using our hands.
2. Since we have creamed the butter and sugar for this Toffee Cookies; a lot of air has been incorporated into it due to which you need to leave ample space between each piped out cookie batter to allow room for the sugar to flow, spread and attain a shape while baking.
3. Even after allowing space if the cookies mix into each other after baking. Then as soon as it is out of the oven and still warm; take a knife and separate it out also give it a round shape if some of the Toffee Cookies baked out of shape.
Many of you were asking me about the nozzles that I own; then this particular set that I found on amazon is really good.
If you like this recipe then do tag me, tweet me or instagram me I would love to follow you and your posts.
Pin it for later


I will see you soon with another recipe
Until then
Hugs
Sushma