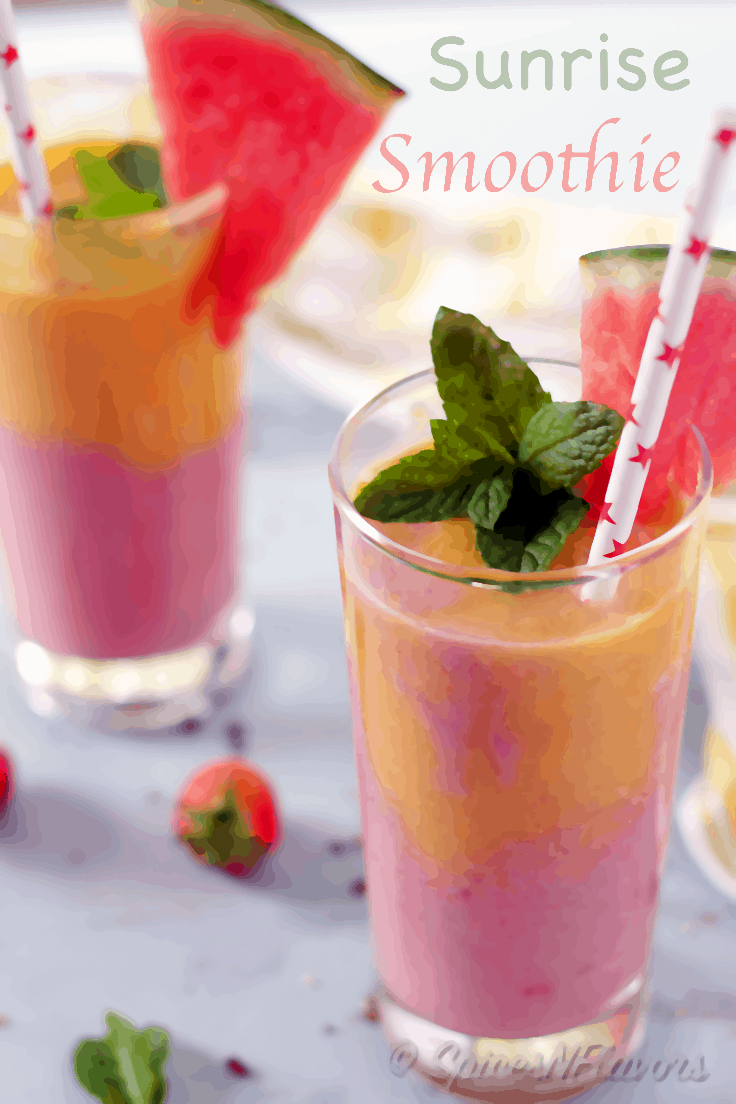 This smoothie has watermelon + peach + ginger = a healthy vegan breakfast smoothie to keep you fill for a very long time.
Perfect for your Monday morning.. Beat your #mondayblues with this healthy vegan glass packed with fruits, oats, chia seeds all the goodness in one go.
So fresh!! and so summery!!
Won't you want to wake up for this healthy smoothie. Wait did I say smoothie?? It didn't taste like one. To me it tasted like a milkshake (without the calories ofcourse!!). Won't you believe me. Try it for yourself!!!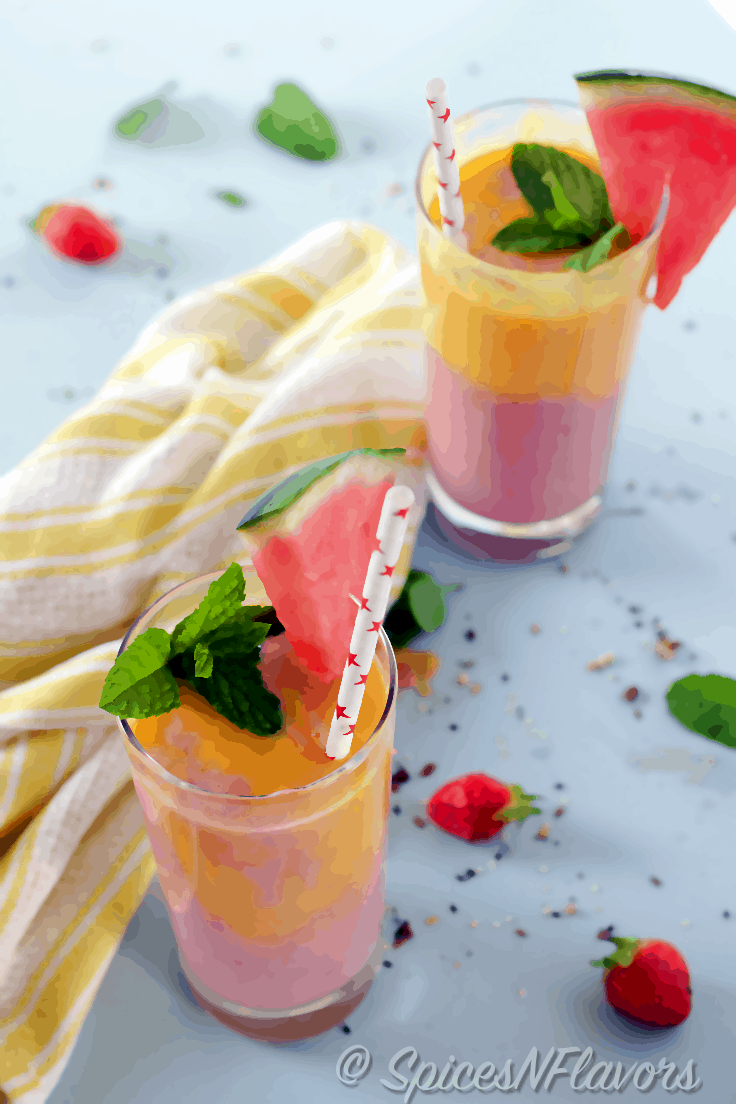 I just love Breakfasts!!! To me it is the most important meal of the day. I just cannot skip one.
But do we have the time to prepare one when we are running late to office..
Or just preparing ourselves for back to school..
Or when we just don't feel like cooking..
Thanks to smoothies we don't have to worry about spending extra time just for making a healthy breakfast.
This smoothie can be made well ahead of time, frozen and blended in a high power blender and TA DA your healthy breakfast is ready.
This week I am sharing not one, not two but seven healthy smoothie recipes. Yes I have challenged myself to this #7daysmoothiechallenge wherein I shall post one new smoothie recipe for seven days, just to inculcate the habit of healthy eating. Sounds interesting?? Would you like to join me?? Then just use this hashtag #7daysmooothiechallenge and #spicesnflavors. I would love to see your creations.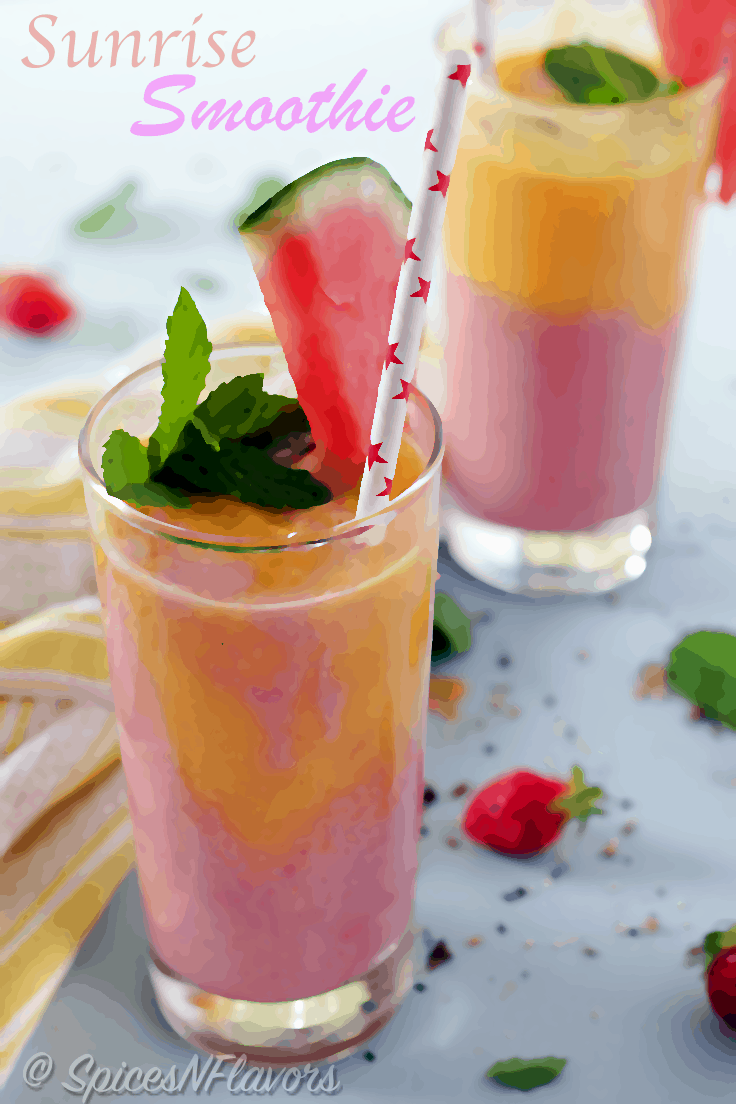 To be honest with you all, smoothies are not something that I grew drinking up. I got to know about these amazing healthy dose in New Zealand, which is my home from past 3 years.
So all the smoothie recipes that I am sharing all week long is inspired by the n number of pins that I keep pinning on Pinterest. Ofcourse all the recipes are my own recipes; the inspiration for which comes from Pinterest.
If you have not tried smoothies yet I highly recommend you to give it a try. Its more like a healthier version of all your favourite drinks.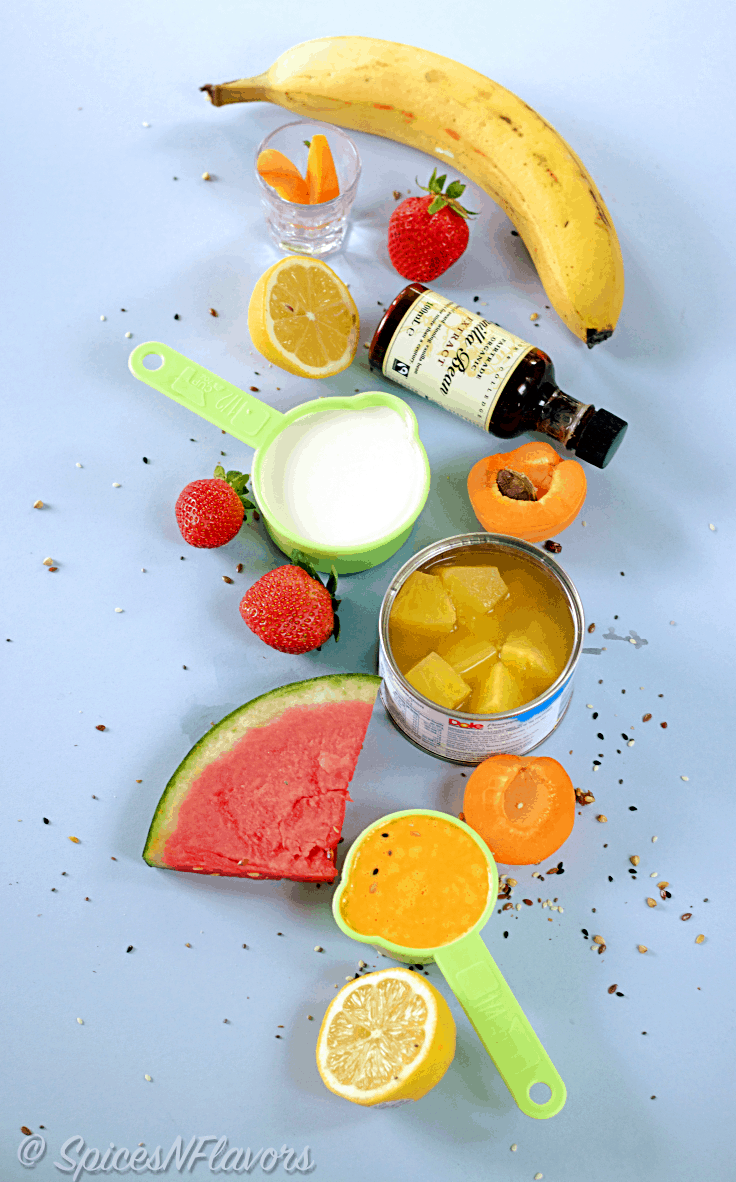 One of my all time favourite fruit is watermelon. (Mango tops the list of my favourite fruit obviously!!). So when I found this fresh juicy watermelon in the local market and that too without making a hole in my pocket (yes!! it is that much highly priced here in Christchurch.. 🙁 ) I just couldn't resist buying it. And after eating most of it as it is, I thought of using it in this Smoothie recipe as well.
What is your favourite fruit.. Do comment below I would love to know.
So coming to this recipe : It is basically two layered smoothies combined together to give the sunrise effect. So you just need some red-pink coloured fruits for the red layer and some orange-yellow coloured fruits for the yellow layer.
You may use your favourite fruits to make the two layers..
Here is the list of fruits you can use..
RED Layer:
Raspberry
Strawberry
Watermelon
Cranberry and even
Cherries
Yellow Layer:
Mango
Orange
Pineapple
Peach
Apricot
And if I left out some fruits do let me know will include in this list.
I happen to use a banana oats and chia seeds in all my smoothie recipes but you could skip or add any as per your choice.
Without me blabbering any further lets jump to the recipe. Here is how I made it..
But before that if you happen to try this smoothie or are interested in joining the #7daysmoothiechallenge then just tag me, tweet me or instagram me. I would love to follow you.
Liked this recipe?
Let us know by giving it a star rating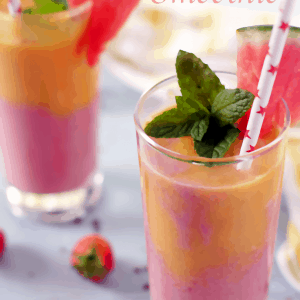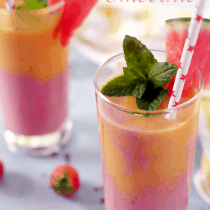 Print
Watermelon Peach and Ginger Sunrise Smoothie
This is a healthy vegan smoothie packed with the goodness of fresh fruits, oats and chia seeds - a perfect breakfast
Ingredients
For the Pink Layer
1

cup

almond milk

unsweetened

1/4

cup

oats

1/2

cup

cubed watermelon

1/4

cup

strawberry

1

tsp

chia seeds

1

tsp

vanilla extract

1

tbsp

lemon juice
For the Yellow Layer
1/2

cup

mandarin (or orange) juice

1

peach

sliced

1

apricot

sliced

1/3

cup

pineapple chunks

1

med sized

banana

1

tbsp

honey

1/4

tsp

grated ginger
Instructions
Blend everything mentioned under the pink layer until smooth in the order mentioned above. Divide it in between two glasses

Give your blender a quick rinse. Add everything mentioned under the yellow layer and blend it until smooth.

Pour it over the pink layer in the glass and let it naturally mix and create a sunrise effect. Garnish it with some mint and a slice of watermelon. You can also add some more grated ginger if you wish.

You can create as many layers as you wish. Or just blend everything together as you may like. Goal is to enjoy this beautiful healthy glass of drink.
Notes
1. As mentioned in the variations list above you can add your own favourite fruits to make your own layers.
2.If you have a high speed blender like vitamix or nutribullet you can choose to skip oats and use frozen fruits instead. Since I don't have one I used fresh fruits.
3. You can always use more sweetener if you wish to.
Did you make this recipe? Tag me today!
Tag me @spicesandflavors to get featured on my FB and Insta pages
So start your Monday morning with this Healthy Watermelon Peach and Ginger Smoothie - your first step towards healthy eating.. If you wish to take up this #7daysmoothiechallenge then please free to..
Keep watching this space as I have lot more to share.. Tomorrow is gonna be special as I bringing to you dessert for breakfast.. 😉
Until then
Hugs
Sushma
Pin this..