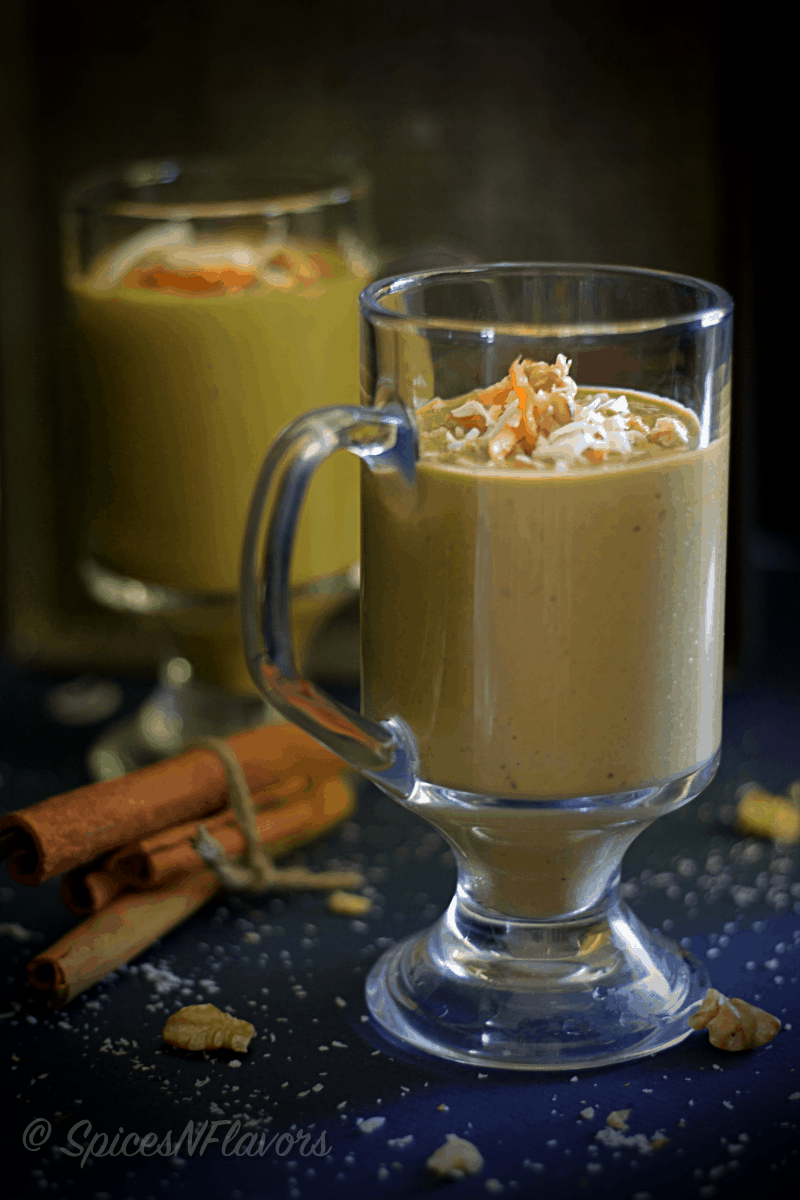 Fancy a dessert for breakfast!!!
Carrot Cake Smoothie is all you need..
It is healthy, gluten-free, made from fresh vegetables and fruits with the addition of spices making it perfect for your breakfast or mid morning snack.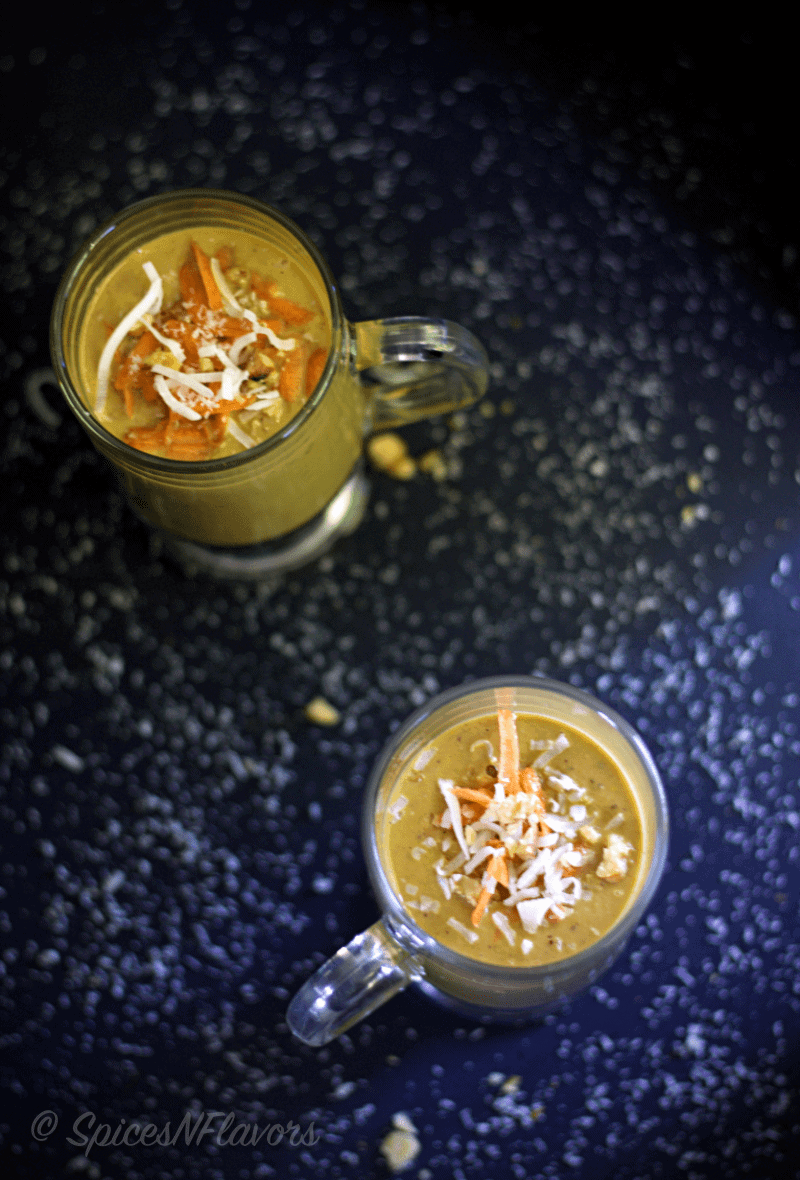 In my sunrise smoothie I had mentioned that I will be posting new smoothie recipes all through the week.
And like I had mentioned in that post, smoothies are something new to me and it is not something that I had known of. So this is the first time that I am trying so many different flavours of smoothies.
If I had loved my yesterday's recipe then this particular recipe has a love-hate effect on me..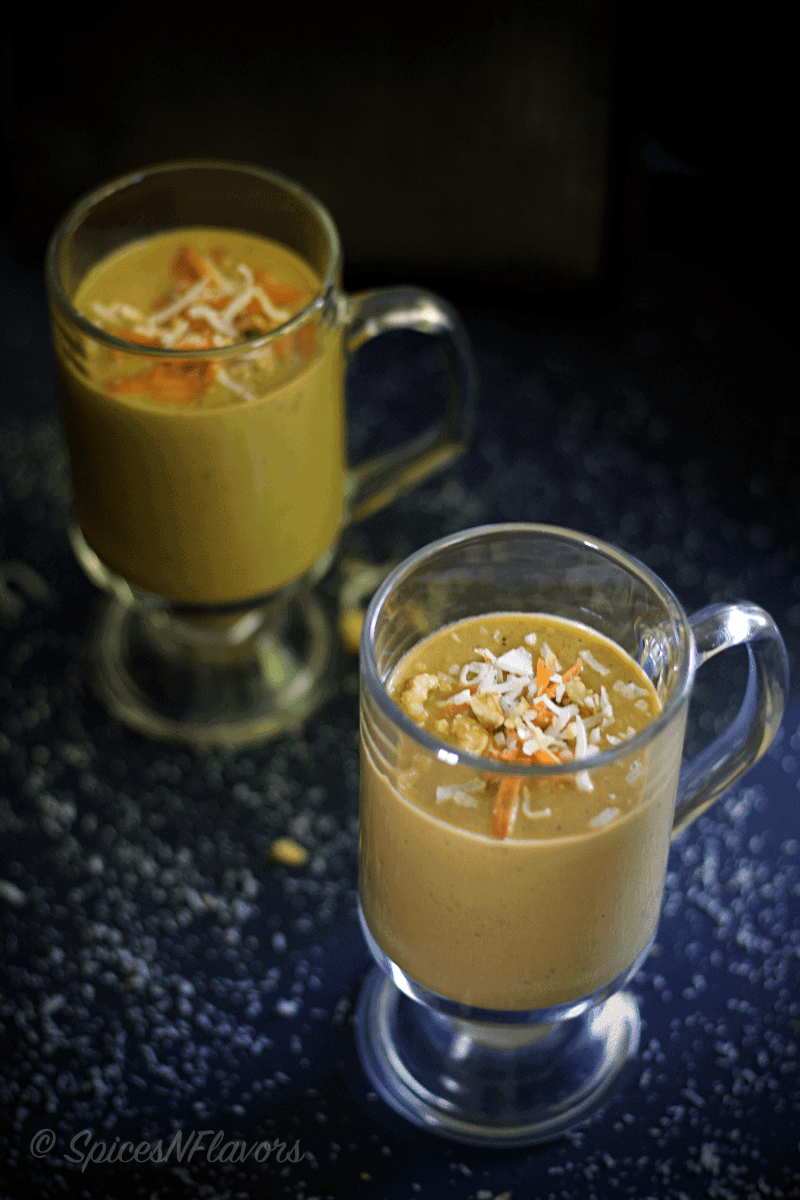 What do I mean by love-hate?
If you love carrot cake then you would love this smoothie. Trust me on this it has got all the flavours that go into the cake. With every sip you feel as if you are having a slice of cake; making it a more healthier alternative for you.. 🙂
But if you don't like the flavour of cinnamon and nutmeg, then my dear friend this one is not for you. Because like the cake it also has got the kick of these spices in it.
In my house, my husband is not fond of cinnamon and he finds it difficult to digest it. So what was his reaction to this smoothie? To be honest he didn't enjoy it. Not that this was not palatable but only because of the cinnamon.
Did I like it? Yes I did!! Or else it would have not made up to the blog.. hehe.. But do I love it? Ahhhhmmm No I don't love it..
So I leave it upto you guys.. If you like carrot cake then there is no doubt; you will definitely enjoy it. Comment below and let me know your views on carrot cake..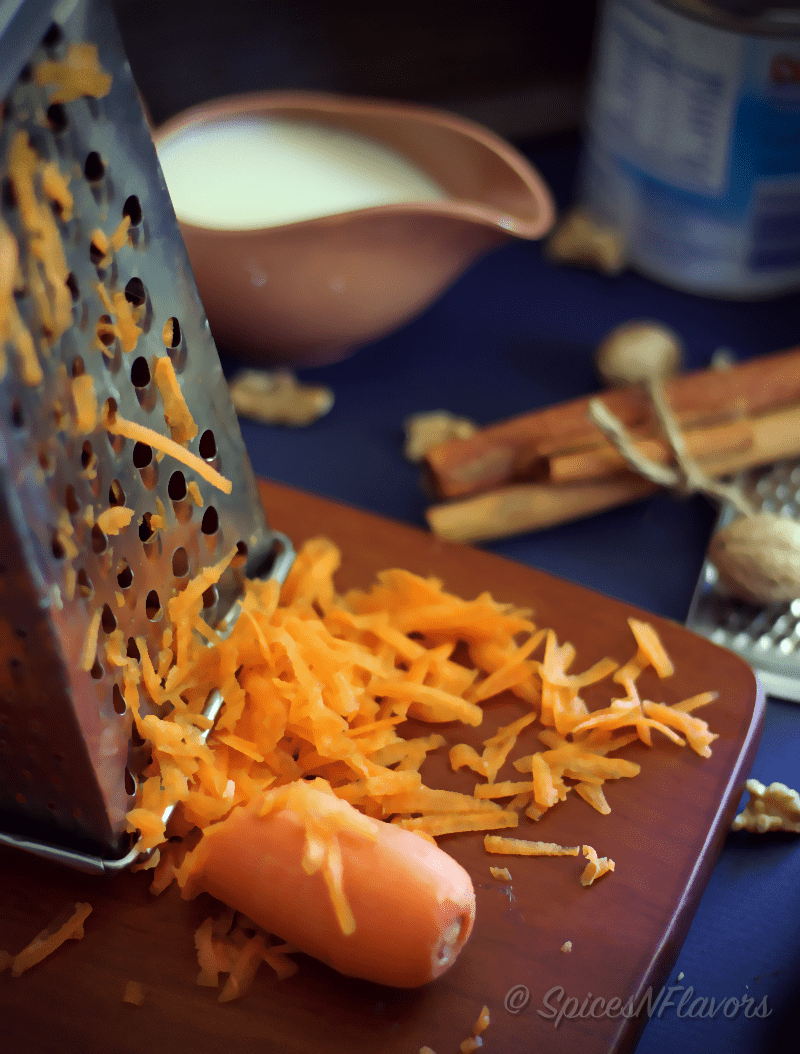 So it all starts with grating the carrot.. If you have a high speed blender then you can just dice the carrots and add to the blender but since I don't have one I choose to grate the carrots.
My carrot cake always has some pineapple added to it so this recipe also calls for some pineapple.
Some recipes call for toasted walnuts in the cake and some don't, I don't like toasted walnuts.
Adding desiccated coconut makes this smoothie a total YUM!!
Also the rule of thumb when it comes to making smoothies is to always add your liquid to the blender first and then the frozen fruits and then the spices as it is easier to blend everything easily.
More smoothie ideas.. tips and tricks are all lined up in the upcoming posts.. Or just follow my smoothie board on pinterest. You will love it..
And if you are following this smoothie challenge or interested to join me in this then just use the #7daysmoothiechallenge and mention @spicesandflavors in your post so that I could follow you and all your posts.
If you happen to try this recipe or just wish to say HI please feel free to tag me, tweet me or instagram me. You all know how much I like to talk.. 🙂
Liked this recipe?
Let us know by giving it a star rating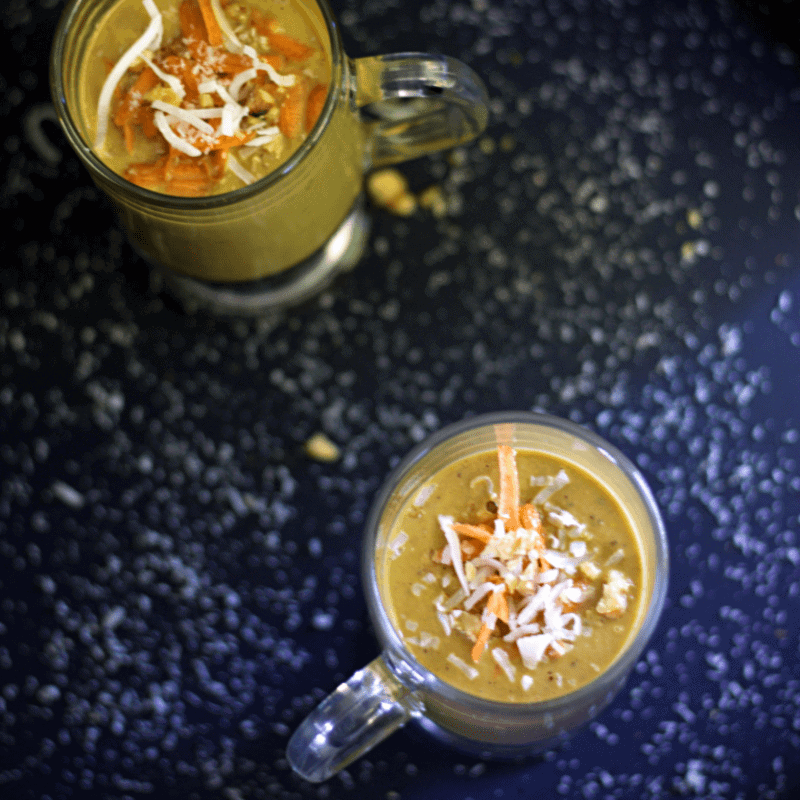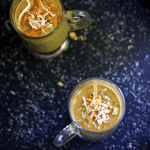 Print
Carrot Cake Smoothie
This is vegan gluten-free smoothie which tastes just like your favourite piece of carrot cake.
Ingredients
1

cup

almond milk

unsweetened

2

med sized carrots

grated or diced

1/2

cup

pineapple chunks

1

med size banana

1/4

cup

oats

2

iranian dates

(or use your favourite)

1

tbsp

desiccated coconut

7-8

walnut pieces

1/4

tsp

ground cinnamon

pinch

of

nutmeg
Instructions
Add everything to your blender in the order mentioned above and blend until smooth.

Pour it in two glasses. Garnish with some grated carrots, shredded coconut and walnuts.
Notes
The smoothie thickens on standing so you might want to adjust the consistency if you are planning to take it work for that mid morning snack.
Did you make this recipe? Tag me today!
Tag me @spicesandflavors to get featured on my FB and Insta pages
See you tomorrow with yet another smoothie recipe.
Until then
Hugs
Sushma
Pin it