Green Smoothie is a vegan, gluten-free smoothie - a perfect breakfast to keep you full for a very long time.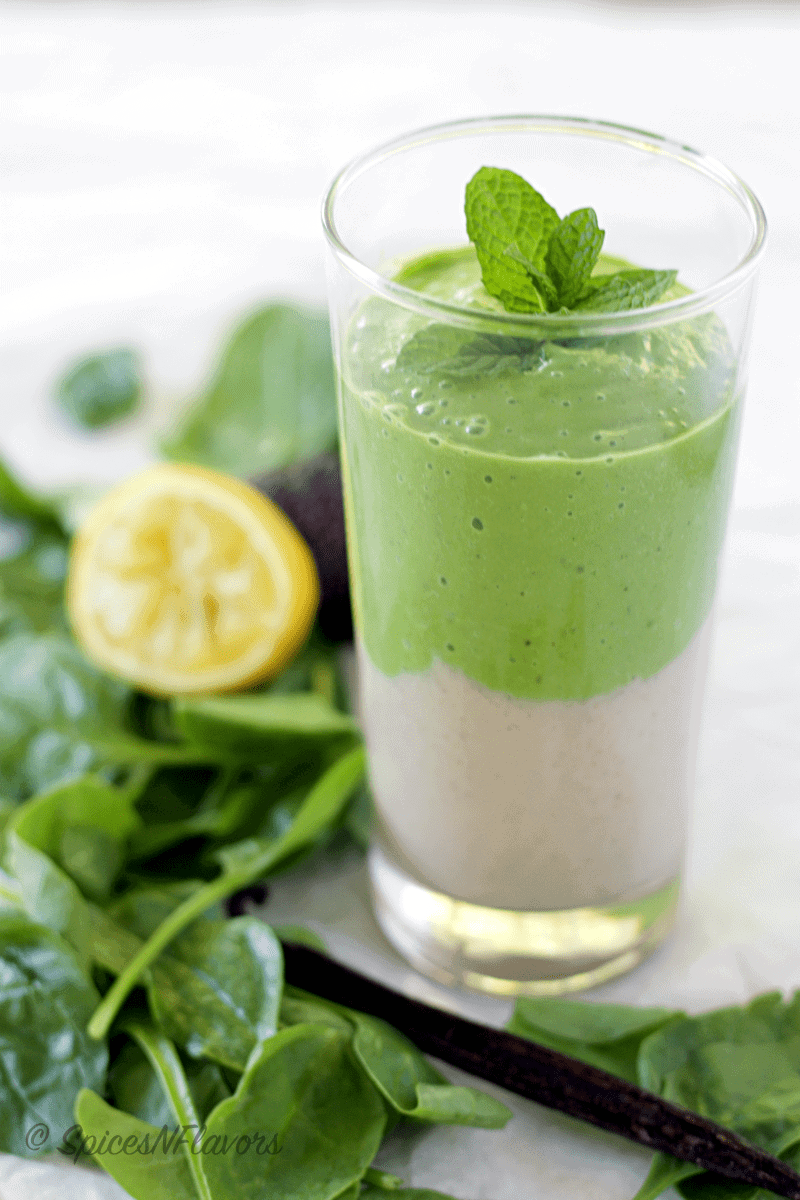 Green smoothies are a perfect way to include veggies in your daily diet. These are delicious healthy dose of drink that no one would ever want to miss.
And the bonus part is you do not even taste the spinach in it.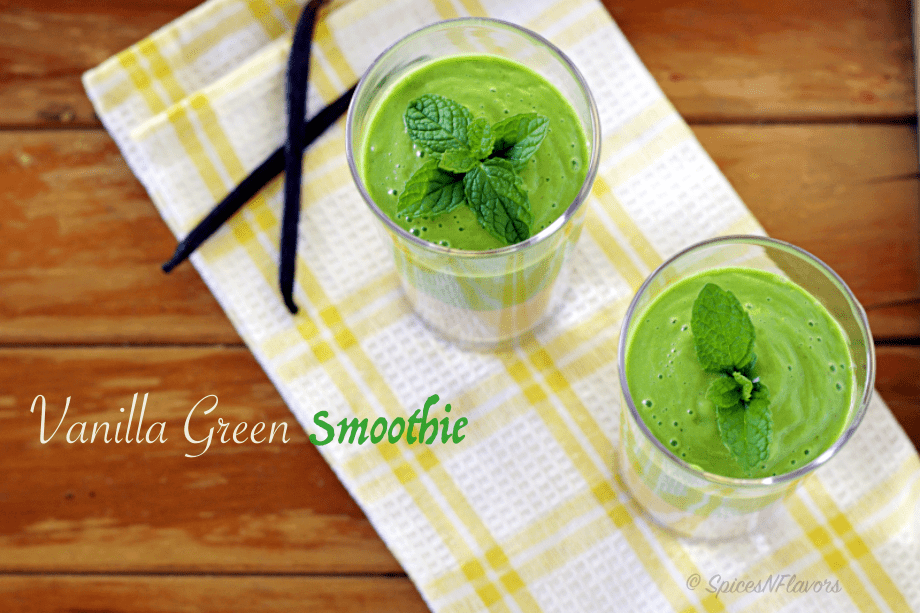 Why should you include Greens in your diet?
Did you know dark leafy vegetables helps in anti-aging
They burn fat thereby helping those who want to lose weight
They regulate cholesterol levels, reducing the chances of heart attacks
They help to fight diabetes, preserve your vision health and much more.
One should definitely include greens in their diet. If you do not like to eat it raw as in salads then just sneak it in using this smoothie recipe or try out this palak phulka - yeastfree Indian flatbread using spinach. You will love it!!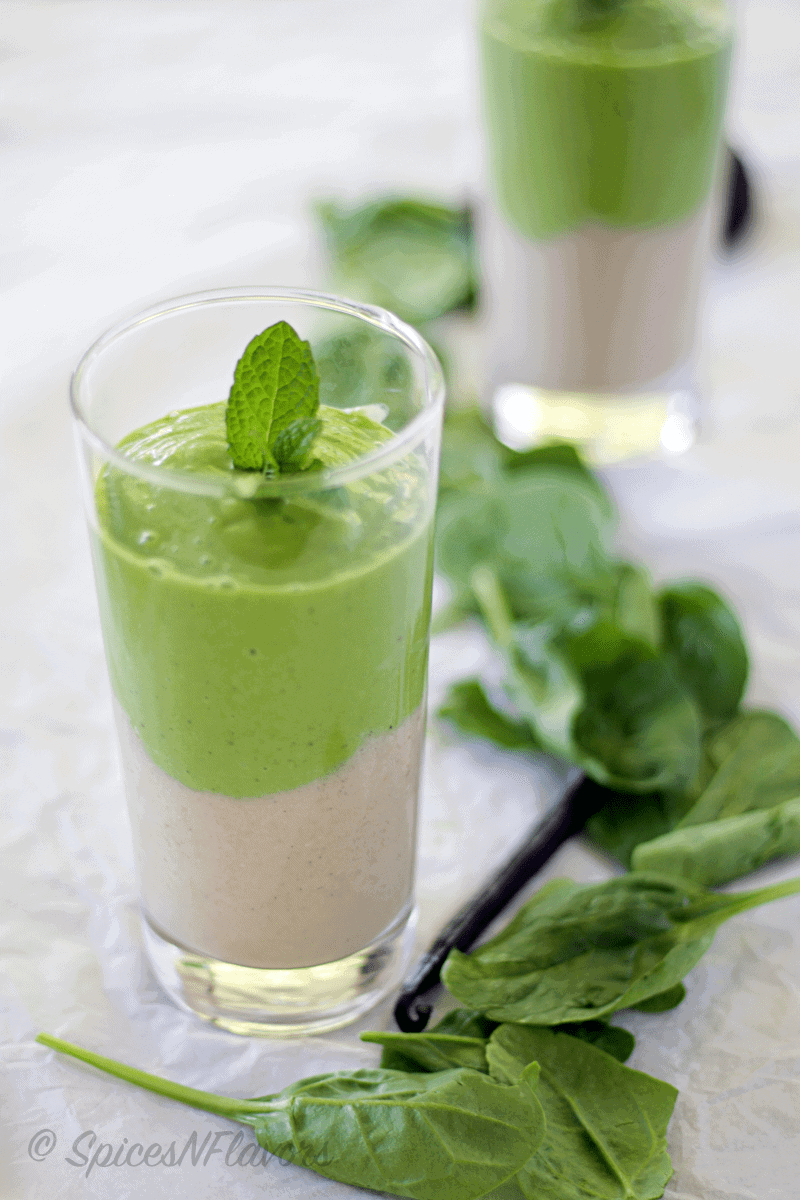 I am so glad that I took up this #7daysmoothiechallenge. One I am having a good amount of fruits and vegetables required for the day. Two it is giving me an opportunity towards inculcating the habit of healthy eating.
Plus the smoothies keep you so full that you do not crave for any snacks in between.
Wish to join me in this challenge. Just use the hashtag #7daysmoothiechallenge and tag me @spicesandflavors so that I can follow you and all your posts.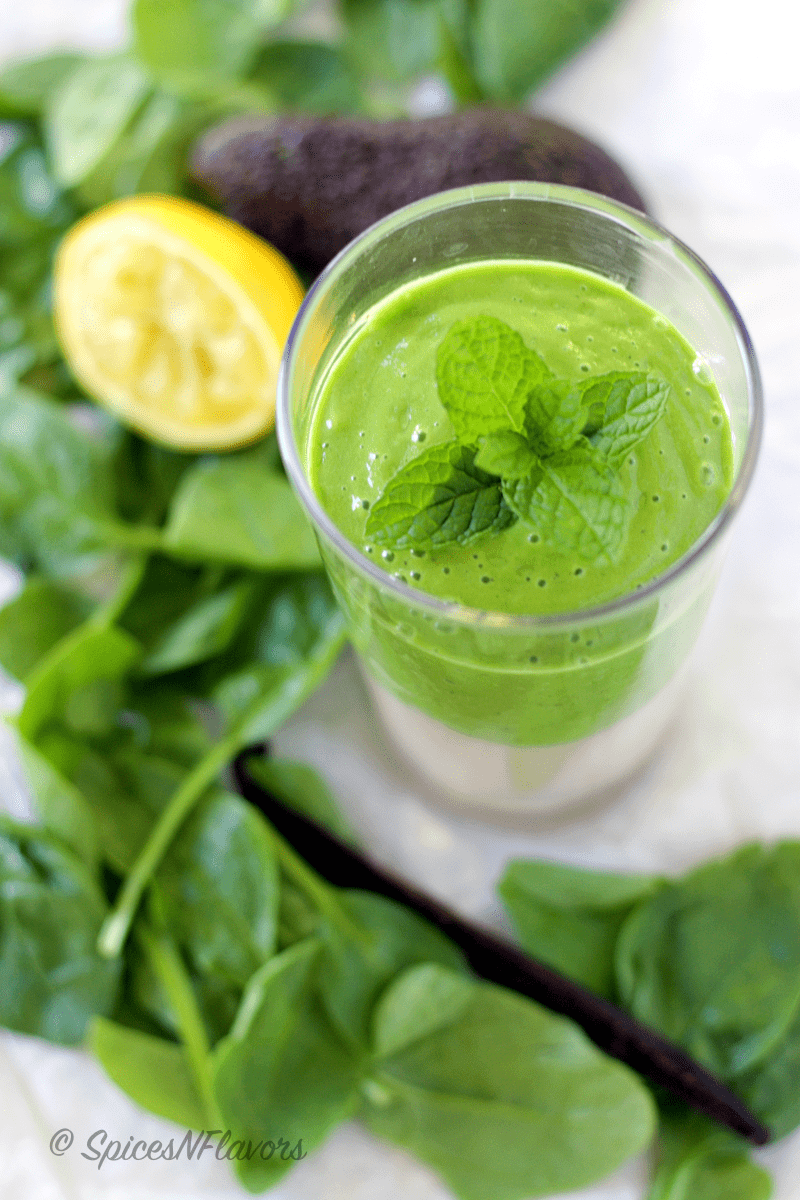 Why should you try this recipe??
This recipe is one of the best way to include greens in your diet, as you use raw green leafy veggies you get the maximum amount of nutrition from it.
This tastes so delicious that you feel you are actually having a milkshake.
Good for diabetic patient (just skip dates if you want)
It has no sugar added to it whatsoever.
When you have a glass of healthy drink which is tasty too will you want to miss it?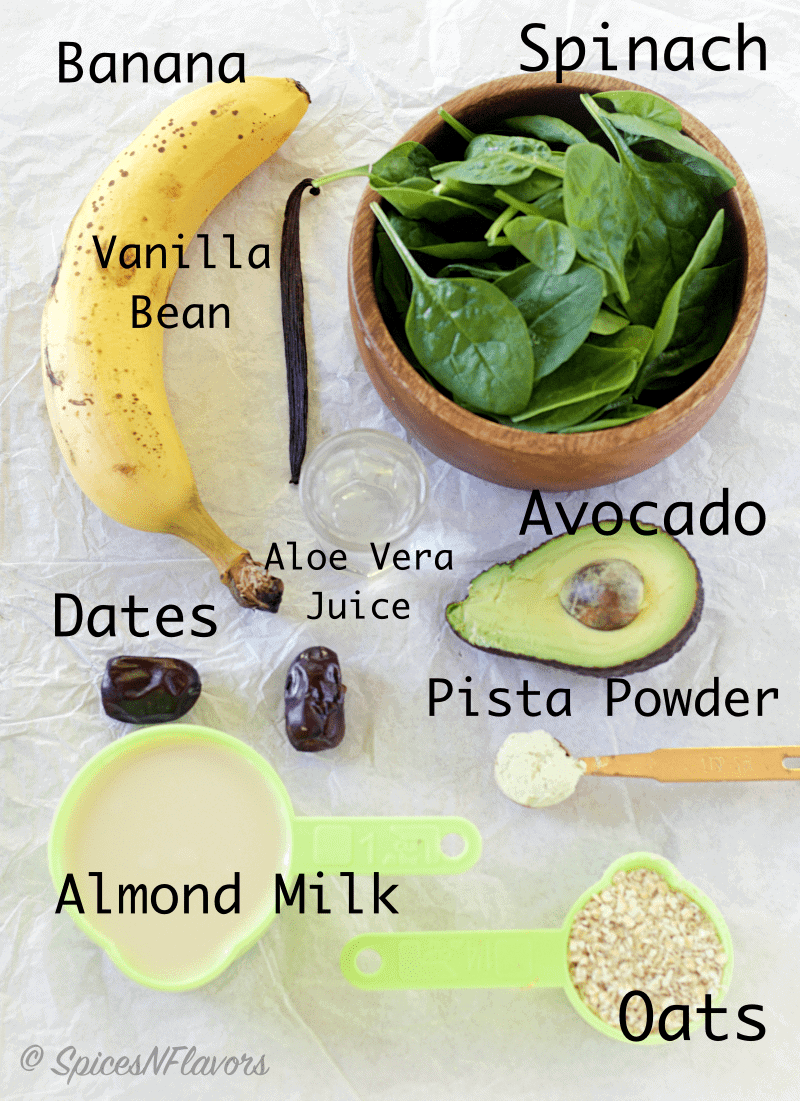 So what goes into making this healthy glass?
We just need basic ingredients to make this.
To give it a little bit of tweak I just blended it in two different layers so that it is visually appealing as well.
Some banana oats vanilla bean and almond milk blended together to make the white layer and rest of the ingredients like spinach, avocado, pistachios, dates and my secret ingredient aloe vera (which makes it even more healthier) goes into making the green layer.
Lemon juice pairs so well with avocado and hence decided to add it at the end so you won't find it in the above pic. However it is an optional ingredient so you take the call..
So do I love this smoothie??
Ofcourse I do!! And my entire family kept me asking for some more. You should definitely try this.
And if you give it a try then do tag me, tweet me or instagram me. I will love to follow you and all your posts.
By the way check out my Pinterest Smoothie board - many more tips, healthy benefits, new varieties all included in one place.
And now to the recipe..
Liked this recipe?
Let us know by giving it a star rating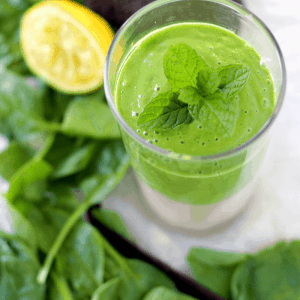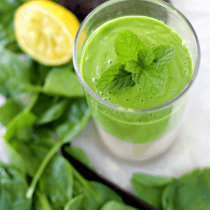 Print
Classic Vanilla Green Smoothie
This is a vegan gluten-free smoothie recipe to make you eat more greens
Ingredients
For the White Layer
1

cup

almond milk

unsweetened

1

med sized banana

1/4

cup

oats

1

vanilla bean

or 1 tsp vanilla bean extract
For the Green Layer
1

cup

aloe vera juice

1

cup packed

baby spinach leaves

1

avocado

1

tsp

pistachio powder

or 2 tbsp of whole nuts

2

iranian dates

or of your choice

1

tbsp

lemon juice

(optional but recommended)
Instructions
For the White Layer
Add all the ingredients mentioned under the white layer (scrape out the seeds from the vanilla bean pod) and blend until smooth. Divide it in between two glasses
For the Green Layer
Rinse out your blender. And then add all the ingredients mentioned under the green layer and blend until smooth. Pour it on top of the white layer in the two glasses.

Garnish with some mint leaves and thats it your healthy smoothie for breakfast or midmorning snack is ready.
Notes
1. You may just add everything to the blender at one go and blend together to save time.
2. Use water to thin out the smoothie if you find it too thick.
Did you make this recipe? Tag me today!
Tag me @spicesandflavors to get featured on my FB and Insta pages
Some more interesting smoothie recipes coming up soon. Keep watching this space.
Until then
Hugs
Sushma
Pin it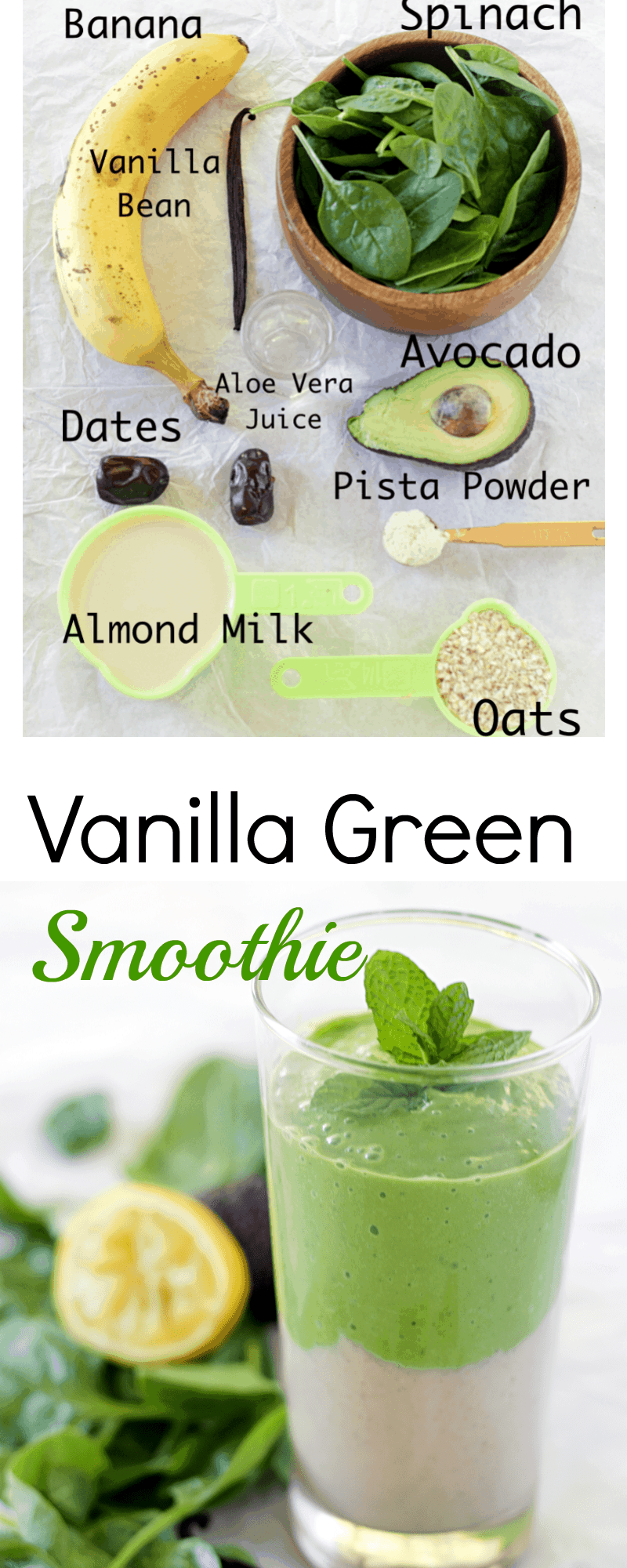 References:
1. http://www.besthealthmag.ca/best-eats/healthy-eating/6-health-benefits-of-leafy-greens/3/
2.https://vegetarian-nutrition.info/green-leafy-vegetables/