Pina Colada smoothie bowl is inspired from the classic pina colada cocktail- ofcourse without the alcoholic content and adding a special ingredient to make it even more nutritious and packed with protein.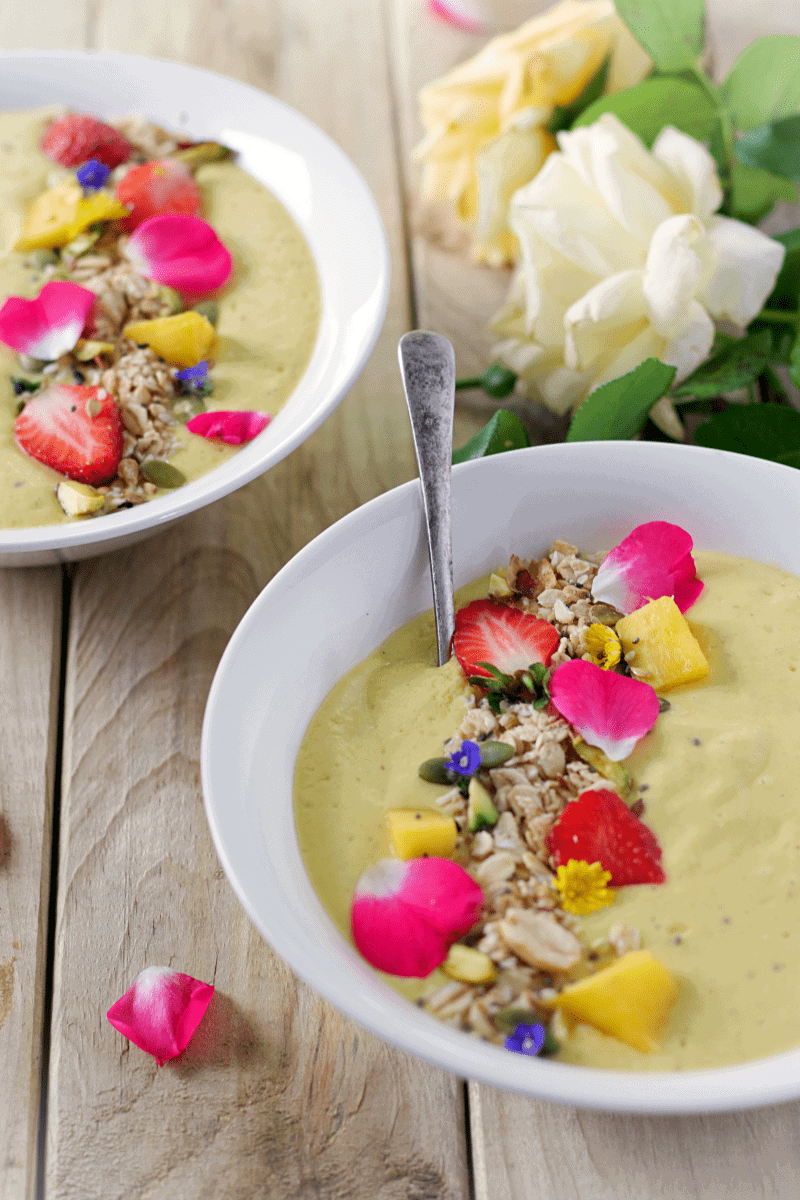 Who wouldn't want to wake up to this on a Thursday morning??
I don't hate Mondays but I definitely dislike Thursday because I can't wait for the weekends.. And that is why I choose to post on Tuesday and Thursdays on the blog so that I have something interesting to look forward to every Thursday..
This Pina Colada Smoothie really made by day bright..
Wondering how.. Just have a look at my breakfast table from today morning..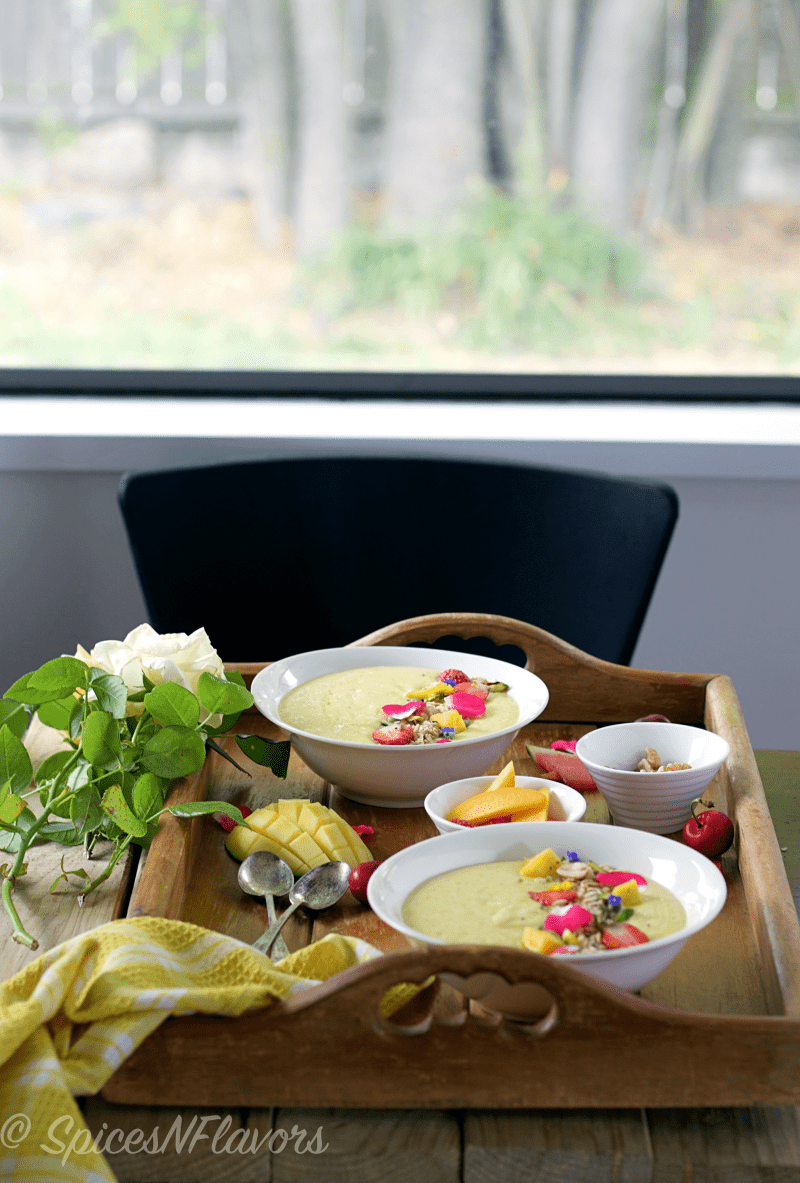 You all know from my Sunrise Smoothie post how much I love breakfast.. And if the table is set like this then I would fall in love with my food.
This feels so romantic. A bowl of healthy nutritious protein packed smoothie bowl + scented roses + dry fruits + fresh fruits = my kind of breakfast.
I just love love love this Pina Colada Smoothie Bowl.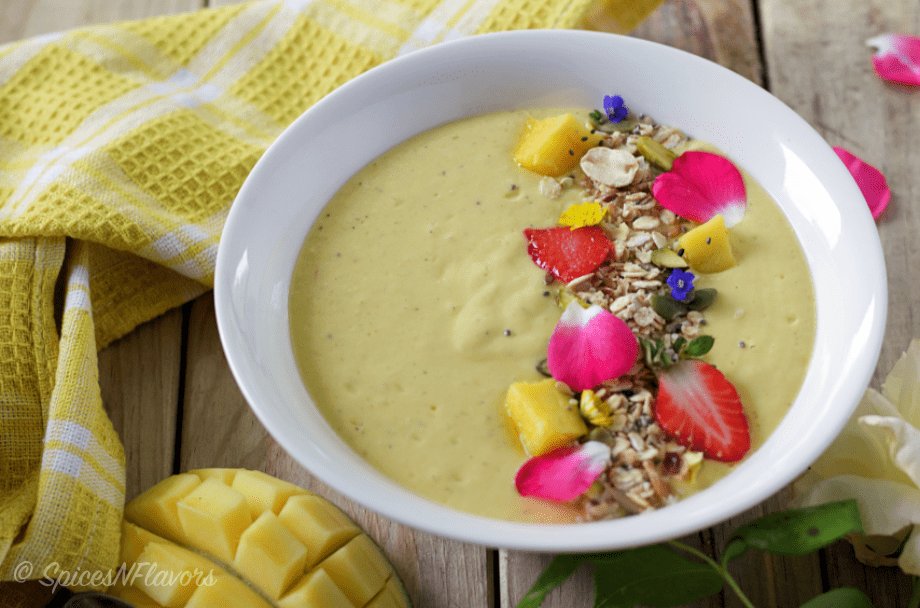 I can't tell you how much interesting this #7daysmoothiechallenge is. If not for this challenge I would not have tried so many interesting variations of smoothies and never would have thought eating your veggies would be so interesting.
I fell in love with this concept of sneaking veggies in your drink. I mean the veggies are not cooked and raw means more nutritious. Fresh fruits add natural sweetness to it. And some toppings like ginger and turmeric added in this pina colada smoothie bowl makes it one healthy nutritious meal of the day.
What more can you ask for in your breakfast??
If you wish to join me in this challenge then just use this hashtag #7daysmoothiechallenge and mention me @spicesandflavors so that I could follow you and all your posts.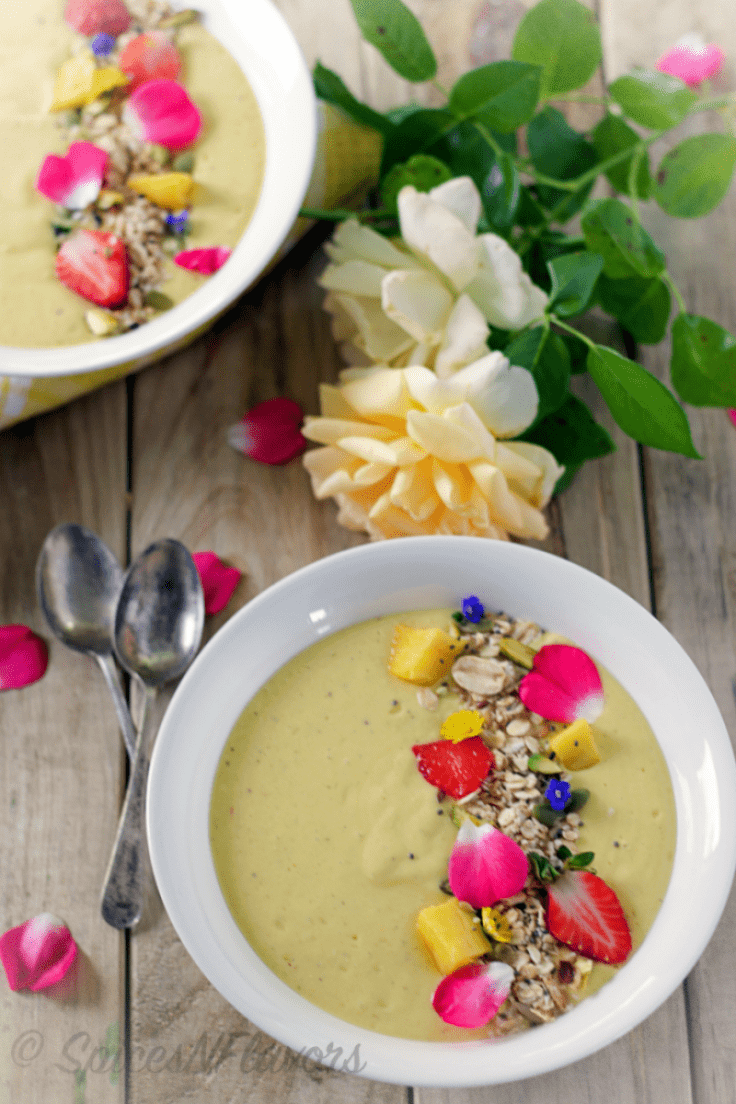 Why am I raving so much about this Pina Colada Smoothie Bowl
Simply because of the ingredients used in this recipe..
Tropical fruits like pineapple is good for your skin, immune system and aids in digestion. Mangoes are also good for your skin and eyes, even diabetic patient can consume it in moderate quantities owing to their low-glycemic index. I don't need to say anything about coconut as everyone knows about its health benefits.
Tofu is a great source of protein and we all know how important protein is in our life.
Oats another ingredient which needs no introdution. It lowers cholestrol levels, stabilises blood sugar, has lots of fiber to keep you full and stop you from craving for snacks and much more.
Ginger has got medicinal properties in it.
Turmeric acts as a anti-biotic.
Moreover this bowl just makes me feel happy. Just look at the colour and fresh flowers <3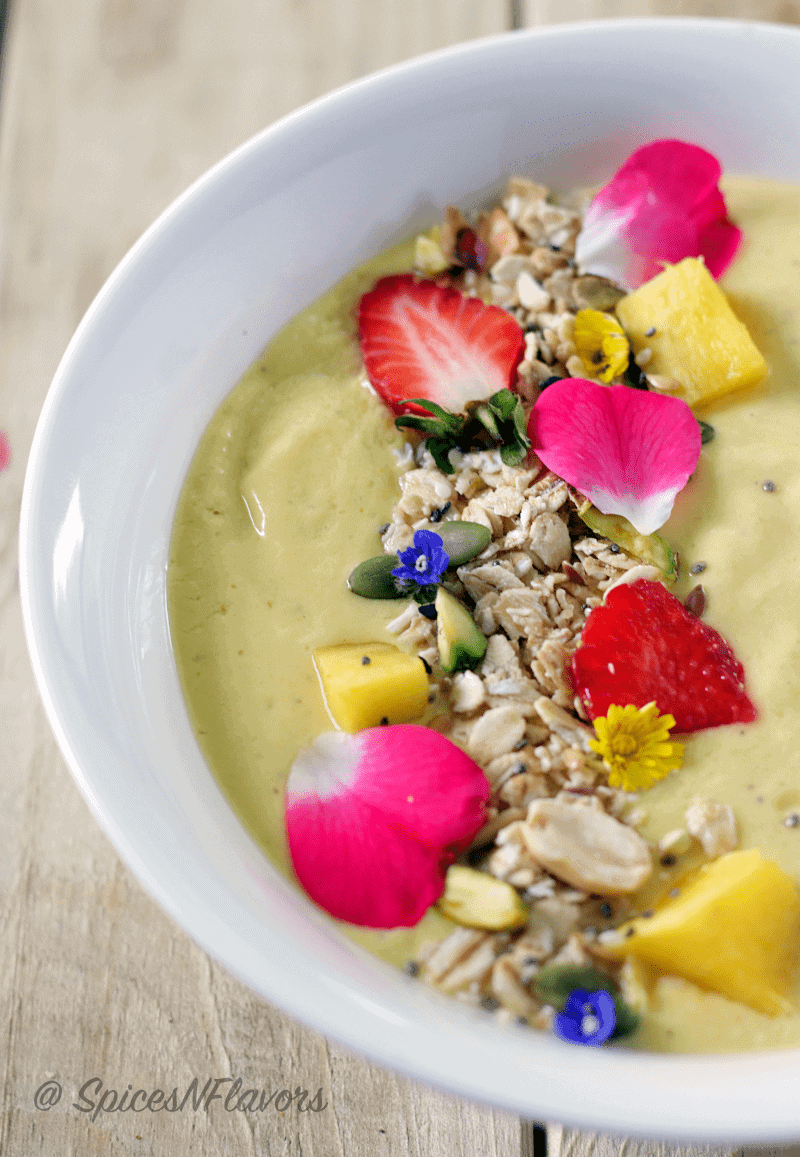 Isn't the topping on the smoothie bowl so appealing??
Well like every other smoothie recipe, this recipe also calls for adding your liquid first. Since it is a pina colada inspired smoothie it has to have coconut milk or even coconut water will do.
A lot of tropical fruits. I have used mango, pineapple, mandarin and banana. You can even use papaya, kiwi, coconut flesh etc.
Tofu is added to oomph up the protein content. Even though it is advisable to use silken tofu I have used regular ones.
Blend it and then top with toppings of your choice like granola, muesli, nuts of your choice, pumpkin seeds, fresh fruits, coconut shreds, edible flowers etc.
If you love smoothies then you definitely want to follow my smoothie boards on Pinterest. It has one amazing collection of everything you want to know about Smoothies.
And if you happen to try this recipe then do tag me, tweet me or instagram me. I would love to hear from you.
Liked this recipe?
Let us know by giving it a star rating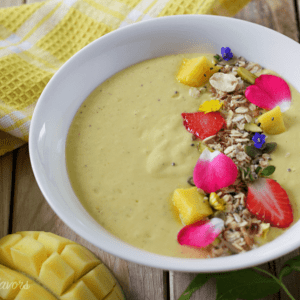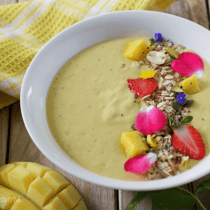 Print
Protein Enriched Turmeric Pina Colada Smoothie Recipe
This is vegan gluten-free smoothie bowl inspired by the classic Pina Colada Cocktail
Ingredients
1

cup

almond milk

unsweetened

1/2

cup

coconut milk

unsweetened

1

no.

mango

cubed

1/2

cup

pineapple

chunks

1

no.

mandarin

(or orange)

1

med sized banana

1/2

cup

tofu

cubed

1/4

cup

oats

1/4

tsp

turmeric powder

(or thumb sized whole turmeric)

1/2

tsp

grated ginger

2

iranian dates

(or of your choice)
For Toppings
Granola or Muesli

Fresh fruits

Dry fruits of your choice

Coconut shreds

Pumpkin seeds

Edible flowers
Instructions
Add everything mentioned above (except the toppings list) in a blender and blend until smooth

Add as many or as little toppings of your choice and enjoy this healthy bowl
Did you make this recipe? Tag me today!
Tag me @spicesandflavors to get featured on my FB and Insta pages
Tomorrow I have an amazing dessert smoothie for breakfast. So do watch this space
Until then
Hugs
Sushma
Pin it