Black Forest cake smoothie is inspired by the classic black forest cake minus the calories.. woot woot.. one happy dance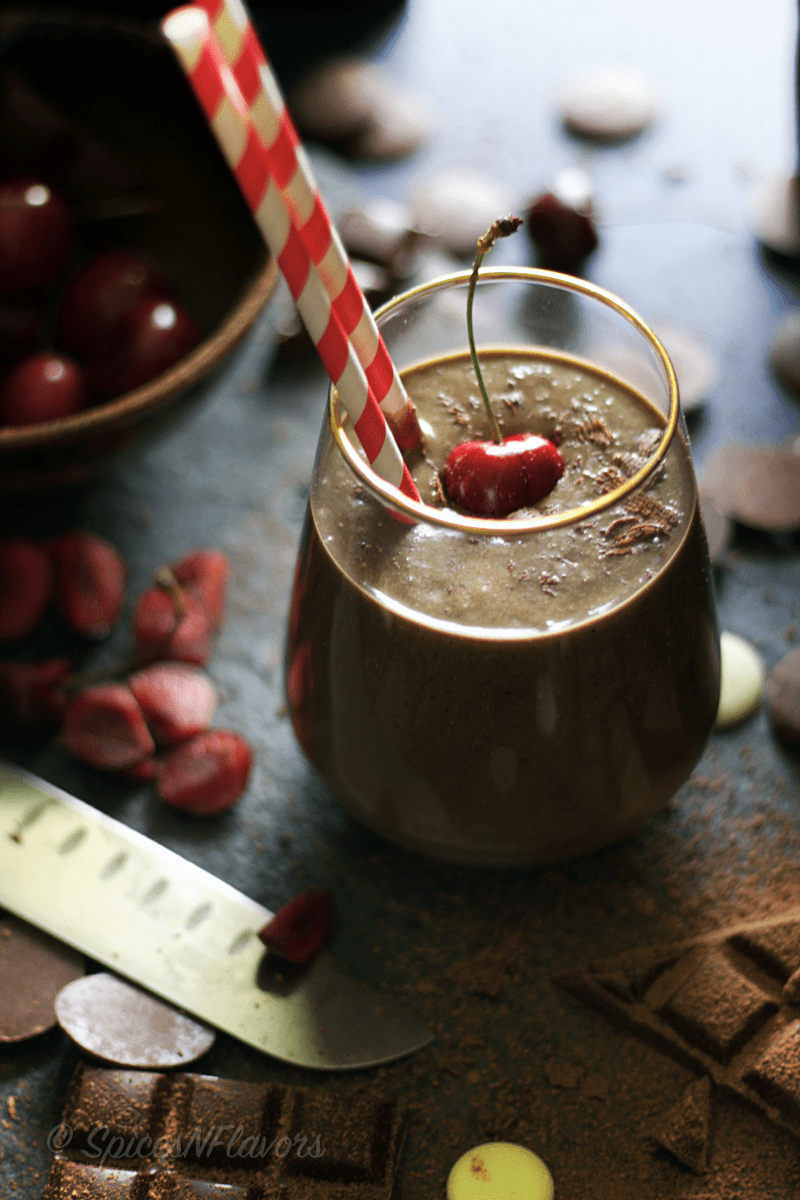 Yeahhhh!! Its Friday and its February!!! Love is in the air.. My pinterest wall is painted all red and I can just imagine chocolates, chocolates and chocolates.
And this Black Forest Cake.. no no I mean Black Forest Cake Smoothie..
If your new resolution is to eat healthy then don't worry you are at the right place.. This Smoothie is healthy, vegan, gluten-free and delicious at the same time.
Guess what it also has SPINACH added to it..
Got you there right!!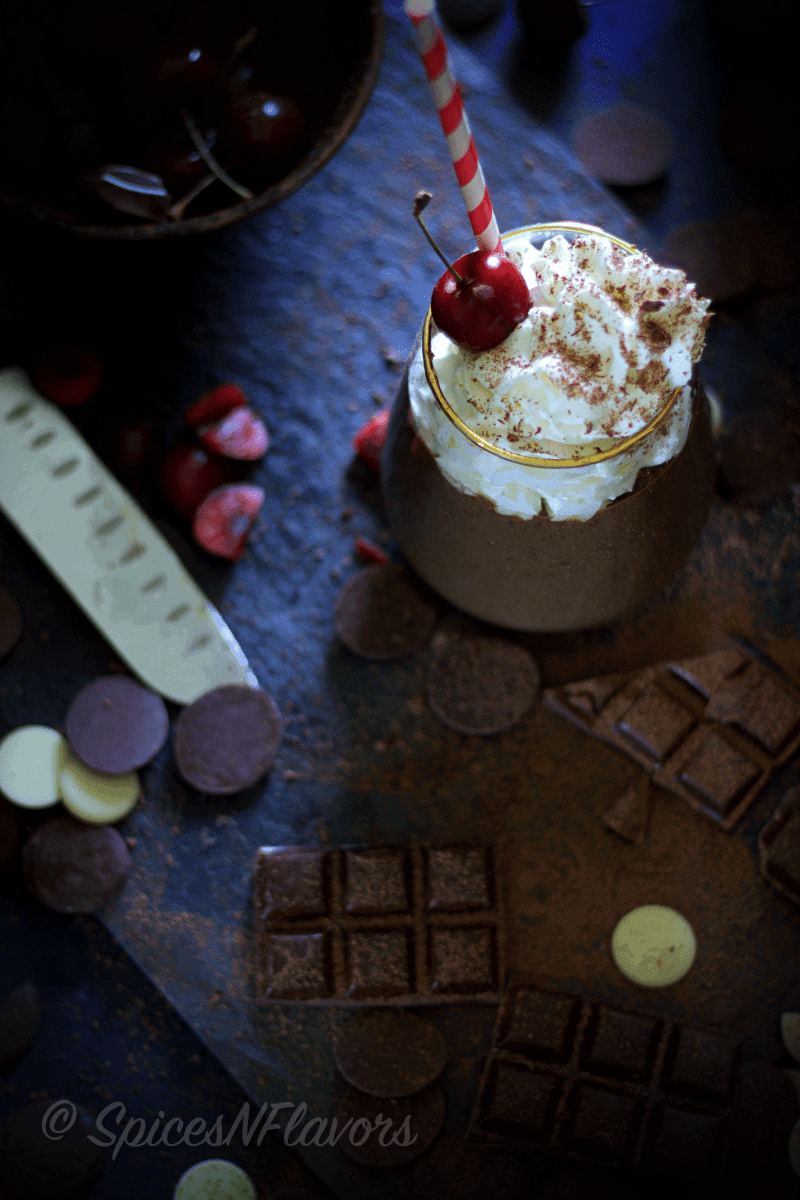 What is your idea about dessert for breakfast?? I mean I can have dessert at any time of the day.. Even now I have a chocolate piece in my hand.. yum!!! Chocolate reminded me on these cute chocolate cups that I made some time back.. Check it out you will find it interesting!!
Dessert is my weakness!! I love having a good dessert after my meal. And if I get to have dessert as a meal then there is nothing more that I want in life. That is the feeling I got from this Black Forest Cake inspired smoothie which I had for my breakfast today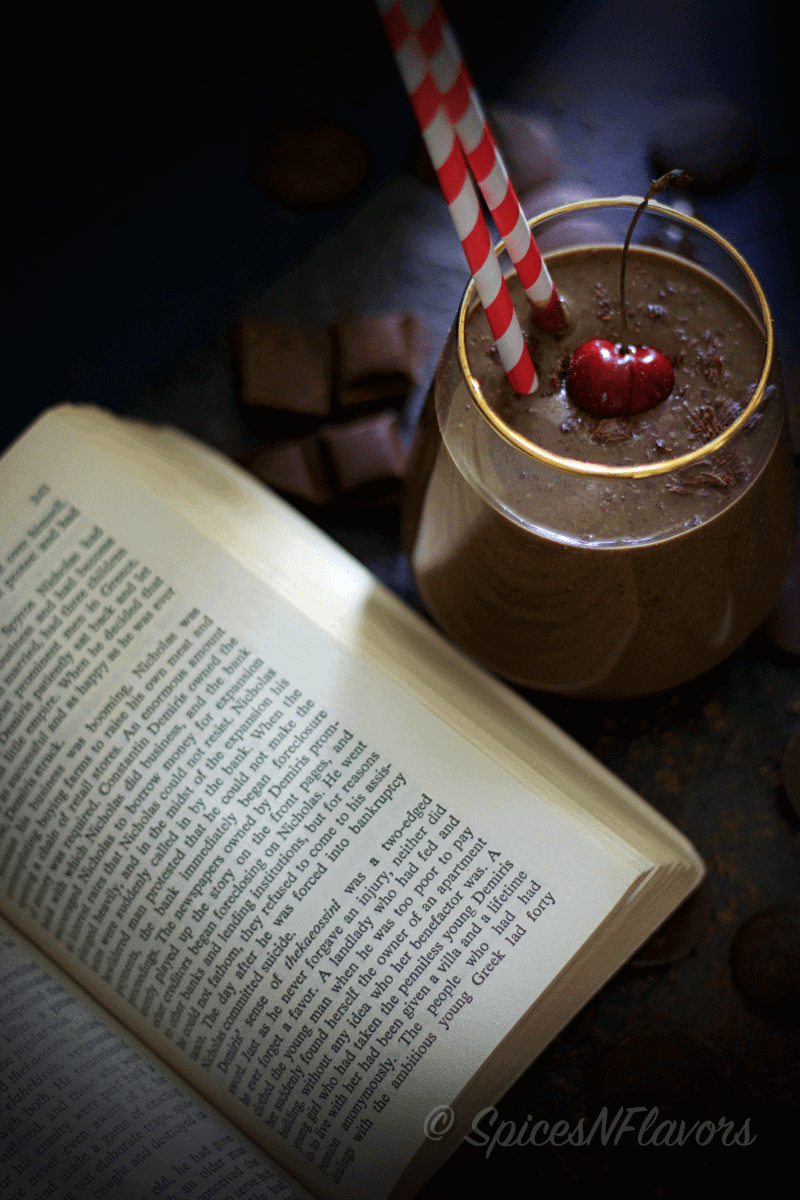 This Valentine's Day have a healthy and hearty breakfast.. Make yourself a smoothie instead of a cake.
If you do not have a valentine. Then just do it for yourself. Make this black forest cake smoothie, grab a book, take a seat by that special window or corner of your house, lay back and just enjoy. Love yourself and love the special time that you just spent with yourself.
Ahhh!!! How I miss my ME time. No doubt I love YO (my daughter) and love to be with her but at times all I need is that 10 mins to have a hearty breakfast, that 10 mins to sip on a hot cup of tea, that 10 mins to message my husband, that 10 mins to listen to A.R.Rehman.
And all you need is less that 10 mins to make this smoothie.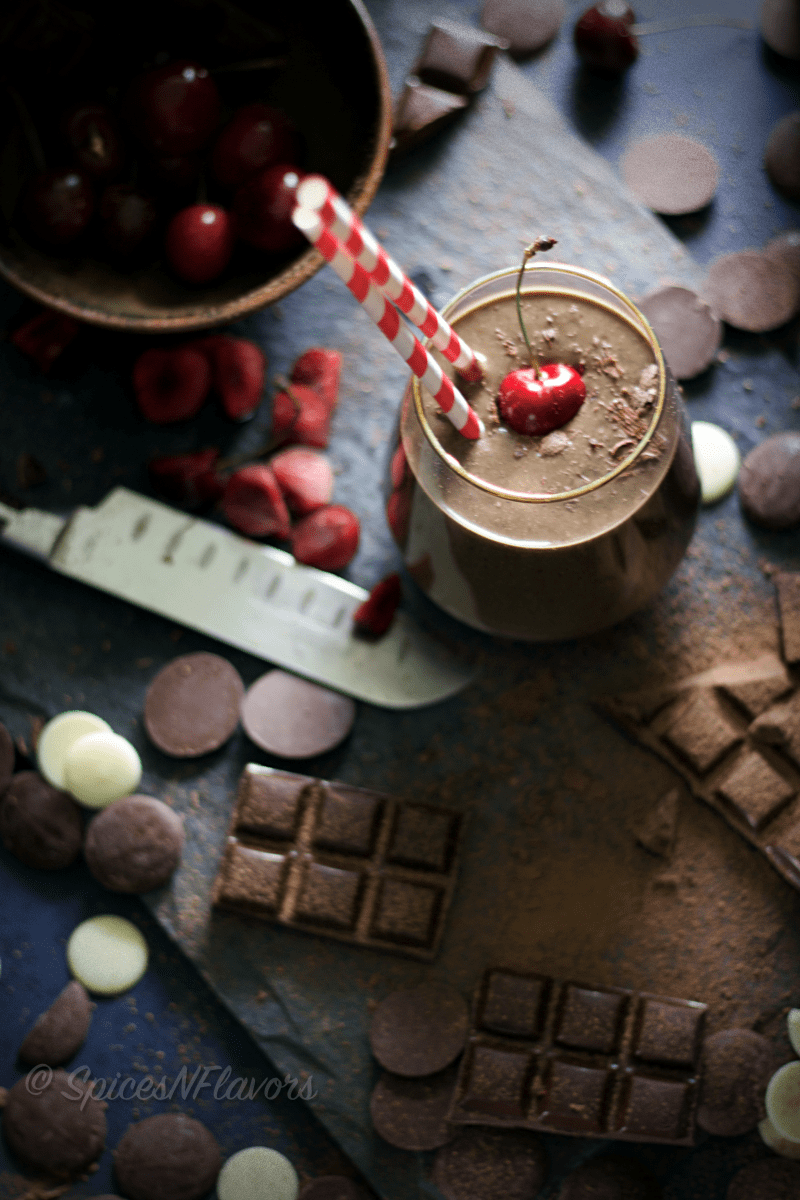 I am so happy that I took up this #7daysmoothiechallenge. I tasted some amazing new flavours in this week. My most favourite smoothie till now is this Classic Green Vanilla Smoothie but I loved this breakfast table that I set up yesterday.
And I love the mood created by today's black forest cake smoothie.. Isn't it romantic?? OR is it just me... aww.. I am bit by this Valentine's Day bug!!!
Wish to join me in this challenge just use the hashtag #7daysmoothiechallenge and mention @spicesandflavors in your posts so that I can follow you and your posts.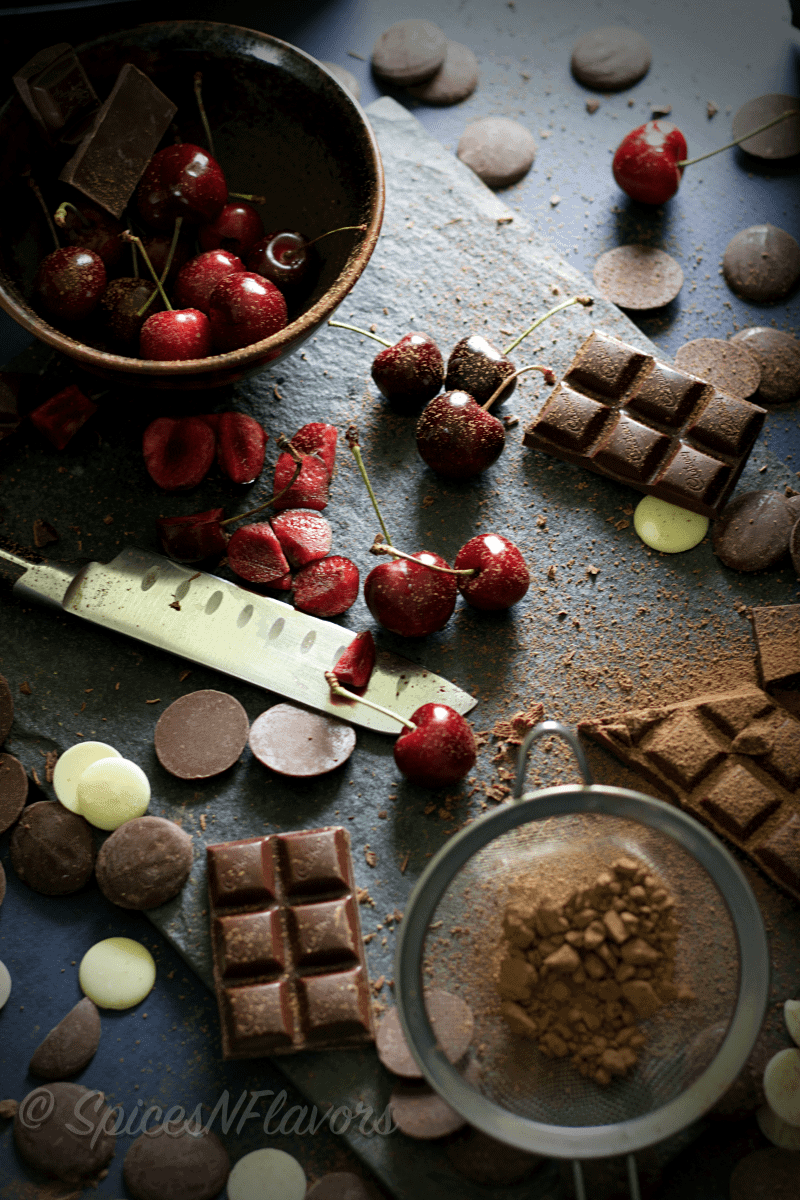 Do you love black forest cake?? Hands down I love it!!! And I could see no difference when I tasted this smoothie.
Very basic ingredients get into making this beautiful glass.
And those are ofcourse cherries!! I suggest you use pitted one or else you will have to spend extra few minutes to chopping them to remove the seeds you do not want it in your smoothie right.
Cocoa powder - Do you think it is unhealthy? Then let me clear out this misconception. Cocoa powder is actually good for you. It has antidepressant effects, contains antioxidants, lowers blood pressure and many more. Anything in moderation is always good for you.
Guess what I also added a handful of spinach leaves to it, making it one amazing way to eat my greens and trust me you won't even get a hint of it. Wondering what health benefits do leafy veggies have? Read this to find out more.
Thats it take your blender, add some almond milk, some cherries, cocoa powder, banana, handful of spinach and your protein powder and blend to dive into this smoothie.
If you love smoothies or wondering where to start from check my Pinterest Smoothie board for amazing ideas tips and tricks
And if you happen to try this recipe then do tag me, tweet me or instagram me I would love to hear from you.
And here is the recipe for you..
Liked this recipe?
Let us know by giving it a star rating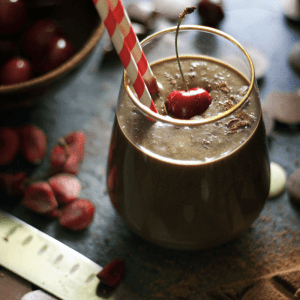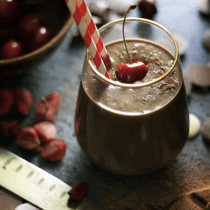 Print
Black Forest Cake Smoothie
This healthy vegan gluten-free smoothie is inspired from the classic black forest cake minus the calories.
Ingredients
1

cup

almond milk

unsweetened

1

cup

cherries

(pitted)

1

med size banana

handful

of

spinach leaves

1/4

cup

oats

2

tbsp

cocoa powder

1

tbsp

chia seed

1

tbsp

protein powder

(optional)

whipped cream

(optional)
Instructions
Add everything in the order mentioned above to your blender and blend until smooth.

Use some whipped cream to garnish if you fancy one or just use some grated chocolate and you are good to go.
Did you make this recipe? Tag me today!
Tag me @spicesandflavors to get featured on my FB and Insta pages
Two more interesting smoothie recipe lined up. You do not want to miss my Sunday smoothie recipe. So keep an eye on this page.
Until then
Hugs
Sushma
Pin it