If you know anything about the dessert genre you probably know of red velvet cake. It has an exquisite and lustrous feel, making you feel like you're eating an amazingly delicious dessert. But have you ever wondered Why is Red Velvet Cake Red or what makes red velvet cake red?
Well if you read any further, I'll give you the answer that many don't know or just don't want to tell you. So let's get started shall we?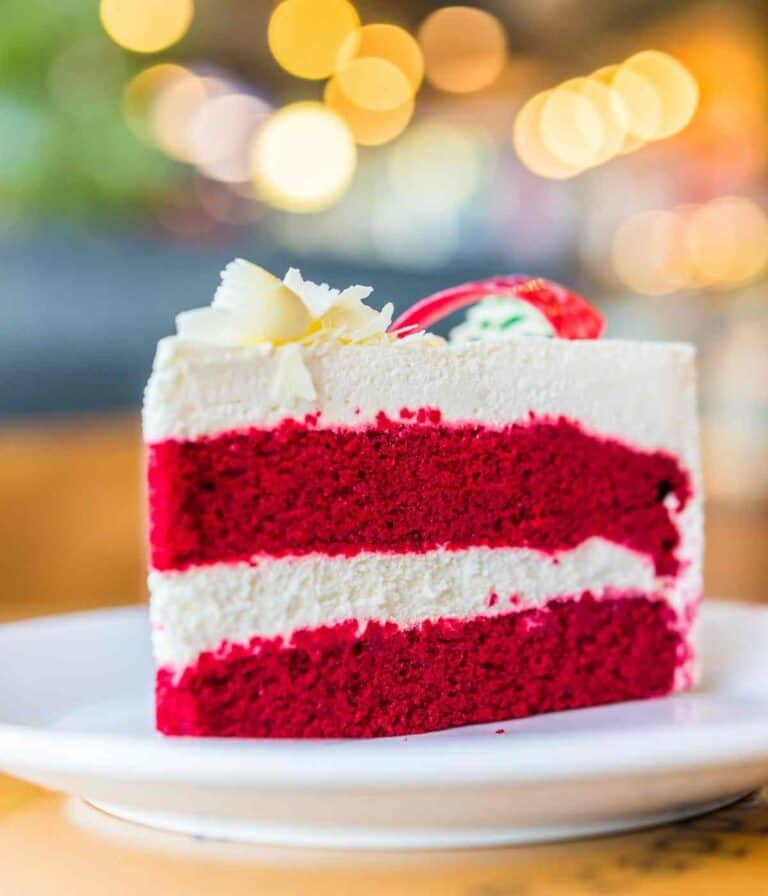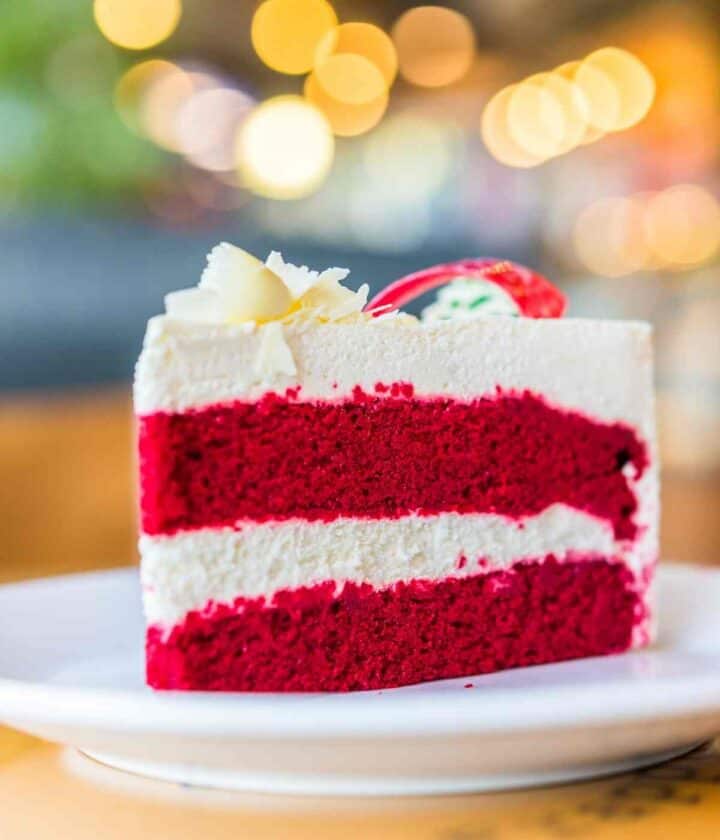 When you see this special dessert, you probably think it's just a chocolate layer cake or maybe even vanilla; this is because many times people mistakenly think the color white, and they are assumingly thinking of the frosting on top, but in actuality it is neither of these things.
To understand the basic concept you have to first understand What is Red Velvet Cake.
The Origins of Red Velvet Cake
To fully appreciate the classic red velvet cake, you've got to go back in time.
It's true that cakes have been around for thousands of years. But it wasn't until the Victorian Era (1800's) that they started getting fancy.
It was during this time that people were crazy about cocoa in their desserts.
Velvet cakes first came into existence during this period when chefs and bakers started including cocoa powder for a rich, sweet taste. But cocoa came with an expensive price tag, so it was only affordable by the wealthy at the time.
Since all purpose flour were not as smooth as the ones available to us today, the cocoa powder helps break down the coarse texture of the flour resulting in a softer texture of the end product.
"Velvet" cake recipes would call for the use of cocoa powder (a luxury ingredient), which would set these cakes apart from other types of cakes and give them a smooth texture.
So the name "velvet" was used because the cake's soft, smooth texture felt like velvet against your tongue.
You might think that name for these cakes sounds a little weird, but when you think about it, "velvet" is an accurate way to describe how soft and smooth the texture of these cakes are.
Now you know that Velvet in the Red Velvet Cake is associated with the addition of cocoa powder to the recipe. Yes literally the word "velvet" was used so guests would know that the dessert would be smooth and soft (because it's made with cocoa powder).
Traditional Red Velvet Cake
Every original red velvet cake recipe has a few basic ingredients in common:
Flour
Cocoa powder
Baking Soda
Salt
Eggs
Oil
Buttermilk and
Vanilla.
The idea is to create a recipe with just those basic ingredients that's different from the regular ones.
A point to note is that you don't add cocoa powder like you do in modern day chocolate cake recipes—it was very subtle and minimal back then.
So even though red velvet cake falls under the umbrella category of chocolate cake it isn't your regular chocolate cake.
It is said that when these ingredients were combined to form a cake batter one could easily detect the reddish hue in the resultant cake. It is also believed that this unusual color came from a chemical reaction which is exactly what we are demystifying today.
Why is Red Velvet Cake Red?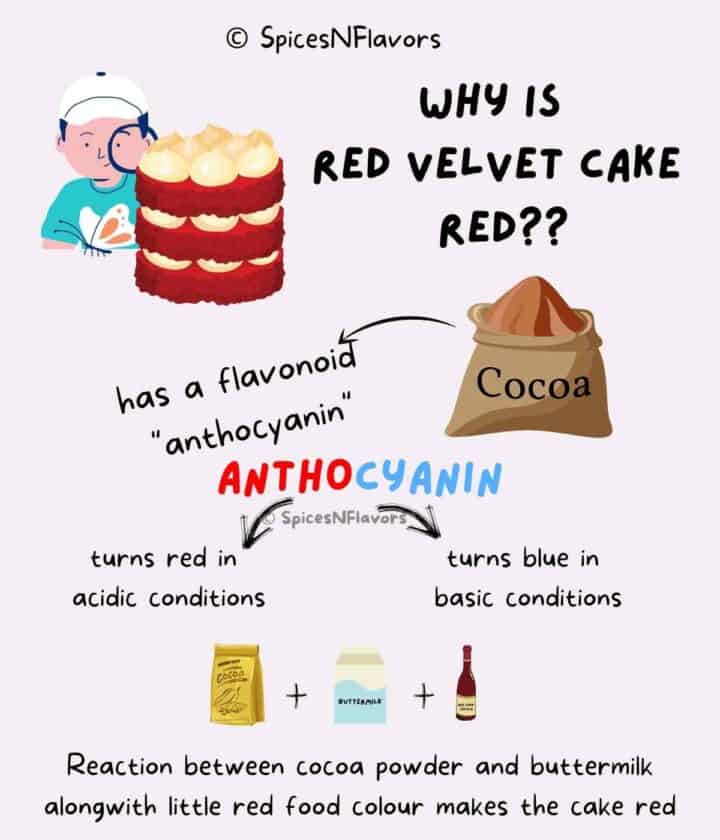 Red velvet cake is red because of a chemical reaction that happens when cocoa powder reacts with buttermilk and vinegar. That's the short answer, anyway.
A longer, more detailed explanation involves pH reactions, polymerization reactions, and lots of other science-y-sounding words. But don't worry! Let me break it down for you below.
So it all comes down to the anthocyanin, a type of flavonoid present in cocoa powder.
The red color that you see in many foods, from strawberries to blueberries to tomatoes, is called anthocyanin.
The chemical structure of anthocyanin is sensitive to acids and bases—which refers to any compound that are either acidic (like vinegar) or basic (like baking soda).
In acidic condition, anthocyanins appear as red but turn blue when the pH increases.
In red velvet cakes, the contact between the cocoa powder (acid) and vinegar (acid) or buttermilk (acids) results in a dark red color. Remember in acidic condition, anthocyanins appear as red.
Although, the resulting cake is more of a ruddy brown color you know like earthy, brownish red like the one in the picture below and not the vibrant red hue available in modern days now.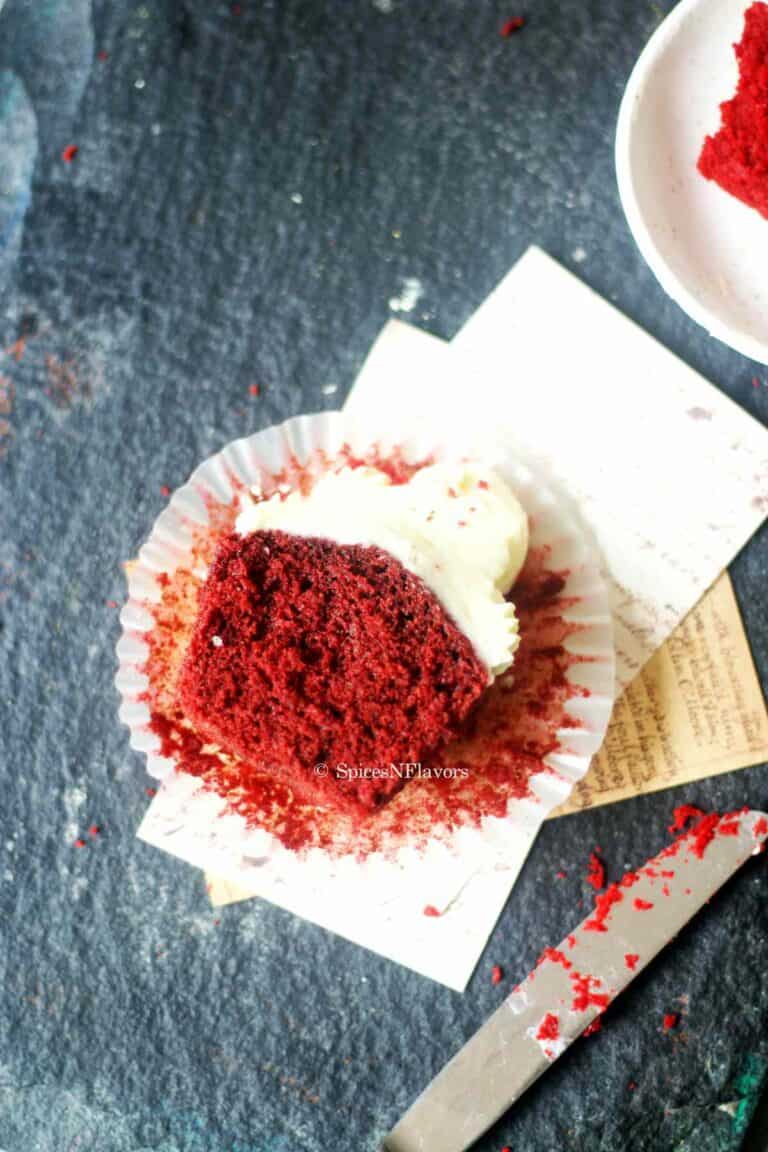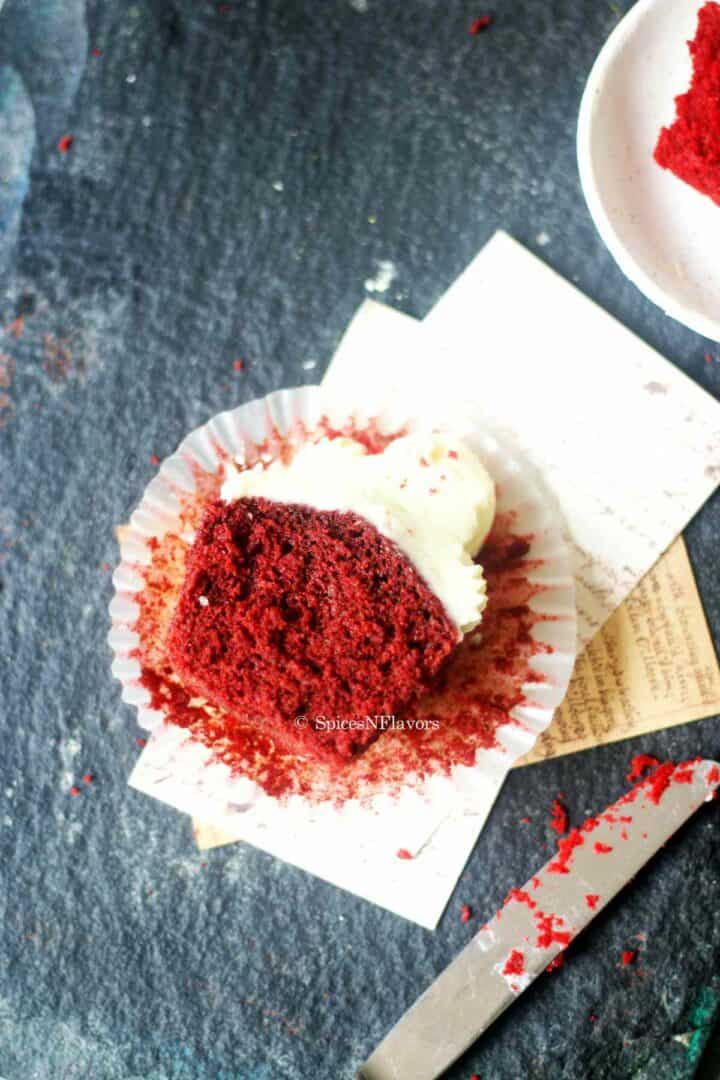 Don't worry we will get there too. Meanwhile do consider checking our Red Velvet Cupcakes recipe to know how to achieve that velvety texture along with the vibrant reddish hue colouration.
World War II and Beets:
Lots of things were rationed in the US during World War II, including tires and gasoline.
And foods that weren't rationed were limited to 4 ounces per person per week.
One of the foods on the "unrationed but limited" list was canned beets. Most people really loved canned beets during this time. But what do you do if you run out of canned beets?
Well, bakers started using boiled beetroot juices instead, to enhance the color of their cakes.
Though the cakes made using beetroot does not have that vibrant red hue like modern day cakes.
And that was a popular trend that was pushed by Adams Extract Company.

Adams Extract Company
The red velvet cake we eat today is a far cry from its original form.
The story of red velvet cake is the story of food coloring.
By now you know Red Velvet Cake was originally a kind of "brown" velvet cake because it had a very dark color, but bakers started adding red food coloring to increase its marketability.
This is when marketers found a great way to sell their products and The Adams Extract Company is largely credited for popularizing red velvet cake.
The Adams Extract Company, makers of a popular line of food coloring, thought they could sell more food coloring if they created a recipe that called for a lot of their product.
So they packaged the recipe on tear-off cards and sold their food coloring alongside it. The result: modern red velvet cake as we know it today with the vibrant red hue.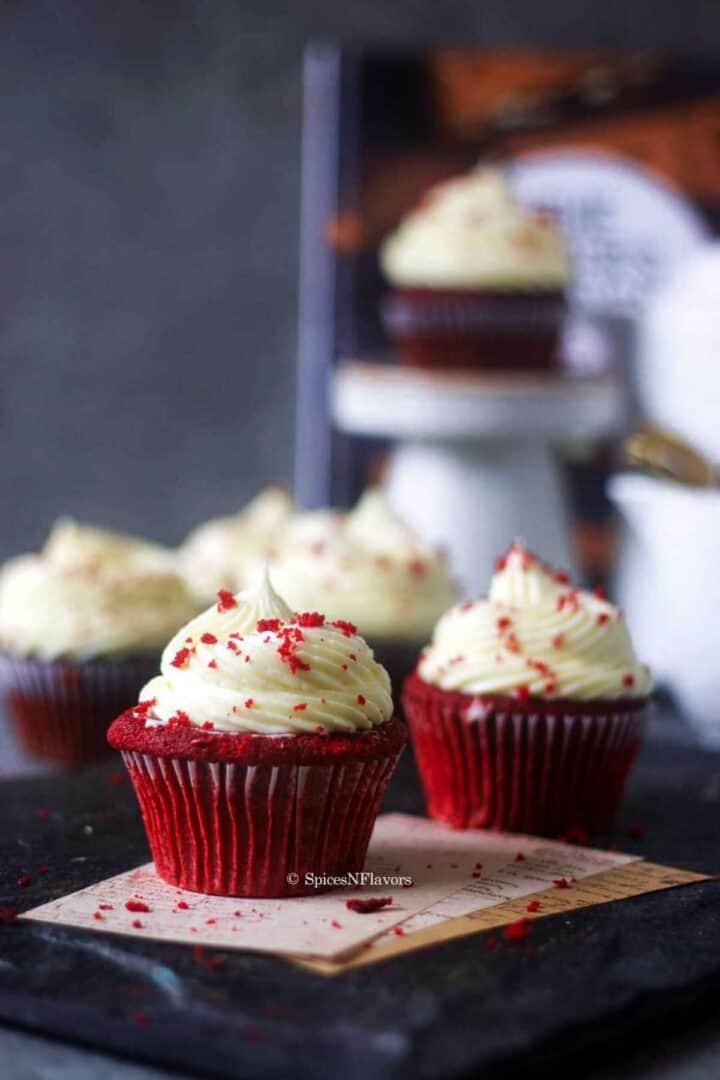 Cocoa Powder Has Changed
Cocoa powder has changed a lot over the years!
These days, cocoa powder is often treated and neutralised.
This means that there isn't enough acidity for the anthocyanin in cocoa powder to turn red.
And that's why modern-day cocoa powder can't turn cake batter red. In fact, the more you add, the less red it will be.
So naturally Red food colouring became popular in modern days because of this change in cocoa powder.
Why did my red velvet cake not turn red?
Okay, I'm going to be honest. I know this is probably the last thing you guys want to hear when you're staring at a red velvet cake that's supposed to be red and it's not, but here goes anyway:
You added too much cocoa powder. Or not enough food colouring.
Okay, okay, okay. Breathe. I know it's a bummer.
We were all really excited about your cake too. And trust me, we've all been there before: staring down at a plate of food that should be colourful and vibrant but instead it's just a shade of grey or brown (or sometimes even black). It hurts, right?
But I promise, it won't always be this way! I've got your back.
You see, I've got some insider info that's going to make sure this kind of thing doesn't happen to you again. Ready?
Here goes:
1) Don't overdo the cocoa powder—It's got that rich flavour that makes the cake taste delicious, but if you add too much you would end up creating a basic environment as opposed to the acidic environment which is what makes the cake red.
2) Not using enough food colouring? In my red velvet cupcakes recipe, I've pointed out this exact reason for you guys. It is mandatory to use at least 2 teaspoons of gel red food colouring.
3) Liquid food colouring will give a much more diluted effect and won't be as vibrant as using gel food colouring. So you end up adding too much colouring which is also the reason behind those bitter after taste that you experience sometimes!!!
Final Thoughts
In short, Red velvet cake is red because of anthocyanin (pigment in cocoa powder) turning red in acidic conditions. This means that the colour of the cake comes mainly from the addition of cocoa powder, buttermilk and vinegar to the cake batter, as well as red food colouring.
This combination of ingredients is what gives the cake its characteristic colour and taste.
Turns out the acidity in the buttermilk reacts with the cocoa powder, turning it from brown to vibrant red.
...and apparently, you can still make a red velvet cake without using food coloring.
Your resultant cake would still be smooth, soft and velvety but would be an earthy reddish hue as opposed to the vibrant red that we see in the markets.